NFL Nation:

2013 training camp
August, 24, 2013
8/24/13
8:52
AM ET
OAKLAND, Calif. -- The door is wide open for veteran
Jonathan Scott
to be the
Chicago Bears
' swing tackle in the regular season after
J'Marcus Webb
had problems in the second half of the club's 34-26 preseason win against the
Oakland Raiders
on Friday.
Things went bad for Webb quickly after he entered the game. The former starter got called for holding on the Bears' third offensive play of the third quarter, then later in the fourth quarter Webb committed a false start. Not exactly the kind of performance Webb needed two weeks after being demoted to the second-team and losing his right tackle job to rookie
Jordan Mills
.
Webb's issues occurred a couple of hours after Scott worked out with the training staff on the field pregame, fueling speculation that he could return from a knee procedure sometime next week, and perhaps be healthy enough to play in the Bears' preseason finale Thursday versus the
Cleveland Browns
.
"I'm encouraged," Bears head coach Marc Trestman said. "I know he worked out tonight but I haven't talked to the trainers about that. But we're encouraged by what's going on with the guys that have (had) medical attention."
Scott, a seven-year veteran, started seven games for the Bears last year after joining the club in September. Scott, Webb,
Eben Britton
,
Taylor Boggs
and
Edwin Williams
are all fighting to earn a spot on the 53-man roster while
James Brown
is secure as the swing guard. It's unclear how many offensive linemen the Bears plan to keep, but offensive coordinator Aaron Kromer said last week the number could be eight.
If that happens, Webb could be a casualty just one year after starting all 16 games for the Bears at left tackle.
August, 21, 2013
8/21/13
9:25
AM ET
CHICAGO –
Chicago Bears
rookie middle linebacker
Jon Bostic
is apparently lighter in the wallet after the crushing preseason hit he put on
San Diego Chargers
wide receiver
Mike Willie
last week at Soldier Field.
Bears' starting weakside linebacker
Lance Briggs
tweeted on Wednesday morning from his Twitter account (@LanceBriggs), "Shaking my head moment. NFL fines Jon Bostic 21K for his clean hit against the Chargers."
Briggs went on to Tweet, "Bostic's s hit illegal. Hit on
Dustin Keller
. Legal."
Keller, a tight end for the
Miami Dolphins
, suffered a season-ending knee injury in the preseason on a low tackle by
Houston Texans
safety
D.J. Swearinger
. The hit is legal by NFL standards.
Bostic's targeted Willie's chest region on a short pass to the right on the third play of the third quarter that was ruled incomplete last week in the Bears' 33-28 victory over the Chargers. Bostic was not flagged on the play.
The rookie out of Florida is scheduled to earn a $405,000 base salary in 2013 in addition to a $1,246,036 signing bonus. He can appeal the fine.
Bostic has been working as the Bears' No. 1 middle linebacker since veteran
D.J. Williams
suffered a calf injury at the beginning of training camp.
August, 15, 2013
8/15/13
7:46
PM ET
CHICAGO --
Chicago Bears
defensive end
Julius Peppers
will be sidelined for the second time this preseason Thursday against the
San Diego Chargers
, the team announced before the game.
Bears coach Marc Trestman said on Tuesday he anticipated Peppers and wide receiver
Brandon Marshall
making their preseason debuts against the Chargers, but the veteran pass-rusher was a late scratch due to coaches' decision.
Peppers, who has been battling a minor hamstring injury the past week and a half, was on the field watching the rest of his teammates going through pregame warm-ups.
However, Marshall and defensive end
Corey Wootton
are in uniform and scheduled to see action with the Bears starters for at least one quarter.
Also sitting out for the Bears: running back
Armando Allen
(hamstring), linebacker
D.J. Williams
(calf), defensive tackle
Henry Melton
(concussion), wide receiver
Earl Bennett
(concussion), long snapper
Patrick Mannelly
(ribs), offensive tackle
Jonathan Scott
(knee), fullback
Harvey Unga
(ribs) and tight end
Kyle Adams
.
San Diego rookie linebacker
Manti Te'o
has previously been ruled out due to a sprained foot.
August, 13, 2013
8/13/13
4:12
PM ET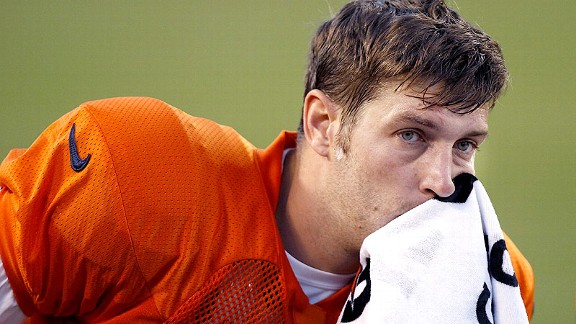 AP Photo/Andrew A. NellesJay Cutler figures to play at least a quarter against the Chargers on Thursday.
BOURBONNAIS, Ill. --
Chicago Bears
coach Marc Trestman has a simple goal for the offense heading into the second preseason contest Thursday against the
San Diego Chargers
.
"You always want to see points," Trestman said. "That would be No. 1. We want to score."
Quarterback
Jay Cutler
and the Bears' starting offense played just 10 snaps last week at Carolina, and although the unit failed to put the ball in the end zone, Cutler did finish 6-of-8 passing for 56 yards after tossing an interception on their first offensive snap of the game.
With the starter expected to be on the field for at least one quarter against the Chargers, Cutler is hopeful the Bears will be permitted to show a tad more on offense.
"I hope so," Cutler said. "We're going to get some game-planning this afternoon, but still it's the preseason and we're still figuring out exactly what plays we like and what we're good at so we're not going to be game-planning like your regular week. We'll do a little bit tonight, some tomorrow, then we'll strap it up and play and hopefully some of that stuff pairs up nicely for us. If not, then we'll just have to work around it and figure it out and watch it on tape."
August, 10, 2013
8/10/13
3:10
AM ET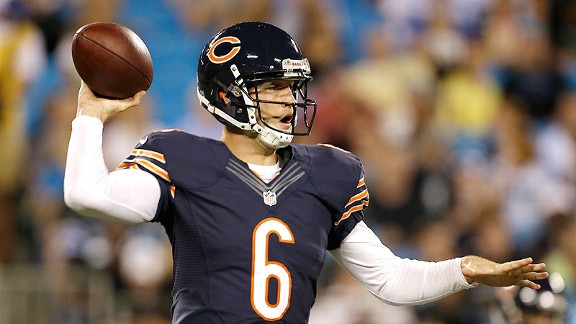 AP Photo/Bob LeveroneJay Cutler completed 6 of 8 passes for 54 yards and an interception against the Panthers.
CHARLOTTE, N.C. --
Jay Cutler
created visions of the practice fields at training camp Friday when he fired an interception on Chicago's first play from scrimmage, reminiscent of so many first plays in recent days that spectators had grown to loathe at Olivet Nazarene University.
After that quick setback, however, Cutler and the first-team offense settled nicely to put together a solid, yet unspectacular, night of work during a 24-17 loss to the Panthers in the exhibition opener at Bank of America Stadium.
"It was an unfortunate start, preseason, first drive like that," Cutler said. "I thought we bounced back well, got a few first downs. (There's) a lot to work on. So we'll take a look at the film, get back to it on Sunday."
With
Alshon Jeffery
streaking toward the middle of the field, Cutler zipped a pass to the receiver, but threw the ball in the wrong spot, enabling Panthers cornerback
Josh Norman
to come away with an interception. The INT set up a touchdown pass from
Cam Newton
to
Brandon LaFell
that gave the Panthers a 7-0 lead at the 10:08 mark of the quarter after
Graham Gano
's extra-point kick.
August, 9, 2013
8/09/13
11:18
PM ET
CHARLOTTE, N.C. -- Here are a few quick thoughts from Chicago's 24-17 loss to the
Carolina Panthers
on Friday in the preseason opener:
What it means:
There's still work to do on both sides of the ball. What's most important is the team came out of the game relatively injury free while still managing to get in some much-needed work.


On offense, the protection was somewhat inconsistent, which led to a sack of
Jay Cutler
, who also tossed an interception on the group's first play of the game.
"It was an unfortunate start," Cutler said. "I have to put the ball on Alshon's [Jeffery] other shoulder. We had some good stuff after that; we had some bad stuff. Typical preseason game. We just have to take a look at it and get better next week."
The first team managed to gain just three first downs in three series, but there's no denying that outside of the interception, Cutler was pretty much on target with his throws.
Cutler completed 6 of 8 passes for 56 yards and finished with a passer rating of 54.2.
"Well, other than the pick we had, we moved the ball a little bit," Bears coach Marc Trestman said. "We got a few throws in. Jay made some great throws. We caught some slants in contested throwing areas. We got a few runs in. Matt [Forte], got a couple of catches, moved the ball around. Certainly didn't do what we wanted or up to our expectations. But other than the first play and the one sack -- we've got work to do."
Defensively, the bad news was the group gave up one touchdown trying to defend a short field created by Cutler's interception, combined with a pass-interference penalty on
James Anderson
on the next play as he tried to cover former Bears tight end
Greg Olsen
. The Anderson penalty put the Panthers at the Chicago 4. Three plays later,
Cam Newton
hit
Brandon LaFell
for a 3-yard touchdown at the 10:14 mark to give the home team an early lead.
The good news is the defense put points on the board with
Jon Bostic
's 51-yard interception return at the 6:09 mark of the first quarter. Bostic filled in for injured starting middle linebacker
D.J. Williams
(calf) and while it's too soon to definitively gauge his performance (that comes after film study), the showing appeared promising.
"There were a lot of things we could do better," linebacker
Lance Briggs
said. "There were some things we did well. When we put on the tape, we'll all evaluate the things to improve on. All in all, when you are getting turnovers in the game that is very big."
Injury update:
Long-snapper Pat Mannelly suffered injured ribs when he was blindsided on a punt in the first half. The severity of that injury wasn't immediately known. Team officials took defensive tackle
Henry Melton
back into the locker room in the first quarter, where he was diagnosed with a concussion. He'll have to follow the NFL's new concussion protocol before he's allowed to practice again. It is possible Melton could be back on the field for Chicago's next practice at training camp, but unlikely given his importance to the defense. There's no need to rush him back into action.
Webb of inconsistency:
J'Marcus Webb
performed inconsistently in 2012 at left tackle, and his move to the right side for 2013 wasn't promising in the first preseason game.
During Chicago's third series of the night, Carolina defensive end
Charles Johnson
blew past Webb on the outside. In his attempt to recover, Webb overstepped outside, and Johnson cut back inside to sack Cutler along with
Kawann Short
.
Don't count out Webb just yet though. It's only the first preseason game.

Second-team sloppiness:
Josh McCown
zipped a near perfectly thrown ball to tight end
Fendi Onobun
in the end zone for what should have been a touchdown in the second quarter, but he dropped the pass. On the next play, running back
Armando Allen
fumbled after catching a pass from McCown, with
Anderson Russell
recovering for Carolina at the Panthers' 12.
Onobun has struggled to catch the ball throughout the preseason, but seemed to come on in recent practices after the team had brought in
Leonard Pope
to compete for the job. The Bears rave about his consistency, but the truth is Onobun needs to be more consistent at catching the ball if he expects to make the 53-man roster at the end of camp.
Lopsided time of possession:
Both teams played the majority of the first quarter with starters on the field on both sides of the ball, and the Panthers dominated time of possession. Carolina was 2-of-5 on third-down conversions, while the Bears finished 0-for-2 in that category. The Panthers held the ball for 9 minutes, 31 seconds in the first quarter, and the Bears held possession for 5 minutes, 29 seconds.
Bostic time?
Not yet, but the rookie definitely showed why the Bears made him their second-round pick in the draft. In addition to the 51-yard interception return for a touchdown, Bostic was credited for two tackles and a pass breakup. He's probably not ready to take over D.J. Williams' starting job in the middle, but his play should definitely raise the comfort level of the coaching staff if the rookie is forced to play in a pinch.
Bostic wasn't the only rookie to show promise. Fourth-round pick
Khaseem Greene
came into the game during the team's third defensive series and contributed two tackles, including one for lost yardage.
Frey maintains:
Second-year veteran
Isaiah Frey
maintained the momentum he's been riding throughout training camp practices with a solid outing in his first preseason game. Frey took over at the starting nickel corner when
Kelvin Hayden
suffered a season-ending hamstring injury. The youngster hasn't disappointed.
Virtually every day of practice at training camp, Frey has made a head-turning play, whether it's an interception or a pass breakup. Against the Panthers, Frey nearly picked off a
Derek Anderson
pass in the second quarter.
Briggs makes calls:
With
Brian Urlacher
now out of the picture, Briggs has taken on the responsibility of making the club's defensive calls. Briggs said it went well.
"It went smooth. I got the call, called it out to teammates, they heard it, they received it, and they played the play," Briggs said.
What's next:
The Bears receive a day off on Saturday, before hitting the practice fields at Olivet Nazarene University on Sunday for the final week of training camp. Chicago hosts the
San Diego Chargers
on Thursday night at Soldier Field for the second game of the preseason.
August, 9, 2013
8/09/13
9:29
PM ET

CHARLOTTE, N.C. --
Chicago Bears
defensive tackle
Henry Melton
will not return to Friday night's preseason game after being diagnosed with a concussion, the team announced.
The Bears placed the franchise tag on Melton in the offseason after he was voted to the Pro Bowl last season.
Click here to read the entire story
.
August, 9, 2013
8/09/13
10:34
AM ET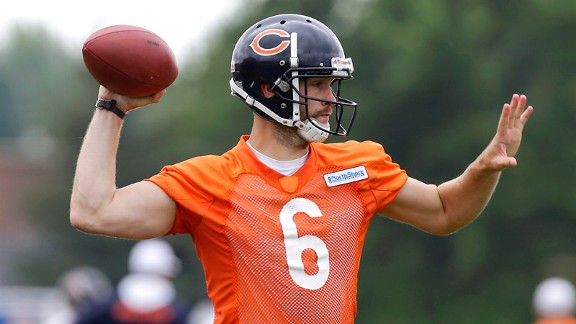 AP Photo/Nam Y. HuhJay Cutler is expected to play a series or two against the Panthers on Friday.
CHARLOTTE, N.C. -- Here are five things to keep an eye on Friday night when the
Chicago Bears
face the
Carolina Panthers
at Bank of America Stadium.
1. OL blocking:
It's likely the Bears go into this game with a starting five up front that you won't see once the club opens the regular season Sept. 8 against Cincinnati, mainly because of the calf strain suffered by starting left tackle
Jermon Bushrod
, who isn't expected to play. The plan is to play the starters just a few snaps. So in that limited amount of time it's important to see how well the group protects and opens the lanes in the ground game given all the changes made schematically. Count on a starting five of
Roberto Garza
,
James Brown
,
Eben Britton
,
J'Marcus Webb
and
Matt Slauson
. Rookie
Kyle Long
should see plenty of snaps, too, and is also a player to keep close tabs on. The only way skill-position players such as quarterback
Jay Cutler
, receiver
Brandon Marshall
and running back
Matt Forte
excel is for the offensive line to sufficiently do its job. If in limited duty, the starting offensive line performs similarly to the way the group played in 2012, it will be clear the group still needs extensive work.
2. Cutler's command of the offense:
Cutler is in the midst of learning his fourth offense in five seasons with the Bears, and it would be unrealistic to expect him to operate flawlessly against the Panthers. But he does need to show some degree of command of the new system. So far during training camp practices, for whatever reason, the timing between Cutler and the receiving corps appears to be off. Some of that is a function of Chicago's defensive line bearing down hard on Cutler every play during training camp, and tipping many of his passes at the line of scrimmage. But in this game, the offensive line will have every tactic at its disposal to combat Carolina's pass rush. That should open up some passing lanes for Cutler to be able to find some type of rhythm. It's also worth it to watch how quickly the Bears get in and out of the huddle. The club unnecessarily burned timeouts too often last season, and Marc Trestman's system contains much more verbiage than some of the schemes Cutler has operated in the past.
August, 6, 2013
8/06/13
8:36
PM ET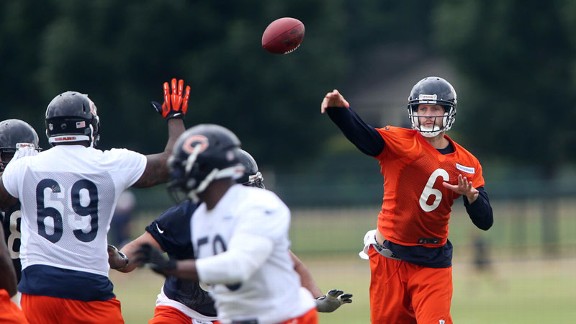 Jerry Lai/USA TODAY SportsJay Cutler threw four interceptions Tuesday, although the defense was taking liberties.
BOURBONNAIS, Ill. --
Henry Melton
raised his hands and slapped at a
Jay Cutler
pass, only to send it wobbling off its trajectory and float gently back into his paws for an interception and touchdown.
"I always tell Jay before practice, 'Hey, I'm gonna get a couple today,'" Melton said.
The defense feasted on that and more, as the front four batted down several passes -- with at least two resulting in interceptions -- as Cutler tossed four interceptions on Tuesday, providing a glimpse of just how much work needs to be done before the offense is truly regular-season ready.
To speed the process along, the plan is to "keep Jay Cutler uncomfortable," according to offensive coordinator Aaron Kromer. The club added several new plays on Tuesday, rehearsed them in a walkthrough, and then hit the field to produce a mixed bag of results.
"There's been ups and downs," Cutler said. "This is training camp. Today we did some good, we did some bad. We just have to build on the good every day, and we go back and look at the film and see what we messed up and try to improve on it next time."

Bears coach Marc Trestman pointed out that the offense during Tuesday's workout cut down dramatically on pre-snap penalties, despite the staff throwing "a ton of stuff at (Cutler)" today, including "a bunch of new plays." The offense also worked on "multiple snap counts," resulting in "our most difficult day at the line of scrimmage with snap counts."
Perhaps all the installation played a role in one of the unit's sloppiest performances thus far at camp.
It's important to note, however, that the staff discourages the defensive linemen from attempting to bat down passes at practice so that the offense can get in its work.
"The tipped balls, I don't get too caught up in it right now because the pass-rushers stop because they don't want to get in the way and their hands go up or they jump up in the air for the ball," Trestman said. "We try to discourage jumping up in the air for the ball so we can complete plays, and let everybody go to the ball and finish. But we allow the guys to keep their hands up.
"The downside of that from an offensive side is when they stop their rush, which they normally don't do, we lose the pass lane. So when you see that, certainly we're disappointed that we didn't get the plays off. We hope it doesn't carry over to the season. It usually doesn't because those lanes are created. But it's good to have adversity like that. It upsets our players offensively, certainly, that we failed on that play. But at the same time, it forces us to lock in and get better on the next play, and that's what those types of situations do. You've got to put it behind you and you've got to move on to the next play, and that's football."
Still, it's frustrating for Cutler, who joked "we need to remind" the defensive line again that attempting to bat down passes is discouraged.
"A few batted balls, it's frustrating offensively because it's probably not going to happen in a game," he said. "But (you've) got to battle through it. We know we're going to the right guy, going to the right spot, just (that) we're getting tipped here and there, couple bad decisions. But like I said, it's camp and we just have to keep working on the things we're struggling with and keep doing all the good things."
Isaiah Frey
also intercepted a pass tipped at the line of scrimmage.
"One of our rules is really, don't bat a ball in practice," Kromer said. "Guys get excited, and they can't help but put their hands up and swat at them. You live with it, and you go onto the next play."
The offense did that often Tuesday, only to experience another miscue. Quarterbacks coach Matt Cavanaugh viewed the team's sloppy practice as ideal training ground for what Cutler might experience during a live game situation.
"That's good practice for our quarterbacks to see those kinds of bodies in front of them with their hands up," he said. "You've got to find throwing lanes. You've got to change your delivery sometimes to get the ball out. For the most part, he's done that. Today (the defense) got us. They got us about four or five times today on knocking the balls down."
The unit also took advantage of a miscommunication between Cutler and
Brandon Marshall
for another pick, while another came as the result of a heady play at the line of scrimmage by
Shea McClellin
.
Having quickly diagnosed the play, McClellin stopped in the middle of his rush and ran to the passing lane to jump in front of a Cutler pass for an INT.
"I was just doing my job, reading my keys, and the ball was there, so I grabbed it," McClellin said.
On the miscommunication with Marshall, Cutler fired a pass directly into the chest of safety
Chris Conte
that didn't travel close to the vicinity of where the receiver was running his route.
As the play came to an end, Cutler and Marshall stared frustratingly at one another as the receiver walked back to the huddle.
"You know, we'll talk after practice and get back on the same page," Cutler said. "It's a long camp. Today didn't exactly go our way, but that's how it is. We have to rebound, fix the problem and keep it going."
But time's running out before the club opens the season Sept. 8 against the
Cincinnati Bengals
. Trestman anticipates he and Cutler will experience more ups and downs as the season progresses, and admits they're still very much still getting to know one another.
"We're really not going to know who we are and what we're about until February. Then, we'll sit back and really evaluate the process. I certainly think we've grown. We've gotten to know each other, how we think and how we work. We know we're willing to work hard and we love football," Trestman said. "With that foundation, the next step is how we're going to handle success on a week-to-week basis because that's just as important as handling adversity, and then how are we going to get through it when it gets tough. That's the fun part and the most exciting part, because both sides of this are going to happen eventually. We'll truly grow as a team, collective team and individually within our position groups, and that's the exciting part."