March, 23, 2014
Mar 23
5:00
AM ET
Many happenings around the
New York Jets
:
1. Waiting on DeSean
: If the Jets want wide receiver
DeSean Jackson
, they have the resources to be a major player. They have the need, the cap space (more than $30 million) and the right recruiter (
Michael Vick
). The question is, do they have the desire?
[+] Enlarge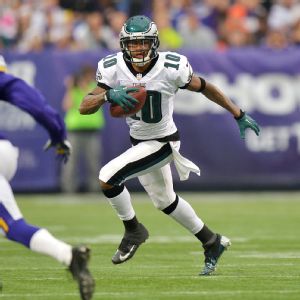 Drew Hallowell/Philadelphia Eagles/Getty ImagesDo the positives outweigh the negatives for a marriage between the Jets and receiver DeSean Jackson?
The sense I get from talking to league sources is the Jets have a measured interest in Jackson, which will intensify if he's released by the
Philadelphia Eagles
-- a distinct possibility if no one is willing to trade for his contract. He has three years, $30 million remaining on the deal. He reportedly is unwilling to renegotiate his deal, which makes a trade less likely. Jackson may not be motivated to re-work the deal because he knows it will force his release, allowing him to reunite with Vick. It's possible that Vick picked the Jets, knowing his former teammate wouldn't be far behind. Could this all be part of John Idzik's master plan?
Frankly, I think it would be out of character for Idzik. Jackson is a problem child, the ultimate risk-reward gambit. The mere fact Chip Kelly is holding a fire sale for his best receiver should tell you something about how badly he wants to rid himself of Jackson. This is
Santonio Holmes
revisited. The talent makes the player oh-so-tempting, but is he worth the aggravation? Even if Jackson's market dries up and he accepts a team-friendly deal, he'd be complaining next offseason about wanting a new contract. He's a headache waiting to happen, but the Jets appear willing to stock up on aspirin.
2. The Marty factor:
Offensive coordinator Marty Mornhinweg knows Jackson better than anyone in the Jets' building, having coached him in Philly, but I wonder about that relationship. In May, 2010, Jackson told the Sporting News, "Our offensive coordinator, Marty Mornhinweg, said some things, trying to question my toughness" -- a reference to a 2009 game in which he sat out with a head injury. "I was like, 'Coach, I just got a concussion. This (is) my brain. If it's something else -- my shoulder, whatever -- I'm going to play.'" Based on the quote, it doesn't sound like they're the best of buds.
By the way, Jackson suffered two concussions in 2009 and 2010, including a severe concussion that resulted in memory loss -- another factor the Jets should consider.
3. 3-21:
So on the two-year anniversary of the
Tim Tebow
trade,
Mark Sanchez
gets cut,
Greg McElroy
announces his retirement and Vick joins the team. That has to be cosmos, right?
4. Polarizing player:
Opinions on the Vick signing are sharply divided among fans and media, which isn't a surprise. I happen to think it's a good deal, but I spoke to one longtime front-office executive who believes Vick, 33, is washed up.
"The Jets already have a guy like him ," said the executive, referring to
Geno Smith
. "If you bring Vick in, you're not thinking. It makes no sense. He's a good kid. He's more mature, he's not a distraction and the players respect him, but he doesn't bring anything to the table anymore -- nothing. He can't win with his legs anymore, he has to win with his head. His arm is good enough, but unfortunately, the arm isn't connected to the head."
An AFC personnel scout said of the Vick-for-Sanchez move: "I don't know what to think, to be honest. You swap one out for the other. There's still no long-term solution."
5. Penalty pals, revisited:
Based on their track records, the
Willie Colon
-
Breno Giacomini
tandem on the right side of the offensive line will produce a lot of penalty flags. Colon was penalized a team-high 12 times for 82 yards last season. Giacomini, playing for the
Seattle Seahawks
, was flagged six times for 39 yards -- in only nine games, mind you. (In addition, he had two holding calls in the postseason.) In 2011 and 2012, he combined for 21 penalties for 172 yards. Unless they change their ways, Colon and Giacomini will invite comparisons to the original Penalty Pals,
Jeff Criswell
and
Dave Cadigan
, circa 1993.
6. Keeping their own
: Penalties notwithstanding, the Jets made a good move to re-sign Colon, who received a one-year, $2 million contract. Only $500,000 is guaranteed; he can also earn $1 million in base salary, plus another $500,000 in roster bonuses if he plays every game. They gave a similar deal to linebacker
Calvin Pace
, who can make $2.625 million in the first year of a two-year, $5 million contract.
All told, the Jets retained seven free agents for a combined total of only $5.255 million in guarantees -- Pace, Colon,
Nick Folk
,
Jeff Cumberland
,
Ellis Lankster
,
Darrin Walls
and
Leger Douzable
. That's what you call bargain shopping.
7. John the Rigid
: The biggest criticism of Idzik, according to some agents and league insiders, is that he shows little or no flexibility in negotiations. He assigns a monetary value to a player and refuses to adjust, they say. That style may help in certain situations, but there are times when you have to examine the big picture and ask yourself, "Do we really want to lose this player over X amount of money?" Idzik's conservative approach probably cost him cornerback
Dominique Rodgers-Cromartie
, who signed with the
New York Giants
. So now they have a gaping hole at the position. Barring a trade, or a veteran unexpectedly shaking free, the Jets will have to rely on the draft.
8. Bad things come in threes
: In a span of 12 days, Idzik jettisoned three of the cornerstone players from the last playoff team, cutting Sanchez, Holmes and
Antonio Cromartie
. That's a stunning player dump, considering they're all 30 or under. The downside is the amount of "dead" money on the cap. The three players are counting $12.78 million, nearly 10 percent of the entire salary cap.
9. Small-school sleeper
: Remember this name -- Terrence Fede. The former Marist defensive end is trying to become the first player in his school's history to be drafted. The 6-foot-3, 276 pounder was a stud pass rusher as the Poughkeepsie, N.Y., school, recording 30.5 career sacks. He has an impressive burst on the edge. He performed for scouts recently at the University of Buffalo pro day, clocking a 4.79 in the 40. All 32 teams were in attendance, including Jets scout Cole Hufnagel. Even if he's not drafted, Fede will be a priority free agent.
10. The Jets' new dogma
: Everybody knows about Vick's sordid history with dog fighting, a crime that resulted in him spending nearly two years in a federal prison. Well, here's something interesting and ironic: One of his new receivers is a dog lover. Eric Decker has a foundation called "Decker's Dogs," which provides service dogs to returning military vets with disabilities. Decker and his wife, Jessica, raise money to help train rescued dogs. They believe rescued dogs have the same success rate as dogs bred for service.
March, 18, 2014
Mar 18
9:00
AM ET
Decker
Most significant signing:
Obviously, it's wide receiver
Eric Decker
(five years, $36.25 million), the biggest veteran acquisition of the John Idzik era. The Jets identified him as the No. 1 receiver on the market, and they made it happen. Decker becomes the top receiver on the team (did you see their receivers last season?), but he's not a true No. 1. His 2013 numbers (87 catches, 1,288 yards) were inflated because he played in the most prolific passing offense in history, with
Peyton Manning
at quarterback. Unless he's paired with a difference-maker on the other side, Decker won't approach those numbers with the Jets. He's a complementary player; he won't force opponents to alter their game plan.
Howard
Most significant loss:
They had hoped to lock up right tackle
Austin Howard
before free agency, but talks stalled, he hit the market and signed immediately with the
Oakland Raiders
(five years, $30 million). Howard is the kind of guy you want in your program, a former bottom-of-the-roster player who worked his way into a starting role, demonstrating real potential. But Idzik, with a replacement already lined up, refused to budge on Howard's demands. That replacement turned out to be
Breno Giacomini
, formerly of the
Seattle Seahawks
. He's a proficient right tackle and they got him for $18 million over four years, saving money in the swap. But he's not better than Howard. At best, it's a wash.
Biggest surprise:
After cutting high-priced vets
Antonio Cromartie
and
Santonio Holmes
, giving them nearly $40 million in cap space, the Jets figured to be aggressive players in free agency. But it hasn't worked out that way, as Idzik has reinforced his reputation as a deliberate -- some might say stubborn -- shopper. He re-signed a few complementary starters, namely linebacker
Calvin Pace
, tight end
Jeff Cumberland
and kicker
Nick Folk
, but he hasn't addressed needs at cornerback, quarterback and receiver. Bargain hunting is fine, but you don't want to be too cautious. Clearly, Idzik is refusing to deviate from his long-term plan.
What's next?
They have to find a replacement for Cromartie before the draft. It could be Cromartie, who wants to return. They may have no other choice because the current free-agent market for corners is thin, to say the least. Rex Ryan needs cornerback depth to play his defense, which is predicated on man-to-man coverage, and his general manager isn't making it easy on him. They also have needs at quarterback, wide receiver (yes, another one) and tight end, among other positions. At this point, there's not much left in free agency.
March, 16, 2014
Mar 16
5:50
PM ET
Outside linebacker
Calvin Pace
has agreed to a two-year, $5 million contract to return to the
New York Jets
for a seventh season. A few takeaways:
Pace
1. Exception to the Idzik rule:
This is an un-Idzik-ian move because of Pace's age (33). General manager John Idzik has been trying to rebuild the roster for a year with younger players, sticking to one-year, minimum-salary deals for those on the wrong side of 30. Pace fell into that category last year, getting cut and re-signing for one year, $1 million. This time, Idzik made an exception, essentially rewarding Pace for a career-high, 10-sack season. It's usually not a smart practice, paying for past performance with a player near the end of his careers, but we're not talking about a lot of money here. Pace has a strong ally in Rex Ryan, who undoubtedly pushed for the return.
2. Not done yet
: Bill Parcells used to have a saying for guys like Pace. He called them hold-the-fort guys -- i.e. holding the position until a younger player can be integrated into the system. The Jets have to think about finding an heir apparent at strong-side linebacker; put it on an already lengthy list of needs. They could address it on the second day of the draft, especially if Auburn's
Dee Ford
slips into the second round. Ohio State's
Ryan Shazier
might be interesting, but he's undersized for the Jets' scheme. It'll get real interesting if UCLA's
Anthony Barr
slips to the Jets in the first round (18th pick), which isn't farfetched. How would another front-seven pick grab you? The Jets have a few power rushers; they need a speed rusher.
3. Deceiving numbers
: I wouldn't expect another double-digit sack season from Pace. As I wrote in a recent blog, his total from last season is misleading because he caught some big breaks and benefitted from excellent pass coverage. Consider: Six of the 10 sacks occurred when the quarterback held the ball for at least 4.0 seconds, unofficially -- i.e. a coverage sack. Another 1.5 sacks came when he was unblocked -- blown blocking assignments by the offense. Give Pace credit for finishing, just don't write him down for another 10 spot.
March, 16, 2014
Mar 16
11:00
AM ET
A few thoughts and observations on the
New York Jets
:
1. Reality bites
: The irony of the
Eric Decker
signing is that general manager John Idzik, who has spent a year trying to eliminate the Jets' "Hard Knocks" image, took on a player with his own reality TV show. Decker and his wife, country singer Jessie James, are preparing for their second season on E!'s "Eric and Jessie: Game on." The season premiere is March 30. His former team, the
Denver Broncos
, said last year it had no problem with Decker doing the show. "To each his own," team exec
John Elway
said.
[+] Enlarge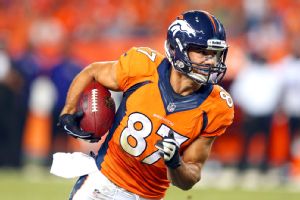 AP Photo/Paul SpinelliIt doesn't appear that new Jets receiver Eric Decker's reality show was a huge deterrent in the team's decision to sign him.
Privately, the organization wasn't thrilled, especially when Decker's impending free agency was mentioned in one of the early shows. It wasn't a distraction to the team because there were no cameras at the facility. Obviously, it didn't affect Decker, as he finished with 87 receptions for 1,288 yards. It was one if E!'s top-rated new shows, so they booked another season -- obviously, long before he signed his five-year, $36.25 million contract with the Jets. The network didn't waste any time jumping on the New York angle, releasing new promos: "New Team, New City (and coming soon), New Baby."
Some people wonder if Decker picked the Jets over the
Indianapolis Colts
because he wanted to raise the show's profile by playing in the No. 1 media market. He downplayed that notion, saying he picked the Jets with football in mind. As for his wife's input, Decker said, "She obviously wants what's best for me in my profession. She spent a lot of time in New York with her career when she was younger, and she's excited again to have an opportunity to work now again and to be able to have some resources and things. I think that overall it is a great decision and place for us as a family and career wise."
Idzik isn't a show-biz kind of guy, and I find it hard to believe he likes the idea of a player having his own show. It creates the perception that he's bigger than the team. But in the end, the No. 1 reality was this: Idzik was willing to put aside any concerns to land their top-rated free-agent receiver. The GM hasn't been made available to comment on any of his signings.
2. Decker vs. Holmes
: Not to pick on
Santonio Holmes
or anything, but ...
Decker produced five 100-yard receiving games last season, one more than Holmes managed in four years with the Jets. Decker is counting $4 million on this year's cap, $6.5 million less than Holmes would've counted. Just saying.
3. Strength in numbers
: The Jets have six experienced wide receivers under contract, and they could add another two through free agency and the draft. Overkill? Not really. Teams always look beyond the current year when making personnel moves, and when the Jets look at 2015, they see only two of those six receivers under contract -- Decker and
Stephen Hill
. That's why stockpiling makes sense.
4. Go west, men
: Offensive coordinator Marty Mornhinweg , accompanied by two members of the scouting department, attended two important pro days on the West Coast -- USC and Oregon State. The main attractions were wide receivers
Marqise Lee
and
Brandin Cooks
, respectively. In each case, the Jets' contingent spent private time with the players. It's not unusual for Mornhinweg to scout on the road. In fact, he attended
Geno Smith
's pro day last year, taking him out to dinner the night before. With the 18th pick, the Jets are thinking strongly about a receiver.
5. Revis Inc.:
Darrelle Revis
' contract with the
New England Patriots
sheds light into his thinking as a player/businessman. Technically, it's a two-year, $32 million deal, but the second year is bogus because of a $25 million cap charge. They added a second year for cap purposes and because Revis is hellbent on a $16 million-per-year average. Has been since 2010, when he staged his second holdout with the Jets. At the time, he proposed a 10-year, $160 million deal. He refused over the years to bend on the APY, finally finding a team (the
Tampa Bay Buccaneers
) willing to pay it. Why $16 million? I think it goes back to
Nnamdi Asomugha
's $16 million-a-year deal from the
Oakland Raiders
in 2009. As soon as Revis surpassed Asomugha as the top cornerback, in the eyes of many, he considered $16 million his birthright.
For an interesting take on the Revis contract from the Patriots' perspective, check out
ESPN.com colleague Mike Reiss
.
6. California dreaming
: The quarterback-needy Raiders are targeting two players likely to be released --
Matt Schaub
and
Mark Sanchez
(in that order), according to a report by
ESPN.com colleague Paul Gutierrez
. Sanchez makes a lot of sense. Joey Clinkscales, the team's director of player personnel, is a former Jets executive and was heavily involved when they drafted Sanchez in 2009.
The Jets are running out of time to make a decision on Sanchez, who's due a $2 million roster bonus March 25. If they don't sign another quarterback (
Michael Vick
?) before then, what then? Do they turn to Sanchez, trying to get him to take a major pay cut? If Sanchez balks, he will be released -- unless the Jets pay the $2 million, buying more time. It's not Idzik's style to cut a player before his replacement is on the roster. It hurts leverage. If the Raiders want him badly enough, maybe they'd be willing to make a trade.
7. Tony the recruiter
: Former Jets offensive coordinator Tony Sparano, now the Raiders' offensive-line coach, was instrumental in recruiting right tackle
Austin Howard
. Said Howard: "I really love his style of coaching. Once we got that call, it was honestly a no-brainer decision to get on the plane and make the trip out to Oakland." Obviously, the five-year, $30 million contract had something to do with it, too. Sparano was a key Howard ally in the summer of 2012, when the Jets replaced
Wayne Hunter
.
8. A tale of two kickers
:
Nick Folk
was the only kicker this year to receive a franchise-tag designation, which usually translates to a top-of-the-market contract. In Folk's case, his four-year deal is actually similar to what
Dan Carpenter
just landed from the
Buffalo Bills
-- at least in terms of first-year compensation. Folk gets $3.6 million in total compensation (the amount of the franchise tender), Carpenter scores $3.425 million. Carpenter was given a chance, albeit brief, to take Folk's job last preseason, but he lasted only a few days. Now he's making nearly as much as him.
9. DRC on ED
: Came across this quote from Super Bowl week. Broncos cornerback
Dominique Rodgers-Cromartie
was asked which of his team's receivers is the hardest to cover. His answer:
Wes Welker
. "
Demaryius Thomas
and Eric Decker are great receivers, but you can kind of break their moves down," he said. "Wes, he does too much." DRC could end up reunited with Decker.
10. Hurting at OLB:
It didn't get any attention, but the Jets decided not to tender restricted free agent
Garrett McIntyre
, making him unrestricted. It would've cost them $1.4 million. It came as a surprise because McIntyre was a decent backup, good for about 20 defensive snaps per game. With
Calvin Pace
also an unrestricted free agent, the Jets are perilously thin at outside linebacker.
March, 7, 2014
Mar 7
6:30
PM ET
John Idzik showed last year what he can do on a shoestring budget. Now, to use a variation of a Lou Carnesecca line, the
New York Jets
' general manager gets a chance to shop in Macy's window.
The free-agency season is upon us, and the Jets have about $23 million in cap space, which will grow to more than $40 million if/when they dump
Santonio Holmes
,
Antonio Cromartie
and
Mark Sanchez
. It's "go" time for Idzik, whose long-term plan -- presented to owner Woody Johnson when he was hired 14 months ago -- is predicated on stockpiling talent in 2014.
[+] Enlarge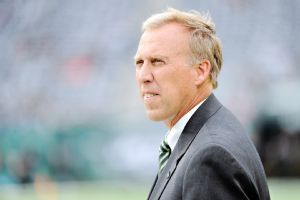 AP Photo/Bill KostrounJets GM John Idzik will enter the free-agency period with money to burn; so, how will he spend it?
The story last March was the "Rex-odus," five starters bolting the Jets. Now Idzik has roster flexibility, and we get to see how he attacks the team's weaknesses. A man with money doesn't always translate to success, as we've seen plenty of teams over the years spend money foolishly, wrecking their future cap. No championships are won in March. If they were, the Jets would have more Lombardi Trophies than the
New England Patriots
.
People who know Idzik say he won't take a "shop-till-you-drop" mentality into free agency. They say he will spend, but won't forget his core principles. He won't give lucrative, long-term deals to players over 30 or those with injury concerns. He won't sell out to sign "the big star." He won't deviate from his "the-draft-is-our lifeline" philosophy. He won't pay top-dollar prices for middle-of-the-road players.
Pardon me, but I'm skeptical of the last one, because most teams overpay in free agency. Do you think starting-caliber receivers will be beating down the Jets' door to play with
Geno Smith
and the 31st-ranked passing offense? Of course not; the Jets will have to pay to attract the top talent.
Former longtime NFL GM Bill Polian, now an ESPN analyst, cautioned that free agency isn't a cure-all.
"The best players are signed," he said on a media conference call. "These (free agents) are essentially 'B' players whose agents are looking for 'A' money. That, in itself, is not the best of buys. You recognize that as a general manager."
Ideally, you want to use free agency to fill needs, allowing you to take a best-available-athlete approach in the draft. It's easy to preach that, but quite another to practice it. When the bidding starts and the money starts flying, it's easy to get sucked into the madness of free agency. Idzik is known for his deliberate approach; we're about the find out how deliberate. The "legal tampering period" begins at midnight; the signing period commences at 4 p.m. Tuesday.
A few thoughts on what to expect from the Jets:
1. Keeping their own
: Unlike last year, the Jets are actually trying to retain some of their free agents-to-be, namely RT
Austin Howard
and TE
Jeff Cumberland
. They're deep into negotiations with both players. It wouldn't be a surprise if both re-up by Tuesday. They're interested in keeping LB
Calvin Pace
, 33, but they won't shower him with money because of his age. They told RG
Willie Colon
, almost 31, he's free to test the market. Once again, it's the age factor. Former second-round pick
Vladimir Ducasse
also is unlikely to return. In his case, it's not age, it's a talent thing.
2. Resolve the QB situation
: If I were Idzik, I'd address this ASAP. How can you convince free-agent receivers to sign if you're selling the still-unproven Smith and a bunch of question marks at quarterback? They should make an immediate run at
Michael Vick
, with
Josh McCown
the No. 2 option. Vick isn't what he used to be, but he has more credibility than Smith at this point. If Idzik strikes out in free agency and the trade market, he might have to turn to Sanchez, whose cap charge ($13.1 million) and surgically repaired shoulder make him a less-than-ideal option.
3. Go wide
: There are two ways to approach the wide-receiver search. Idzik can go long and invest significant money in
Golden Tate
, a solid No. 2 receiver, or he can go short and take a chance on
Hakeem Nicks
, who might be ammenable to a one-year deal. Nicks has No. 1 talent, but he hasn't played like a lead receiver since 2011. Obviously, there are other options as well, including
Emmanuel Sanders
. Stay away from
Eric Decker
; he'll cost too much and he's not a true No. 1. If the Jets can sign a No. 2, pairing him with
Jeremy Kerley
,
Stephen Hill
and
David Nelson
, they'd be in position to look for a No. 1 in a receiver-rich draft.
4. The big splurge
: Even though the Jets have a ton of cap space, I can't see Idzik spending franchise-type money for one player -- unless he makes an exception for S
Jairus Byrd
. Even that would be a long shot. With the possibility of 12 draft choices (counting possible compensatory picks), Idzik can afford to be relatively patient, building for sustainable success and avoiding the quick fix. The goal should be to build around Smith, letting him grow with those around him. That was part of the problem for the previous regime. They put Sanchez in charge of a win-now team and, by the time Sanchez was ready to take the next step, the talent around him had eroded. They couldn't get it going at the same time. This is Idzik's chance to make that happen.
March, 7, 2014
Mar 7
11:00
AM ET
» AFC Free-Agency Primer: East | West | North | South » NFC: East | West | North | South

Key free agents: RT Austin Howard, PK Nick Folk (franchise player), TE Jeff Cumberland, LB Calvin Pace, RG Willie Colon, S Ed Reed.

Where they stand: The Jets are trying to re-sign Howard before he hits the open market. He's not a household name, but he's a massive blocker with surprising athleticism. Howard has two years of starting experience and he's only getting better. They've expressed an interest in re-signing Cumberland and Pace, although it's unclear if deals will get done by Tuesday. Pace produced a career-high 10 sacks last season, playing for the minimum salary, but he's 33 -- and the Jets won't throw significant money at a player that old. The Jets are rebuilding at tight end, so Cumberland's role is undefined, which could affect negotiations. Colon and Reed are fallback options. In Reed's case, way, way back. Colon is recovering from biceps surgery and won't be healthy until the spring.
What to expect: With an anticipated $30 million in cap space, the Jets could be aggressive buyers if they so choose. They need a wide receiver (or two), a tight end and a veteran quarterback to push Geno Smith. There aren't any true No. 1 receivers on the market, so they'd better be careful not to overpay for the second-rate talent. Emmanuel Sanders and Golden Tate could be on the radar. They're likely to have interest in QBs Josh McCown and Michael Vick, who'd be ideal because he already knows Marty Mornhinweg's system from their days together in Philadelphia. If they strike out with free agents, the Jets could retain former starter Mark Sanchez, contingent on his health and a massive pay cut. The Jets could have 12 draft choices (counting possible compensatory picks), so they don't have to overpay to fix every need in free agency.
March, 2, 2014
Mar 2
8:00
AM ET
A belated welcome to March, a month of madness in the NFL. It will be eventful for the
New York Jets
, whose roster will undergo major changes over the next four weeks. A sneak preview:
1. The purge:
Even though they have plenty of salary-cap space, the Jets will unload some dead weight. Wide receiver
Santonio Holmes
will be released any day, an $8.25 million savings. Cornerback
Antonio Cromartie
($14.98 million cap charge) will be released unless he takes a pay cut for the final year of his contract, which includes a prohibitive $5 million roster bonus. When healthy, Cromartie still is a quality corner. My gut tells me Cromartie will end up playing for the Jets in 2014.
2. The Sanchez saga
: General manager John Idzik has yet to reveal his hand with regard to his plans for quarterback
Mark Sanchez
. At this point, why would he? He has until March 25, when a $2 million roster bonus is due. Starting March 11, I expect the Jets to chase the top free-agent quarterbacks, namely
Michael Vick
and
Josh McCown
. If they get shut out, the possibility of retaining Sanchez becomes realistic. It would be contingent on a pay cut (his base salary is $9 million) and a positive medical report on his surgically repaired throwing shoulder. He spent last week at the team's facility, rehabbing under the watchful eyes of the trainers. While I still think Sanchez's ouster is likely, I wouldn't call it a foregone conclusion. Why cut the man unless you have a replacement?
3. Idzik's first big deal
: In 13 months as the GM, Idzik has yet to dole out a big contract for a veteran player. By big, I mean at least $5 million per year. Who will be his first major investment? Chances are, it will be right tackle
Austin Howard
, who will be an unrestricted free agent. The Jets are trying to get him locked up before March 11. Other players they'd like to keep are tight end
Jeff Cumberland
and outside linebacker
Calvin Pace
.
4. Gentlemen, start your checkbooks
: With a $133 million salary cap, the Jets are $21.2 million under the cap, according to ESPN's figures. They have the flexibility to be big spenders. Look for them to attack the wide-receiver market, with
Golden Tate
(
Seattle Seahawks
),
Emmanuel Sanders
(
Pittsburgh Steelers
) and
Hakeem Nicks
(
New York Giants
) among the most likely targets.
Eric Decker
(
Denver Broncos
) will be a hot commodity, but probably too pricey for the Jets. They could be looking for a tight end, perhaps
Brandon Pettigrew
(
Detroit Lions
), if they fail to re-sign Cumberland. The goal for the offseason is to upgrade the offense. By the end of the month, the skill positions could have a different look.
December, 11, 2013
12/11/13
7:25
PM ET
FLORHAM PARK, N.J. -- As the Jets have beefed up their defensive line with continuous first-round selections, it's helped
Calvin Pace
get back to his pass-rushing ways of the past.
"I've gotten a chance to actually focus in on it now. I'm playing with great players up front, it's easier for me," Pace said. "[I've been paying] more attention to detail. Obviously in this league it's all about sacks. It took me 10 years to really realize that. I've put more work into it and it's paying off."
[+] Enlarge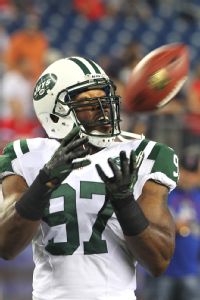 Al Pereira/New York Jets/Getty ImagesCalvin Pace needs one more sack to set a new career high.
Pace has already matched his career high in sacks with eight, which he previously notched in 2009. After three down years in terms of sacks, as he registered just 13 the previous three seasons, Pace has secured his third season with at least seven sacks with the Jets.
"When you're playing with young talent like Sheldon [Richardson], [and] Muhammad [Wilkerson] is having a great year, Quinton [Coples] -- I'm not going to say it's easy, but they have to focus in on somebody and more times it's not me," Pace said. "I'm left with some one-on-ones so it's about capitalizing and making plays."
In his first two years with the Jets, Pace registered a combined 15 sacks. After posting his career high in 2009, his numbers slipped in each consecutive season, bottoming out at three sacks last year. With Pace's diminishing play, the Jets cut him in February but ultimately re-signed him to a one-year deal.
This season, the Jets have scaled back Pace's role, and it seems he's been more effective. He said he's rushed the passer more than he has in the past, although he rushed plenty last season, and has been able to get home more often. His eight sacks rank second on the team to
Muhammad Wilkerson
.
Pace acknowledged that the Jets releasing him galvanized him some.
"Yes and no. You play this game long enough you'll get cut. That played into it and the fact -- I'm man enough to realize last year wasn't my best work. I had some deficiencies in my game I needed to strength and be able to do better, which is pass rush," Pace said. "Type of league it is now, it's pass, pass, pass, got to have guys be able to put pressure on the quarterback. ... It's a situation where I had to go get better, and I'm not great at it but I feel more comfortable."
Pace will be a free agent at season's end and said he believes he can still contribute for two or three more years, provided it's in the right situation. He'd like to stick with the Jets, if possible.
"In a perfect world, I'd like to retire a Jet," Pace said.
October, 3, 2011
10/03/11
12:04
AM ET
Okay, now it's official: It's crisis time for the
New York Jets
, who embarrassed themselves Sunday night on national television, falling to the
Baltimore Ravens
,
34-17
, at M&T Bank Stadium.


What it means:
The Jets have a two-game losing streak, and it's the first time in the Rex Ryan era they've suffered consecutive back-to-back, double-digit losses. This is bad; their once-promising season could be in peril. They were outcoached, outplayed and, frankly, intimidated by the Ravens, who scored three defensive touchdowns for the first time in franchise history.
Rex's return:
Ryan's old defense is a lot better than his current defense. This game was personal for Ryan, a former Ravens assistant, and his team wasn't ready to play. Maybe Joe Namath was right, after all. This was a Kotite-ian performance by the Jets, who allowed two fumble-recovery touchdowns for the first time in franchise history.
Woe Mark:
Quarterback
Mark Sanchez
was under duress from the first play until the last. It would be wrong to blame him for the entire offensive debacle, but he didn't help matters with a few horrible decisions. He committed four turnovers -- one interception (returned for a touchdown) and three fumbles (two returned for scores). By the third quarter, he was so rattled that he was just chucking and ducking.
This was Sanchez's worst game in a long time; he needs to regroup and lead his team out of this funk. He has nine turnovers in four games. If Ryan had a viable alternative, we'd have a quarterback controversy.
On the interception, by cornerback
Lardarius Webb
, Sanchez misread the coverage and threw quickly to
Santonio Holmes
off play-action. Webb sat on the route and made an easy pick. On the Jets' first play, Sanchez failed to recognize a safety blitz by
Ed Reed
. It wasn't a sneak attack; Reed was positioned on the line. They decided not to block "the best safety that ever played," as Ryan called him. Sanchez was blindsided, a strip sack that was returned for a touchdown.
A second touchdown came on another blindside sack, this time defensive tackle
Haloti Ngata
splitting the left side of the offensive line. It was scooped up by outside linebacker
Jarret Johnson
and, well ... you know the drill by now.
Musical linemen:
Once again, the Jets played without the leader of their offensive line, as
Nick Mangold
(ankle) was declared inactive before the game. Rookie
Colin Baxter
made his second career start, but he was benched for three series in the second quarter. Bad move. They weakened two positions, sliding left guard
Matt Slauson
to center and inserting
Vladimir Ducasse
at left guard.
The move reeked of desperation, and the Jets nearly paid a steep price. Ducasse was awful, giving up a strip sack/touchdown to Ngata. They're lucky Sanchez was able to get up after being blasted by Ngata. The coaching staff came to their senses and went back to the starting lineup. Truth be told, the starting unit couldn't pass-block, either. Who ever thought Mangold was their offensive MVP?
Injury report:
The Jets lost dependable outside linebacker
Bryan Thomas
in the first quarter and he never returned. Thomas was carted off with what was announced as an ankle injury. He was replaced by
Jamaal Westerman
. Thomas' injury looked serious and he could be out an extended period.
Bright spots:
Not many.
Joe McKnight
scored on a 107-yard kickoff return to make it 7-7, the longest play in Jets history. Pass rusher
Aaron Maybin
, picked up off the street, recorded his first career sack.
What's next:
The Jets are on the road for the third straight week, heading up to Foxborough for a showdown against the Patriots -- the Jets' first AFC East game.