NFL Nation:

D'Brickashaw Ferguson
July, 23, 2014
7/23/14
8:00
AM ET
Rex Ryan showed his new boss last season that, even when speaking softly, he still carried a big enough stick to squeeze eight wins out of a team with modest talent. The
New York Jets
' coach received a well-deserved contract extension.
Now, with the Jets reporting to training camp Wednesday in Cortland, New York, for Year 2 of the Ryan-John Idzik era, we start to learn a lot more about the other half of the leadership tandem, the quiet man who prefers to stay out of the spotlight.
This is Idzik's time.
[+] Enlarge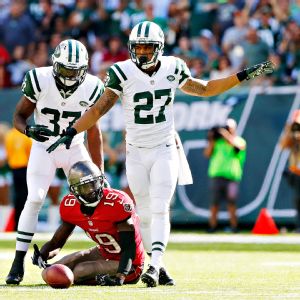 Jim McIsaac/Getty ImagesDee Milliner is one of John Idzik's draft picks that needs to produce for the Jets.
It's impossible to evaluate a general manager after one season, especially in a rebuilding situation, but the landscape changes after two drafts and two rounds of free agency. In the NFL, that's enough time to get a team from the 6-10 mess that Idzik inherited into the playoffs.
Idzik's predecessors, Terry Bradway in 2001 and Mike Tannenbaum in 2006, reached the postseason in their first seasons as GMs. Go back further, and you will remember that Bill Parcells made it to the AFC Championship Game in his second year as the GM/coach.
Even though Idzik is operating on a long-term plan, evidenced by his emphasis on the draft and his deliberate approach in free agency, an 0-for-2 start wouldn't look good on his résumé. He shouldn't be on the New York Mets' Sandy Alderson timeline, meaning he has to move faster than a glacier. It's just the way of the NFL.
Idzik has been around long enough to put his stamp on the team. He signed, re-signed and drafted most of the projected starters. In fact, only seven starters can be considered true holdovers from the previous administration:
D'Brickashaw Ferguson
,
Nick Mangold
,
Muhammad Wilkerson
,
David Harris
,
Damon Harrison
,
Quinton Coples
and
Demario Davis
.
It's easy to notice they're the best guys on the team, Tannenbaum guys. Idzik needs to get some of his guys on that list. He already has
Sheldon Richardson
. By the end of the season, the list of top homegrowns should also include
Geno Smith
,
Dee Milliner
and
Calvin Pryor
. If Smith and Milliner are missing, the Jets will miss the playoffs for the fourth straight season, which won't bode well for Ryan's job security.
Idzik has the Jets pointed in the right direction, and the strides they made last season can't be dismissed. But let's be honest: They overachieved. They were one of the softest 8-8 teams in history, and you can look it up. Their point differential was minus-97, the largest since the 1970 merger for any team with at least eight wins.
The talent base should be improved this season, especially with the additions of
Eric Decker
and
Chris Johnson
. Decker was Idzik's one big splurge in free agency, his one Tannenbaum-like move. Johnson and
Michael Vick
will be one-and-done players, worthwhile Band-Aids who won't ruin the master plan if they fizzle. The offseason proved, once again, that Idzik won't deviate from his script no matter how much salary-cap room he has at his disposal. For the record, there's about $22 million as of today.
Idzik is doing it the right way, avoiding the temptation of the quick fix. That will pay off in the long run, but there will be problems along the way. For instance: Failing to sign a top cornerback in free agency was a mistake that could be exposed early in the season, when they face several elite quarterbacks. The cornerback issue will be exacerbated if Milliner fails to develop as hoped.
The Jets believe Milliner, drafted ninth overall, will be a special player, basing much of their opinion on his strong finish. The same theory can be applied to the quarterback situation with Smith. They're placing a lot of weight on those last four games, and that can be dangerous when you consider the competition. They beat three also-rans, three teams with mediocre (at best) quarterbacks: the
Oakland Raiders
,
Cleveland Browns
and
Miami Dolphins
.
Now, after seven months of positive mojo, the Jets can prove it wasn't a mirage. If Idzik's investments mirror the stock market, they'll be a playoff team. If it goes the other way, he'll hear the criticism, good and loud. The honeymoon is over. This is Idzik's time.
March, 30, 2014
3/30/14
5:00
AM ET
Thoughts and observations on the
New York Jets
:
1. Penny pinchers
: For those not happy with John Idzik's conservative approach to free agency... well, you may not want to read this. It will raise your ire to a new level.
[+] Enlarge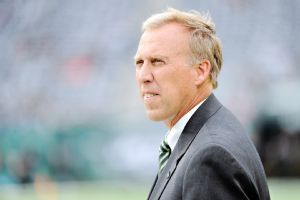 AP Photo/Bill KostrounJets GM John Idzik has a new style this offseason: less spending, more scouting.
Right now, the Jets have the lowest cash payroll in the NFL -- $86.1 million, according to overthecap.com. We're not talking cap dollars, we're talking actual cash spending for 2014. They're $50 million under than the top-spending team, the
Baltimore Ravens
. The paltry number makes the Jets seem like the New York Mets of the NFL.
In 14 months, Idzik has systematically dumped many of the highest salaries. Their once-top-heavy cap has thinned to the point where only three players have cap charges of at least $7 million --
D'Brickashaw Ferguson
($11.7 million),
Nick Mangold
($7.2 million) and
David Harris
($7 million). It's telling that the fourth- and fifth-highest cap numbers belong to players no longer on the roster --
Antonio Cromartie
($5.5 million) and
Mark Sanchez
($4.8 million).
The Jets flirted with several big-name free agents (
Jared Allen
,
DeMarcus Ware
,
Dominique Rodgers-Cromartie
), but missed out, in part, because they failed to show them the money. (Pardon the Jerry Maguire-ism.) What conclusions can be drawn? Either the Jets are cheap or Idzik is budgeting for the future. It's probably more of the latter. Know this: Starting this year, teams are required to spend at least 89 percent of the cap in cash over a four-year period. It looks like the Jets will have some catching up to do in future years.
2. DeSean update
: Unless they pull a 180, the Jets won't be a factor in the
DeSean Jackson
sweepstakes -- a smart move. He's not a fit for them. They held internal discussions on Jackson, with offensive coordinator Marty Mornhinweg giving his blessing. Mornhinweg, who coached him with the
Philadelphia Eagles
, told people in the organization that Jackson -- known for his bad-boy reputation -- wouldn't be a problem in the locker room. That apparently wasn't enough to sway Idzik, who reportedly hadn't reached out to Jackson's agent as of Saturday. Jackson is scheduled to visit Monday with the
Washington Redskins
. The
Oakland Raiders
might be interested as well.
3. On the road again
: Idzik has popped up at a number of the high-profile pro days, most recently the
Johnny Manziel
extravaganza at Texas A&M. He's taking more scouting trips than he did last offseason, when he was new on the job and felt obligated to work from the office as he familiarized himself with the operation and the staff.
4. For Pete's sake
: I caught up with
Seattle Seahawks
coach Pete Carroll at the league meetings and asked for a scouting report on right tackle
Breno Giacomini
, who left the Super Bowl champions to sign with the Jets. Carroll: "Great competitor. Really fierce. A really smart player. Tough. Great finisher. Physical. He's legit. We hated losing Breno. We would've liked to (have kept him), but we couldn't do it. We had no intention of wanting to lose him, but he's one of the guys we had to transition out of the organization. He's worth it (for the Jets). He got paid well and he deserves it."
Translation: We liked him, but not at four years, $18 million.
5. Cro is for the birds
: With All-Pro cornerback
Patrick Peterson
locking down one side of the field,
Arizona Cardinals
coach Bruce Arians expects opponents to attack former Jet Antonio Cromartie -- and he's just fine with that.
"I love the fact that there's going to be a lot of balls thrown at him, because I didn't throw that many when I was playing against him," Arians said at the league meetings, expressing confidence in Cromartie's coverage ability.
He'll rue that statement if Cromartie doesn't cover better than he did last season.
6. Sleeper with speed
: It was overshadowed by the Jackson news and the Sanchez signing, but the Jets picked up an interesting player Friday -- cornerback
Jeremy Reeves
. After a four-year career at Iowa State, where he intercepted five passes (two returned for touchdowns), Reeves was eligible for the 2013 draft. But he tore a pectoral muscle, missed his pro day, wasn't drafted and wasn't signed by anyone. After working out on his own for a year, he participated in Iowa State's pro day last week and burned the 40 in 4.29 seconds, according to school officials.
He's only 5-7, 167 pounds (picture
Darren Sproles
at corner), but that kind of speed -- even if not totally accurate -- turns heads. The Jets have a good feel for Reeves because Jeff Bauer, the director of college scouting, is an Iowa State alum, plugged into the Iowa scene.
7. Flying with the Eagles:
Former Jets quarterback Mark Sanchez (it feels weird typing that) made a good point in his introductory news conference in Philadelphia: He believes he could thrive in Chip Kelly's up-tempo offense because of past success in the hurry-up. Sanchez was at his best in two-minute situations, when he didn't have to read the entire field and was required to make quick decisions. So maybe there's hope for him in Philly. On the other hand, his career record against NFC teams isn't sterling -- 10 touchdown passes, 21 interceptions.
8. Reality star
:
Eric Decker
's reality show -- "Eric and Jessie: Game On" -- kicks off its second season Sunday night. (Jessie is his wife, a country-music singer, in case you didn't know.) I asked Rex Ryan if he's worried the show could become a distraction for his new wide receiver. He laughed, but his answer was no. Ryan said the show never came up in conversation with Decker prior to him signing.
9. More teams, wealthier coaches
: Ryan is in favor of expanding the playoff field. "Absolutely," he said. "When you look at the fact that bonuses are probably tied into it, absolutely." He laughed, but he wasn't joking. In his new contract extension, Ryan can trigger incentive bonuses for 2016 with playoff wins.
10. Changing times:
The Jets have 12 draft picks. In Ryan's first three seasons (2009 to 2011), with Mike Tannenbaum as the GM, they had a total of 13.