April, 9, 2014
Apr 9
12:45
PM ET
Return man
Devin Hester
departed for the
Atlanta Falcons
via free agency, but it's clear he'd like to still be with the
Chicago Bears
.
Hester made that apparent Wednesday with a couple of posts on his Twitter account.
To all my Bears fans I never wanted to leave the Bears, the organization decided to go another route with me. The things I did in Chicago

— Devin Hester (@D_Hest23) April 9, 2014
probably would never happen again and I always wanted to retire as a Bears pic.twitter.com/YbrOa1XxmE

— Devin Hester (@D_Hest23) April 9, 2014
Hester is correct that there's a good chance his exploits in Chicago won't ever be duplicated, but he shouldn't dismiss the possibility of eventually retiring as a Bear. From the looks of everything, the sides parted on good terms. When the Bears announced they wouldn't re-sign Hester, general manager Phil Emery put out a complimentary statement, thanking the return man for his contributions over the years.
One team source even said that "Devin holds a very special place for me. He is loved and well-respected by everybody. This is one of the harsh realities of the business aspect of the NFL."
"For the past eight seasons we have been honored to have Devin Hester as a part of our organization," Emery said in a statement. "While Devin has redefined the pinnacle standard of the return position in the NFL, the memories and contributions he has given us cannot be measured by stats or numbers. Not only is Devin a special player, he is also an exceptional person. He is a great teammate, husband and father. Devin represented the organization off the field as well as he did on it. When his career is over, he will always be a welcome member of the Bears family. We thank him for his dedication and wish his family the best."
In the 2013 season, Hester averaged 27.6 yards per kickoff return and 14.2 yards per punt return, and he is the NFL's all-time leader in punt return touchdowns (13) and punt/kick return TDs (18). In all, Hester has produced 20 return TDs, which is an NFL record.
March, 20, 2014
Mar 20
5:09
PM ET
Devin Hester
agreed to a three-year contract Thursday with the
Atlanta Falcons
, finally ending an exhilarating run as the man who re-wrote the record book as a return man in Chicago.
Hester
Known locally as The Windy City Flyer, Hester deserved more time with the Bears. But the direction the club is headed, coupled with the fact it could not afford to pay top dollar for a return specialist without a true position forced Hester and the Bears to part ways.
When Chicago finally sees Hester again in Atlanta this season, it will finally truly experience and come to know the fear it had put in opponents for so many seasons with No. 23 lined up deep. While it's obvious the Bears felt Hester is no longer the player he once was, it's a safe bet special teams coach Joe DeCamillis plans to place the his unit on high alert for what might take place if the group allows for even the slightest sliver of daylight.
Maybe Hester truly isn't the same returner he once was. But even with him supposedly experiencing a down season, my guess is at least once throughout the season, somebody in the stands at a game in 2013 held their breath for a second or two when Hester fielded a punt or a kickoff. That's the type of anticipation and excitement Hester brought to the return game in Chicago.
For those thinking he's lost it, look no further than the Oct. 20 game against Washington as evidence he hasn't. In that game, Hester broke a punt return for an 81-yard touchdown. A little more than a month prior to that contest, Hester ripped the
Minnesota Vikings
for a franchise-record 249 kickoff return yards; a feat that will likely be tougher to accomplish in the future with the NFL considering moving kickoffs to the 40, which will result in more touchbacks. It's also important to note all the big returns Hester broke in 2013 that were called back as the result of penalties.
Hester averaged 27.6 yards on kickoff returns last season, and reeled off gains of 20 yards or more on four of his 18 punt returns.
So clearly, Hester still possesses electricity in his game.
"For the past eight seasons, we have been honored to have Devin Hester as a part of our organization," general manager Phil Emery said back when the Bears announced they would not be re-signing Hester. "While Devin has redefined the pinnacle standard of the return position in the NFL, the memories and contributions he has given us cannot be measured by stats or numbers."
Instead, Hester will now provide all that for the Atlanta Falcons fan base.
In 123 games (46 starts) over eight seasons, Hester's 3,241 punt return yards rank No. 8 in NFL history and his 12.3 punt return average is good for fifth. Hester is Chicago's all-time leader in total return touchdowns, punt return touchdowns, punt return yards, kickoff return yards (5,504) and total kick return yards (8,745) and is second in all-purpose yards (11,632).
The numbers will only continue to grow in Atlanta, and you can count on an innovative mind such as Atlanta offensive coordinator Dirk Koetter deploying Hester on offense in creative ways; an experiment Chicago failed to execute successfully despite numerous attempts.
March, 6, 2014
Mar 6
1:18
PM ET
While Chicago's decision to part ways with
Devin Hester
underscores the sentiment of almost every player out there that the NFL is a tough business, don't feel sorry for him because he's still got plenty of gasp-inducing returns to dazzle you with.
It's just we no longer get the audio gold dug up when
Chicago Bears
play-by-play man Jeff Joniak calls Hester "ridiculous."
We no longer have to listen to that ridiculous song "Crank Dat (Soulja Boy)" when Hester lines up to field a punt or kickoff.
[+] Enlarge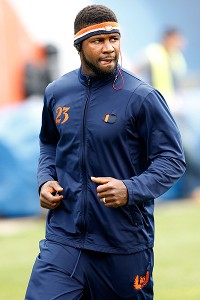 AP Photo/Charles Rex ArbogastThe Bears tried to find a place for Devin Hester at wide receiver and defensive back, but it didn't work out.
In the lead-up to free agency, neither general manager Phil Emery nor head coach Marc Trestman ever gave any strong indication the Bears wanted to bring back Hester for a ninth year in Chicago. So the move Wednesday and the corresponding statement of appreciation from the organization on Thursday didn't come as a surprise.
Clearly, Hester isn't the return man he once was. But he's still better than at least 95 percent of his return-specialist peers around the league, which is why some team -- perhaps even Tampa Bay under former Bears coach Lovie Smith -- is sure to snatch up Hester as soon as free agency hits on March 11. In fact, his agent, Eugene Parker, should be waiting by the phone when the negotiation window opens March 8 because he should get plenty of calls looking to add some pop to their return games.
Hester averaged 27.6 yards on kickoff returns last season, and took a punt 81 yards to the house against Washington. In fact, Hester ripped off runs of 20 yards or more on four of his 18 punt returns last season. So clearly, he's still got it. The Bears just didn't want it because of the associated cost paired with the lack of versatility.
A Bears source said on Thursday that Hester is loved and respected within the organization and that "things would be different" for his chances in Chicago if he had a true position on offense or defense. The club tried on numerous occasions over the years to give Hester opportunities to find roles on offense and defense.
Hester was unable to capitalize and counted $2.94 million against the club's cap in 2013, which is too much for a return specialist, regardless of his Hall of Fame résumé.
That shouldn't diminish Hester's legacy, as he's almost a lock to add to it with his next team.
Chalk the situation up to it being one of the harsh realities permeating the business side of the NFL.
Interestingly, Hester's story in Chicago comes almost full circle in a weird way. When the team was in the draft room discussing whether to select Hester in the second round back in 2007, the club's personnel men, like the rest of the league, were hesitant to take a chance on the return man because he wasn't a proven commodity at any set position on offense and defense.
Throughout that process, Smith was open-minded and receptive, which is part of the reason Hester landed in Chicago in the first place.
Perhaps it'll be Smith that gives Hester his next job.
January, 2, 2014
Jan 2
2:00
PM ET
Arrow indicates direction team is trending.

Final power ranking:
15
Preseason power ranking
: 13
Biggest surprise:
The
Chicago Bears
' offensive line didn't exactly set the world on fire, but for the first time in recent memory the group wasn't the weak link of the team. The Bears revamped the offensive line by adding four new starters:
Kyle Long
,
Jordan Mills
,
Jermon Bushrod
and
Matt Slauson
. The group's efforts, combined with a more quick-hitting passing game, resulted in just 19 sacks for QB
Jay Cutler
, his lowest total since 11 with Denver in 2008. The offensive line in 2013 displayed more consistency than any at other time in Cutler's time in Chicago, but the group struggled at inopportune times and often was aided by Cutler and
Josh McCown
getting rid of the ball quickly. Still, this year's group laid a foundation it can build on.
Biggest disappointment:
New defensive coordinator Mel Tucker will unfairly take criticism for the defense's failures in 2013. Coming off a 2012 campaign in which the defense ranked No. 5 overall and in the top 10 against the run and the pass, the unit in 2013 surrendered the most rushing yards (2,583) and points (478) in franchise history. Injuries played a major role. They cost the team a combined 72 missed games, 43 among starters alone. In recent history, the defense was the one facet that Chicago could always count on. But that wasn't the case in 2013. What's most surprising is how quickly the defense's decline came after being the team's backbone for so many years.
Biggest need:
The defense is badly in need of a total makeover, and the bulk of that work should be done on the defensive line. It's safe to say now that former first-round defensive end
Shea McClellin
hasn't lived up to expectations and franchise defensive tackle
Henry Melton
is overrated. The Bears also have to decide whether to move forward with
Julius Peppers
, who is expensive and starting to show his age (will be 33 on Jan. 18), while finding a way to bring back
Corey Wootton
. The back end needs help, too. The deals for cornerbacks
Charles Tillman
and
Tim Jennings
are up, as is the contract for safety
Major Wright
. The Bears also need to bring in competition to push underperforming safety
Chris Conte
.
Team MVP:
Running back
Matt Forte
quietly put together his best season as a pro, accounting for nearly 2,000 yards from scrimmage (1,933) and career highs in rushing (1,339 yards) and receiving (74 catches, 594 yards). Receivers
Brandon Marshall
and
Alshon Jeffery
may have made flashier plays, but make no mistake: Forte is what makes the offense go. Cutler called Forte the best all-around back in the league, and he definitely made a strong case for it in 2013. A true three-down back, Forte threatened defenses as a runner and a receiver. On passing downs, Forte was also key in the team's protection schemes.
October, 28, 2013
10/28/13
3:00
PM ET
A review of four hot issues as the
Chicago Bears
return from their bye week:
Don't bury yourself:
With Detroit and Green Bay coming off victories Sunday, the Bears -- regardless of the injury situation -- can't afford to lose the next two and bury themselves beneath the division. Given the way things appear to be shaking out so far, it looks as though at least one of the wild cards will come out of the NFC West (Seattle or San Francisco) and one could come from the NFC North. But consecutive losses at Green Bay on Sunday followed by the Lions at Soldier Field would put Chicago in a position where it would be nearly impossible to reach the postseason.
[+] Enlarge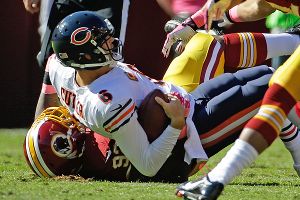 AP Photo/Alex BrandonWith Jay Cutler injured, the Bears need to force more turnovers and make more plays on special teams to keep from falling out of the playoff race.
Takeaways:
It's pretty well established that the Bears can't stop the run or the pass, but they can alleviate those major deficiencies with their uncanny ability to generate takeaways. So they definitely need to get back to taking the ball away, with quarterback
Jay Cutler
and linebacker
Lance Briggs
expected to miss a significant chunk of action. Against the Redskins, the Bears forced only one takeaway, and that's clearly not sufficient. In each of the past two losses, Chicago generated one turnover or fewer. But in each of the four wins, the club forced at least three. The turnover differential comes into play here, too. When the Bears have finished on the minus side or equal in turnover differential, they've lost their past three games.
McCown using supporting cast:
QB
Josh McCown
doesn't need to step outside of himself and try to be a hero as he fills in for Cutler because he has plenty of playmaking talent around him. The staff can help out with a game plan that features plenty of
Matt Forte
in the rushing attack to keep the Packers out of pass-rush mode. By establishing the run early, McCown can operate off play-action and hit high-percentage passes that allow the targets to gain their yards after the catch.
Special teams needs to carry heavier load:
Devin Hester
finally found his groove against the Redskins with an 81-yard punt return for a touchdown. But given the limitations on offense and defense, special teams needs to become a more dynamic facet of Chicago's game.
Adam Podlesh
can help the Bears win the field-position battle with long punts, while the coverage units on kickoffs and punts need to limit the yards gained on returns.
Robbie Gould
missed his first field goal attempt of the season against the Redskins, but it's unlikely he'll continue that course.
September, 18, 2013
9/18/13
5:30
PM ET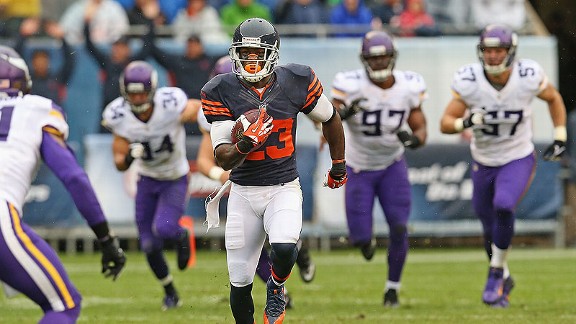 Jonathan Daniel/Getty ImagesDevin Hester had a career day against the Vikings on Sunday.
LAKE FOREST, Ill. -- Those personal-best 249 return yards
Devin Hester
racked up for the
Chicago Bears
on Sunday appear to have been born from a conversation early in the summer.
New coach Marc Trestman revealed Monday that it was Hester who suggested that a reduction in responsibilities could help him to once again be the kind of return man who used to pile up weekly honors while heading off to Pro Bowls.
"The conversation, to my recollection, was, 'It sounds to me like you just want to be a returner, and that's OK with me. I would like you to be the returner and focus solely on that,'" Trestman said.
The revelation debunks a common belief that Hester was demoted to a return-only role after years of mostly choppy results as a wide receiver.
"I don't ever remember me telling him that that was the way it's going to be," Trestman said. "I remember our conversation being more like, 'I know that's what you want to do, and I'm all-in.' That's sort of the way I remember it.
"Now, this was six and a half months ago. It was literally the second week I was here, I think. And it just stopped right there. [Special-teams coach] Joe [DeCamillis] started meeting with him, and we started developing a dialogue when we saw each other. It wasn't complicated at all. It just seemed to happen that way."
September, 8, 2013
9/08/13
6:00
AM ET
LAKE FOREST, Ill. -- Finally, it's time for the Bears to kick off the regular season Sunday, when they host the
Cincinnati Bengals
at Soldier Field.
Let's take a look at five things to keep an eye on in this matchup:
Rookies on right side of OL:
The debuts of rookies
Kyle Long
and
Jordan Mills
at right guard and right tackle, respectively, seems to have been one of the most widely debated topics all offseason. Well, now it becomes real.
Long is set to be the first rookie to start at right guard for the Bears in the Super Bowl era. In fact, the Bears haven't started multiple rookies on opening day since 1998.
"That's a cool trivia question," Long joked. "I try not to focus on that type of stuff. It's a good tidbit to know. But right now, I'm so focused on who to block on inside zone right and that kind of stuff. That stuff is far more important to me at this point."
[+] Enlarge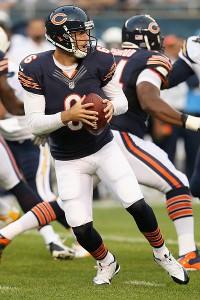 Jonathan Daniel/Getty ImagesProtecting Jay Cutler remains a top priority for Chicago's offensive line.
It definitely should be. Long and Mills face a Bengals defensive line that accounted for 43 of the team's record 51 sacks in 2012, and led by defensive tackle
Geno Atkins
, who led all NFL interior linemen last season with 12 sacks.
"Just having another rookie [in Long] to go through it with you is priceless," Mills said. "They have a great front seven with Geno Atkins,
Carlos Dunlap
,
Michael Johnson
,
Rey Maualuga
and the rest of the guys. But we're trying to be a great offense. We're going to come in there with a great game plan and we're going to be fine."
The new offense:
In terms of diversity with formations and play calling, this will be the most extensive look at the Bears' offense we've seen since the Aug. 23 preseason game at Oakland. Look for tons of shifts, formations and plays that get the ball out of
Jay Cutler
's hands quickly, not to mention some plays designed to move the pocket.
"The game plan is put together relative to how much we get practiced, how we want to spread the ball around," Bears coach Marc Trestman said. "Certainly it all starts with how we want to attack running and throwing the football. It's just a process you go through every Monday and Tuesday so to speak, during the course of a normal week; who you want to feature, how you want to use personnel groupings, how you want to use formations to be able to create advantages and working toward the strengths and weaknesses of the teams you'll be playing."
Trestman sounds as if Chicago's playbook is much deeper than what the team will select to execute against the Bengals. That's definitely a positive the Bears haven't had in the years before Trestman.
D.J. Williams at middle linebacker:
Trestman said Williams will play, but wouldn't give an indication of what degree, whether he'll be starting or how much he'll contribute. It's expected that Williams will start in the middle alongside
Lance Briggs
and
James Anderson
. But when you consider how much time Williams missed (virtually the entire training camp and preseason), it's reasonable to question whether the linebacker's conditioning level will be up to par to where he can play an entire four quarters.
It's also worth noting that Williams has missed the preseason the past two years, which means Sunday might not be as difficult for him as we think.
"I don't what to say I'm used to it, but I've been through this before," Williams said. "Being a veteran guy, you kind of know what you need to do to get yourself prepared for the game. I know coming into the first game there's going to be a little gas, a little winded. But the first game of the season, everybody is going to be kind of like that."
If Williams can't play the entire game, the Bears are confident they can go to
Jonathan Bostic
, who put together a strong enough preseason to inspire confidence in his ability to be a starter.
"I'm preparing like I'm a starter," Bostic said. "You never know what's going to happen."
Julius Peppers vs. Anthony Collins:
The Bengals might be thinking "uh-oh" when looking at this matchup on paper. Cincinnati Pro Bowl left tackle
Andrew Whitworth
is listed as doubtful heading into the game, which means the Bengals will line up Collins at the position, where he'll take on Peppers.
Look for the Bears to try to exploit the loss of Whitworth with Peppers, who is coming off a 2012 campaign in which he posted 11.5 sacks.
Former Bengals offensive lineman Dave Lapham, who is not a radio analyst told ESPN 1000's "Chicago Gamenight" on Thursday how he expected Cincinnati to handle Peppers without Whitworth in the fold.
ESPNChicago.com's Jeff Dickerson
takes you deeper
.
"I don't think he'll have movement issues with respect to Julius Peppers, but Peppers can bull rush you now, too," Lapham said. "He's a strong dude. So I'll be interested to see if Collins can hang in there against that bull rush that Peppers can employ to complement that quickness that he's got."
Devin Hester exclusively as a return man:
Hester worked all offseason exclusively as a return man, with the team stripping away his duties as a receiver. Now it's time to see if the extra focus on returns will pay off for Hester, who didn't receive much action in the preseason. Hester took part in just five returns (three kickoffs and two punts) and gained a combined 94 yards, with his longest runback being a 45-yard kickoff return.
Given that Hester is in a contract year, expect him to put together one of the best return seasons of his career. Hester needs only one more return touchdown to tie Hall of Famer Deion Sanders for the most career return touchdowns. My guess is Hester winds up breaking the record by Week 9.
August, 28, 2013
8/28/13
8:45
AM ET
Don't ring the alarm
regarding recent concerns expressed
by Bears receiver
Brandon Marshall
about his place in the offense, level of conditioning and recovery from a January arthroscopic hip surgery.
Marshall dropped two passes and had another knocked away against the Raiders. But the week before, he caught four of the five passes thrown his way, including one grab for a 5-yard touchdown. Despite the limited action we've seen thus far from Marshall, would any of the few snaps we've seen (50 by my count) suggest the Bears should be worried?

Marshall
"I had about 10 drops," Marshall said in recalling last week's win over Oakland. "I think the offense did well. For myself -- mentally, physical -- we need to pick it up a little more."
That's the mentality of an elite player: hypercritical. It's simply Marshall digesting the reality that with less than two weeks before the start of the regular season, with the team learning a new offense, he's still got a ways to go if he plans on matching his record-setting production from 2012.
Against the Raiders,
Jay Cutler
targeted second-year receiver
Alshon Jeffery
eight times for seven completions; twice the number of passes thrown to Marshall. But let's not forget Marshall accounted for close to half of the team's receiving yardage in 2012, and while that number will fall off some in 2013 in Marc Trestman's new offense, he'll still catch his fair share of balls. So Marshall, at this point, shouldn't be worried that he's "still trying to figure out my role and my place in this offense."
Jeffery and tight end
Martellus Bennett
will see plenty of passes thrown their way. But ultimately, the success of Chicago's passing game this season will hinge on Marshall, who at this point says "it's [now about] getting a feel for [the new offense], and having more experience in the offense."
Trestman made that clear Monday, saying the receiver is "going to have a lot of catches and certainly be instrumental in the success of our offense, and ultimately our team."
"It's B,"" Cutler said. "He's going to take it hard for a couple of days, and then he'll snap out of it and he'll be the guy we need next week. This week we don't need him. So he can stay on the ledge for a couple more days, and then come back next week. Conditioning-wise, he's a little behind. He knows where he needs to be. It's just a matter of him pushing his hip through things when it gets tight a little bit. Once we start getting into a routine in a game week, and we shorten some of these reps, we'll really figure out exactly what routes we want him on, and where we want him on the field. Hopefully things will sharpen us for his hip, and he'll be able to make it go."
Given the limited amount of snaps played by Marshall throughout the offseason, training camp and the preseason, he can't yet fully visualize the role Trestman envisions for him because he simply hasn't been on the field enough to become immersed in it. As for Marshall's implication the club might be rushing him back too soon, perhaps there's some truth to that. But he should know and understand the balancing act the team is performing in its attempt to keep him healthy, while also getting him the necessary reps to fully digest the offense which, eventually, will work the receiver into playing shape.
Coming into training camp, it appeared Marshall and Trestman weren't necessarily on the same page. On the day the club reported, Marshall said he needed to "listen to his body" and expected (and also eventually received) a few days off here and there as he continued to recover. That same day, Trestman spoke about how teams could no longer be liberal in granting days off for veterans because of the limited practices allotted in the new collective bargaining agreement.
When Marshall first underwent the surgery, a source close to him said he expected the receiver to be back "playing basketball in two weeks." Surely, Marshall expected the same.
Now that things haven't gone the way he expected, Marshall's a little concerned, and rightfully so, because only the receiver truly knows what's going on in his body. Still, it's worth it to remember the type of athlete Marshall is, and his sky-high expectations for the season.
"Brandon is working his tail off to get himself ready," Trestman said. "He feels a sense of urgency. He's a highly competitive man. He can only comment on how he feels. You saw him on the field at Soldier Field. You saw that he does have those moments where he can practice and work at a very high level. There have been days that haven't gone so well for him, and then he will bounce back."
So now isn't the time to get overly worked up about Marshall. Oakland might have been the setback, but my guess is Cincinnati on Sept. 8 is the bounce back.
Here's a couple of links to Bears news:
-- ESPN The Magazine columnist Chris Jones
loves him some Jay Cutler
.
-- Adam Jahns would be surprised if the Bears
cut Devin Hester
.
-- John "Moon" Mullin looks at the battle at swing tackle between
Jonathan Scott and J'Marcus Webb.
NFL SCOREBOARD
Thursday, 10/16
Sunday, 10/19
Monday, 10/20
WEEKLY LEADERS