NFL Nation:

Football Journey
October, 4, 2014
Oct 4
1:00
PM ET
IRVING, Texas -- When you talk about the most important players on the
Dallas Cowboys
' roster, you can't mention too many players before you get to
Dwayne Harris
.
He's an impact player as a punt and kick returner, he excels on punt coverage and he's the best blocking receiver on the roster. You can't run against eight-man fronts unless receivers are blocking linebackers and safeties.
Go ahead, ask running back
DeMarco Murray
just how important Harris is to the running game and see what he says.
[+] Enlarge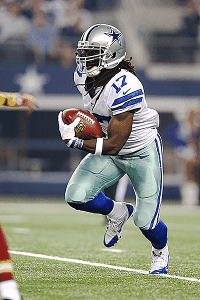 Matthew Emmons/USA TODAY SportsDwayne Harris makes plays for Dallas when he gets on the field.
When Harris has gotten an opportunity to contribute as a receiver, he's made an impact there, too. Not bad for a sixth-round pick from East Carolina.
Talk to enough coaches and they will tell you all Harris does is make plays.
In his first preseason game, he caught five passes for 127 yards and two touchdowns, including the game-winner with 15 seconds left.
Last season, he had an 86-yard punt return for a touchdown and a 90-yard kickoff return in a win against Washington, and he caught a seven-yard game-winning touchdown pass against Minnesota with 35 seconds left.
Last season, he finished third in the NFL in punt returns (12.8 yards per return) and second in kickoff returns ( 30.6 yards per return) .
Here is what Harris has to say about his journey to the NFL:
What was the name of your first team?
Harris:
The Bulldogs
What was your first position?
Harris:
Center
What position did you play in high school?
Harris:
Quarterback
What's your most memorable high school memory?
Harris:
"We played our rivals Southwest DeKalb and I was the first freshman to ever beat them. I can't remember all the stats, but I led us to a win.
What colleges did you visit?
Harris:
"I visited North Carolina, Southern Miss, Kentucky and East Carolina. Those are the only schools that offered me to play quarterback. Everybody else wanted me to play receiver."
Why East Carolina?
Harris:
"It was my best chance to play quarterback. I red-shirted. I made the switch to receiver after my freshman year. Going into my sophomore year I just thought about the statistics. Me, I'm 5-foot-10 so I just made a business decision. It was about getting to the next level and what gave me the best chance to do that.
"Initially, I wasn't playing as much. I had a Wildcat package, but I wanted to be the starter because I wanted the ball in my hands all of the time. I talked to my coach and told him I wanted to change positions. Initially, they tried me on defense and I played cornerback for about a day.
"During my red-shirt year, they were going to take the red-shirt off and put me at running back, but it didn't work out. One of our running backs had a great game, so they didn't need to take the red-shirt off.
"Then they moved me to receiver. I had never played it before, so it took my about five games until I got on the field as a receiver. Until then, I was just a punt returner and a quarterback."
When did you start to think you had a chance to play in the NFL?
Harris:
"After I broke every receiving record at ECU. I went to the Senior Bowl and saw some of the guys who were also at the combine. At the combine it was the same guys I had seen play in college, so it wasn't like I didn't know them."
What was draft day like? Did you expect to go higher than the sixth round?
Harris:
"I expected myself to go higher than that. I don't think a lot of the guys picked higher than me were better than me. I wasn't mad at all on draft day, I was just happy I got a chance to be picked by somebody. I thought whoever got me was going to get a steal."
The Cowboys cut you in October of your rookie year and signed you to the practice squad where you spent nearly two months before getting back on the active roster. What was that experience like?
Harris:
"It was an experience. You don't know what to think. You don't know what your next move is going to be. It was the first time it had ever happened to me. It was a scary 24 hours. Once they brought me back, I just continued to try to work hard and improve my craft."
One of the reasons coach Jason Garrett said they cut you is because you couldn't get your weight down. You weighed 210 and they wanted you about 205. Did they tell you that?
Harris:
"They've been saying I weigh too much since I got here. In college I played at 210 and I was a good player at 210. They wanted me to drop a little weight to make me quicker. So I did. I don't feel like I've gotten any faster, but that's what they want me to do, so I did it."
When did you know you could be an impact player at this level?
Harris:
"From the beginning. Anytime they gave me a chance to play I had a good game and did what I had to do. And that's from Day 1. In my first preseason. Whenever I got a chance I just tried to make plays."
What do you love about football?
Harris:
"I just love the game. I love the physical nature of it because I'm a physical guy. The game is like life to me. You know the way
Dez [Bryant]
loves it and he shows all that enthusiasm -- I'm the same way -- I just don't get quite as excited as he does."
How would you describe your football journey?
Harris:
"It's just beginning. I haven't really touched the base of my talent. I haven't really actually gotten to play or do anything besides special teams -- I play a little offense -- but I haven't gotten my chance to really shine."
January, 18, 2014
Jan 18
5:00
AM ET
One of the things the
New England Patriots
liked about cornerback
Logan Ryan
as a prospect in the 2013 NFL Draft was his ball disruption, as he was viewed to be among an elite group that included first-round picks
Dee Milliner
and
D.J. Hayden
, and third-rounder
Tyrann Mathieu
in terms of getting his hands on the football.
This has turned out to be a case where college reality has turned into NFL reality.
[+] Enlarge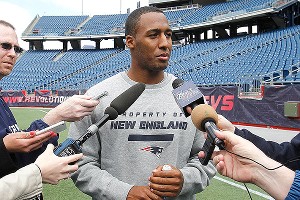 Jim Rogash/Getty ImagesDefensive back Logan Ryan has made an impact in his rookie season with the Patriots.
Ryan, the team's third-round draft choice out of Rutgers (83rd overall), led all NFL rookies with five interceptions this season. He's played just more than 50 percent of the defensive snaps, making contributions that have exceeded most everyone's expectations -- except the Patriots' and his own.
The 5-foot-11, 195-pound Ryan once again figures to be a big part of the defensive plan when the Patriots visit the Broncos on Sunday in the AFC Championship Game.
At 22 years old, he comes across as mature beyond his years as he shares his "football journey":
When he first started playing football:
"When I was 8 years old. My brother [Jordan] is three years older and he started playing. I would come to a couple practices and wanted to play, so my dad signed me up."
First positions:
"Tight end, but growing up, I played all over the field. My dad [Lester] was my coach most years growing up, in Little League, and he made sure every single year that I was playing a different position. He wanted to teach me football from being quarterback, to not having the ball in your hands, to being a receiver, corner, safety, linebacker ..."
More on his father:
"He's a coach at heart. He's a martial arts instructor, so he's a great teacher. He never coached football before, but he wanted to be my coach [as an assistant] growing up, so it helped out."
Role models in his life:
"Definitely my father and older brother. They are the first people in my extended family to graduate college, so they definitely set the standard for me. Growing up, I always wanted to be the best, but I was a poor sport at times. If it wouldn't go my way, I would throw a fit. They always held me responsible, telling me I couldn't be like that. I feel like they knew I had talent at a young age, and my brother and dad both protected me and made sure I developed it and didn't waste the potential I had."
Favorite players and teams growing up:
"I grew up in the Philadelphia area, so I was a Philly sports fan in everything. I would say, in general, I liked watching quarterbacks and how they control the game. Also, Deion Sanders, elite competitors like that. A little bit of everybody."
Top football memories of Eastern High School:
"I was the quarterback and it was fun leading those guys, having the ball in my hands, and being the guy the people looked to when it came to making plays, or in that sense, calling a play. Growing up with my high school friends and carrying out that role [was meaningful]. We were extremely competitive; made the state semifinals two years in a row."
Why Rutgers was the right choice for him:
"It was a no-brainer. It was in-state. I felt like we were going to do something special, and we had a lot of guys in Jersey stay home."
Top football memories at Rutgers:
"We were able to get a share of the Big East title for the first time ever. I would say that last year, the defense we had and the amount of guys we have in the NFL now, we knew that we had something special going on. We felt like we came up a little short, but at the end of it, we did a lot of special things."
How teammate Eric LeGrand made an impression on him:
"He is one of the best people I know. That's how I know everything happens for a reason and to people who can handle that situation.
You see how many people he inspires now
; more than if he played football. He's handling it great."
Thoughts entering the NFL in 2013:
"I had no idea [how it would unfold], but the one thing I knew, I said 'regardless of where I get drafted or what round or how much playing time I get, I'm going to be ready.' I was training to play in the NFL, I wasn't training to get drafted high. I was training to have a good rookie year and training to win a Super Bowl. That's something I never lost sight of."
Picked by the Patriots in the third round (83rd overall):
"It was a blessing. It's where I was supposed to be, a perfect situation for me and my family. I knew it was a great opportunity. It's been a dream come true, doing what I love to do at the highest level, at almost the highest organization. It helps me become a better person off the field and on the field, playing in an organization like this."
What he loves about football:
"I think it's the most physical and competitive sport in the sense that it's man vs. man. Who wants it more? Who worked harder? Who is more prepared? I just think it's America's sport for a reason, and to be able to do it at the highest level is everything a competitor dreams of."
Highest and lowest moments in football
: "Inches. Details. The littlest things can be the difference in the best play I've made all year or the worst play. It's not by much. That's how I approach it. I approach this position like 'If I was a step quicker, I would have made that play.' Or if I have a great play, my teammates put me in position to make it. It's a team sport and I try not to get too high or low with anything."
What he prides himself on as a football player:
"A passionate player who doesn't take off any plays. There are no practices when I don't want to get better, and someone who is consistent and you can trust on and off the field to represent myself and the Patriots in the right light, and who on the field can be trusted to make plays when need be."
Summing up his football journey:
"I've come a long way, but it's everything I've always pictured. I think I still have a long way to go, and I hope to be in even greater places in years to come."
January, 11, 2014
Jan 11
5:00
AM ET
FOXBOROUGH, Mass. --
New England Patriots
cornerback
Aqib Talib
has turned in a stellar 2013 season with a heavy heart. One of the biggest role models in his life,
his father Theodore
, died the morning of Sept. 12.
Talib
That night, in a 13-10 victory over the
New York Jets
, Talib played one of the best games of his six-year NFL career.
"He was out there with me," Talib said of the game in which he had two interceptions and a forced fumble. "That's my No. 1 role model."
Theodore Talib had been ailing with lung disease (sarcoidosis) for the past three years. When Aqib was drafted by the
Tampa Bay Buccaneers
in the first round of the 2008 draft, he had Theodore, who had been living in Trenton, N.J., move in with him.
In one respect, it gave father and son important time together. But it was also tough for the son to see the man he admired most in failing health.
Talib, who grew up in the projects of Cleveland, explained that the words "family first" tattooed near his right hand are there for his dad.
"He did the best job you can do in terms of taking care of your family. He and my mom [Okolo] were separated since I was born, and he still took care of her. He just showed me how to be a dad, a family man, how to handle your business as a man."
Some of Talib's business that has found its way into the headlines since he entered the NFL is not the flattering type. He's had
run-ins with the law that are well documented
.
There have been no such issues since he was traded to the Patriots in November of 2012 and now Talib, after declining several requests over the last year, shares his "football journey":
When he first started playing football:
"I first started playing organized football in eighth grade. I moved to Texas in '99 and that was my first time putting on shoulder pads and a helmet."
Why he moved to Texas:
"I had lived in Cleveland and Trenton, New Jersey. My dad was in Trenton, so I used to be in school in Cleveland and in Trenton for the summer. And then for the second half -- in fourth, fifth, sixth grade -- it was Trenton for school and Cleveland for the summer. So I was kind of back and forth. Then, after seventh grade, that summer, my mom moved from Cleveland to Texas. My brother was in 11th grade and he had heard about all that Texas [high school] football. He had dreams of going to the NFL too, so he was like, 'I want to play my last two years in Texas.'"
His first taste of organized football:
"We had played in Cleveland on the street, but it wasn't the thing to do, putting on pads. We played basketball and baseball. There just wasn't anyone playing [organized] football."
Favorite teams and players growing up:
"Definitely the Cowboys, man. I was really a
Michael Irvin
fan. And
Deion Sanders
. That was America's Team."
Top memories of playing football at Richardson Berkner High School:
"In 11th grade, I think we went 7-3 and tied for third [place] but didn't make the playoffs. In 12th grade, we went 8-2, made the playoffs, and that was the first time the team went to the playoffs in 30 or 40 years, or something like that. That's probably the best memory, making that playoff."
Enrolling at University of Kansas:
"[Head coach] Mark Mangino showed me the most interest out of anybody who was recruiting me. He came down, ate my mother's breakfast, and then put it in a way, 'We're Kansas; we might not be Texas -- but you're in the Big 12 and you get to play against Texas, you get to play against Oklahoma, Oklahoma State, Nebraska, all those guys, and show what you got.' He kind of sold it."
Top memories of playing football at Kansas:
"Definitely that Orange Bowl year. We got to 11-0 before we lost to Missouri in the rivalry game. Then we won the Orange Bowl game and I was the Orange Bowl MVP."
Deciding to enter the draft after his junior season:
"A lot of people were talking about it after my sophomore year and [Coach] Mangino was like 'If you play one more year here, and leave after your junior year, you'll be my first first-rounder.' We had kind of planned it. He put me on offense, let me score some touchdowns, returns. After the Orange Bowl, I was really going after that."
Selected in the first round of the 2008 draft by the Buccaneers (20th overall):
"You kind of followed the draft boards while you were in college and I kind of had an idea that if I went to the combine and ran fast, I had a chance of going in the first round. So I went there and ran 4.44 and had a good idea I was going first round. There were a lot of pre-draft interviews and a lot of those coaches told me 'If you're at this spot, we're going to take you.' So it was just a matter of where I was going to go."
Summing up his four-plus years with the Buccaneers:
"I loved my team there, man. It was a real close group of guys and I had three years under Coach Raheem Morris and he's still one of my best friends to this day. It was a great experience when I was there, a great facility, and great weather. I bought my first house out there. I wouldn't change anything."
Getting traded to the Patriots in November of 2012:
"I was surprised at first, because me and [Coach Greg] Schiano, I used to meet with him all the time. I was one of the leaders on the team. I thought we were on good terms. He kind of told me what the situation was, about the owners, whatever the situation was. I got traded and where else better to get traded than here? I was excited, man. It was like, 'Damn, I got traded?' But then my brother was like, 'You're going to the Patriots. You're going to the playoffs every year.' It was a lot of excitement -- I didn't want to get traded to anywhere but here."
Entering free agency this past offseason after his half-season with the Patriots:
"I had a half-year to see how this organization was run. It's like an A1 business, from the coaches to the locker room. The players accepted me so fast. They're a close group of guys and it was kind of like our locker room in Tampa. I didn't want to go to a whole another locker room and meet more guys. You can't pass up an opportunity like this, to work for a company like this. I had no intentions on going anywhere else."
After signing a one-year deal, preparing to enter free agency again this upcoming offseason:
"Just let it play out; I kind of don't worry about it. We still have work to do here. Right now, I'm a Patriot and I go one day at a time."
His two biggest role models:
"My dad had four kids and always kept a decent job, whether we were in the projects [or not]. He took care of his kids to the max and acted like everything was perfect. We knew it wasn't. We lived in the projects. He just did a great job as far as taking care of his kids, his whole family -- he has nine brothers and sisters. They'd call him for money like he was rich, but he was living in the projects. Then my brother, man. My brother [whom Talib calls 'Q'] kind of followed in his footsteps; he's all about his business. He showed me the ropes on how you get to the league. I didn't know about getting scholarships, going to the combine, keeping a certain GPA, but my brother was the brains of the operation. I'd say my dad and my brother, they kept me on the right foot. They are good men."
What he loves about football:
"The competition. I love a guy lining up across from me and thinking he's going to beat me and me knowing that I'm not going to let that happen. That's the best thing about football -- there are 60-something guys going up against 60-something guys and no matter what we're going our hardest, trying to win. It's that competitive nature. In the locker room, you'll see us playing basketball with the trash can and it's competitive with that too. That's the main thing I love -- the competition."
Summing up his football journey:
"It's like a movie, man. Somebody could write a book on it. From where we came from in Cleveland, that neighborhood, it was terrible. There are probably all abandoned houses there. It kind of still seems unreal to me."
The pride he takes in having come from such a tough background:
"I don't take one minute for granted. I pray every morning. I pray every night. I thank God every morning and thank God every night for blessing me with what He blessed me with."
October, 26, 2013
10/26/13
5:00
AM ET
FOXBOROUGH, Mass. -- Receiver
Wes Welker
is the highest profile acquisition the
New England Patriots
have made for a player with AFC East ties. But he's far from the only one.
The familiarity of facing a player twice a year in division play has led the Patriots to sign several others in Bill Belichick's 14-year coaching tenure, such as receiver Sam Aiken (Bills), cornerback
Marquice Cole
(Jets), defensive end Shaun Ellis (Jets) and running back Sammy Morris (Bills/Dolphins), among others.
White
This year, core special teams player
Chris White
has been added to the list.
White played 22 games for the Bills in 2011-2012 after being selected in the sixth round of the NFL draft, so when the Patriots were looking for special teams help at the 53-man roster cutdown in September, the 6-foot-3, 240-pound White was at the top of their list.
"He's a young guy [24] but experienced and plays in all four phases of the game [kickoff return, kickoff coverage, punt return, punt coverage]," Belichick said. "He's a core guy for us -- dependable, smart, works hard."
White, who has played in all seven games this season, totaling three special-teams tackles (2 solo, 1 assisted), shares his "football journey":
When he first started playing football:
"I started when I was young, flag football. I was 5 or 6 maybe. My mom [Amy Myrick] had put me in all sports -- basketball, baseball, football. I did everything."
First positions:
"Running back and linebacker."
Role models in his life:
"My mom. I look up to her bigtime. She kind of raised me and my brother [Carl] by herself. My parents got divorced, and my dad [Larry] died when I was 8. It was tough, but she's always been there for me. She's the reason why I'm here today."
Learning important lessons at Vancleave (Miss) High School:
"To tell you the truth, I kind of messed around in high school and didn't take my classes as seriously as I should have. That led me to Junior College, which was probably the best thing that happened to be. The only D-I school I had been getting recruited to was Southern Miss., and I ended up going to Mississippi State [after junior college]. We had a pretty good two years when I was there, under a new coach, Dan Mullen. That helped my career out a lot."
Attending Mississippi Gulf Coast Community College:
"It definitely helped [get me on track] -- small school, small Mississippi town. It was close to home, about an hour away, and that helped. I could go home on the weekends and see my family and stuff like that. They check classes there; you have to keep your grades up. [Coach] Steve Campbell, he does a really good job with that program. He's still there and is a great head coach."
How he ultimately turned the corner with grades:
"I think football helped a lot. I started seeing I was pretty good at football, so I said, 'You know what, I'm going to take my grades and classes pretty seriously now.' In high school, I just wanted to have fun. I got by."
Football at Mississippi Gulf Coast Community College:
"We won a national championship my freshman year, which was awesome, 12-0. Then my sophomore year, we went 10-2. We won a lot of games there, and they're still really good."
Earning a scholarship at Mississippi State:
"It was in-state, an SEC school, and it's a good college town. I definitely enjoyed it. I had committed after my first year of junior college. Other schools were talking to me -- South Florida, Kansas State, Southern Miss -- but they didn't really offer me a scholarship because I was already committed."
Top football memories at Mississippi State:
"I'd probably say beating Florida and Georgia my senior year. Those were pretty fun games. We played Florida in Gainesville, and I was the national defensive player of the week. I enjoyed that [smiling]. "
Drafted in the sixth round by the Bills in 2011:
"I was expecting it, knowing I was going to go late, but I was still disappointed [it wasn't earlier]. Still, you get the call and you're excited. I was pumped."
Lessons from his two-plus years with the Bills:
"You learn that NFL is 'Not For Long' -- guys come and go. It's a tough business, but it's a good business. It's a great town, a great sports town. They love their Bills, so it's a good place to play."
Top football memory from the Bills:
"[Laughing] Probably beating the Patriots my rookie year. That was a great game for us."
Traded by the Bills in the 2013 preseason for Lions QB Thad Lewis:
"I was kind of shocked and surprised by it, but that happens. I had to go with it. Then the Lions released me [within a week] and I ended up here. So I'm happy about playing here."
If he takes anything with him from his brief stop in Detroit:
"Not too much. When it's that fast, it's kind of like a blur."
Reaction to being claimed by the Patriots on Sept. 1:
"I was pumped. There's a lot of winning here. I like that."
Proud of his Mississippi roots:
"I love Mississippi. People are really nice down there. It's a lot of small towns and just great people. The coast is a good place to live, because you have the water and a few things to do. Not as much compared to Boston, but still things to do."
Favorite professional athlete growing up:
"Brett Favre. Obviously, a Mississippi guy [smiling]."
Favorite professional team growing up:
"The
Washington Redskins
. My dad was a big Redskins fan, I don't know why he was. But we were bigtime Redskins fans. I was a Saints fan, too. My stepfather [Nick Myrick], that's still one of his favorite teams, behind us obviously [smiling]."
Impressions of New England from a Mississippian:
"I like it a lot. The country is so pretty up here; the trees and stuff are beautiful. In Mississippi, you see a lot of pine trees. You come up here and it's different. I love it."
Summing up his football journey:
"Kind of the underdog. I've always been fighting to earn a job and keep playing. That's what I'm still trying to do -- keep fighting."