NFL Nation:

Jay Cutler Show
December, 24, 2013
12/24/13
8:00
AM ET
Chicago Bears
quarterback
Jay Cutler
praised receivers
Brandon Marshall
and
Alshon Jeffery
for their contributions this season, saying the former needs to make his first playoff appearance in eight seasons as a pro, while the latter deserves to make the Pro Bowl.
A four-time Pro Bowler, Marshall has caught 94 passes for 1,221 yards and 11 touchdowns, while Jeffery is responsible for 1,341 yards and seven TDs on 86 receptions. Marshall and Jeffery form the league's top receiving duo in the NFL with 2,563 yards, with the combined receiving yards ranking as the most in franchise history by a duo.
Jeffery
Marshall
On multiple occasions, Marshall has discussed making the Pro Bowl and receiving lucrative contracts, but he claims the goal now is to finally play in a postseason contest for the first time in his career and eventually compete in the Super Bowl.
"I feel bad for him," Cutler said Monday during the "Jay Cutler Show" on ESPN 1000. "An amazing player on his third team and has played at a high, high level. I saw a stat at some point. He's the first player to have two 1,000-yard seasons for three different teams. We've talked about it. We've mentioned it to some of the coaches and some of the guys. Everyone is just shocked eight years have went by and he still hasn't made the playoffs. So he deserves it. Like I said, we're gonna do everything possible Sunday and I know he will, too."
As for Jeffery, the quarterback is hoping the second-year pro is recognized for his breakout 2013 campaign. A second-round pick, Jeffery played in just 10 games as a rookie due to hand and knee injuries that forced him out of six contests.
After spending the offseason working out with Marshall, Jeffery returned in 2013 to make a significant impact on the offense.
"I think he deserves it," Cutler said, when asked if it's important the receiver is recognized for his accomplishments. Given the rule changes for the Pro Bowl, it was mentioned to Cutler that eight receivers would be taken overall, regardless of conference. "I think he's a top-eight receiver in the league, and I think he'll get recognized," the quarterback said.
Cutler also believes Jeffery's work habits will help him enjoy a long career. When Cutler first watched Jeffery as a rookie, his talents and abilities were "off the charts," the quarterback said.
"You watched him make some plays, and you're like, 'Man, if this happens consistently, he's gonna be hard to stop,'" Cutler said. "He's just too good. He makes too many big plays. He's too consistent at practices. It's every day with this guy. He's doing things on the sideline when we're not going. He's a consummate pro at Year 2, which is hard to find. Most guys, it takes three or four years to figure out what they need to do on and off the field. But Alshon's got it nailed. He's very even-keeled. He's gonna be around for a long time."
December, 16, 2013
12/16/13
8:30
PM ET
Chicago Bears
quarterback
Jay Cutler
felt supported by teammates during his return to the lineup Sunday at Cleveland after a month out of action, despite suggestions to the contrary.
Cutler admitted that most of the support came from teammates on offense, and the quarterback said he wasn't aware about potential division in the locker room regarding the decision to start him over backup
Josh McCown
.
"Offensively, yeah, [I felt support from those players]," Cutler said Monday during the "Jay Cutler Show" on ESPN 1000. "I'm not in the defensive meetings. We don't talk to those guys as much. I felt support from those guys going into the game. I know there were some media outlets saying otherwise. It is what it is. At the end of the game, I felt supported, which is all that was really needed."
[+] Enlarge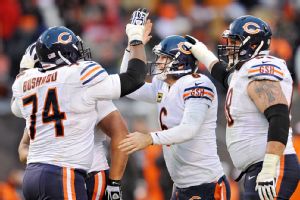 AP Photo/David Richard"At the end of the game, I felt supported, which is all that was really needed," Cutler said of his return.
Cutler shook off a slow start against the Browns in which he threw two interceptions, including one returned for a touchdown in the second quarter, and led the Bears to a 38-31 triumph, which keeps the club in the chase for the NFC North title. With Cutler leading the way, the offense converted 64 percent of third downs as the quarterback completed 22 passes for 265 yards, and three touchdowns for a passer rating of 102.2.
Prior to the game, multiple reports surfaced hinting at division in the team's locker room over the decision to reinsert Cutler as the starter over McCown. Filling in for four outings prior to Sunday's game at Cleveland, McCown had thrown for 1,271 yards and nine touchdowns with only one interception for a passer rating as 109.8, which ranked as third in the NFL. McCown also led the NFL with a Total QBR of 85.7.
According to one report, sources said players bit their tongues during the week leading up to Sunday's game out of respect for Bears coach Marc Trestman, but that some defensive players were likely to speak up if Cutler didn't perform well against the Browns. Cutler was aware of the situation, according to that report. But Cutler denied that.
"No, I wasn't aware of that. No one approached me and said, 'Hey, out of respect to you and [coach Trestman] we're not gonna say anything. We don't think you should play.' You never know," Cutler said. "Locker rooms are funny places. Guys get put in these situations. It might not have even come out that way. It might have just been they said something and that's how [it was perceived]. I'm not gonna make a big deal out of it at all. I felt that everyone supported me. I thought the guys went out there, and after we had a rough start, they bounced back for me and everyone was there on the sidelines saying, 'Hey, next play, let's keep moving on.' I felt supported, which is the only thing that really matters."
Prior to making his first start in a month, Cutler said he spoke to several players on the offensive side of the ball to let them know he would be returning to the lineup. Knowing how well McCown had performed in relief, Cutler wanted to know whether teammates would support his return.
"I've talked to [receiver
Brandon Marshall
] about it," Cutler said. "We've been together a long time. I knew he'd shoot me straight. I talked to [center
Roberto Garza
]. I mentioned some stuff to the linemen. Everyone was super supportive. Like, 'This is what we've been waiting for: you to get back. So let's go. Let's quit talking about it. Let's go out there and play.' So guys were great. I said it yesterday, it's a really, really cool group to work with. The bonds are forming and getting stronger and stronger each week."
December, 2, 2013
12/02/13
4:06
PM ET
LAKE FOREST, Ill. --
Chicago Bears
quarterback
Jay Cutler
reiterated his goal to return for the club's Dec. 9 matchup against the
Dallas Cowboys
on "Monday Night Football," but indicated he hasn't yet received clearance from the team's medical staff after suffering a severe high ankle sprain on Nov. 10.
Just last week, Cutler said "the goal" was to return by Dec. 9. But Bears coach Marc Trestman maintained that Cutler is still "week to week," adding that "we'll just see where he is."
Cutler
"Getting better," Cutler said Monday during "The Jay Cutler Show" on ESPN 1000. "Still got to talk to the doctors, gotta go through some stuff this week. I don't know. I think if we're gonna have any shot at playing, I'm gonna have to practice [this week]. I still feel like I'm gonna get back here really soon. I want to play. It's just the trainers and doctors and going through the scenario we've got to go through."
Cutler missed three consecutive games due to a severe high ankle sprain sustained in the second quarter of a Nov. 10 loss to the
Detroit Lions
. Veteran
Josh McCown
filled in for the last three games and produced a 2-1 record, throwing for 1,038 yards and five touchdowns with only one interception.
In those three starts, McCown produced a passer rating of 103.8. On the season, McCown is 3-2 as a starter with an overall passer rating of 103.6, which currently ranks as the second best in Bears single-season history.
McCown passed for 355 yards and two touchdowns against the Vikings.
Cutler said he ran on a treadmill Monday, and "felt good about that," adding that he hopes "there's no ill effects tomorrow."
With the team's postseason prospects on shaky ground, Cutler said that even if the Bears fall out of contention for a playoff berth in the coming weeks, he'd still like to return to the lineup.
"I want to play as soon as I can play. I've been out long enough," Cutler said. "Just want to be able to help the guys be able to win football games, no matter what the situation is."
Similar to his recovery from a torn muscle in his groin back in November, Cutler underwent a vigorous regimen to return to full health from the latest setback.
The rehabilitation process included Cutler spending copious amounts of time improving mobility in the injured ankle, in addition to doing exercises to strengthen the area. Cutler also used an ARP machine to speed up the recovery process.
Cutler has missed portions of two games already this season, in addition to the three other contests. The quarterback has completed 63 percent of his passes for 13 touchdowns and eight interceptions for a passer rating of 88.4.
"I'm not sure where we are right now [with Cutler's progress]," Trestman said. "He visited the doctor today, and we'll know more Thursday or Friday. But [his return to the field will] start with some limited work, see how he moves around and we'll take it from there. It's still week to week. I'll know a little bit more in the next 24 hours. I really can't answer that question right now. I'm not trying to hide anything from you. That's where we're at."
Cutler missed half of the club's Oct. 20 loss to Washington due to a groin strain, and all of the team's Nov. 4 upset win over the
Green Bay Packers
. Cutler returned from the groin injury in a Nov. 10 to the Lions and sprained the ankle.
With his contract set to expire after the season, Cutler admitted last week that his injury history could affect the team's evaluation of him. Cutler missed time last season due to a concussion and six games in 2011 because of a broken thumb.
Cutler also missed a game in 2010 due to a concussion.
October, 1, 2013
10/01/13
7:00
AM ET
In addition to acknowledging his role in the
Chicago Bears
' 40-32 loss on Sunday to the
Detroit Lions
, quarterback
Jay Cutler
dispelled rumors that illness factored into his performance.
Cutler committed four turnovers -- three interceptions and a fumble returned for a touchdown -- as Chicago had its first loss of the season on Sunday at Ford Field, with the quarterback completing just 27 of 47 passes for 317 yards and a passer rating of 65.6.
"I felt good. I felt fine. Do I look all right?" Cutler asked Monday on ESPN 1000's "The Jay Cutler Show". "I wasn't sick. If I [were] sick, I wouldn't say anything. It didn't happen. Nothing had any impact on the way I played. I missed some throws; wish I could have three or four of them back like we talked about. But we can't. So it only counts as one game, just like the other ones."
Cutler entered the game with his average pass traveling 3 yards through the first three outings, but he threw 45 percent of his passes more than 10 yards downfield against the Lions, with the average pass traveling 12.3 yards. That, not to mention Detroit's pass rush, played a role in Cutler committing four turnovers and converting only one third down in 13 attempts.
Bears coach Marc Trestman said Cutler made good decisions, but failed to throw the ball accurately on too many occasions. By attempting longer passes, Cutler increased the level of difficulty on his throws. During the first three weeks of the season, Cutler opted for more high-percentage attempts (shorter throws) which increased his completion percentage.
Cutler acknowledged the true test for the team now is how the Bears rebound against the Saints after the difficult loss at Detroit.
"I think that's fair," Cutler said. "That's how this is: You never really are in the present in the NFL. You're either talking about what's coming up or you're talking about what just happened. You're never really living in the moment and talking about the now, and 'What can we do now to get better?' That's what our job is as players, and that's the perspective we've got to keep. Obviously you've got to look at what's ahead of you. But after that game is over, you've looked at it, it's over with. The only thing right now that we can control is getting ready for the Saints. I think we learned a lot about our team already in the second half of that Detroit game; the way that offensively we kept fighting."
Trestman said Cutler "expressed his sense of accountability" for his performance Monday during meetings at Halas Hall.
"I'm encouraged," Trestman said. "I see him do so many things in practice, moving his feet and doing the right things. But he's got to hang onto the ball on the quick throw he had to the left backed up. He dropped the ball down. He put it in one hand. He's got to have it in two hands, and he's got to throw it away or move on. He was trying to make something happen late and he let his fundamentals go. These are things he's done better this year, and we're going to work at them. We're in Game 4 and know we've got to get better. That's what we'll attempt to do this week."
September, 10, 2013
9/10/13
11:42
AM ET
Jay Cutler
called his best throw of Chicago's 24-21 win over the
Cincinnati Bengals
the 38-yard completion down the right sideline he fired to
Brandon Marshall
with 11:22 left to play during what turned out to be the game-winning drive.
Out of the shotgun formation, Cutler dropped the pass between the cornerback and the safety to Marshall for the completion.
Cutler

Marshall
"The best throw I made, probably the one to [Marshall] down the sideline late in the game," Cutler said Monday during the "Jay Cutler Show" on ESPN 1000. "We finally caught man [coverage]. We had been dialing up man plays, and hadn't caught man; finally got it. It's just gratifying whenever you can hit one."
The play came just after a 6-yard completion to Marshall. Three snaps later, Cutler scrambled for 18 yards, before finally capping the drive with a 19-yard touchdown pass to Marshall, who was locked up in a one-on-one situation with Cincinnati safety
Reggie Nelson
.
Marshall finished the game with eight catches for 104 yards and was targeted a team-high 10 times. Cutler threw
Alshon Jeffery
's direction eight times and to
Matt Forte
and
Martellus Bennett
six times apiece.
While there's the perception that Cutler tends to lock on to Marshall, the quarterback said the game plan always is to spread the ball around to all of the team's weapons.
"There's gonna be games where we're gonna have to ride [Marshall], where we're gonna have to [ride] Matt. There's gonna be games where Alshon is gonna have to step up and Martellus," Cutler said. "Ideally to keep the defense guessing, you want to [spread] the ball to these different guys. That's kind of the game plan that we're going with; with different formations, putting guys in different spots, and being able to get the ball around to different areas of the field. I don't think going into the game we thought Brandon was gonna get 10 catches [Marshall had eight]. He did. Sometimes it works out like that."

NFL SCOREBOARD
Thursday, 8/21
Friday, 8/22
Saturday, 8/23
Sunday, 8/24