NFL Nation:

Jon Greenberg
May, 9, 2014
May 9
12:27
AM ET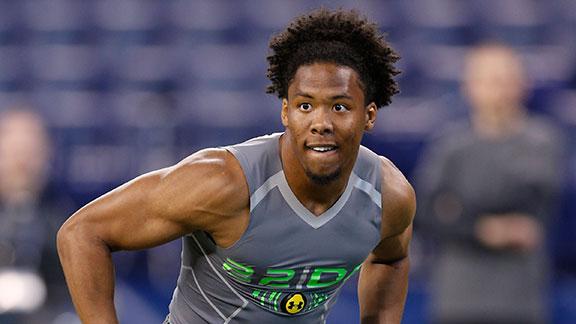 LAKE FOREST, Ill. -- As
Chicago Bears
general manager Phil Emery finished up a 17-minute news conference Thursday night at Halas Hall, the muted TV to his right showed the
Green Bay Packers
taking Alabama safety
Ha Ha Clinton-Dix
with the 21st pick in the draft.
Emery passed on Clinton-Dix, a mock draft favorite, when he took Virginia Tech cornerback
Kyle Fuller
with
the 14th pick in the first round

of Thursday's made-for-TV draft.
[+] Enlarge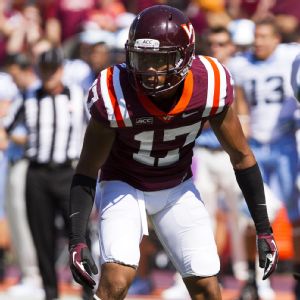 Lee Coleman/Icon SMIBears first-round draft pick Kyle Fuller was a four-year starter at Virginia Tech.
If Fuller struggles and we see Clinton-Dix picking off
Jay Cutler
next year, we'll have a good laugh (ha ha) about it, right, Bears fans?
Don't answer that.
You'll be surprised to know Fuller was the player the Bears wanted all along. Emery played coy about Pitt defensive lineman
Aaron Donald
, who ended up going a pick before the Bears' turn, but he couldn't help but effuse over Fuller, a tough, versatile cornerback who should excel playing Chicago Bears defense in Chicago Bears weather on Chicago Bears chewed-up turf.
He can hit and he can cover. Basically, he's the perfect football player, according to Emery's news conference.
"He's even a great person," Emery said.
No kidding.
Emery's a wild card around draft time, but we all figured he would go defense, given the glaring needs up front and, well, all over. But you shouldn't be surprised he wasn't monomaniacally focused on safety. It's a long draft. I think it's over in July. So there will be more chances to draft a young safety this season.
This wasn't a best-player-available situation, either. The Bears have a need, a hybrid defensive back, and Fuller filled it. ESPN guru Mel Kiper Jr. even picked this one.
"We decided on Kyle Fuller, the player," Emery said. "That's the important thing. He's a good player with a lot of versatility in his coverage."
Versatility is a word thrown around a lot around this time, and Fuller said, as draft picks are wont to do on draft night, that he's open to playing anywhere.
"I feel like they know I can play corner, nickel and possibly safety," Fuller said in a conference call with reporters. "I'm a versatile player."
Versatility is nice. The Bears just need more bodies. Let's go back to how last season ended, with safety
Chris Conte
blowing coverage, however it happened, and Packers receiver
Randall Cobb
going 48 yards for a division-clinching touchdown. At that time, the call was for a complete demolition of the defense, starting at safety.
Conte's still around, but his partner,
Major Wright
, is gone. The Bears re-signed Charles "Peanut" Tillman and corner
Tim Jennings
, and brought in a handful of free agents at safety.
This isn't a leap. Fuller makes perfect sense. Emery just wants someone to cover the wide variety of receivers and tight ends in the modern NFL offense. The Bears need to match up with Green Bay and Detroit, not to mention the various offenses they see around the league.
Emery mentioned how Fuller covered tight ends like
Eric Ebron
, who was taken 10th by Detroit.
"His versatility of coverage was a big attraction," Emery said.
We already know the Bears are going to go more "hybrid" this season under coordinator Mel Tucker. That's the new rage, and of course, the old one. Disguising coverages is nothing new.
Fuller, who will line up inside and eventually supplant Tillman or Jennings on the outside, is expected to play right away, wherever.
"We see him as a corner with a lot of versatility in terms of coverage, in terms of covering different sorts of athletes," Emery said. "That's where his length comes in."
Ah, length, another favorite buzzword come draft time. Fuller's no giant, he's a shade under 6-foot and 190 pounds, but Emery fell in love with him when he live-scouted Virginia Tech-Georgia Tech. Fuller forced a fumble and made two tackles for loss in that game.
"I knew that day that's the type of player that I wanted to represent the Chicago Bears," Emery said.
Let Emery explain.
"He was playing Georgia Tech, and they lined him up at inverted safety and ran him through the A gap against an option team to crash the mesh point between the quarterback and the fullback," Emery said in plain English. "And he repetitively did that. This is one tough football player."
On Thursday, Emery marveled at Fuller's physicality, including 129 solo tackles as a four-year starter (with some injury history, that is of course, no concern whatsoever). In 2011, as a hybrid "whip linebacker/nickelback," he led all college defensive backs with 14 1/2 tackles for loss. He's also a highly-regarded special-teams player, blocking two punts in his career with the Hokies' always dangerous unit. He's got a good pedigree, with two older brothers who have played in the NFL. His brother Corey is a practice squad receiver with Detroit.
Emery, of course, raved about
Shea McClellin
when he drafted him as a versatile pass-rusher. Two failed years later, McClellin is being moved to linebacker this year as a last-ditch effort to save his Bears career.
The Bears GM has made bold moves to renovate this defense for 2014, most notably signing defensive end
Jared Allen
. But Chicago will need Fuller to be more like
Kyle Long
, an instant starter.
A confident Emery left the press room Thursday sure the Bears have hit on this pick. Fuller was the best player on their board and is the start of a new defensive generation.
After all, he was the guy they wanted all along, and maybe the guy you wanted all along, too. Even if you didn't know it.
February, 28, 2014
Feb 28
11:30
AM ET
By
ESPNChicago.com
| ESPN.com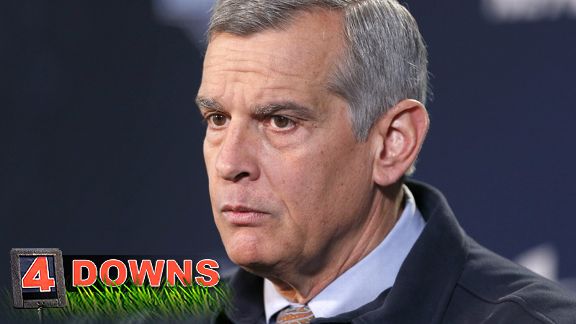 Brian Spurlock/USA TODAY SportsGeneral manager Phil Emery will turn to the draft to help fix the Bears' defense.
With an aging defense full of question marks, the Bears have plenty of needs as they head into May's NFL draft.
At the scouting combine, general manager Phil Emery seemed to hint that he'd be open to dealing their first-round pick, repeatedly mentioning the depth of offensive playmakers at the top of the draft, not an area of need for the Bears.
So if you were Emery, would you make a deal to acquire more picks? Our panel weighs in on that and more in an offseason edition of Four Downs:

Fact or Fiction: The Bears should trade their 14th pick for more picks later in the draft.

Jeff Dickerson:
Fact. The Bears are open for business. The problem is most teams are in the same boat. In a perfect world, a team would always find a way to move back in the draft and stockpile additional picks. Think how valuable those extra draft choices would be this year as general manager Phil Emery attempts to rebuild the defense. But it takes two teams (at the minimum) to pull off a trade. The Bears would love to listen to offers for No. 14 if any come their way.
Jon Greenberg:
Fact. The Bears aren't one player away on defense. Not that I advocate playing a ton of rookies, but the team needs depth and it needs depth at a good price. If they can get two picks in the top three rounds, preferably including a lower first-round one, for the 14th, go for it. That's why general manager Phil Emery shamelessly touted all of the offensive weapons available at that spot while speaking to reporters at the combine. The Bears' rare stability on offense gives them room to maneuver in the draft.
---

Fact or Fiction: Henry Melton is more likely to return to the Bears than Charles Tillman.
[+] Enlarge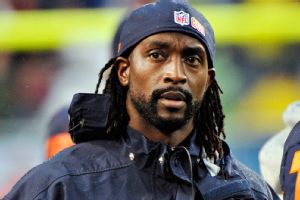 Rob Grabowski/USA TODAY SportsAfter 11 seasons with the Bears, Charles Tillman will test the free agent market.
Jeff Dickerson:
Fiction. This is tough one. I think both are 50/50 to return. I almost wonder if Melton, because of his age, will receive better offers in free agency than most of us expect, even though he is coming off an ACL injury. There is no reason for the Bears to overpay to keep Melton. None. In my opinion, Tillman is still one of the best cornerbacks in the NFL. He'll have options, but with his age and recent injuries, the Bears could still be in position to bring him back, if Tillman wants to continue playing in Chicago. That's the big question. Does Tillman really want to stick around and play for the new regime? Free-agent cornerbacks were paid about $4.5 million annually last year. If the price is around the same next month, I believe the Bears might be inclined to go that high to keep Tillman. That's why I feel of the two, Tillman has a better shot to continue his career with the Bears.
Jon Greenberg:
Fact. Tillman wants to test the free-agent market and at his age, this will likely be the last full payday he will see. I hope he gets paid in full. Tillman will go down as an all-time great, the epitome of the Bears defense during this era. He'll be signing autographs, cutting ribbons on car dealerships, and eating free at steakhouses until he's old and gray. But unless he's willing to sign cheap, and why would he, he's not coming back. Melton, meanwhile, is damaged goods after tearing his ACL last season. He'll come at a lower cost and give the Bears the heft they were missing in the front when he and
Nate Collins
went down. The Bears will likely draft a young lineman with their first pick and a vet like Melton will help ease him in.
---

Fact or Fiction: The Bears should draft a quarterback in the middle rounds.
[+] Enlarge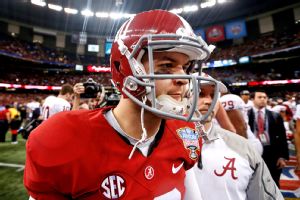 Derick E. Hingle/USA TODAY SportsIf the Bears are looking for a quarterback in the middle rounds, Alabama's A.J. McCarron could be an option.
Jeff Dickerson:
Fact. Why not? Even if the Bears do re-sign
Josh McCown
in free agency, the team will eventually need to add a young quarterback to the roster. Let's face it,
Jay Cutler
is playing on a three-year deal. Whatever happens beyond 2016 is entirely dependent on Cutler's performance and health. But there are no guarantees. McCown, if he returns, will turn 35 years old in July. The Bears need to keep an eye on the future. Now, the Bears won't draft a quarterback just for the sake of drafting a quarterback. You can't force it. But if a quarterback the Bears covet is available in the middle rounds (Alabama's A.J. McCarron, LSU's Zach Mettenberger, Georgia's Aaron Murray, etc), the club should seriously consider addressing the position. Head coach Marc Trestman knows what he is looking for at the quarterback position. Give it to him, if the right guy remains on the board on the second or third day of the draft.
Jon Greenberg:
Fiction. There's a groupthink about this idea, that the Bears have to draft a quarterback for Trestman to develop. I disagree, though I certainly wouldn't criticize if they found an undervalued QB late in the draft. Well, until I see him throw, that is. My take: Unless the Bears get a bundle for that 14th pick, I think draft picks this season are too precious to spend on a quarterback project when you have a starter set for the next few years. Armed with his new extension, Jay Cutler is essentially signed for three years, though I'm guessing he's in Chicago for another four. While this draft is being touted for good quarterbacks, there will be more next year and the year after that. The Bears should be looking at current sophomores and juniors and plan to draft one next season. This season, they should be trying to lock up McCown for another year or two, and if that doesn't work out, another veteran.
---

Fact or Fiction: Shea McClellin will be a much better NFL linebacker than defensive end.
[+] Enlarge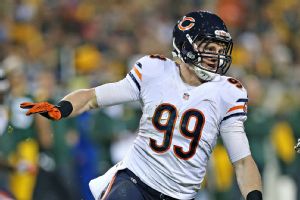 Jonathan Daniel/Getty ImagesShea McClellin will transition from defensive end to linebacker in 2014.
Jeff Dickerson:
Fact. I believe McClellin has a better shot to succeed in a two-point stance. McClellin is a great athlete. Let's not forget that important fact. Football is about putting players in the best possible position. I cannot guarantee that McClellin will thrive at linebacker. But I'll take my chances with McClellin rushing the quarterback with a running start versus a tight end, as opposed to having him operate at defensive end with his hand on the ground against an offensive tackle. New skill development coach Joe Kim will work hard with McClellin to enhance his pass-rushing skills. That's the plan, at least. The organization wants McClellin to turn into a really good football player. He seems to have the right attitude. We know he has certain talents. Now the Bears have to unlock the potential. Linebacker gives them the best shot to do just that. If he fails, he fails. But it won't be for a lack on effort on McClellin or the Bears' parts.
Jon Greenberg:
Fiction. We have no idea how he'll play this unfamiliar position. Is he quick enough to play linebacker? Can he shed blocks? Let's say he starts at strong-side linebacker. Teams will game plan to attack him, and if his defensive linemen can't dominate their opponents, he's going to be hung out to dry. This move signifies the Bears' last-ditch effort to salvage the first-round draft pick. It's not a no-brainer move aimed to sending him to the Pro Bowl. Now, maybe he picks up the change quickly and has a nice career. But I'm guessing his linebacking tenure looks a lot like his defensive end time, a few good plays, and some tantalizing potential, overshadowed by disappointment.
January, 31, 2014
Jan 31
10:00
AM ET
By
ESPNChicago.com
| ESPN.com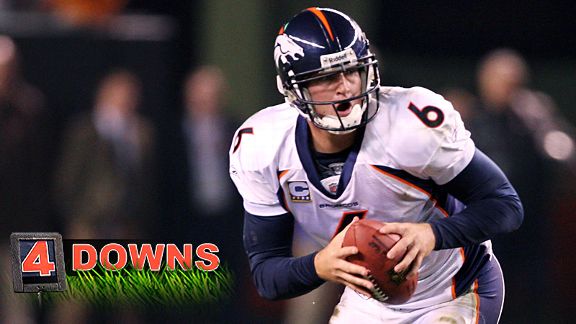 Matthew Emmons/USA TODAY SportsJay Cutler has one trip to the playoffs in five seasons with the Bears.
It wasn't exactly the Herschel Walker trade that created the
Dallas Cowboys
' dynasty, but the steep price the Bears paid for
Jay Cutler
set the Broncos up nicely. Five seasons later, who got the best of the deal?
Our panel weighs in on that and more:

Fact or Fiction: Five years later, the Broncos are the winner of the Jay Cutler trade.

Jeff Dickerson:
Fact. The Bears have been to the playoffs one time with Cutler in the past five seasons and gave up two first-round picks, a third-round choice (the Bears got Denver's fifth-round pick and selected former wide receiver
Johnny Knox
) and quarterback
Kyle Orton
to obtain him. In that same five-year span, the Broncos have gone to the playoffs three times (
Tim Tebow
has been to the postseason as many times as Cutler) and are poised to win their first Super Bowl championship since the late 1990s on Sunday. I won't even bore you with the details that Denver eventually parlayed some of those picks from the Bears into wide receivers
Demaryius Thomas
and
Eric Decker
. You know why? Because I don't need to. Success in the NFL is measured in playoff appearances and Super Bowl championships. Cutler supporters will view this as a shot at the quarterback. It's really not. I deal in reality. When a team surrenders two first-round draft picks, a third-rounder and its starting quarterback (Orton) to acquire a supposed franchise quarterback and then reaches the postseason just one time in the five years after the deal from a team that ends up reaching the playoffs three times and playing in a Super Bowl over the exact same time period, the winner is obvious: the second team. Spin it any way you want, the Broncos crushed the Bears on that trade five years ago.
Jon Greenberg:
Fiction. The Bears traded picks for a franchise quarterback, and that is what they have in Cutler. It hasn't been easy, but after a few stops and starts, it looks like Cutler is finally poised to live up to the expectations brought about with that trade. If he had been traded to a team with big receivers and an offensive-minded coaching staff, this wouldn't even be a question. It's a testament to the Broncos that they wisely used the picks to get Super Bowl contributors in
Robert Ayers
and (through trades) Thomas and Decker. When you trade a star to get draft picks, that's how it should work, a win-win for both sides. But the real key, of course, is
Peyton Manning
being available. Otherwise, this isn't even a debate.
---

Fact or Fiction: The Bears should pursue Martellus Bennett's brother Michael in free agency.
[+] Enlarge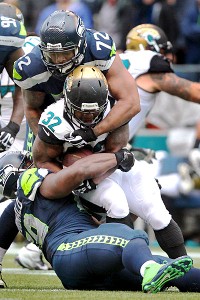 Tony Overman/The OlympianSeahawks defensive end Michael Bennett figures to get a big payday in free agency.
Jeff Dickerson:
Fact. It should be noted that with the record amount of underclassmen declaring for this year's draft, the Bears should be able to find young talent on the defensive line in May. But Bennett is playing the best of any Seahawks defensive lineman in the postseason, and should be a hot commodity in free agency. However, don't be surprised if Seattle makes a strong attempt to re-sign Bennett after it lucked out last offseason and signed him to a one-year deal after the veteran defender left the
Tampa Bay Buccaneers
. That being said, I assume the Bears will pursue Bennett and attempt to unite him with his brother in Chicago. But I have no idea if the Bears will be able to accomplish this until we see what kind of market there will be for Bennett when the new league year begins in March, or if Seattle tries to complete a deal with him before we reach that point of the NFL calendar.
Jon Greenberg:
Fact. But the problem is money. Can the Bears afford both Bennetts? Though Chicago will almost certainly have to reconfigure contracts to make more salary room, it's easy to believe that
Michael Bennett
will command more than the Bears can offer. And he just might want to stay in Seattle, which is in, you know, the Super Bowl. As Martellus told reporters this week in New York, his brother's best friend is going to be Benjamin Franklin, because he wants to get paid. Still, the Bears have to pursue him.
---

Fact or Fiction: The Bears should use all of their draft picks on defensive players.
Jeff Dickerson:
Fiction. It's never a smart idea to enter a draft fixated on a single player or side of the ball, except of course if a team holds a top-five pick in the first round. Fixing the defense is clearly the Bears' No. 1 priority in the offseason, but general manager Phil Emery should not hesitate to devote a mid-round or later-round selection to improving the offense, if that player is hands down the best available talent on the board at that stage of the draft, and the Bears believe he can help them in 2014. Don't forget, the Bears still need another tight end to complement Martellus Bennett, and they could also be in the market for a starting center if veteran
Roberto Garza
finds a better offer on the open market and departs via free agency. Wide receivers and young backup quarterbacks are always considered commodities in the NFL. Eventually, the Bears will need a young quarterback on the depth chart to replace
Josh McCown
, or even Cutler in the future.
Brandon Marshall
is in the final year of his contract, and while the Bears could re-sign him or turn to 2013 seventh-rounder
Marquess Wilson
in the immediate future at the position, if a dynamic pass-catcher is available in the later rounds, take him. Good organizations usually share a common theme: They are flexible on draft weekend. While the Bears are likely to use some of their early picks on defense, it's best to keep an open mind when the draft reaches its later stages.
Jon Greenberg:
Fiction. You can't solve an immediate problem like the Bears' defense with a bunch of rookies. The Bears should look to address depth on the defensive line (cheaper than a premier free agent) and add a young safety in the first two rounds, and after that it's all about best player available and creating depth across the team. A good general manager, and Emery is one, uses the draft to help balance salaries across every position. I could see the Bears drafting another young offensive lineman, a young tight end and, yes, maybe a quarterback. It's all about finding value. But to fix the defense, the Bears are going to have to sign free agents. So the draft is not a cure-all for their ailments.
---

Fact or Fiction: Marquess Wilson will emerge as the Bears' No. 3 receiver in 2014.
[+] Enlarge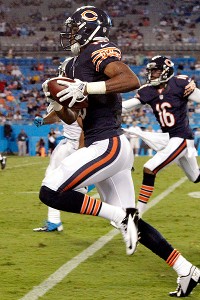 AP Photo/Bob LeveroneThe Bears like Marquess Wilson's potential, but can he take a big leap in his second season and become a No. 3 receiver?
Jeff Dickerson:
Fiction. This is a tough one. Wilson absolutely figures to have a larger role in the Bears' offense moving forward. But I hesitate to close the door on
Earl Bennett
after he had a relatively productive year in 2013 given his pecking order in the offense behind Marshall,
Alshon Jeffery
,
Matt Forte
and Martellus Bennett. Presently, Earl Bennett is scheduled to count $2.450 million against the salary cap in 2014 after he took a pay cut last season that reduced his cap number to $1.350 million. Maybe another salary reduction is in the cards for him. You have to figure it's a strong possibility. If he accepts and again tries to earn some of the lost money back via incentives, I believe Earl Bennett has a strong chance to keep his stranglehold on the No. 3 wideout spot. He is a proven player. Wilson is not. At least, not yet. But this one is subject to change, because the Bears do think Wilson can develop into a serious playmaker in the coming years. If that in fact does occur, it could put Earl Bennett's roster spot in jeopardy at his current salary structure.
Jon Greenberg:
Fiction. The Bears would be wise to rework Earl Bennett's deal and keep him around another year. Last season, they restructured the deal to save cap money, and I assume that would happen again to keep him on the roster making more than $2 million. I don't know enough about Wilson to hand him the third receiver spot a month after the season ended, and I doubt the Bears do, either. Maybe they'll see something in OTAs that will convince them he's ready to step up into a prime-time role. But the Bears should want to keep Earl around for another season, at least, as the offense continues to improve.
November, 27, 2013
11/27/13
2:24
PM ET
By
ESPNChicago.com
| ESPN.com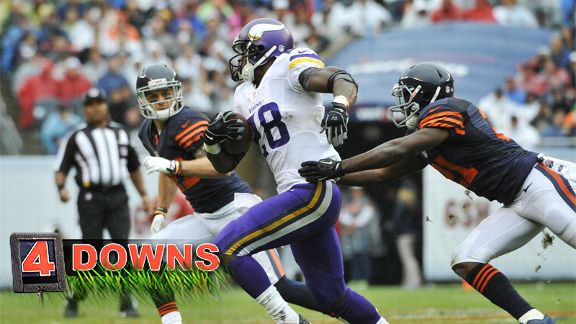 David Banks/Getty ImagesAdrian Peterson has four 100-yard rushing games this and ran for 146 against the Packers on Sunday.
The
Chicago Bears
' porous run defense made
St. Louis Rams
undrafted rookie running back
Benny Cunningham
look like
Adrian Peterson
last week. What's in store for the real Adrian Peterson on Sunday? The Adrian Peterson who averages 107.7 yards a game, the most of any Bears opponent in team history?
Our panel weighs in on that and more:

Fact or Fiction: Adrian Peterson and the Vikings will run for at least 275 yards against the Bears on Sunday.

Jeff Dickerson:
Fiction. If the Bears fail to stack the box with a minimum of eight defenders on every snap with the exception of third-and-long, then fire the entire coaching staff immediately after the game. The Vikings and Peterson are the NFL's 11th-best rushing offense (122.5) and the 25th overall passing offense (207.0). Make them throw to win. Last I checked, the Bears still do a decent job in the secondary defending the pass (No. 13), but are No. 32 out of 32 teams when it comes to run defense (145.2). If Minnesota tops 275 yards on the ground Sunday, there needs to be a formal investigation.
Jon Greenberg: Fiction. Peterson won't get a yard over 255. Seriously, the Bears, who have given up 123-plus rushing yards in six straight games (258 last week), will need to do some serious scheming to keep Peterson from winning this game. They've had some success in the past, but they just don't have the players. When your defensive line is Julius Peppers, projects and waiver-wire guys and your linebackers are two-thirds rookies, it's tough enough. But then you have breakdowns in gap discipline and, well, it's going to be a long day. Still, under 275.


---

Fact or Fiction: Chris Conte will be a Bear in 2014.
[+] Enlarge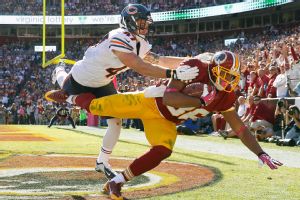 Brian Cassella/Chicago Tribune/Getty ImagesBears safety Chris Conte has had a tough season, but he's not alone on the defense.
Jeff Dickerson: Fact. I understand the frustration over the safety position, but what Conte needs is competition, not to be flat-out released at the end of the season. Major Wright is scheduled to be an unrestricted free agent in the offseason so if he finds a team willing to pay more on the open market, let him go. But Conte's salary-cap number for 2014 is only $788,400. That's a reasonable figure for a player who will be 25 next year with roughly 40 career starts. Conte has made his share of mistakes this season, but his struggles have been magnified by the awful performance of the front seven. Were fans screaming about Conte last season when Brian Urlacher, Nick Roach and Lance Briggs were the three starting linebackers? That doesn't excuse the errors or poor angles, but Conte can be an effective free safety. However, I would strongly advocate the Bears have Conte compete for his job next summer. As we've written before, competition brings out the best in everybody.

Jon Greenberg: Fiction. The Bears should have two new safeties. Look at how Phil Emery handled the offensive line this year. No more chances, no more "developing" the tackles of the "future." Just get rid of them and move on. The Bears' brain trust will say the right things now to boost up Conte and Wright, but I'm guessing we'll see a very different defense.


---

Fact or Fiction: Jon Bostic has shown enough to warrant a starting job in 2014.
[+] Enlarge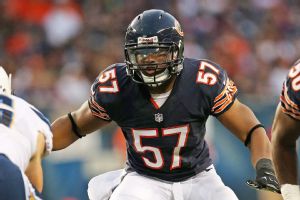 Jonathan Daniel/Getty ImagesJon Bostic is learning on the fly as one of two rookie starting linebackers.
Jeff Dickerson: Fiction. I put Bostic in the same boat as Conte. Bostic is clearly part of the Bears' future, being a 2013 second-round draft choice, but to simply hand him a starting job next season seems a tad premature. To put it nicely, Bostic has not played particularly well the past couple of weeks. Maybe if he closes the season out on a strong note, the Bears will feel better about handing him the job next year. But I'd make him earn it. However, this is the NFL, and the trend in the league is hand high-draft picks starting jobs, even if they don't deserve them. So it wouldn't surprise me one bit if the Bears go that route with Bostic.

Jon Greenberg: Fact. Though you wonder if he'll be in the middle. The Bears need wholesale changes on defense, but Bostic will be one of the few holdovers. He's been thrust into a difficult position, especially with the defensive line turnover, but he has the spark and he has the IQ to be a starter.


---

Fact or Fiction: Julius Peppers is playing his final season as a Bear.
[+] Enlarge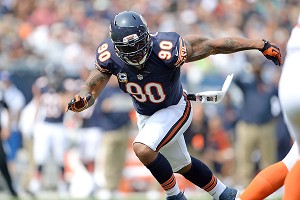 AP Photo/Greg TrottUnder his current deal, Julius Peppers will be a cap hit of more than $18 million for the Bears next season.
Jeff Dickerson: Fact. Peppers seems like a goner unless he agrees to take a drastic reduction in pay in 2014. The Bears can't afford to carry a player on the 53-man roster with a projected cap hit of $18,183,333 unless that player is a franchise quarterback. Peppers has shown the ability to still have good games from time to time, but he is no longer one of the NFL's premiere pass-rushers. If you can no longer get to the quarterback, then you can no longer cash the really big checks. For a couple million dollars, I'd bring Peppers back for another season. But not for the $14 million he's scheduled to earn in 2014 under his current deal.

Jon Greenberg: Fact. His cap number is more than $18 million next season. Peppers has already had his contract restructured twice, but I wouldn't count on a third time. Peppers was a good signing, and he still his moments but the Bears need depth. It's best to use that money elsewhere. But hey, if he wants to play for a lot less money, I'm sure the Bears would be up to re-sign him. I just don't see it happening.
November, 22, 2013
11/22/13
11:24
AM ET
By
ESPNChicago.com
| ESPN.com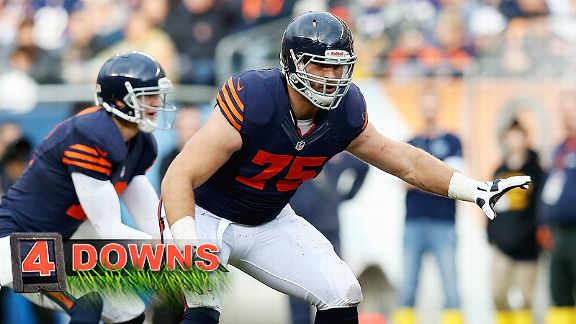 Jonathan Daniel/Getty ImagesKyle Long and the Bears offensive line will be in for a challenge against a formidable Rams defensive front.
Peyton Manning
and
Eli Manning
have played each other several times, but, as quarterbacks, the brothers' matchup is more figurative because they are never on the field at the same time. But when right guard
Kyle Long
(Bears) and defensive end
Chris Long
(Rams) play Sunday in St. Louis, the brothers have the potential to go heads to head.
Will Chris Long get the best of his younger brother? Is
Zac Stacy
the next running back in line for a big day against the Bears' run defense? Our panel weighs in on those questions and more:

Fact or Fiction: Chris Long will beat Kyle at least once and get a sack.
[+] Enlarge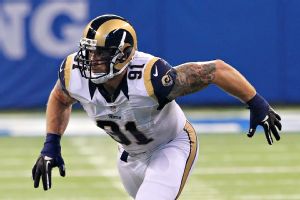 Pat Lovell/USA TODAY SportsThe Rams' Chris Long has 6.5 sacks this season.
Jeff Dickerson:
Fiction. If Chris Long beats a Bears offensive lineman for a sack on Sunday, it will be either left tackle
Jermon Bushrod
or right tackle
Jordan Mills
. Rams coach Jeff Fisher said on Wednesday that he does not anticipate Long bumping inside and lining up at defensive tackle, which is where he would have to play in order to go head-to-head with right guard Kyle Long. Maybe the two brothers exchange words and get tangled up after the whistle, or perhaps the younger Long is asked to help out Mills to block Chris Long, but don't expect the sibling rivalry to take place head-up in the trenches.
Jon Greenberg: Fiction. Chris Long has a better shot of beating tackle Jordan Mills, whom he'll mostly be matched up against in a one-on-one situation. Either way, I think the odds are decent the Bears hold the elder Long brother sack-less, if only because that's what they're good at. The Bears have given up the third-fewest sacks in the NFL and you can bet Mills, as well as Kyle Long, will be ready for him.


---

Fact or Fiction: Josh McCown will make the debate about a starting QB even hotter with another strong game.
[+] Enlarge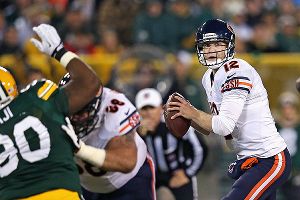 Jonathan Daniel/Getty ImagesJosh McCown hasn't thrown an interception in 101 pass attempts this season.
Jeff Dickerson: Fact. Eventually McCown is going to have a mediocre game, but if the Bears can give the veteran time to throw on Sunday, he should be successful against a Rams defense that ranks No. 19 overall. Now, that's easier said than done given the presence of Chris Long (6.5 sacks) and Robert Quinn (12.0 sacks) on the St. Louis defensive line and the always productive James Laurinaitis at middle linebacker. But imagine if McCown improves to 3-0 and the Bears sit at 7-4 next Monday. Are the Bears really going to rush Jay Cutler back from this high-ankle sprain? If McCown plays well on Sunday and the Bears are victorious, the best thing for the team is to start McCown Dec. 1 at Minnesota. Why ruin a good thing?

Jon Greenberg: Fiction. McCown should have a good game, but it doesn't change the fact that Cutler is the starter. This isn't a Colin Kaepernick-Alex Smith situation. The Bears might not sign Cutler to a long-term deal this offseason, but he's not getting benched for McCown, now or later. It's not even a question, especially considering Cutler has played pretty well this season, thanks in part to the upgrades on the offensive line and the coaching staff.


---

Fact or Fiction: Zac Stacy will be the next running back to gash the Bears defense.
[+] Enlarge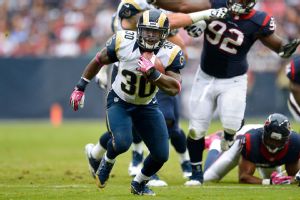 AP Photo/G. Newman LowranceWill Zac Stacy eclipse his season-high of 134 yards rushing against the Bears on Sunday?
Jeff Dickerson: Fact. The Bears proved again last Sunday they can't stop the run. The Ravens entered the game averaging 73 yards per game on the ground. They left Soldier Field with 174 yards. Stacy is the second-leading rookie rusher in the NFL with 537 yards and posted back-to-back 100-yard rushing games in Weeks 8 and 9. With the game being played in the controlled climate of the Edward Jones Dome on artificial turf, I expect Stacy to be next in a long line of running backs to exploit the Bears' run defense.

Jon Greenberg: Fact. Well, he's next, right?


---

Fact or Fiction: Alshon Jeffery will get more receiving yards than Tavon Austin.
[+] Enlarge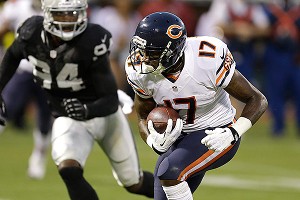 AP Photo/Ben MargotAlshon Jeffery is 14th in the NFL with 818 yards receiving on 54 catches.
Jeff Dickerson: Fact. Austin is a dangerous home-run hitter. But Jeffery is turning into a legitimate No. 1 NFL wide receiver with 54 receptions for 818 yards and three touchdowns. He is a focal point of the Bears' offense. Jeffery has four 100-yard receiving games this season and has topped 80 yards in three of the past four weeks. Brandon Marshall is likely due for a bounce-back game after a mediocre performance against the Ravens, but even when Marshall is on a roll, Jeffery finds a way to get his touches. Expect that same exact scenario to play out Sunday in St. Louis.

Jon Greenberg: Fact. Austin is coming off the best game of his young career -- 138 yards and two touchdowns, including an 81-yarder. That's the kind of explosive effort the Rams expect, and the Bears do like to give up yardage. But that's the only game he's had more than 47 yards. The Bears' secondary might be bad, but I'd put my money on another reliable effort from Jeffery. With McCown in at quarterback, Jeffery has caught 18 passes for 273 yards in 10 quarters and one series. He's a star in the making, just as Brandon Marshall has predicted. And we know Marshall is never wrong.
November, 13, 2013
11/13/13
5:45
PM ET
By
ESPNChicago.com
| ESPN.com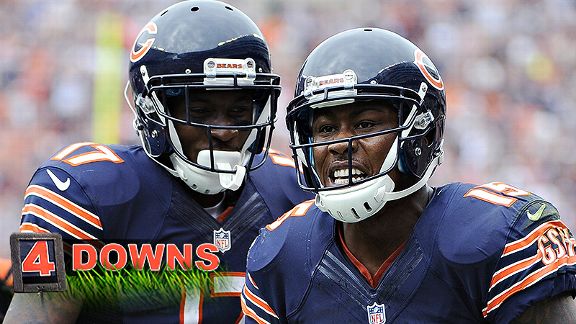 David Banks/Getty ImagesBrandon Marshall and Alshon Jeffery have combined for 1,521 yards and 11 touchdowns through nine games.
The
Chicago Bears
' run of 10 seasons without a player surpassing 1,000 yards receiving ended last year when
Brandon Marshall
amassed 1,508 yards.
A year later, the Bears are poised to have two 1,000-yard receivers in Marshall and second-year wideout
Alshon Jeffery
. Are they the best receiver duo in the NFL this season? Marshall said Wednesday that's not even a question. Is he right? Our panel weighs in on that and more:

Fact or Fiction: Marshall and Jeffery are the best receiver duo in the NFL.

Jeff Dickerson:
Fact. But let me throw a caveat out there: When healthy, Atlanta's
Roddy White
and
Julio Jones
are the best receiver duo in the NFL. But with White (active in Week 10) and Jones sidetracked this year due to injuries, Marshall and Jeffery top the list, combining to catch 107 passes for 1,521 yards and 11 touchdowns through nine games. The
Denver Broncos
are also in the conversation with their trio of productive wideouts, but what separates Marshall and Jeffery is their ability to single-handedly dominate a game with their size and length. Between them, Marshall and Jeffery have eight 100-yard receiving games, with Jeffery, the Bears' No. 2 wideout, setting the team's single-game receiving yards record with 218. Marshall and Jeffery have the potential to wreak havoc inside the NFC North for years to come, if Marshall receives a contract extension from the Bears in the offseason.
Jon Greenberg: Fact. Their 1,521 receiving yards as a tandem leads the NFL. At the very least, they're in the team photo. What's most important is that Marshall and Jeffery believe they're the best and prepare like they're fringe guys. Both receivers have height and size, and both are solid route runners with strong hands. While Jeffery got some contrarian blame for dropping two touchdown passes in the Bears' 21-19 loss to Detroit, both difficult catches, he has shown incredible hands throughout this season. Marshall has been arguably the most productive receiver in the NFL since coming over to Chicago. His 178 catches are the most in the NFL and he has 11 100-yard games, second only to Calvin Johnson. Any NFL team would kill for this duo. It's crazy that it's the Bears -- where receivers go to die, said Muhsin Muhammad -- that have them.


---

Fact or Fiction: Charles Tillman has played his last game as a Bear.
[+] Enlarge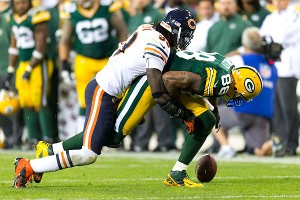 Jeff Hanisch/USA TODAY SportsHas Charles Tillman done his last "Peanut Punch" in a Bears uniform?
Jeff Dickerson: Fact. I think Tillman has several good years of football left in him, but I just don't know how much money the Bears are prepare to offer him after the season. Including a workout bonus, Tillman will earn $8,001,575 from the Bears in 2013. What will the next contract look like? Will Tillman accept a pay cut? Will another team with a need at cornerback offer Tillman a better deal? Personally, I'd love to see Tillman finish his career in Chicago. He's the greatest defensive back in the history of the franchise. However, the Bears allowed one of the greatest linebackers in the history of the franchise to leave last offseason over money. This is a tough business, especially for veterans late in their careers. History could very well repeat itself this offseason with Tillman. At the end of the day this likely comes down to money. Are the Bears willing to pay enough to keep Tillman around for another couple of seasons?

Jon Greenberg: Fiction. I think the Bears make him an offer to come back for next season. It would have to be at a reduced salary, but he's basically in a "play with the Bears or retire" situation. Unless, Lovie Smith gets a head job and imports Tillman as a veteran/mentor. While he can't punch out Father Time, Tillman can still cover and he can still create takeaways. Tillman turns 33 in February and he could still have two more strong seasons left. General manager Phil Emery, who isn't nostalgiac toward veterans he's inherited, has to rebuild this defense through the draft, and it would make sense to keep Tillman to bridge the gap.


---

Fact or Fiction: The Bears' precipitous slide on defense has been the biggest surprise of their season.
[+] Enlarge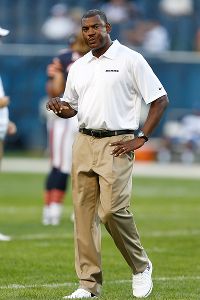 AP Photo/Scott BoehmChicago's defense, led by coordinator Mel Tucker, hasn't held an opponent to under 20 points this season.
Jeff Dickerson: Fiction. The demise of the Bears' defense has been terribly disappointing, but nine games into the regular season, I believe the biggest surprise has been the growth of the offense in such a short period of time. The turnaround on the offensive line has been nothing short of remarkable, even though the line struggled at times against Detroit. Marshall and Jeffery are lethal at wide receiver, while Matt Forte and Martellus Bennett are dependable weapons, capable of having big games. The mere fact that Josh McCown can step in off the bench and thrive in relief of Jay Cutler speaks volumes about Marc Trestman's offensive system. Not to take anything away from McCown, who deserves his share of credit for playing so well, but Trestman is light years ahead of what the Bears had last season with Mike Tice and Jeremy Bates.

Jon Greenberg: Fact. I expected the Bears offense to improve under Trestman. I expected Cutler to have a good, but not yet great, season. I suppose the viability of the rookie right side of the line, Kyle Long and Jordan Mills, is pretty surprising. But the death of the defense is definitely jarring. While the Bears' defense lulled a bit during the Bob Babich/Lovie Smith coordinator years, it looked like a turnkey operation for a coach like Mel Tucker. This group, led by tested veterans, figured to be stable, if not as spectacular as last season when it scored nine touchdowns. But injuries have crippled the pass rush and linebacking corps, not to mention poor play from the healthy safeties. Every bad thing that was bound to happen to such a fortunate group happened. It's time to reinvest in this unit in the draft.


---

Fact or Fiction: Marc Trestman should continue to be aggressive on fourth down.
[+] Enlarge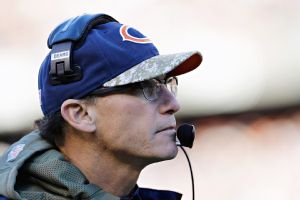 AP Photo/Nam Y. HuhMarc Trestman has had success going for it on fourth down this season.
Jeff Dickerson: Fact. For years, Bears fans complained about Lovie Smith's conservative style of coaching. Now all of a sudden, the same people want Trestman to take his foot off the gas pedal? The Bears have converted 67 percent (6-of-9) of their fourth-down conversion chances. Trestman knows what he's doing. I didn't have a problem with the Bears going for it on fourth-and-1 against the Lions, but I did take issue with the play call. But that's an entirely different argument. Trestman is a confident head coach. I'd hate to see him loose that edge by second-guessing himself.

Jon Greenberg: Fact, fact, fact. Going for it on fourth down is in vogue as more and more teams pay attention to statistical evidence that it's often the smart move over "playing it safe." Patriots coach Bill Belichick has been doing it for years. Even when the numbers don't overwhelmingly support it, like that call in the fourth quarter in Green Bay, I love that Trestman doesn't waver from this aggressiveness. I love it. As we've addressed, the defense isn't the reliable Bears defense anymore and the offense has weapons and proper coaching. I don't doubt Trestman at all in this regard. Sorry, Adam Podlesh.
November, 8, 2013
11/08/13
9:00
AM ET
By
ESPNChicago.com
| ESPN.com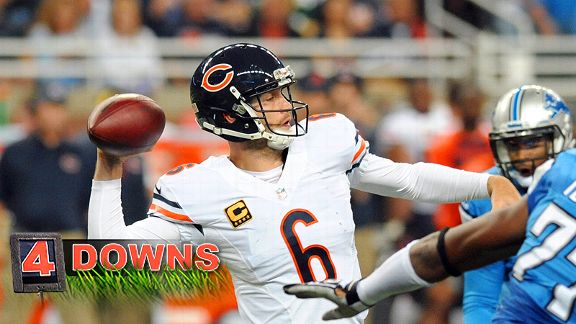 AP Photo/Jose JuarezJay Cutler has been cleared to play and is expected to start against the Lions on Sunday.
Jay Cutler
is back, the
Green Bay Packers
are reeling with the loss of
Aaron Rodgers
to injury, and the
Chicago Bears
have a chance to take control of the NFC North with a victory over the
Detroit Lions
on Sunday. What a difference a week makes in the NFL.
This week our panel weighs in on the importance of a Bears win over the Lions, the Cutler decision and more:

Fact or Fiction: The Bears will go on to win the NFC North if they beat the Lions on Sunday.
[+] Enlarge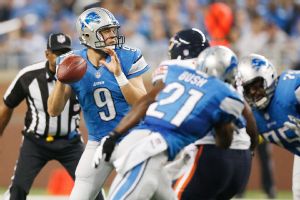 Gregory Shamus/Getty ImagesMatthew Stafford passed for 242 yards with a touchdown and interception in a win over the Bears on Sept. 29.
Jeff Dickerson:
Fiction. It's way too premature to declare the Bears king of the NFC North if they knock off Detroit. If the Bears do improve to 6-3, they definitely will have positioned themselves to be a strong contender to win the division, or at the very least qualify for the playoffs. But let's not write off the Green Bay Packers just yet. Rodgers' fractured collarbone is a tough pill to swallow for Green Bay, but the Packers still have a good amount of talent on their roster, and expect several key players to return from injuries in the next couple of weeks. If Green Bay can just get adequate play from
Seneca Wallace
, or whomever they start at quarterback until Rodgers returns, then I believe the Packers remain contenders. So are the Lions, even if they lose on Sunday at Soldier Field. I have a feeling the race for the NFC North is going down to the wire.
Jon Greenberg: Fact. With Cutler back and a bunch of mediocre to lousy teams left on the schedule, I think the Bears finish strong, despite a porous defense. They hope the signing of defensive tackle Jeremiah (formerly Jay) Ratliff shores up the defensive line, which finally brought consistent pressure at Green Bay last week. That win over Green Bay is important for the Bears for tiebreaking rules. Detroit will play host to Green Bay on Thanksgiving, presumably without Rodgers, while the Bears likely will have to face him at home in the season finale. For a team that looked hopeless after the Washington loss, the Bears' future is bright again.


---

Fact or Fiction: The Bears should protect Cutler and start Josh McCown on Sunday.
[+] Enlarge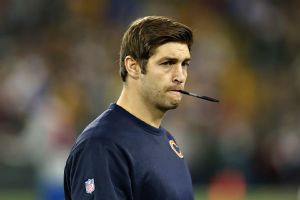 Jonathan Daniel/Getty ImagesJay Cutler's groin injury only forced him to miss about a game and a half.
Jeff Dickerson:
Fiction. Cutler is in the final year of his contract. The Bears don't owe him a cent beyond 2013. If Cutler struggles in the first quarter, then McCown needs to come off the bench and finish the game. This really isn't about protecting Cutler. This is about protecting the team. Does a healthy McCown give the Bears the best chance to win against the Lions? I believe he does. But Cutler pushed hard to return for this game. I think it could be in the best interest of coach Marc Trestman to be ready to give him the hook at a moments' notice.
Jon Greenberg: Fiction. I argued the opposite in a recent Hot Button, but Cutler believes he can go so you have to let him start. This is reality in the NFL. No team would dare bench a starter for more rest to play a journeyman backup, even one as solid as McCown. This isn't a Colin Kaepernick-Alex Smith situation. In the NBA or any league with a long, drawn-out schedule, you rest your stars. But in the NFL, if a doctor clears you, you play.


---

Fact or Fiction: Ratliff will make an impact for the Bears' defensive line this season.
[+] Enlarge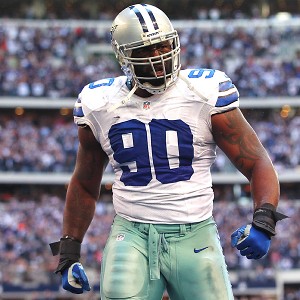 Tim Heitman/USA TODAY SportsJeremiah Ratliff, who hasn't played since November 2012, says he is a few weeks away from playing for the Bears.
Jeff Dickerson: Fiction. It's impossible to sign off on the idea of Ratliff making an impact until we actually see him on the field. Ratliff told ESPN 1000's "Waddle & Silvy Show" that he is still a couple of weeks away from returning to the field, so it sounds as if he might not make his Bears debut until Nov. 24 at St. Louis at the earliest. When healthy, Ratliff was one of the best interior defensive linemen in the NFL. But he hasn't played in a game since November 2012. That is a concern.

Jon Greenberg: Fact. He will play at some point soon. If he doesn't suit up, that's a pretty big blunder for a team stretching the salary cap as it is. At 32, Ratliff certainly isn't in the prime of his career, but I'll take a big body and veteran savvy any day. The Bears need help, any help, on that depleted defensive line, and I think the former Pro Bowler can provide it, even if it's in spurts.


---

Fact or Fiction: Calvin Johnson will have more than 200 yards receiving against the Bears.
[+] Enlarge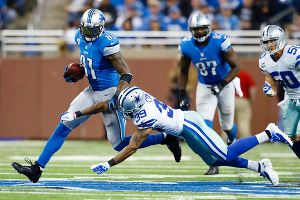 AP Photo/Rick OsentoskiCalvin Johnson has 23 catches for 484 yards and three touchdowns in his past two games.
Jeff Dickerson: Fiction. Johnson will be his usual dangerous stuff, but he's not going over 200 receiving yards on the Bears. Now, is it possible that Reggie Bush rushes for more than 125 yards? You bet it is. And that's a major issue, because the Bears had all kinds of problems stopping Green Bay running backs Eddie Lacy and James Starks on Monday. Charles Tillman's knee isn't 100 percent, so that will be working in Johnson's favor Sunday, but I can't see him replicating the kind of game he had against Dallas two weeks ago with 14 catches for 329 yards. I predict the Bears hold Johnson to 150 yards receiving and one touchdown. Consider that a moral victory.

Jon Greenberg: Fiction. Sure, he's coming off a 329-yard game and sure, the Bears' defense is a train wreck. But while Johnson is a decent bet to break his single-game mark against the Bears -- 133 yards -- I don't think he'll crack 200 for the second straight week and fourth time in his career. The key, of course, is the Bears defensive line. If they can pressure Matthew Stafford like they did to Rodgers and Wallace, Johnson will be lucky to get past the century mark.
September, 19, 2013
9/19/13
11:58
AM ET
By
ESPNChicago.com
| ESPN.com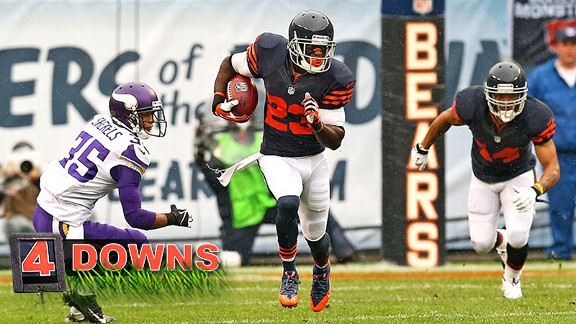 Jonathan Daniel/Getty ImagesDevin Hester stole the momentum back from the Vikings with kickoff returns of 80 and 76 yards in Week 2.
Shedding his receiver duties to focus on his return game has seemed to work out well for
Devin Hester
.
He returned five kickoffs for a Bears-record 249 yards against the Vikings in Week 2 -- including a 76-yarder and an 80-yarder -- and brought back his only kickoff return 31 yards against the
Cincinnati Bengals
in Week 1.
If Hester, who will be a free agent after the season, continues to be a difference-maker for the Bears in the return game, will his career in Chicago extend beyond this season?
Our panel weighs in on that and more:

Fact or Fiction: Devin Hester will play his way into a new Bears contract after this season.
[+] Enlarge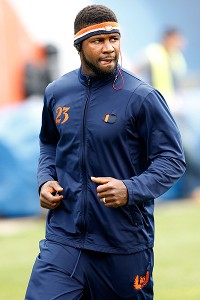 AP Photo/Charles Rex ArbogastWill Devin Hester prove to be a luxury the Bears can't afford after this season?
Jeff Dickerson: Fact. A confident and healthy Hester is a great weapon for the Bears to have under contract moving forward. If Hester has a Pro Bowl caliber year returning kickoffs and punts, why wouldn't the Bears make an attempt to re-sign him in the offseason? The question, of course, is compensation. Hester is making a total of $2.1 million in 2013 to be strictly a specialist. Are the Bears comfortable paying him the same amount in a new contract? Will Hester want more? These are difficult topics to discuss because we really don't know how it's all going to shake out. But put it this way: After two weeks Hester has done nothing to hurt his chances of landing a new deal from the Bears in free agency, or maybe even before that.

Jon Greenberg: Fiction. Like Marc Trestman, I'm an admitted Hester fan. Watching him return kicks is like watching Derrick Rose drive the lane, pure athletic joy. But I don't know that the Bears will be able to afford a full-time kick returner. I think Hester will have a very good season, and I think he's worth a good deal just as a return man, but I bet the Bears let him get that money on the open market and invest in other positions. It'll be a sad day when Hester is no longer a Bear, so enjoy him now.



NFL SCOREBOARD
Thursday, 8/21
Friday, 8/22
Saturday, 8/23
Sunday, 8/24