July, 31, 2014
Jul 31
4:59
PM ET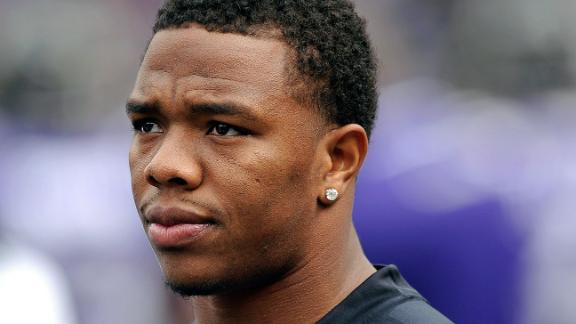 OWINGS MILLS, Md. -- In stark contrast to
Ray Rice
's awkward news conference in May, the
Baltimore Ravens
running back showed Thursday that he finally understood the weight of his actions from the alleged altercation with his then-fiancée in February.
He delivered the correct message, one the NFL failed to do last week with the two-game suspension, by not only apologizing to his wife, Janay Palmer, but also expressing a desire to become an advocate for domestic-violence causes.
Rice was compelling in his contrition, calling it the biggest mistake of his life. He stood in front of the microphone alone, without his wife standing by his side, and took full responsibility for the incident. Perhaps more importantly, Rice actually said the words "domestic violence," which weren't heard in his statement two months ago.
"My actions were inexcusable," Rice said. "That's something I have to live with the rest of my life."
Before anyone pats Rice on the back, this is what he should have said the first time when he broke his silence in May. Instead, Rice nervously fumbled through notes on his phone and apologized to team officials and his sponsors. That debacle of a news conference came across as damage control to his image.
His 17-minute news conference Thursday hit the right tones. He apologized to all women affected by domestic violence. He accepted the blame for losing the respect of fans. Rice came across as genuinely sorry.
"I let my wife down, I let my daughter down, I let my wife's parents down, I let the whole Baltimore community down," Rice said.
Rice's biggest misstep was not talking about what happened in the elevator. He was asked twice about it and declined to answer both times. His stance against domestic violence would have resonated stronger if he had explained his transgressions.
"I'll be honest: Like I said, I own my actions," Rice said. "I just don't want to keep reliving the incident. It doesn't bring any good to me. I'm just trying to move forward from it. I don't condone it. I take full responsibility for my actions. What happened that night is something that I'm going to pay for the rest of my life."
The only way Rice can move forward from this incident and show he's truly sincere is through his actions. It's not by his words. It's not by a hefty donation, which is merely a gesture. It's by proving this will remain a "one-time incident" and by supporting domestic-violence causes.
Thursday represented a small step forward for Rice. But it was an important one.
September, 16, 2012
9/16/12
7:49
PM ET
PITTSBURGH -- The Jets flipped the script from the 2010 AFC Championship Game. This time, it was a good start and a lousy finish, adding to up another
loss to the Steelers, 27-10, at Heinz Field
.
What it means
: The Jets dropped to 1-1, falling into a four-way tie in the AFC East. The outmanned Jets, minus three starters, were outplayed in all three phases by a hungrier team. And, by the way, the Steelers didn't have two of their best players, S
Troy Polamalu
and LB
James Harrison
. They found a way, the Jets didn't.


Deep freeze
: The Jets opened as if they were still playing the Bills -- a 90-yard touchdown drive on their first possession -- but they disappeared on offense. QB
Mark Sanchez
was 4-for-5 for 80 yards and a touchdown on the opening drive, but he completed only six of his next 22 passes for 58 yards for the rest of the game.
What happened?
Santonio Holmes
, who scored on a 14-yard reception, dropped two passes. Rookie
Stephen Hill
, unable to beat the Steelers' aggressive press coverage, couldn't get open -- no receptions. Injured TE
Dustin Keller
was missed badly. The running game was non-existent. The pass protection broke down. Shall we go on?
Sanchez, too, struggled. To rebound from a performance like this, the offense has to do a much better job of handling pressure, from the receivers to the quarterback. The wide receivers had no catches after the first quarter.
The Invisible Tebow
: Surprisingly, the Jets used
Tim Tebow
for only three plays on offense. It made no sense, especially with the running game struggling. Tebow would've been the ideal change of pace -- he torched the Steelers last year in the playoffs -- but he was kept in moth balls until the third quarter. Finally, he got in for three plays, ripping off a 22-yard run on the first play. So what happened? He was sent back to the bench.
The Revis factor
: Did the Jets miss
Darrelle Revis
(concussion), or what? Without the NFL's top corner, the Jets played more zone than usual, hoping to minimize big plays and trying to protect the vulnerable areas in the secondary. It worked -- for a while.
Ben Roethlisberger
is too good, too smart to keep down. The Steelers went to a quick-passing game and Big Ben found his rhythm, completing passes to 10 different receivers. More often than not, he found the best matchup.
The Jets didn't get much pressure on Roethlisberger (24-for-31, 275 yards, two TDs) with a conventional rush and, when they got close with a blitz, he found a way to brush off the rushers and located the open man. His biggest play came against the Jets' most accomplished cornerback,
Antonio Cromartie
, who got burned on a 37-yard touchdown pass in the third quarter. He misplayed the ball in the air, letting WR
Mike Wallace
establish position in the end zone.
LaRon is LaBad
: After an impact performance in the opener, S
LaRon Landry
received effusive praise from fans, media and his own coach. Rex Ryan compared him to Hall of Famer Night Train Lane. Well, Landry crashed to reality. He committed two 15-yard penalties (a late hit and a horse-collar tackle) and he missed a would-be sack of Roethlisberger, one play before Roethlisberger threw a touchdown pass. Landry received a humble pie in the face. Leading into the game, he said the Jets have better defensive personnel than the Steelers. It sure didn't appear that way. Fellow S
Yeremiah Bell
also had a critical penalty.
Heroes to goats
:
Jeremy Kerley
was among the stars in Week 1. Not this week. Kerley, who scored on a punt return in the opener, muffed a third-quarter punt, costing the Jets a valuable possession. It was the only turnover of the game.
What's ahead
: The Jets hit the road again, facing the Dolphins (1-1) in a game that features the return of former Miami coach Tony Sparano.