February, 20, 2014
Feb 20
2:57
PM ET
INDIANAPOLIS -- Former
Chicago Bears
coach Lovie Smith spoke with local media at the NFL combine on Thursday for the first time since the team fired him, and displayed a sense of humor when grilled about his termination.
"I strongly recommend if you get fired, take the year off like I did and it will help you an awful lot," Smith jokingly said.
After spending the entire 2013 season out of football, Smith, in January became the head coach at Tampa Bay. Since coming into the new job, Smith said he hasn't run into any surprises, and credits the experience gained in Chicago, where he served nine years as head coach of the Bears.
[+] Enlarge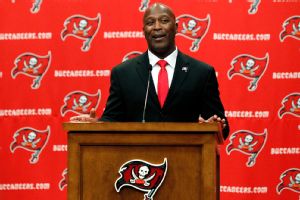 Kim Klement/USA TODAY SportsFormer Bears coach Lovie Smith led Chicago to two NFC title games and a Super Bowl in nine seasons. He became Tampa Bay's head coach in January.
Smith led the Bears to the playoffs three times during his tenure, and the club appeared in two NFC Championship Games and a Super Bowl, but failed to reach the postseason in five of his last six years.
"Whenever you've had a chance to be somewhere for nine years, the next place should be easier," Smith said. "There hasn't really been anything that's caught me off guard or anything like that. Having the year off helped. [I] had a chance to evaluate everything I believe in, I came to some of the conclusions that I thought."
Obviously one of those was to remain classy. Smith refused to go into his personal thoughts about being fired in Chicago. Asked if he received a fair shake with the Bears, who fired him on Dec. 31 of 2012 as the club came off a 10-6 season, Smith quickly said, "It's a Bucs life for me now; my focus is definitely on that."
"I've worked at a lot of different places in the past. If you'd like to talk about Big Sandy [Texas] High School, I used to work there, too," Smith added. "Great experience there. I'm excited about Tampa and what we're doing. I've had the opportunity to work at a lot of great places. Chicago was one of them."
With Smith out of football, his former defense in Chicago fell on hard times. Last season, the Bears gave up the most yards (6,313), points (478), and rushing yards (2,583) in franchise history. During Smith's tenure, Chicago's defense consistently performed among the league's best in most statistical categories.
Smith couldn't point out anything specifically that explained Chicago's defensive demise in 2013, but the coach expressed confidence in the group bouncing back this upcoming season. The Bears host Smith and the Buccaneers in 2014.
"Every year is a different year. That group of guys have played pretty good defense in the past, and I don't know exactly what happened this year," Smith said. "But sometimes you have bad years for whatever reason. I know there are some warriors on that team that I'm sure will come back hard this year."
January, 1, 2014
Jan 1
10:29
PM ET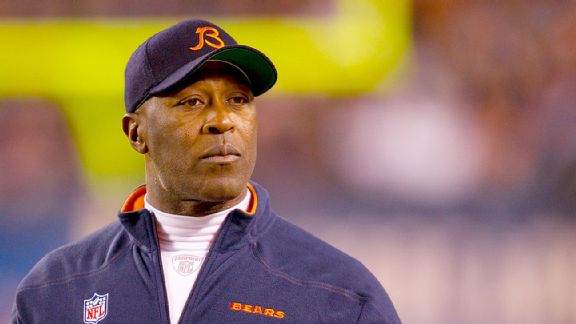 Dilip Vishwanat/Getty ImagesConsidering Lovie Smith's success and professionalism, it's about time a team gave him another chance.
The
Tampa Bay Buccaneers
hired Lovie Smith on Wednesday as their next head coach, according to ESPN NFL Insider Adam Schefter and Jay Glazer of Fox.
My reaction to the news: About time somebody snatched him up. Smith should've gone into the 2013 NFL season as a head coach. But after a couple of interviews, he emerged as a potential coordinator instead of leader of men, and a coordinator position was something he wasn't interested in accepting. So, good for Smith he waited for a head coaching gig instead of settling for a job as a coordinator.
Ask any of Smith's holdovers on Chicago's roster and they'll tell you Smith is more than deserving of a second chance as a head coach in the NFL.
Smith spent nine seasons as the head coach for the
Chicago Bears
before being fired at the end of 2012's 10-6 season. During his tenure in Chicago, Smith posted a record of 84-66, in addition to winning three division titles and leading the Bears to an appearance in Super Bowl XLI.
Given what's transpired in Chicago (the demise of the once vaunted defense), several hypothetical scenarios involving Smith have been mentioned. But for one minute, let's forget about those and salute Smith for his latest accomplishment. Having spent five years with the Bucs before leaving to become the defensive coordinator of the
St. Louis Rams
in 2001, Smith has familiarity with Tampa Bay's organization.
But more than that, Smith paid his dues toiling as an assistant all those years before actually proving himself as a winner and galvanizing force with the Bears.
Smith didn't return calls seeking comment about his latest move, likely because that's just not his style.
Smith is a results-oriented coach, who ultimately understood he didn't get it done in Chicago to the organization's standards and accepted his fate as gracefully as one could. That's why Smith never made salacious headlines, why he never talked about the current state of the Chicago Bears or why he never gave his side about being fired despite putting up a 10-6 record in his final season.
What stands out the most about Smith is how his players reacted to him. During training camp going into the 2012 season, three players in a restaurant one night gave distinctive accounts about what made Smith stand apart. Every one of those players spoke about Smith's calm demeanor, how he never became overly emotional no matter how dire the situation.
But what stuck out is how each of those players never wanted to disappoint Smith. One player talked about making a mistake in a game and getting "the look" from Smith that made him feel as if he disappointed his own father. It was enough to make that player vow to never do it again, and that conversation took place a few years after that player committed the original transgression. That's the type of power Smith carried, and it was one of the most underrated of Smith's attributes in the public eye.
Either way, the Tampa Bay Buccaneers scored big with the hiring of Smith, who served as the franchise's linebackers coach from 1996 to 2000. With Smith in control of Chicago's defense, the Bears surrendered just 1.4 points per drive, which ranked as third-best during his time as the team's head coach.
Perhaps former Tampa Bay head coach Tony Dungy summed it up best on Twitter when he said, "I think they made a very good choice in hiring Lovie Smith. Now I'm excited about watching the Bucs next year!"
Despite being way up here in frozen Chicago, I feel the same way. Bucs ownership will, too, with Smith at the controls.
September, 3, 2013
9/03/13
4:48
PM ET
Former
Chicago Bears
linebacker
Brian Urlacher
"would be shocked" if former head coach Lovie Smith isn't leading a new team in 2014.
Smith
Urlacher ate lunch with Smith a couple of weeks ago, and told the "Waddle & Silvy Show" on ESPN 1000 that the coach isn't as far removed from the game as some might think.
Fired in January with a year left on his contract after the Bears finished with a 10-6 record and missed the playoffs, Smith is still being paid by the organization.
"He's not away from the game," said Urlacher, now an analyst with Fox. "He's still doing some stuff. He's still preparing like he always has been. He's watching film. He's watching all the games just to try and stay (up) with what's going on in the NFL, and trying to keep one leg up on those offenses with all the way they're changing and stuff."
Why? Because Smith is expecting to make a return to the sidelines as a head coach at some point. During the offseason, a source told ESPN.com that Smith wasn't interested in taking any jobs as a coordinator. But with the inevitable coaching vacancies that typically come up during the offseason, Smith could be looking to be a head coach again.
Urlacher thinks Smith should be the favorite for whatever openings arise.
"I would be shocked because he's too good of a head coach to not be coaching a football team," Urlacher said. "There's always vacancies. Every year, people get fired. If he's not at the top of the list, I'd be very surprised."
NFL SCOREBOARD
Sunday, 2/2
WEEKLY LEADERS