October, 22, 2014
Oct 22
2:30
PM ET
EARTH CITY, Mo. -- It was almost one year ago today that the
St. Louis Rams
contacted Brett Favre to see if he'd be interested in returning to replace injured quarterback
Sam Bradford
.
When Favre declined via his representatives, the Rams turned back to a familiar face in the form of
Austin Davis
. Davis, who spent a season and a training camp with the Rams before being released in the final round of 2013 cuts, re-signed with the Rams on Oct. 23 of last year.
Just before the anniversary of Davis' return to the Rams, his name is again tied to Favre, but for quite different reasons.
[+] Enlarge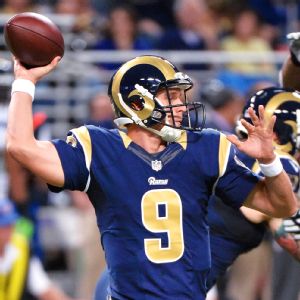 Michael B. Thomas/Getty ImagesIt's far too early -- and unrealistic -- to compare Austin Davis to Tom Brady or Kurt Warner as backups-turned-starters.
Wednesday morning,
Favre told ESPN's Ed Werder
that he sees Davis as the next quarterback to rise from obscurity to NFL stardom.
"Austin can definitely play at this level," Favre, the only Southern Miss quarterback other than Davis to start more than one NFL game, told Werder. "Not to sound off my rocker, but [Davis] -- in my mind -- can be the next
Tom Brady
or Kurt Warner.
[Brian] Hoyer
, as well.
"Austin, like those mentioned, just needed a legit opportunity."
Since the shooting star that was Warner's three-year run in St. Louis ended in 2003, any time a little-known quarterback has stepped into the Rams' starting job, the hope has existed that the player will somehow morph into the next Warner.
Late-round or undrafted quarterbacks such as Keith Null, Scott Covington, Brock Berlin and a few others have tried their hand and failed only to retreat back into anonymity. Others, such as Marc Bulger and
Ryan Fitzpatrick
, have developed into starters in the league to varying degrees of success, but none developed into potential Hall of Famers like Warner.
As recently as this preseason, some even went so far as to equate
Shaun Hill
to Warner after Hill became the starter under circumstances similar to Warner's. That lasted all of one half before a calf injury to Hill gave Davis an opportunity.
But, to the surprise of many, Davis has done enough in his first five starts to give observers pause and consider the possibility that he might have more of a future than the usual third-stringer-turned-starter.
My first reaction to Favre's comments was to answer his rhetorical supposition with a resounding yes: He is indeed off his rocker. To compare Davis to Warner or Brady, two quarterbacks who will end up in the Pro Football Hall of Fame, is simply not realistic. Brady and Warner are legendary aberrations at a position where the failure rate far outpaces the success stories. Brady and Warner aren't just success stories -- they're full-blown outliers.
But before we go too far and offer that Favre has truly lost it, it's important to note that he threw Hoyer's name into the conversation. Hoyer has stepped in and done some good things for the
Cleveland Browns
this season, but in no way has he flashed anything resembling Brady or Warner. Brady won a Super Bowl after stepping into the starting lineup. Warner did the same and did it while posting video game numbers.
It's also important to note that Favre probably wouldn't mind seeing Davis, who broke most of Favre's passing records at Southern Miss, carry the flag for his alma mater.
As for Davis, he's 2-3 as the Rams' starter, and though he's posted big numbers in some games, his influence hasn't turned his team into an instant winner as Warner and Brady once did.
In five starts plus one half, Davis is completing 66 percent of his passes for 1,517 yards, nine touchdowns and four interceptions for a passer rating of 94.3 (14th in the NFL) and a QBR of 60.9 (19th). He's alternately flashed promise (leading a comeback win against Tampa Bay and a clutch late drive to seal the victory against Seattle) and struggled with backbreaking mistakes (three of his four interceptions have been returned for touchdowns).
That isn't to say Davis doesn't have some upside. He brings a fiery and enthusiastic approach that his teammates appreciate, and he has an honest way about him that allows him to openly acknowledge his faults and then set about correcting them the following week.
If nothing else, Davis has proved in his handful of starts that he's deserving of at least a No. 2 job in the NFL. Beyond that, there is still plenty for Davis to prove. The opportunity to make the starting job his on a permanent basis lies in front of him. Becoming the next Hoyer is certainly possible, and you could argue he's already outplaying Hoyer. But setting the bar at Warner and Brady is simply asking too much.
NFL SCOREBOARD
Thursday, 10/23
Sunday, 10/26
Monday, 10/27