October, 21, 2013
10/21/13
6:28
PM ET
If
Jay Cutler
left the Bears in a tight spot on offense because of the torn groin muscle that will keep him out at least four weeks, then
Lance Briggs
gave the defense a near-insurmountable task: to somehow improve without him on the field.
That's right. The loss of Briggs weighs more heavily because at this point, he means more to the defense than the quarterback does to the offense. It sounds silly, but that's simply the state of affairs these days at Halas Hall.
We expected the defense to fall off a notch this season, with the loss of linebacker
Brian Urlacher
and the acquisition of two new faces (
James Anderson
and
D.J. Williams
) and the hiring of a new coordinator in Mel Tucker. But what we're seeing is an injury-induced dive off a cliff.
[+] Enlarge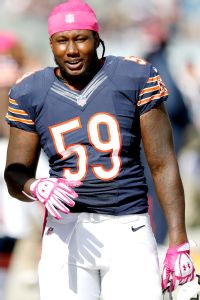 AP Photo/Scott BoehmThe Bears likely will choose between Khaseem Greene, above, and Blake Costanzo as the replacement for Lance Briggs.
In all, the defense -- which has allowed 21 points or more in every game, and gave up 499 yards to the Redskins -- has lost five starters. Briggs, who was playing at a Pro Bowl level, is expected to be out at least six weeks because of a small fracture in his left shoulder.
"There's no simple answers. There are a lot of teams in our position in the National Football League," Bears coach Marc Trestman said. "Defensively, we've got to improve our fits, our assignments. We've been completely inconsistent. At times we've been outstanding, and at times we just haven't done the right things."
That's what comes with thrusting young, inexperienced players into key roles. It's a situation not likely to improve soon. The team still hasn't decided who will call defensive signals in Briggs' place. Right now,
Jonathan Bostic
and
James Anderson
are the likely candidates.
Bostic made the calls in the loss at Washington on Sunday after Briggs left the game in the third quarter.
The club also will choose between rookie
Khaseem Greene
and veteran
Blake Costanzo
as Briggs' replacement.
"We're losing a great leader in Lance," Trestman said. "Arguably we're going to have to work very, very hard to recover, but that doesn't say we can't. It's been done before, we've got time to work through it and there's no reason why as a football team that we can't be confident we can rally around that position, find a way to win games."
On the offensive side of the ball, that's an easier proposition due to the quality of the replacement, the club's revamped protection, not to mention all of the weapons surrounding him, with running back
Matt Forte
, tight end
Martellus Bennett
and receivers
Brandon Marshall
and
Alshon Jeffery
.
Cutler's replacement,
Josh McCown
, demonstrated as much Sunday when he completed 14 of 20 passes for 204 yards and a touchdown to Bennett before finishing the game with a passer rating of 119.6 as the offense put up 34 points.
A 10-year veteran, McCown has logged 20 starts in the NFL and is considered "a glue guy" by general manager Phil Emery, and "a captain," by Marshall "without the 'C' on his chest."
Emery called McCown's "ability to play the position" the backup's greatest asset in his bid to replace Cutler without the offense skipping a beat.
"And probably foremost, just in terms of Josh and the person and the leader he is, the buy-in he has from his team in terms of being able to be a positive part of winning football on Sundays," Emery said. "I didn't notice it because I don't always watch the huddles, but Josh McCown is in every special teams break before they go out on the field. That to me signals to everybody what type of person this guy is. He could be content staying over on the sidelines with the headset and a clipboard, literally, but he's not. He's a big part of this team. He's a big part of the leadership group of this team."
[+] Enlarge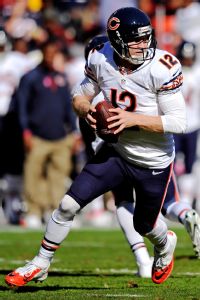 AP Photo/Nick WassJosh McCown is "a big part of the leadership group of this team," general manager Phil Emery said.
McCown's teammates agree. Cornerback
Tim Jennings
admitted Monday "it's going to be tough not having Jay out there, but I also think Josh came in there and played great, and he gave a lot of confidence to the guys in this locker room."
Left tackle
Jermon Bushrod
said he has "all the confidence in the world" in McCown because "he came in yesterday, and he did his thing. He spread the ball around. He got us in good positions, and we had a chance to win the game."
McCown, meanwhile, says the structure in place gives him a leg up from where he was two years ago, when the Bears first asked the veteran to start a game. It was 2011, he had been coaching high school football just before the Bears signed him, and he basically went in cold for his first start at Green Bay. McCown helped the Bears put up 21 points in a loss to the Packers, but helped the club break its five-game losing streak the next week in the season finale at Minnesota.
McCown says "I'm in a better spot right now," having learned Trestman's system from the ground up from Day 1 of the coach's tenure in Chicago.
"The structure is in place and the emphasis has been put on individuals to do their job and do their part," McCown said. "If we continue to get that, and we felt like we got that yesterday, it allows the quarterback to step in there, whether it's Jay or myself, to function and play, because guys are going to be coached to be where they are supposed to be and do what they're supposed to do. It's going to look different between Jay and I; our skill sets are different."
On offense, the highly productive results likely won't change, either. The same can't be said for an already reeling Bears defense without Briggs.
October, 21, 2013
10/21/13
12:00
PM ET
A review of four hot issues from the
Chicago Bears
' 45-41
loss
to the
Washington Redskins
:
Run defense:
The Redskins kept the Bears off balance all game with their ability to run the football.
Alfred Morris
averaged 5 yards per carry, while
Robert Griffin
III averaged 7.6. By establishing the run, the Redskins kept the Bears on their heels, thus opening up other facets of the game. Typically, the Bears shut down the run, making opponents one dimensional. But Chicago hasn't been able to accomplish that objective consistently this season. Certainly, injuries along the front four contribute to the problem, but until the Bears solve the issue, teams will continue to gash them on the ground before taking chunks through the air via play action.
[+] Enlarge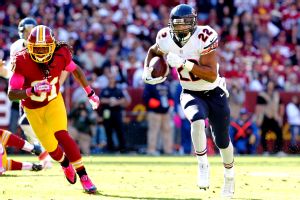 Geoff Burke/USA TODAY SportsMatt Forte rushed for 82 yards and two scores after halftime against the Redskins.
Inconsistency against the pass:
Jordan Reed
became the third Bears opponent to catch at least nine passes for 134 yards or more. An anemic pass rush from the injury-riddled front plays a role, but up-and-down play at safety between
Chris Conte
and
Major Wright
seems to be Chicago's most pronounced deficiency against the pass. Coming into the season, Conte and Wright seemed destined to become a productive duo at safety for the Bears. Wright has graded out higher than Conte for the majority of the season because of his takeaways and run support, but together, they've been more of a liability on the back end than the playmakers the club envisioned. The Bears yielded five completions for gains of 26 yards or more, including 30-, 38- and 45-yarders.
Feeding Forte:
They don't seem to be involving
Matt Forte
enough early on, and that's diminished Chicago's ability to find a rhythm. In six first-half drives, the Bears handed off to Forte just four times, including only once in each of the first two possession. Forte didn't receive back-to-back attempts until the team's second drive of the second quarter. By then, Washington held a 17-10 lead. Forte carried four times for nine yards and a score in the first half, yet finished the game with 91 yards and three TDs on 16 attempts. The offense should run through Forte from the onset.
Veterans on the front four:
Given the injuries, inexperience and inconsistency on the defensive line, veterans
Julius Peppers
,
Stephen Paea
and
Corey Wootton
need to step up and start carrying the group. Peppers finally showed up on the stat sheet with seven tackles, while Paea and Wootton contributed two tackles apiece. Still, that's not enough. The team needs even more, especial in the pass-rushing department. One of the best to play the game at his position, Peppers hasn't contributed a sack since September.
October, 7, 2013
10/07/13
12:30
PM ET
An examination of four hot issues from the
Chicago Bears
' 26-18
loss
to the
New Orleans Saints
:
[+] Enlarge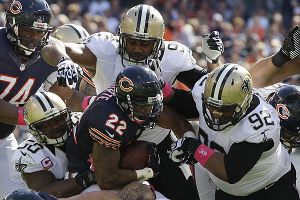 AP Photo/Nam Y. HuhA slow start for running back Matt Forte and the Bears' offense spelled doom against the Saints.
Slow starts:
The Bears need to stop spotting opponents points early in games through mistakes, lax play, turnovers or simply giving teams short fields to work with because of unproductive drives on offense. Whatever the case, the Bears have trailed at the half now in three of five games before making adjustments in the second half to come from behind to win or at least make a seemingly lopsided loss look respectable. The Bears need to start making effective adjustments more quickly.
Chicago killed itself on the first play from scrimmage when
Matt Forte
doomed a drive with a fumble for a 10-yard loss, and New Orleans responded with a field goal to put the Bears at a disadvantage early. On Chicago's next drive, ineptitude in blitz pickup resulted in another fumble that the Saints turned into another field goal. By the time the Bears started playing productive football, they were trailing 13-0 with 5:57 left in the first half. That's too late.
Injuries to front four:
With
Henry Melton
out for the season and
Stephen Paea
missing Sunday's game because of a turf toe injury, the front four suffered another blow when
Nate Collins
left with a knee injury. That's two starters and a backup ailing from injuries. Unheralded players such as undrafted rookie
Zach Minter
and
Landon Cohen
need to step up, along with players such as defensive end
Corey Wootton
, who is now being forced to play out of position. The personnel department needs to help in this area, too, by beating the streets for suitable talent to acquire, and that will be a difficult proposition.
Podlesh rebounds:
The Bears brought in six punters for workouts Tuesday after
Adam Podlesh
produced a rancid performance against the Lions in Week 4, finishing with a net average of 28.8 yards. But Podlesh bounced back with a decent outing against the Saints. He finished with a net average of 44.8 yards, including a 54-yard effort in the first half, his best outing since Nov. 19 of last season.
Rush improved, but not enough:
With the injuries mounting, it's likely the pass rush will continue to be an issue for this team. The Bears sacked
Drew Brees
twice and have registered six sacks over the past three games. But the club needs to apply even more pressure. There's no way Brees should be allowed enough time to complete nearly 83 percent of his passes.
August, 28, 2013
8/28/13
8:45
AM ET
Don't ring the alarm
regarding recent concerns expressed
by Bears receiver
Brandon Marshall
about his place in the offense, level of conditioning and recovery from a January arthroscopic hip surgery.
Marshall dropped two passes and had another knocked away against the Raiders. But the week before, he caught four of the five passes thrown his way, including one grab for a 5-yard touchdown. Despite the limited action we've seen thus far from Marshall, would any of the few snaps we've seen (50 by my count) suggest the Bears should be worried?

Marshall
"I had about 10 drops," Marshall said in recalling last week's win over Oakland. "I think the offense did well. For myself -- mentally, physical -- we need to pick it up a little more."
That's the mentality of an elite player: hypercritical. It's simply Marshall digesting the reality that with less than two weeks before the start of the regular season, with the team learning a new offense, he's still got a ways to go if he plans on matching his record-setting production from 2012.
Against the Raiders,
Jay Cutler
targeted second-year receiver
Alshon Jeffery
eight times for seven completions; twice the number of passes thrown to Marshall. But let's not forget Marshall accounted for close to half of the team's receiving yardage in 2012, and while that number will fall off some in 2013 in Marc Trestman's new offense, he'll still catch his fair share of balls. So Marshall, at this point, shouldn't be worried that he's "still trying to figure out my role and my place in this offense."
Jeffery and tight end
Martellus Bennett
will see plenty of passes thrown their way. But ultimately, the success of Chicago's passing game this season will hinge on Marshall, who at this point says "it's [now about] getting a feel for [the new offense], and having more experience in the offense."
Trestman made that clear Monday, saying the receiver is "going to have a lot of catches and certainly be instrumental in the success of our offense, and ultimately our team."
"It's B,"" Cutler said. "He's going to take it hard for a couple of days, and then he'll snap out of it and he'll be the guy we need next week. This week we don't need him. So he can stay on the ledge for a couple more days, and then come back next week. Conditioning-wise, he's a little behind. He knows where he needs to be. It's just a matter of him pushing his hip through things when it gets tight a little bit. Once we start getting into a routine in a game week, and we shorten some of these reps, we'll really figure out exactly what routes we want him on, and where we want him on the field. Hopefully things will sharpen us for his hip, and he'll be able to make it go."
Given the limited amount of snaps played by Marshall throughout the offseason, training camp and the preseason, he can't yet fully visualize the role Trestman envisions for him because he simply hasn't been on the field enough to become immersed in it. As for Marshall's implication the club might be rushing him back too soon, perhaps there's some truth to that. But he should know and understand the balancing act the team is performing in its attempt to keep him healthy, while also getting him the necessary reps to fully digest the offense which, eventually, will work the receiver into playing shape.
Coming into training camp, it appeared Marshall and Trestman weren't necessarily on the same page. On the day the club reported, Marshall said he needed to "listen to his body" and expected (and also eventually received) a few days off here and there as he continued to recover. That same day, Trestman spoke about how teams could no longer be liberal in granting days off for veterans because of the limited practices allotted in the new collective bargaining agreement.
When Marshall first underwent the surgery, a source close to him said he expected the receiver to be back "playing basketball in two weeks." Surely, Marshall expected the same.
Now that things haven't gone the way he expected, Marshall's a little concerned, and rightfully so, because only the receiver truly knows what's going on in his body. Still, it's worth it to remember the type of athlete Marshall is, and his sky-high expectations for the season.
"Brandon is working his tail off to get himself ready," Trestman said. "He feels a sense of urgency. He's a highly competitive man. He can only comment on how he feels. You saw him on the field at Soldier Field. You saw that he does have those moments where he can practice and work at a very high level. There have been days that haven't gone so well for him, and then he will bounce back."
So now isn't the time to get overly worked up about Marshall. Oakland might have been the setback, but my guess is Cincinnati on Sept. 8 is the bounce back.
Here's a couple of links to Bears news:
-- ESPN The Magazine columnist Chris Jones
loves him some Jay Cutler
.
-- Adam Jahns would be surprised if the Bears
cut Devin Hester
.
-- John "Moon" Mullin looks at the battle at swing tackle between
Jonathan Scott and J'Marcus Webb.
August, 27, 2013
8/27/13
5:33
PM ET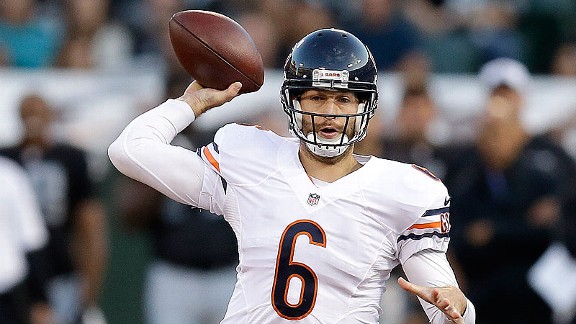 AP Photo/Ben MargotJay Cutler and the Bears will tweak their new offense as the season progresses.
LAKE FOREST, Ill. --
Chicago Bears
quarterback
Jay Cutler
was not shy about admitting Tuesday that he might not know the breadth of the team's new offense by the end of the season, much less the start.
"It will extend to Week 15," Cutler said of the learning curve. "It's going to be a process throughout the entire year of us staying on top of things and knowing exactly what (coach Marc Trestman) wants us to do out there. It's a week-by-week thing. It's never going to be perfect."
Cutler isn't just an experienced NFL quarterback, he is also a veteran of learning new offenses. And it's quite possible that Cutler has never fully grasped the full scope of any of the offenses he has been required to learn before moving on to the next.
Despite what he doesn't know by the season opener, though, that shouldn't mean the Bears will be limited offensively when they take the field Sept. 8 against the
Cincinnati Bengals
.
August, 24, 2013
8/24/13
9:00
AM ET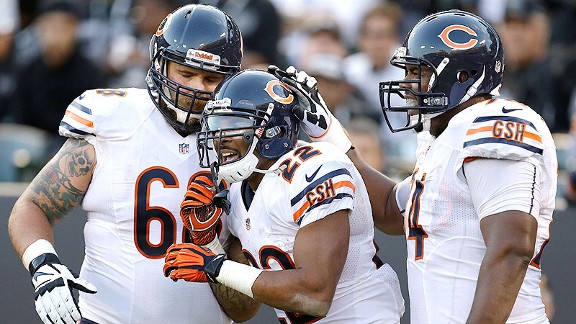 AP Photo/Ben MargotMatt Forte ran for 76 yards and caught a 32-yard TD pass in Friday's win.
OAKLAND, Calif. -- With every attempt,
Matt Forte
's confidence grows in his club's zone-blocking schemes, which allow the running back to showcase some of his best attributes.
Over his past four quarters, Forte has averaged 10.7 yards per attempt, and he finished with 76 yards on six attempts Friday in the
Chicago Bears
' 34-26 win against the
Oakland Raiders
.
"What makes the zone blocking good is those linemen get push off the ball," Forte said. "When they can do that, I can be patient and just sit back and read the blocking. So [while] there's a place where the play is designed to go, you can just use your vision. If I want to, I can cut it all the way back. Or I can just pick a hole. That's what makes it so nice."
August, 24, 2013
8/24/13
6:00
AM ET
OAKLAND, Calif. -- Instead of leaning on the basic plays utilized over the first two preseason games, the
Chicago Bears
dug deeper into the playbook Friday night to execute "more of our packages," tight end
Martellus Bennett
said.
That resulted in Chicago's first-team offense putting up 27 points on the
Oakland Raiders
over two quarters, while scoring on five of six first-half drives. The showing provided "signals of the kind of team we can be," Bears coach Marc Trestman said after the 34-26 win, "but we're certainly not going to get ahead of ourselves, either."
Jay Cutler
spoke a similar message.
"It is the preseason," he cautioned. "You can't get caught up in that. We start out the season 0-0 like everybody else, and we've got to get back to work. I wouldn't get too high on this game. Obviously, we made some mistakes. We need to go back and look at them. But it's a good barometer of where we're at and where we can go."

NFL SCOREBOARD
Thursday, 9/4
Sunday, 9/7
Monday, 9/8