December, 30, 2013
12/30/13
2:26
PM ET
LAKE FOREST, Ill. --
Brandon Marshall
broke down the history of the quarterback-starved
Chicago Bears
franchise on Monday when asked whether
Jay Cutler
should be brought back in 2014 on a new contract.
With Chicago's season coming to an end Sunday after a 33-28 loss to Green Bay, Cutler's contract situation remains a hot topic because the quarterback is not signed beyond 2013. As the players cleared out their lockers at Halas Hall following final meetings with Bears coach Marc Trestman, Marshall provided his take on Cutler.
"One thing I know about Chicago: It's been a long time since we had a quarterback like Jay Cutler," Marshall said. "So all your stories this offseason, I think that should be the headline or that should be the story written this year: 'Oh, how we love Jay Cutler,' because it's been so long. His first few years here he hadn't gotten it done, and I think that's not all on him. There's some on him, but then you look around and he's one of the most beat-up quarterbacks around; didn't have adequate coaching on the offensive side of the ball. Every year I think he had a different offensive coordinator. Now that you have continuity, not only upstairs, but in the locker room or the room with the wide receivers, offensive line, running back position, it's set up for him to be successful. The steps he's taken this year in leadership, and even growing as a quarterback, mentally and physically, we saw those things."
[+] Enlarge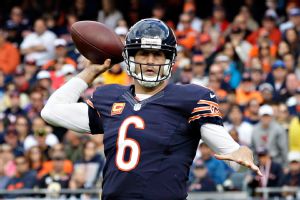 AP Photo/Nam Y. HuhQuarterback Jay Cutler thrived this season under head coach Marc Trestman.
Despite Cutler's record of futility against the Packers continuing on Sunday, the quarterback performed well in the loss. Cutler passed for 226 yards and two touchdowns to go with a passer rating of 103.8. In doing so, Cutler completed three passes for 30-plus yards, including a 67-yard connection to
Alshon Jeffery
, a 37-yarder to Marshall, and a 33-yarder to
Matt Forte
.
In eight previous games against the Packers, Cutler completed 142 of 257 passes for 1,702 yards, nine touchdowns, 16 interceptions and a passer rating of 61.5. Against the rest of the NFC North over that same span, he had thrown for 33 TDs and 16 INTs.
So despite a season hindered by Cutler missing time due to injuries, there's no doubt that the quarterback showed growth under first-year Bears coach Marc Trestman and offensive coordinator Aaron Kromer. In four seasons with the Bears prior to this season, Cutler had generated a passer rating of 81.9. In 2013, Cutler produced a career-high passer rating of 89.2, the quarterback's best since his rookie season (2006).
"The man's 30. Jay's like 30 years old, ain't he?" tight end
Martellus Bennett
asked. "How much development do y'all expect him to do? I haven't really talked to him too much today. But he's been an awesome teammate since day one for me. So I don't know the Jay you guys [keep] talking about and all the [expletive] you guys write all the time, talking about Jay [has] changed. I only met one Jay Cutler, and he's been awesome from day one."
But center
Roberto Garza
senses a change in Cutler.
"It's unbelievable," Garza said. "To put up the numbers we did with that offense we had, and the playmakers we had week in and week out, it was a great thing to be a part of. To see Jay go out there and play like we know he can was good to see. It's definitely something they are going to build on for the future."
But will Cutler be back in 2014?
"There's a lot of uncertainties," Garza said. "But he's a great quarterback. He deserves to be here and I'm sure that will all work out."
Marshall admitted his input ultimately won't sway general manager Phil Emery's decision. But Emery has mentioned on multiple occasions that he considers Cutler a franchise-level quarterback, and it's unlikely the season-ending loss to the Packers changed that.
"Phil is smart. He'll get it done. He'll do what's best for the team, and I think Jay is what's best for the team," Marshall said. "When was the last time you had a Jay Cutler? When was the last time you had Jay Cutler with Brandon Marshall, Alshon Jeffery, Martellus Bennett, Matt Forte, [Matt] Slauson, [Jermon] Bushrod, [Kyle] Long, Garza, Trestman, Kromer, [receivers coach] Mike Groh, Phil Emery? The pieces are there."
October, 30, 2013
10/30/13
2:48
PM ET
On the surface,
Jay Cutler
's insistence on targeting an early return after tearing a groin muscle on Oct. 20 seems questionable, given the fact he's seeking a new contract with his deal set to expire after the season.
But the truth is it's not. And while there's no inside knowledge to suggest familiarity with Cutler's thinking, a deduction based on the past and how the free-agent market might set up in 2014 can be made that right now the quarterback isn't worried about the money.
He's made plenty, and there will be more to come regardless of how his bid for a quick return pans out.
Obviously, Cutler rejoining the Bears too quickly heightens the risk for aggravating the injury, which ultimately could put him on the shelf for more time than the originally prescribed four-week minimum. But in a 16-game NFL season, just one loss could decide the team's postseason fate.
So the importance of each outing renders a big-picture perspective obsolete for Cutler.
"Whenever they give me the green light, we're going to go in there rocking, and we can't look back," he said. "So whenever that happens, you'll see me out there."
But what about considering the big picture?
"I'm not going to. Each game is valuable; especially second half of the season," Cutler said. "So the sooner I can get back, the better I'm going to feel helping these guys out."
If the quick return turns out to be a dud, it likely won't affect Cutler's finances or value in 2014 free agency. Teams pay top dollar for quarterbacks in free agency, especially the signal-callers considered to be among those in the top half of the league.
As it stands right now, Cutler ranks No. 11 among quarterbacks in terms of average salary per year at $14,718,500, while players such as Kansas City's
Alex Smith
, who is tied for 15
th
in salary average, is pulling down an average of $8 million and Philadelphia's
Michael Vick
, at No. 17 averages $7.5 million.
Players comparable to Cutler in terms of ability, such as
Philip Rivers
,
Matt Schaub
,
Eli Manning
,
Tony Romo
and
Matt Ryan
, are averaging more in yearly salary than the Chicago quarterback.
If Cutler returns and maintains the production recorded through the first 6 ½ games of 2013 (he missed a little more than a half against the Redskins), the quarterback should be in line for a contract similar to those of some of his peers. Despite ranking 20
th
in attempts and completions, Cutler is tied for 10
th
in touchdown passes (12) and is 12
th
in passer rating (91.7).
If Cutler fails, which is doubtful, given the body of work already produced, a team -- if not the Bears -- will still pay a salary on par with the top half of quarterbacks in the league.
Asked if the groin injury is more frustrating now given that he's in a contract year, Cutler said, "No. Doesn't matter what year it is. You never want to get injured."
Besides that, Cutler has already earned plenty of money throughout his first eight years in the NFL, which is also part of the reason the contract situation -- from this vantage point -- seems to have little to do with the quarterback's desire to get back on the field ASAP.
As the 11
th
overall pick of the 2006 draft, Cutler received a rookie contract that paid more than $11 million in fully-guaranteed compensation, in a total package of $48 million. When Cutler signed a two-year extension in 2009 with the Bears, he received another $20 million in guarantees and will earn approximately $50 million over the life of the deal.
Receiver
Brandon Marshall
always talks about how he's been to the Pro Bowls and signed the big contracts, and how now the desire is to win. At this point in his career, Cutler seems to fall into that category, too. That's why his insistence on an early return appears at this point to be more admirable than foolish.
The organization could take that decision out of Cutler's hands, though. Bears coach Marc Trestman and general manager Phil Emery have stressed they plan to adhere to the prescribed four-week minimum recovery period.
"What I'm saying is that I don't decide when Jay comes back or when any player comes back," Trestman said. "The doctors make that decision. What I was doing was reiterating the prognosis of the doctors. They're not always right. It could happen faster. Jay's optimistic; we all are. But I'm not saying we're not bringing Jay back for four weeks. That's what the doctors have said, and we'll work off that timeline. If it happens quicker, that'd be great."
October, 30, 2013
10/30/13
9:00
AM ET
A weekly examination of the
Chicago Bears
' quarterback play.
McCown
Rewind:
Josh McCown
entered the club's Oct. 20 game for an injured
Jay Cutler
at the 9:47 mark of the second quarter and scrambled for an 11-yard gain on first down before throwing incomplete to
Matt Forte
the next play to end the drive. McCown eventually finished with a passer rating of 119.6 in just a little more than a half of action with a touchdown and no turnovers.
Fast-forward:
With a bye week and extra prep time for Monday night's matchup against the
Green Bay Packers
, McCown has exhibited confidence in the locker room and on the practice field, and expects to fill in for Cutler with little to no drop-off in production. McCown is a little more willing than Cutler to take off and scramble for yardage when things break down, and his athleticism is very similar to that of the starter. Count on McCown scrambling some against the Packers, but he'll also try to lean on
Brandon Marshall
early because his involvement is crucial to success for Chicago.
Lean on cast; stay who you are:
The Bears believe strongly in McCown's ability to fill in successfully for Cutler, and they'll play hard for him. So if adversity rears its head against the Packers, it's important for McCown to maintain his cool to make sure things don't snowball on the offense. McCown also needs to lean on his strong supporting cast, and not feel like he needs to carry the offense all alone. All he's got to do is distribute the ball to the playmakers, and let them all do their jobs, while not turning over the ball with fumbles or passes forced into coverage.
Prediction:
The extra preparation should make for an eye-opening performance from McCown. Having been a part of the offense from the time Marc Trestman laid the foundation, McCown is just as much of a master of the offense as Cutler. Look for an efficient performance from McCown, where his passer rating is somewhere in the high 80s to 90s with limited turnovers.
October, 23, 2013
10/23/13
9:00
AM ET
A weekly analysis of the Bears' quarterback play.
McCown
Rewind:
McCown entered the game for an injured
Jay Cutler
at the 9:47 mark of the second quarter and scrambled for an 11-yard gain on first down before throwing incomplete to
Matt Forte
the next play to end the drive. With Cutler running the show, the Bears missed on four third-down conversions in the first half. In the second half, Chicago converted 50 percent of third downs and racked up 313 yards. McCown hit on 70 percent of his throws for a passer rating of 119.6, as the quarterback scrambled four times for 33 yards in the fourth quarter in addition to leading three scoring drives.
Fast-forward:
McCown admits he doesn't possess as big of an arm as Cutler, but he can make up for that deficiency with solid anticipation, which for the most part is the backup's game. McCown's athleticism is on par with Cutler's, and he's probably more willing to tuck the ball and run than the starter if the targets don't come open downfield. So McCown's athleticism should be an asset when the Bears play Green Bay on Nov. 4. In the meantime, McCown will spend the week off immersing himself in the intricacies of the scheme as he prepares to make his first start since the 2011 season.
Run the offense through Forte:
Establishing Forte early on is the best way to help McCown settle in and find a groove. The team should've done that in the loss last week to the Redskins but instead handed off to the running back just four times in the first half. That's clearly not enough. By putting the ball into Forte's hands often, the Bears can set up the play-action passing game and put the Packers on their heels. McCown will struggle if Green Bay gets into pin-your-ears-back-and-rush mode. So Chicago needs to feature the running back early.
Prediction:
Fresh off the street from coaching high school football in 2011, McCown -- with a dreadful supporting cast -- put up 21 points in his first start against the Packers in December 2011. This time around, Chicago's scheme and personnel are better, while Green Bay doesn't appear to be as strong a team now as in 2011. So look for McCown to put together an efficient game with a passer rating in the high 80s to low 90s.
October, 16, 2013
10/16/13
9:00
AM ET
A weekly analysis of the Bears' quarterback play:
Cutler
Rewind:
With no protection issues to fret about,
Jay Cutler
came out precise, hitting 5-of-7 for 85 yards and a touchdown on Chicago's first two drives. By halftime, the Bears had built a 24-14 lead with Cutler completing 13 of 18 passes for 179 yards, two touchdowns and a passer rating of 140.7. Chicago let off the gas somewhat in the second half to protect the lead, but Cutler finished with a passer rating of 106.5. Cutler ranks eighth in passer rating (95.2), sixth in completion percentage (65.9) and seventh in completions (143). He is tied for sixth in touchdown passes (12).
Fast-forward:
Redskins cornerback
DeAngelo Hall
became the first player in NFL history to pick off four passes in a game thanks to Cutler the last time these teams met back in 2010. Cutler said he doesn't plan to go after Hall on Sunday, but I find that a little difficult to believe. Cutler won't blatantly go after Hall, but he'll try his best to throw at the cornerback within the confines of the system. Cutler has become a much more disciplined passer, so he won't throw away the game in a quest for revenge on Hall. But don't think the 2010 matchup isn't on Cutler's mind going into this game.
Keep taking what they give you:
Cutler needs to continue to focus on attacking vulnerabilities in coverage rather than force-feeding the ball to favorite targets such as
Brandon Marshall
. Cutler directed 11 attempts at Marshall against the Giants, but he didn't do it in an effort to appease the receiver. He did it because of the way the Giants were playing on the back end. So if
Alshon Jeffery
happens to be the 10- or 11-target receiver Sunday at Washington, so be it.
Prediction:
The Redskins held a high-powered Dallas offense to just 213 yards, which was the team's lowest output in 45 games. So Cutler won't light it up against the Redskins, but he'll be efficient. The key is limiting turnovers.
October, 9, 2013
10/09/13
9:00
AM ET
A weekly analysis of the
Chicago Bears
' quarterback play.
Cutler
Rewind:
Jay Cutler
started slow, which was not entirely his fault given Chicago's struggles with blitz pickups early. That led to all three of his sacks in the first half. Cutler got a little lax with protecting the football in the first quarter, and that resulted in a fumble when
Malcolm Jenkins
hit him from behind on a cornerback blitz. The fumble gave New Orleans possession on the Chicago 6 and led to a field goal. Although he turned the ball over only once in this outing, he's committed five turnovers the past two games.
Still, Cutler performed well, completing 72.7 percent of his passes for two touchdowns and a passer rating of 128.1.
Fast-forward:
The
New York Giants
rank No. 24 against the pass, allowing quarterbacks to compile an average passer rating of 95.9. They've given up 18 completions of 20 yards or more, which means Cutler should be able to carve up the Giants if the offensive line gives him sufficient time. Protection also should not pose much of a problem with New York's normally formidable defense collecting just five sacks through their first five games.
Do what is best:
Cutler does not receive enough credit for the juggling act he is performing by managing all the personalities on offense. Cutler has to find a way to keep
Brandon Marshall
happy and involved along with tight end
Martellus Bennett
and running back
Matt Forte
. But he also has to make sure he is executing the offense in a manner conducive to success. So despite Marshall's frustrations, Cutler needs to resist the temptation to please him and do what's best for the team. If Marshall receives double and triple coverage, obviously Cutler needs to go elsewhere.
Prediction:
Cutler should complete around 65 to 70 of his passes for a couple of touchdowns and a passer rating close to 100.
September, 25, 2013
9/25/13
9:00
AM ET
A weekly analysis of the Bears' quarterback play.
Cutler
Rewind:
Forget about the paltry 159-yard passing performance and focus on the impact of what
Jay Cutler
did against the Steelers on Sunday. Cutler completed 67 percent of his passes for a passer rating of 90.8, but he stayed within the confines of the system as opposed to improvising and taking chances. Then, when the Bears asked Cutler to step up, he did just that during the game-defining drive in which he scrambled for a 13-yard gain (while running over a Steelers defensive back in the process) before firing pinpoint throws on third downs to
Brandon Marshall
for a 41-yard gain and
Earl Bennett
for a touchdown to put the game out of reach.
Fast-forward:
Detroit sacked Cutler seven times in two meetings last season, including five times the first time the teams clashed last October. Don't count on those types of sack totals this time around, as the protection is greatly improved and Cutler is getting rid of the ball much more quickly than he did in the past. Cutler likely will be forced to play dink-and-dunk ball Sunday to advance down the field as opposed to striking the Lions for big chunks of yardage. But the new Cutler has proved disciplined enough to do just that.
Stay consistent:
Cutler was responsible for three turnovers in Week 2: two interceptions and a fumble returned for a touchdown. However, he eliminated such mistakes against a desperate Pittsburgh team in difficult circumstances on the road at Heinz Field. Now, Cutler must do that again at Ford Field. Cutler currently ranks No. 3 in the NFL in total QBR and needs to ride the momentum he has established by remaining consistent.
Prediction:
Cutler's passer rating will be in the 90s again, and he'll finish with at least two TD passes.
September, 18, 2013
9/18/13
1:30
PM ET
A weekly analysis of the Bears' quarterback play:
Rewind:
Jay Cutler
started much faster this week, completing as many passes (19) in the first half as he had thrown through the first two quarters of the opener against Cincinnati (19), while generating a passer rating of 106. Cutler fumbled on a sack from
Jared Allen
, and the loose ball was returned for a touchdown. Cutler also forced a pass on the goal line that was tipped by
Everson Griffen
and intercepted. Still, Cutler shook off the mistakes to rally the Bears to their second come-from-behind victory, firing the game-winning TD to
Martellus Bennett
with 10 seconds remaining. Cutler finished with two touchdown passes and a rating of 97.2.
Cutler
Fast-forward:
Pittsburgh's 3-4 front presents a challenge the offensive line hasn't yet seen. So Cutler needs to be patient and maintain confidence in the unit if it struggles early. The Steelers failed to get to Bengals quarterback
Andy Dalton
on Monday night, and could possibly experience similar struggles against Chicago's revamped offensive line. If that happens, expect a confident Cutler to light up the Steelers. Pittsburgh struggled against Cincinnati's tight ends, so Cutler should be looking Bennett's way often on Sunday.
Reduce the turnovers
: Cutler was responsible for three turnovers: two interceptions and a fumble returned for a touchdown. He needs to practice better judgment and ball security. Cutler needlessly forced a pass (although I have no problem with him taking that chance) on the goal line, and another of his picks came as the result of a miscommunication with
Brandon Marshall
.
Prediction:
Cutler's passer rating should be in the high 90s to low 100s, and he'll reduce the turnovers, too. He'll get Marshall another 100-yard receiving day, but expect the main targets to be Bennett and
Matt Forte
.

NFL SCOREBOARD
Thursday, 9/4
Sunday, 9/7
Monday, 9/8