December, 19, 2013
Dec 19
10:00
AM ET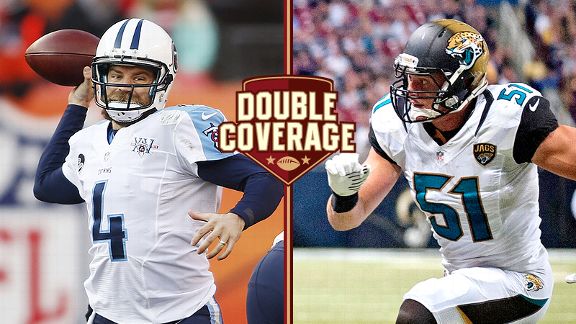 USA Today SportsPaul Posluszny and the Jags are aiming for a season sweep of Ryan Fitzpatrick and Tennessee.
JACKSONVILLE, Fla. -- Maybe
Delanie Walker
shouldn't feel so bad now.
The Titans tight end said he was embarrassed after the Jaguars won 29-27 in Nashville on Nov. 10 to pick up their first victory. Since then, the Jaguars are 3-2 with victories over Houston (twice) and Cleveland. The Titans are 1-4 with a victory over Oakland.
There seems to be much more stability in Jacksonville, too, because of the uncertain status surrounding Tennessee coach Mike Munchak.
Jaguars reporter Michael DiRocco and Titans reporter Paul Kuharsky break down Sunday's matchup at EverBank Field.
DiRocco
: Some Titans players were pretty vocal about being embarrassed due to becoming the first team to lose to the Jaguars. Is that something that still stings, and how have they rebounded from that loss?
Kuharsky
: It definitely left a mark. They are only 1-4 since then. It kind of set a bar for how bad they can be and re-established their propensity to lose to teams that are really struggling. The Jaguars are on an upswing since that game, and the Titans are on a downward spiral. If Tennessee losses to the Jaguars again, the Titans will be in line to finish in third place in an awful division, which is well short of their goals and expectations. The Titans are a better team than they were last year. But losing closer isn't a really big difference in the really big picture.
Let's turn that around. How has life changed for the Jaguars since that Nov. 10 breakthrough?
DiRocco
: I could go into a lot of stats that show how much better the Jaguars are playing, but that's not what's really important. The past six games have been more about the validation of the process, establishing the foundation of the franchise's rebuild, and confidence in the new regime. Coach Gus Bradley never wavered from the plan that he and general manager David Caldwell established. His message stayed the same throughout the eight-game losing streak to start the season: trust in the process, work hard, and focus on improving and not victories, and the victories will eventually come. Because that has happened, the players appear to have completely bought into what Bradley and Caldwell want to do, and there's a confidence in the locker room that the franchise is headed in the right direction.
We talked about
Jake Locker
the last time these teams met, but that was before he suffered a season-ending injury to his foot. How does that change the Titans' outlook on him and are they in the market for a quarterback in the offseason, too?
Kuharsky
: Locker is certain to be on the 2014 Titans. His fourth year isn't that costly and it's guaranteed. But they can't execute a spring option for his fifth year that would line him up for over $13 million. A lot of his fate depends on whether Munchak is back as the head coach. It's possible they go forward with Locker,
Ryan Fitzpatrick
and just-signed
Tyler Wilson
as their quarterbacks. It's also possible they'd draft a new guy, and depending on how high of a pick he could land in competition to start. I think it's less likely they chase a free agent like
Jay Cutler
if he comes free, but they have to assess all the possibilities. How can they completely commit to Locker based on his injury history?
One side effect of the Jaguars' surge is they aren't going to be in position to draft the first quarterback taken. What's your sense of what Bradley and Caldwell want in a quarterback and do you expect one to arrive in the first round?
DiRocco
: Offensive coordinator Jedd Fisch said something interesting last week. He said he wants his QB to scramble around, take off running to get yards and take some chances throwing the football. To me, that sounds like a pretty accurate description of Johnny Manziel. I'm not sure how that reconciles with the ideas of his bosses. Bradley comes from Seattle, which has the mobile
Russell Wilson
. Caldwell comes from Atlanta, which has the considerably less mobile
Matt Ryan
. My sense is that Bradley and Caldwell probably lean more toward the Wilson end of the spectrum. People think that eliminates Teddy Bridgewater, but that's not the case. He's not a runner but he can run if needed. If he's around, I'd expect them to take him. If not, then I would still expect them to go quarterback. It's their most glaring need.
You mentioned Munchak's job status. What's your take on whether he will be back next season -- and should he be?
Kuharsky
: He's shepherded improvement, but his team lacks an ability to finish. He's 0-4 in the worst division in football, 1-9 in the past two years. His teams have lost to the previously winless Jags in 2013 and the previously winless Colts in 2011. He's 4-18 against teams with winning records when the Titans played them and 2-19 against teams that finished the season with a winning record. To me, three years is a sufficient sample size to know what you've got and those numbers are the most telling thing on his resume. Keep him and they deal with all the limitations connected to a lame duck coach. I don't know what Tommy Smith, the head of the new ownership, will do. But the fan base overwhelmingly wants change, if that's worth anything. People still pay for tickets because they've got investments in personal seat licenses they do not want to throw away. But a lot of people are staying home on Sundays now.
Cecil Shorts
is done and
Maurice Jones-Drew
is uncertain. How can the Jaguars threaten on offense without their two best weapons?
DiRocco
: They were able to put up 20 points and post their second-highest yardage total of the season, including a season-high 159 rushing, in last Sunday's loss to Buffalo. Running back
Jordan Todman
stepped up big time and ran for 109 yards (Jones-Drew cracked 100 only once in the first 13 games) and tight end
Marcedes Lewis
was more involved in the passing game than in previous weeks (four catches for 54 yards and a touchdown). But I'm not sure that is sustainable. Teams will certainly concentrate on stopping Lewis and make quarterback
Chad Henne
move the ball with three receivers who have a combined 75 career catches. Todman doesn't scare anyone, either. The Jaguars will have to be creative on offense (they've run gadget plays the past three weeks) and capitalize on every opportunity they get.
October, 21, 2013
Oct 21
5:52
PM ET
By
Mike Mazzeo
| ESPN.com
New York Jets
coach Rex Ryan remains unafraid of any team in the NFL.
"I will say this, and I've said it before, we fear nobody," Ryan said Monday, a day after his team's thrilling
30-27 overtime victory
over the hated
New England Patriots
at MetLife Stadium. "What that means Win-Loss wise I don't know, but we literally fear nobody."

Ryan
Maybe he should.
After all, since advancing to back-to-back AFC Championship Games in 2009 and 2010, the Jets are just 18-21 under Ryan. And they've put together just one winning streak in their last 26 games -- back-to-back victories over lowly Arizona and Jacksonville Dec. 2 and Dec. 9 last season.
"I don't know [why we haven't been able to string together wins], but if anybody's got any answers, I'd be willing to listen," Ryan said during a conference call.
"This will be our fourth shot at it this year, and the fact we're playing Cincinnati doesn't help matters. They're playing about as well as anybody right now [they've won three straight and are 5-2], and it's going to be a huge challenge playing in Cincinnati. But again, our mindset is going to be it's all about this opponent. We're going to focus like crazy with attention to detail on the practice field and in the class room and then head to Cincinnati and put our best out there, and that's exactly what we're going to do.
"You want to win on the road, you have to bring a good team with you, and that's exactly what we're going to do. We know it starts with us, we have to protect the football. We have to play good sound defense and obviously eliminate penalties."
The Jets (4-3) have proved their doubters wrong so far, but they can't afford to rest on their laurels. There is still work to be done.
It's tough to gain any real respect when you're incapable of putting together a simple winning streak.
"It's extremely important [for us to string wins together]," rookie quarterback
Geno Smith
said. "Now's the time for us to start developing that consistency that we've been talking about and continuing to stay the course. The better our effort on the practice field, the better we'll be."
So why hasn't it happened yet?
"I think just a lack of detail," guard
Willie Colon
said. "I think coming off wins we're happy, we're excited obviously. But I think we just have to have a little more focus in practice."
December, 17, 2012
12/17/12
11:56
PM ET
NASHVILLE, Tenn. -- The Jets committed five turnovers Monday night against the
Tennessee Titans
, including three in the fourth quarter, to effectively end their season. They were mathematically eliminated from playoff contention with
a 14-10 loss
to the Titans at LP Field.
What it means
: The past two games are garbage time. The Jets (6-8) showed their true colors by committing two turnovers inside the Titans' 26-yard line in the final two minutes. Now we start to wonder about who gets fired and who stays.


Off the Mark
: Quarterback
Mark Sanchez
played one of the worst games of his career, increasing his interception total to 17. He leads the league with 23 turnovers. All four interceptions were his fault, one worse than the next. Sanchez (13-for-28, 131 yards, 1 TD, 4 INTs) threw two in the fourth quarter, the latter with 1:51 on the clock -- a careless throw into triple coverage. The Jets drove from their 8 to the Titans' 23 with a chance to pull out a miracle win, but they were undermined again by Sanchez's reckless play.
Fittingly, the Jets' season ended with a turnover -- a low shotgun snap by
Nick Mangold
. Sanchez failed to pick it up and RB
Bilal Powell
kicked it, allowing the Titans to recover with 41 seconds left.
Sanchez was outplayed by quarterback
Jake Locker
(13-for-22, 149 yards), who made plays outside the pocket. He made several bootleg throws, a clever wrinkle by the Tennessee coaches. The Jets should've done that more often with Sanchez.
A lot of Tebow time
: Four days ago, Rex Ryan seemed unsure of whether he'd play backup quarterback
Tim Tebow
. Not only did he use Tebow, but he let him play an entire series -- a season first. It was a bad decision on several levels.
It was surprising in two respects: First, Sanchez actually moved the offense in his first two series, developing a little rhythm. Second, Ryan let Tebow handle two obvious passing situations. It was a weird time to let Tebow, who hadn't played in three weeks, cut loose and throw. The plays ended with a sack and a throwaway. It destroyed whatever momentum they had. On Sanchez's next pass, he threw an interception.
Where was G-Mac?
Once again, Ryan opted to dress only two quarterbacks, making
Greg McElroy
inactive. Why not dress all three? A week ago, Ryan wanted to dress all three, but he decided against it at the last hour. This time, he opted to have six wide receivers. Curious, indeed.
Not-so-elite defense
: The Jets climbed to No. 8 in the defensive rankings after beating up two tomato cans, the Cards and Jaguars. Against another mediocre offense, the once-vaunted defense disappeared at critical junctures.
With a chance to create great field position for the offense, the Jets let
Chris Johnson
run 94 yards for a touchdown in the second quarter -- the longest run they've allowed since the 49ers'
Garrison Hearst
ran 96 yards in overtime in the 1998 opener. Nose tackle
Sione Po'uha
couldn't disengage from backup center
Kyle DeVan
, creating a crease.
The defense came up ridiculously small in the third quarter, blowing a four-point lead by allowing a seven-play, 64-yard touchdown drive -- right after a Jets touchdown. Good defenses don't do that. The scoring play was a 13-yard run by Locker, a read option around left end. Look familiar? The 49ers'
Colin Kaepernick
ran the exact same play against the Jets for a touchdown in Week 4. That's called going to school on your opponent.
Busy debut
: Wide receiver
Braylon Edwards
, claimed on waivers only six days ago, started and played most of the game despite having practiced only three days with the team. He finished with three catches for 47 yards. If a player can come off the street and see significant time, well, it's a sad commentary on the receiving corps.
The McCourty curse
: The McCourty family owns the Jets. Cornerback
Jason McCourty
made two interceptions, keeping the family tradition alive. His twin brother, Patriots cornerback
Devin McCourty
, also destroyed the Jets in two previous games. Devin scored on a 104-yard kickoff return and a forced a fumble on a kickoff. The Jets are lucky there are no other McCourty brothers on the schedule.
What's ahead
: The Jets have a quick turnaround, but at least they get to stay a home -- a 1 p.m. kickoff against the woeful Chargers (5-9) on Sunday.
November, 28, 2012
11/28/12
7:19
PM ET
FLORHAM PARK, N.J. -- Jets backup quarterback
Tim Tebow
would love to play Sunday against Arizona -- despite his broken ribs -- but he acknowledged the final call is out of his hands.
Tebow has dealt with his rib injuries for several weeks but said they're getting better.
"That's going to be up to (the coaching and training staffs), but hopefully I will (play)," Tebow said.
Jets coach Rex Ryan said Wednesday he believes Tebow will be cleared to play Sunday, but he wants to see how the quarterback progresses throughout the week. Tebow had a limited practice Wednesday.
Even if Tebow is active against the Cardinals, there's the question of his productivity. A source told ESPNNewYork.com that Tebow had just one snap in practice Wednesday, while third-string quarterback
Greg McElroy
received more work than usual.
Tebow is confident he'd be able to perform if called upon.
"I think if the doctors and trainers evaluate me and that's something they feel is fit for me to go and everything, then you would definitely believe in your abilities for sure," Tebow said.
Although he's not used in the passing game very often, Tebow said it still sometimes hurts him to throw. He trusts in the training staff to make sure he's ready to play on Sunday, including being tackled, and he wants to make sure playing won't worsen his condition. He added he doesn't worry about being ineffective when he tries to play.
"You just worry about the setbacks and having to continue. Then it just takes longer to heal," Tebow said. "That's the only frustration."
Tebow's ribs became a national story following last Thursday's 49-19 loss to New England. Tebow was active for the game but didn't play, and Ryan said he hadn't planned to play Tebow unless he absolutely had to. Tebow received medical clearance to play, and the quarterback also was able to convince Ryan he could go, leading to the team making McElroy inactive.
If Sanchez had been injured against the Patriots, Tebow said he would have been able to get through the game. He appreciated that Ryan allowed him to have some say in whether or not he was active, and that Ryan looked out for him by keeping him out of the game since he wasn't needed.
"(I'm) just focused on helping the team," said Tebow, who played with a broken leg in high school, as well as a broken collarbone last year vs. New England. "You believe in yourself that you can help the team and that was my mindset (against New England)."
September, 19, 2012
9/19/12
2:15
PM ET
FLORHAM PARK, N.J. -- Another day, another round of questions about
Tim Tebow
's lack of involvement in the Jets' offense.
This time, Rex Ryan didn't get annoyed with the questions, but he made it clear he's not going to bow to media pressure to play Tebow in the Wildcat.
"We control it," Ryan said. "The media's not gonna drive it and the opponent, they're not going to have any idea what we're going to do with them. I'm certainly not going to let them know, 'Hey, by the way, Tebow is going to play 50 snaps this week.'
"I'm never going to give you a legitimate answer. I know the answer, but I'm not going to give it to you."
In the first two games, Tebow was an afterthought. Out of 114 plays on offense, he appeared in only 12 -- 11 at quarterback, once as an H-Back. In Sunday's loss to the Steelers, he didn't get in the game until the third quarter -- and he was three plays and out.
"When you look at this past game, we only had those three Wildcat plays, but, really, the Wildcat is a personnel grouping," Ryan said. "And sometimes you want to go with that personnel grouping and sometimes you don't."
Ryan may have tipped his hand by admitting that running back
Joe McKnight
will have an expanded role this week against the Dolphins. McKnight often is used in the Wildcat package, sometimes in motion across the formation. He played only one snap against the Steelers.
Of course, an expanded role could mean only two or three snaps. Ryan, who has become more secretive than ever, was cagey with regard to how much McKnight will play.
September, 12, 2012
9/12/12
9:03
PM ET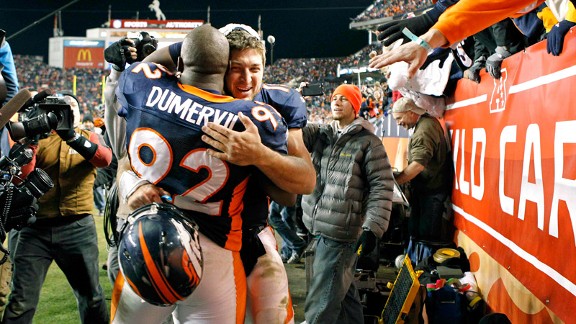 Ron Chenoy/US PRESSWIRETim Tebow had a lot of fun the last time he lined up against the Steelers.
FLORHAM PARK, N.J. -- The last time he played Pittsburgh,
Tim Tebow
had the game of his life.
He threw for 316 yards and ran for 50 more, accounting for three touchdowns in the Broncos' overtime upset of the Steelers.
His last TD, of course, was the most memorable.
Tebow hit
Demaryius Thomas
for an electrifying 80-yard touchdown in the opening play of overtime to stun Pittsburgh.
So the question heading into Sunday's road game against the Steelers is this: will the Jets let Tebow throw?
No one in Gang Green's locker room was giving any insight into the team's offensive game plan on Wednesday. But if Pittsburgh pressures Tebow as it did in the 2011 playoffs, the Jets' backup may get the opportunity to put it in the air for the first time this season.
Asked about the possibility of attempting a pass on Sunday, Tebow played coy. He said he'd do "whatever's going to work and whatever I'm asked to do."
The Steelers seemed to dare Tebow to throw in their Wild Card matchup with the Broncos last January. And they got burned. He was just the third quarterback in the Super Bowl era to have 300 yards passing, 50 yards rushing and no turnovers in a playoff game.
In a play that typified Pittsburgh's approach against Tebow, the Steelers' D was in "zero coverage" -- meaning without a safety in the middle of the field -- on Tebow's game-winning hookup with Thomas.
Pittsburgh coach Mike Tomlin said Pittsburgh would make adjustments in its plans against Tebow on Sunday.
"What we did in (the playoff) game was to address an issue of a guy that was taking a snap from center on every play. Obviously, our approach is probably going to be a little bit different in regard to how we deal with him this time around," the coach said, adding: "I know we better be prepared for more than what we saw on Sunday."
Tebow did not attempt a pass in his Jets debut, a 48-28 win over Buffalo. He carried the ball five times for 11 yards. Overall, he was under center for eight plays.
Not attempting a pass isn't all that rare for Tebow. He's played in eight games in which he hasn't made a throw.
Will he get to make his first as a Jet on Sunday?
Rex Ryan wouldn't reveal much about his plans for Tebow during his Wednesday press conference. He was asked whether Tebow's success in the air against Pittsburgh could be an advantage for the Jets on Sunday.
"When you watch that game, they brought everybody when Tim was in there. Will they have the same strategy? I'm not sure," the coach said.
If they bring everybody again on Sunday, Tebow may find some favorable matchups on the outside. But Tomlin insists that, this time, his Steelers will be ready.
"Obviously, he's a capable passer. That's an element of it that we need to be prepared for," Tomlin said.
August, 12, 2012
8/12/12
12:18
PM ET
CORTLAND, N.Y. -- The Jets have been criticized for their plans to use the Wildcat, with some people saying the gimmicky offense has lost its luster. Rex Ryan responded Sunday, revealing he was interested in taking quarterback
Colin Kaepernick
in last year's draft as a replacement for
Brad Smith
to run the Wildcat.
[+] Enlarge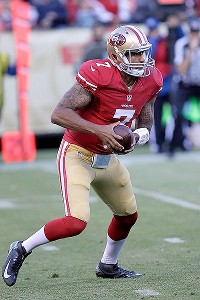 AP Photo/Paul SakumaColin Kaepernick's 78-yard TD scamper for the 49ers caught Rex Ryan's attention.
"I was really intrigued by him coming out, knowing we might lose Brad," said Ryan, who ended up losing Smith to the Bills in free agency.
The 49ers drafted Kaepernick, a running quarterback in college, near the top of the second round. (The Jets didn't have a second-round pick.) On Friday night, Kaepernick scored on a 78-yard run, a designed play out of the shotgun. Ryan, of course, couldn't resist mentioning that.
"Guys, the Wildcat is tough to defend," Ryan said. "Are we going to do it? Of course. At some point, we're going to do it. Some people think the Wildcat has come and gone. No it hasn't. If anything, it's just the opposite."
Ryan clarified a conversation he had last Thursday with Bengals coach Marvin Lewis, who called the Jets' coach wondering if he was planning to use the Wildcat in Friday night's game -- at least that's the version Ryan told after the game. Somehow, it got reported that Ryan agreed not to run it. Not true, he said, adding that it never was in the Jets' game plan for the game.
The Jets didn't use any Wildcat plays in the game with
Tim Tebow
. Of his 22 snaps, only one came in shotgun. He scrambled four times for 34 yards, but none were designed runs. On Sunday, Ryan went out of his way to say he was pleased with Tebow's passing (4-for-8) even though he threw an interception.
Ryan absolved him of the interception, saying TE
Jeff Cumberland
ran a "poor route. He kind of drifted on it. With that being said, Tim has to make a better throw."
July, 29, 2012
7/29/12
1:05
PM ET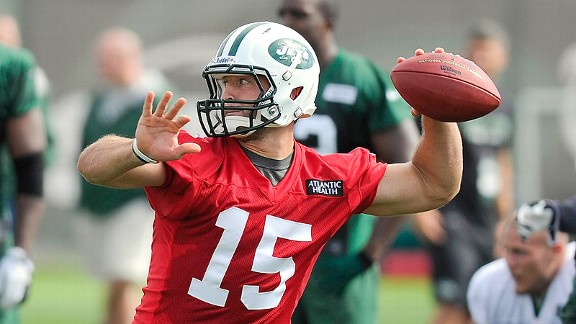 Rich Barnes/US PresswireHow did Tim Tebow feel about the start of Jets camp? Would you believe he was excited?
CORTLAND, N.Y. --
Tim Tebow
got his reps in as Jets offensive coordinator Tony Sparano looked on carefully. Sparano reminded the Jets' backup quarterback to work on his pacing and his rhythm, letting Tebow know when he got it right.
After one successful throw downfield, Sparano patted Tebow on the back of the helmet as he returned from the line of scrimmage.
In terms of time with the ball, there wasn't much difference between the backup and starting quarterback
Mark Sanchez
on the first day of Jets camp. Both got plenty of reps, and Tebow had the additional time working with the punt team.
Afterward, Sanchez and Tebow paused for media scrums about equal in size. But if you worry their relationship might strain under the constant scrutiny, Tebow said not to worry.
"I think that's something we honestly handle pretty well, just talking about it, and there's nothing we can really do," Tebow said. "It's who we are and where we're placed at and there's not a lot that we can control about it. I think our relationship really helps with that ... just knowing that we don't control anything that happens outside of the building."
Tebow completed all four of his passes, all short. Rex Ryan offered a mixed review of Tebow's first day, and he talked a little about the options he presents in pass protection.
"The goal is to keep the punt return team off balance and not let them know what we're doing," Tebow said.
Whether there is any disappointment that, after taking the Broncos to the playoffs last season, he comes in as the backup to another team, Tebow didn't let on.
"Always the first day you're very excited," said Tebow, using the description he gravitates to most. "I felt like because it was a new team I was probably a little extra excited."
September, 12, 2011
9/12/11
12:20
AM ET
Recap
|
Box score
|
Photos


WHAT IT MEANS:
Rex Ryan wanted to win for New York, wanted it badly on the 10th anniversary of 9/11 -- and his team delivered a heart-pounding win over the Cowboys at MetLife Stadium. The game lived up to the incredible hype. The Jets made plenty of mistakes, but they showed the NFL a new dimension -- a pass-happy attack. They also showed plenty of heart, but we already knew that about them. They proved it over and over again last season.
RESILIENT JETS:
The Jets overcame 10-0 and 17-7 deficits, receiving contributions from all three units.
Darrelle Revis
made the biggest defensive play, intercepting a horrible pass by
Tony Romo
with 49 seconds left. It set up a 50-yard field goal by
Nick Folk
, who beat his former team with 27 seconds left -- the sweetest of endings for the ex-Cowboy.
RYAN BOWL:
The blitzing brothers, Rex and Rob, staged a clinic on how to pressure the quarterback. Both teams unleashed a variety of pressure packages, resulting in a total of eight sacks, including four by the Jets. Cowboys OLB
DeMarcus Ware
(two sacks) was an absolute terror, exploiting the newest member of the Jets' offensive line, RT
Wayne Hunter
, who allowed one sack and several pressures. The patriarch of the Ryan family, legendary defensive coach Buddy Ryan, watched from a private box. He had to be proud.
AIR SANCHEZ:
Well, Ryan said they'd throw the ball more than in the past, and he wasn't kidding. Percentage-wise, this was the most pass-heavy game of the Ryan era. Ground & Pound was just a rumor. Sanchez's training wheels are officially off.
Trying to exploit a Dallas secondary that played without starting CB
Terence Newman
, and later lost starter
Mike Jenkins
for about a quarter and also No. 3 CB
Orlando Scandrick
, Sanchez came out throwing and ended up completing 26-of-44 for 335 yards, two touchdowns and one interception. He threw scoring passes to
Dustin Keller
(4 yards) and
Plaxico Burress
(26 yards).
KILLER MISTAKES:
For the most part, Sanchez played well, but he made one bad decision and one blunder -- and it cost seven points. Looking for Keller over the middle on the final play of the third quarter, Sanchez didn't see LB
Sean Lee
in a zone and was intercepted at the Jets' 38. Lee returned it to the Jets' 1, setting up a TD run by
Felix Jones
that gave Dallas a 24-10 lead.
Later, with a chance to rally the Jets to a game-tying score in the fourth quarter, Sanchez was sacked from behind by S
Danny McCray
and lost a fumble. Sanchez was careless with the ball, holding it in his right hand -- a bad habit that has plagued him throughout his career.
BLOCK PARTY:
Needing a clutch play in the fourth quarter, the Jets' special teams came up huge, with
Joe McKnight
-- once a resident of the Ryan dog house -- blocked a punt. It was recovered by
Isaiah Trufant
, who returned it 18 yards for a game-tying touchdown with 5:00 to play. Trufant who? He was signed only Saturday off the Jets' practice squad, specifically for his ability to contribute on special teams -- a masterstroke by the Jets' decision makers. For the enigmatic McKnight, it was the biggest play of his brief career.
PLAX IS BACK:
Burress, playing in his first NFL game in nearly three years, made a splashy return. A non-factor for nearly three quarters, showing no ability to separate, Burress came up big in the fourth quarter, scoring on a back-shoulder fade. It won't go down as a red-zone touchdown because it came from the 26, but it showed the type of impact he can have around the goal line.
The question is, what took so long to get Burress and
Derrick Mason
(three catches for 19 yards) involved in the offense? The Cowboys played without their top three corners for much of the second half.
WHERE'S NNAMDI?
After being spurned by free-agent jewel
Nnamdi Asomugha
, the Jets settled for their own free-agent cornerback,
Antonio Cromartie
, whom they re-signed to a four-year, $32 million contract. Cromartie is a good player, but he had a rough night. He allowed two touchdown passes, a 3-yarder to
Dez Bryant
and a 36-yarder to
Miles Austin
. Both came in man-to-man, jump-ball situations in the end zone. In fact, Cromartie appeared to have the interception on the latter play, but Austin ripped it out of his hands.
Cromartie started out on Bryant, but after Bryant scored on the Cowboys' first drive, the Jets switched it up and put
Darrelle Revis
on Bryant.
WEAK SPOTS:
Give Cowboys coach Jason Garrett credit; he did a fantastic job of attacking the Jets' weaknesses on defenses. He called plays that isolated the Jets' linebackers in space; their linebackers aren't adept in pass coverage. The Cowboys also picked on S
Eric Smith
, who got burned on a 64-yard completion to TE
Jason Witten
.

NFL SCOREBOARD
Sunday, 12/22
Monday, 12/23