NFL Nation:

Super Bowl 44 Final Word
February, 6, 2010
2/06/10
3:01
PM ET
»
Super Bowl Final Word
:
Colts
|
Saints
MIAMI --
Five nuggets of knowledge about Super Bowl XLIV between the New Orleans Saints (15-3) and Indianapolis Colts (16-2):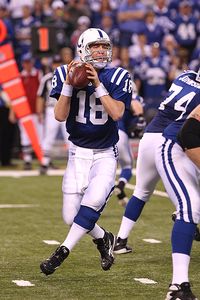 Al Pereira/Getty ImagesColts quarterback Peyton Manning is more than capable in adapting to an opponent's defense.
1. Peyton Manning should expect to see a defensive Plan A, B and C.
In the AFC Championship Game, the Jets brought some early blitzes that were unfamiliar and confused the Colts. But once Manning and offensive coordinator Tom Moore had some time on the sidelines to sort things out, they solved the puzzle. Once they did, they seemed to deflate New York, which failed to make any major countermoves.
Saints defensive coordinator Gregg Williams should have multiple plans and when he senses the Colts have figured something out, he'll flip the switch on some major alterations and be prepared to do so multiple times. If Manning wins on smarts, odds are he will be challenged more than he was two weeks ago.
2. Indianapolis doesn't run it well, but watch how it runs once it's inside the 20.
The Colts finished last in the league in rushing the ball this year with 1,294 yards. However, they did score 16 rushing touchdowns and ESPN Stats & Information says they had a nice balance of rush-to-pass play calls down in the red zone (74-78). Their predictability on offense before reaching the red zone may have caused Manning's numbers to suffer on play-action passes.
In red-zone play-action he had six touchdowns and no interceptions in 12 pass attempts this season, posting a 124.3 passer rating. Outside of the red zone his rating on play-action was only 79.7 and his five touchdowns are measured against nine interceptions. His completion percentage is 63.3 outside the red zone on play-action, 20 points lower than inside it.
3. The Colts' secondary depth is their weak spot.
Even if
Jerraud Powers
is fine to play after recent foot surgery, if the Saints can force the Colts to use six defensive backs, that last man is a shaky piece of the defense.
Kelvin Hayden
and Powers are quality starters, and although
Jacob Lacey
got torched on an 80-yard touchdown against the Jets, he's a capable player too.
But if the Colts need to rely much on
Tim Jennings
or go deeper than that to someone like
Aaron Francisco
or
T.J. Rushing
, I expect Sean Payton and
Drew Brees
will target them as quickly and as often as possible. They should.
4. For all the grief about his postseason failures, Manning's got some good numbers.
Break down the top five players in postseason passing yardage by the game, and Manning's the best of them with an average of 284 to
Joe Montana
(251),
Dan Marino
(251),
Brett Favre
(244) and
John Elway
(226). No one has more playoff 300-yard passing games than Manning's seven.
But his counterpart's got an amazing number going this season when it comes to facing top postseason quarterbacks. The Super Bowl will mark the fourth time this season Brees has faced a former Super Bowl MVP. The three quarterbacks he faced before Peyton Manning were
Eli Manning
,
Tom Brady
and
Kurt Warner
. Brees has been unreal in those games, posting a combined passer rating of 152.8 with three wins, 12 touchdowns and no interceptions.
5. With or without Dwight Freeney, the Colts might be wise to blitz.
This defense is far different than the one on the 2006 championship Colts. That was a Cover 2 team that rushed four almost every snap. This is a group that is willing to blitz.
The Cardinals and Vikings rarely tested Brees with an additional pass rush in New Orleans' first two postseason games, ESPN Stats & Info says. Against four or fewer rushers, he's thrown five touchdown and no interceptions, averaged 8.2 yards an attempt and posted a passer rating of 127.3. Against five or more rushers he's thrown one touchdown and no interceptions, averaged 4.3 yards an attempt and posted a rating of 90.2.
February, 6, 2010
2/06/10
3:00
PM ET
»
Super Bowl Final Word
:
Colts
|
Saints
MIAMI --
Three nuggets of knowledge about Super Bowl XLIV between the New Orleans Saints (15-3) and Indianapolis Colts (16-2):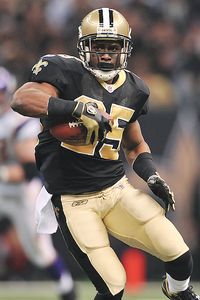 Larry French/Getty ImagesA strong Super Bowl performance could be key to Reggie Bush's future with the Saints.
1. Could this be Reggie Bush's final game with the Saints?
There's already been a lot of speculation about this and it's understandable because Bush is scheduled to have an $8 million salary and a hit of more than $12 million against the 2010 salary cap. Lots of people have said that's too much money for a guy who's nothing more than a role player. But the Saints never have said anything along those lines and they view Bush as more than a role player. He's the first player Sean Payton ever drafted and there's an emotional attachment to Bush. Let's be real honest here, Payton views himself as a brilliant offensive mind -- and I'm not arguing with that -- and he believes he can get production from Bush as a runner, receiver and a return man. A big game from Bush in the Super Bowl might further enhance his chances of staying with the Saints.
2. Gregg Williams was the missing link.
Once upon a time, Gregg Williams was viewed as one of the league's greatest defensive minds. That was before he got a shot as a head coach and had a couple of ordinary stints as a coordinator. But this is Williams' chance to re-establish himself among the elite. Yes, he's got a mighty challenge against
Peyton Manning
and the Indianapolis offense. But Williams made this New Orleans defense respectable almost since the day he arrived. He's a big reason the Saints are in the Super Bowl. If they're going to win it, Williams might be the most important figure of all.
3. Marques Colston will emerge.
Colston's been New Orleans' top receiver pretty much since he entered the league in 2006, but he's still not a household name. This is Colston's chance to change that. At 6-foot-5, he's tough for any defensive back to match up with. The Saints haven't needed to really lock in on Colston because they have such a variety of offensive weapons. But in a winner-take-all setting, it might be time for the Saints to really exploit Colston's height advantage.

NFL SCOREBOARD
Thursday, 8/21
Friday, 8/22
Saturday, 8/23
Sunday, 8/24
WEEKLY LEADERS