August, 27, 2013
8/27/13
6:30
PM ET
FOXBOROUGH, Mass. -- The final preseason game often affords teams the chance to evaluate the back end of their roster as they prepare to make the cut down to 53 players, but Patriots quarterback
Tom Brady
said on Tuesday that he expects to play when his team hosts the Giants this Thursday night.
"I expect to," Brady said. "That's how we've been preparing. It's always up to Coach Belichick, but I'm ready to go."
[+] Enlarge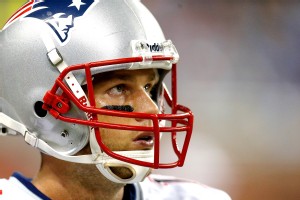 Gregory Shamus/Getty Images"In 10 days we play a real game," Tom Brady said, "so this is a final chance to really see where we're at." He expects to play Thursday against the Giants.
Though Brady has been largely sharp throughout the preseason, his team struggled in its third exhibition game, losing 40-9 against the Lions in an underwhelming effort.
Brady understands that despite not counting toward the standings, any preseason game is an important chance to take the field.
"I think there's always something to be gained from the competition," he noted. "I think you have to go out there and always be prepared, whatever [Belichick] wants to do, for however long he wants to play us, that's what we're going to do. We're ready to go."
Specifically, Brady highlighted the importance of working through game conditions that aren't easy to simulate during practice and developing further chemistry with the team's offseason additions.
"We've got a lot of different guys, different faces, especially at the skill positions that have to be a big part of our offense this year, so the more time we can get under game conditions -- like I said before, we're on the clock, there's play clocks, there's game clocks, different substitution packages, stuff like that," he said. "There's a lot to do. Like you said, in 10 days we play a real game, so this is a final chance to really see where we're at."
The Patriots haven't often turned to Brady during their preseason finale, as he sat out last season's contest in New York against the Giants. But Brady mentioned that the limited on-field work during the preseason stemming from the collective bargaining agreement signed in 2011 increases the importance of any reps he can take.
"With the ways things are now with the CBA and the limited amount of time we get on the practice field during the preseason, everything that we do ends up being important," he said. "We always joke when coach comes in and says 'All right guys, today's a big day,' because it is a big day. Whatever we screw up today we can't get tomorrow, so every day is important. The more days we get right, the better we're going to be at the end of the year."
August, 26, 2013
8/26/13
8:48
AM ET
It's a tenuous time around NFL locker rooms as teams prepare to finalize their 53-man rosters by Saturday's deadline.
In the case of the Patriots, the first step is actually shaving the roster from 85 to 75 players before Tuesday, the first mandatory cut down of the week.
For many players, this week represents their last chance in the NFL, as some will never find work with one of the 32 teams again.
Patriots quarterback
Tom Brady
has nothing to worry about, of course, but that wasn't always the case as Brady entered the league in 2000 as a largely unknown sixth-round pick out of Michigan. Multiplying his longer odds was the fact that the team carried four quarterbacks on its roster throughout the preseason.
And yet, Brady never feared that he would be cut.
"No, I didn't. I don't know why I didn't think that way," he told the "Dennis & Callahan Show" on WEEI sports radio in Boston on Monday morning (
click HERE to listen
). "Looking back on the situation now, I would say that maybe I should have been a little worried. No one ever keeps four quarterbacks, but Coach [Bill] Belichick, he decided to stick with me."
Brady appeared in just one game as a rookie, completing one of his three passing attempts. But the 36-year old realizes now that having an opportunity to study the game from the sidelines for his first full season was a major benefit to his development.
"I was lucky to really have a chance that whole first year to be in a situation where I wasn't forced to play and lose a bunch of confidence," he said.
"I wasn't prepared to play my first year," he continued. "That's all that would have happened, I would've gone out and get beat and lost a ton of confidence in what I was doing. I was able to sit there, watch, learn, grow, grow into my body a little bit, improve my throwing mechanics and then my second year I went in there really competing for the back-up job and ended up winning it."