August, 28, 2014
Aug 28
12:00
PM ET
The
Chicago Bears
(2-1) face the
Cleveland Browns
(0-3) in the preseason finale at FirstEnergy Stadium:
No. 3 receiver battle: This competition remains in the forefront as the Bears hope to take one last look at Josh Morgan and Santonio Holmes, who should now be a little more comfortable with the offense. Morgan caught three of the five balls thrown his way last week against Seattle for 48 yards, while Holmes hauled in one pass for 7 yards. Morgan has shown he's perfectly capable of handling the No. 3 job while Marquess Wilson continues to heal from a fractured clavicle. Holmes could potentially add a dynamic element in the slot.
David Fales in extended action: The Bears plan to play Fales the entire game to find out whether he's truly worth spending the time and resources to develop. Fales played sparingly in the exhibition opener against Philadelphia, but hasn't taken any snaps since this preseason. So this will be an opportunity for Fales to earn a spot on the 53-man roster as opposed to being waived and brought back later to the practice squad. Fales hit on 5 of 7 passes for 68 yards in his only brief action of the preseason. Bears coach Marc Trestman likes what he's seen so far from Fales, who flashes superior anticipation skills.
Return of injured players: The starters typically don't play in the fourth exhibition game, but an exception could be made for starting right tackle Jordan Mills, considering he hasn't played a single snap this preseason. Mills returned to practice Monday and could use a little full-speed work against the Browns as the Bears prep for the season opener against Buffalo. Trestman isn't sure whether Mills will play. Eben Britton also returned to practice this week, and he'll need to show what he can do against Cleveland to keep a roster spot because Michael Ola and Dennis Roland have come on during his absence. Like Mills, Britton hasn't participated in any games this preseason.
August, 8, 2014
Aug 8
12:00
PM ET
The
Chicago Bears
(0-0) and
Philadelphia Eagles
(0-0) open the preseason Friday night at Soldier Field.
1. Backup quarterbacks:
Expect Bears coach Marc Trestman to pull the starters after a series or two, which means we won't see much of quarterback
Jay Cutler
. We already know what he can do. The team needs to see whether
Jordan Palmer
or
Jimmy Clausen
can get it done if called upon. So they'll receive the bulk of the snaps in this game. Trestman already has said that Palmer will receive first crack at the No. 2 job. So he'll probably come into the game immediately after Trestman pulls the starters. Palmer has been solid, yet unspectacular, in camp. The same can be said about Clausen, who has performed a little better so far than Palmer. Trestman isn't likely to name a bona fide No. 2 after this game, but the picture should clear up a bit.
2. Safety play:
While abysmal play at safety in 2013 can be attributed at least in part by inconsistency along the defensive line, there should be no excuses now with all the retooling the club has done along the defensive front. Almost every day, the Bears have opened practice with different combinations at the position as both spots are up for grabs.
Adrian Wilson
,
Danny McCray
,
Ryan Mundy
,
M.D. Jennings
and rookie
Brock Vereen
have all taken first-team reps. The unofficial depth chart released by the team lists Vereen and Mundy as the starters. So there's a good chance they'll run with the No. 1 defense against the Eagles. But we should see all five of the aforementioned safeties extensively. Keep a close eye on Wilson, because there's still a question as to whether he has anything left in the tank. The Bears hope Wilson pans out because he could add an intimidating presence on the back end that the club has lacked in recent years.
3. Front seven:
The Bears spent the bulk of the offseason revamping a front seven that played a major role in the team ranking last in the NFL in 2013 against the run. The Bears made changes to the coaching staff, overhauled the scheme and added
Jared Allen
,
Willie Young
, and
Lamarr Houston
in addition to drafting
Ego Ferguson
and
Will Sutton
. Now we get a chance to see whether all the work will reap rewards. There's a chance Allen won't play -- he's been excused to be with his family for the birth of his daughter. So Young and
Trevor Scott
will likely take the bulk of Allen's reps. Perhaps the most significant change in the scheme involves the emphasis on defensive linemen using their hands properly to engage and shed blocks. That's why the Bears brought in martial arts expert Joe Kim to teach the defensive line hand-fighting techniques. So from the first team all the way down to the on-the-bubble players, we should see significant improvement in that area, which in turn should bring optimism about how the group will perform in the regular season.
December, 20, 2013
12/20/13
6:00
PM ET
There are some games that just have a certain feel to them -- a different feel from other games.
This Sunday's rematch of last year's AFC championship game has that feel.


Even if there wasn't so much at stake for both the Patriots and Ravens in Week 16, the buildup to this game would likely be intense. There's no love lost between these two teams, who have shared the field for some of the more memorable games in recent NFL seasons.
The fact that there are playoff implications for both sides makes the matchup even more intriguing. The Patriots can potentially clinch a top two seed in the AFC if things fall their way, or at the very least can sew up the AFC East division crown with a win.
The Ravens, meanwhile, can move closer to an AFC North title with a win, and a win combined with a Miami loss would ensure that they'll extend their NFL-best streak of seasons making it to the playoffs to six.
The Patriots are hopeful to become just the second team to beat the Ravens on their home turf this season, and if they are able to do so, it would be their best win away from Gillette Stadium in 2013.
With plenty to play for, here's a look at what we'll be watching for this Sunday.
1. Red zone offense.
The Patriots have scored touchdowns on just 39 percent of their red zone trips in games that
Rob Gronkowski
has not played in this season. For the seven-game stretch that they had Gronk, that number ballooned to 69 percent. The Ravens happen to boast the league's best red zone defense and stymied the Patriots in the red zone last postseason, so converting their chances will be a tremendous key for the Patriots this weekend. The potential return of wide receiver
Aaron Dobson
, whose 6-foot-3, 215-pound frame makes him a difficult matchup in man coverage, would aid the offense in the red area.
2. Blindside protector.
For the second consecutive week, Patriots starting left tackle
Nate Solder
is dealing with a concussion. He was able to play in Week 15, but ultimately left the game early after appearing to take a knee from a Dolphins player. While he hasn't been ruled out for Sunday, if he's unable to play, it'll be interesting to see how the Patriots opt to replace him. They kicked
Logan Mankins
out to left tackle last Sunday, inserting
Josh Kline
in at left guard. With a week of practice, the team could also opt to insert veteran
Will Svitek
at one of those spots if need be.
3. Kickers battle.
It's not often that we highlight the kickers in advance of the games, but this Sunday features a pair that have had largely terrific seasons. Stephen Gostkowksi slipped up for his team last week but has still had clutch moments this season.
Justin Tucker
, the Ravens kicker, drilled six field goals Monday night, including a game winner from 61 yards. He's in line for potential postseason honors. Their strong legs shorten the field for an offense.
4. Slowing Rice.
Ray Rice
hasn't had nearly his best season in 2013; in fact, he's averaging just 3.1 yards per carry. Nonetheless, he's still a gifted running back whom the Patriots, who have had massive struggles stopping the run, must account for. While Rice is most often responsible for carrying the football, he's also a reliable pass catcher that will flare out of the backfield and make yards in open space. Coverage has been an area of struggle for Patriots linebackers this season, and containing Rice as a pass catcher will be no small chore.
5. Pressuring Flacco.
The last time the Patriots played the Ravens, they didn't register a single hit on quarterback
Joe Flacco
. He largely had his way, working the middle of the field effectively by targeting tight end
Dennis Pitta
and wide receiver
Anquan Boldin
. Sacks have been an issue for Baltimore this season, and the Patriots need to find their way to Flacco early and often. The two individual matchups to watch will be
Chandler Jones
facing off against left tackle
Eugene Monroe
and
Rob Ninkovich
working to get around right tackle
Michael Oher
.
September, 20, 2013
9/20/13
6:00
PM ET
Has it been pretty? Far from it, but the Patriots started their preparation for the
Tampa Bay Buccaneers
in a situation that only seven other teams could lay claim to: unblemished through two games.

The payoff of defeating the Jets during a short Week 2 is that the team had 10 days to prepare for its next opponent, the Bucs, who travel to town this weekend with an 0-2 record following disappointing last-second defeats.
The Bucs aren't shying away from their record, but to cast them as an incapable team is shortsighted -- talent exists up and down the roster, with star power on both sides of the football.
One has to figure that Tampa Bay will be playing with an extreme sense of urgency, looking to avoid an 0-3 hole to start the season, while the Patriots have a chance to capture their first 3-0 start since the 2007 season.
With kickoff closing in, here are our five items we'll be watching for.
[+] Enlarge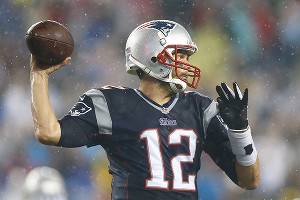 Jared Wickerham/Getty ImagesWill Tom Brady have better luck with his young receivers this week?
1. Return of Gronk; improved passing game?
This much we know for sure about Patriots tight end
Rob Gronkowski
: He's improving, but still day-to-day. Will Week 3 mark the return of Gronk? He hasn't been ruled out for Sunday's game (he's listed as questionable), but it's possible he needs just a little more time before seeing game action. Gronk or no Gronk, will the passing game pick up enough after a disappointing Week 2 performance? The rookie receivers need to sharpen their games with another likely absence from
Danny Amendola
, with
Julian Edelman
likely to be prominently featured as well.
2. Revis Island.
Make no mistake about it, even as he continues to work his way back from an ACL tear suffered early last season, cornerback
Darrelle Revis
has played at a high level since joining the Bucs. He's familiar with the Patriots after several seasons with the Jets, and it will be interesting to see how the Bucs deploy Revis on Sunday and whether the Patriots test the All-Pro. Might Tampa Bay use Revis to blanket Edelman, the Patriots' top receiving option right now (he's hardly been used in the slot thus far, where Edelman primarily lined up last week)? Conversely, if Revis aligns to just one side of the field, will
Tom Brady
stay away from him and look for other options? He's the type of player defenses construct their coverages around and offenses often shy away from.
3. Power running game of Tampa Bay.
The Patriots dressed just three defensive tackles in Week 2, relying upon defensive end
Chandler Jones
as a reserve-level option periodically. If there were a week where dressing an additional defensive tackle -- former Buc
Chris Jones
? -- could be needed, this is it, as the Bucs possess one of the biggest and most powerful offensive lines to lead the way for sensational second-year back
Doug Martin
.
Donald Penn
controls the left side, while star guard
Carl Nicks
(foot) has been a limited practice participant this week. Regardless of who lines up for the Bucs, it'll be a test for the Patriots' interior defensive line, where
Vince Wilfork
and
Tommy Kelly
will need to set the tone in building the first line of run stuffing.
4. Replacing Slater.
Special-teams ace
Matthew Slater
has been unable to practice this week due to a wrist injury and looks unlikely to play. The question immediately turns to the kicking game and how the Patriots can attempt to fill the void, or at least partially do so. One area that we'll be keeping a particularly close eye on is the gunner spot on the punt team. If there's one area where Slater has routinely made a difference, that's it, as he has terrific open-field speed and the strength and toughness to beat the vices at the line of scrimmage.
Marquice Cole
is likely to occupy one gunner position, but how will the team account for Slater's absence? Could it be a player like
Brandon Jones
,
Tavon Wilson
or
Kyle Arrington
? Practice squad defensive back Kanorris Davis seems like a candidate to be promoted on Saturday as well.
5. Handling exotic schemes/pressures.
The Bucs are off to a red-hot start with nine sacks in their first two games, but they don't just generate pressure with conventional looks. They attack opposing offenses with a number of unique fronts, tilting their defensive linemen, using their linebackers and safeties in pressure packages, and consistently disrupting the integrity of the pocket. That puts the onus on center
Ryan Wendell
and quarterback Tom Brady to identify rushers and anticipate where the pressure will be coming from and in turn communicate it to the rest of the line. Defensive tackle
Gerald McCoy
is a name to keep in mind, as he has unique first-step quickness and the ability to cross the face of an opposing guard to work his way toward the quarterback.

NFL SCOREBOARD
Thursday, 9/18
Sunday, 9/21
Monday, 9/22
WEEKLY LEADERS