NFL Nation:

Woody Johnson
May, 21, 2014
5/21/14
9:55
AM ET
It came as no surprise Tuesday to hear that
New York Jets
owner Woody Johnson reportedly prefers an expanded playoff format -- a concept that was tabled Tuesday at the NFL spring meeting and pushed to the fall. Johnson's coach, Rex Ryan, is overwhelmingly in favor of playoff expansion. I asked Ryan about it at the league meeting in March and this is what he said:
"Absolutely, absolutely. When you look at the fact that bonuses are probably tied into it, absolutely (laughs). I think it's a good thing anyway. It's so special to get into the playoffs. It's a great thing for the fans. I would be for it. I don't think you want to do where it's like hockey and basketball, it just seems like three quarters of the league is in it even though my Leafs struggle, I just don't understand it. I really think it's a good thing, tough. You think about how Arizona didn't go to the playoffs and they were playing as good as anybody at the end of the year. Again, you don't want to water it down to where it's like, that team never deserved it. You always want it like, yeah, every one if these teams deserves it."
It's funny that Ryan mentioned playoff bonuses because, as you know, his new contract extension -- finalized in January -- is heavy on playoff incentives. There are some who believe this season is playoffs-or-bust for Ryan, who has missed the postseason for three consecutive years after back-to-back appearances in the AFC Championship Game. I don't believe it's an absolute mandate -- there could be some wiggle room, depending on circumstances -- but he'd certainly be walking on thin ice if the playoff drought hits four years. And thin ice is dangerous, even for a man who has lost 120 pounds.
Obviously, it's too late to implement playoff expansion (from 12 to 14 teams) for the 2014 season, but it certainly sounds like 2015 is a strong possibility, based on Roger Goodell's comments. This is a money grab by the league, which can parlay the expanded postseason field into extra TV money. It's all about the money.
In case you're wondering, no, the Jets wouldn't have qualified last season as the third wild card. At 8-8, they finished in a four-way tie with the
Pittsburgh Steelers
,
Baltimore Ravens
and
Miami Dolphins
, but the Steelers would've grabbed the last spot under an expanded format.
March, 25, 2014
3/25/14
12:05
PM ET
ORLANDO, Fla. -- Unlike owner Woody Johnson, Rex Ryan wasn't about to use the 'D' word -- DeSean, as in
Philadelphia Eagles
wide receiver
DeSean Jackson
. Ryan wanted to avoid any questions about tampering, so he wouldn't talk about the possibility of acquiring Jackson.

Jackson
"Mr. Johnson is the owner, so he can do what he wants, but I'm not going to talk about anybody else on somebody else's roster," Ryan said Tuesday at the owners' meetings.
Johnson confirmed interest in Jackson, but the level of interest remains to be seen. The Jets aren't keen on the idea of trading for Jackson, but their interest could grow if he's released. Even then, there's no guarantee that he'd a must-have.
Ryan did say this much: He expects the Jets to add another wide receiver in the offseason.
"I don't think we're done in that area," he said. "We've got a lot of draft picks and it's a deep draft class at that position. It's safe to say, I bet you anything, we end up making another move for a receiver somewhere along the line, if I'm a betting man. It might not be the moves you want us to make, but how many picks to do we have? Twelve? I bet we take a shot."
Right now, the Jets' top receivers are
Eric Decker
and slot man
Jeremy Kerley
. They still have a need for a true No. 1 receiver. For depth, they have
Stephen Hill
and
David Nelson
. The Jets have expressed interest in former Raider
Jacoby Ford
, a low-level free agent. They're also looking at the possibility of adding a veteran running back. There's some interest in
Maurice Jones-Drew
, but his current asking price is beyond what the Jets are willing to pay.
March, 23, 2014
3/23/14
10:00
PM ET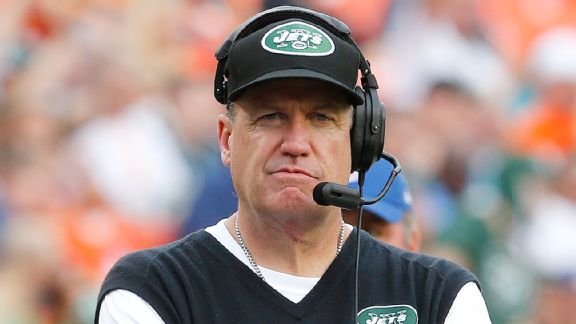 Joel Auerbach/Getty ImagesJets ownership expects Rex Ryan to improve on last season's 8-8 record.
If Rex Ryan didn't feel playoffs-or-bust pressure for 2014, he does now.
New York Jets
owner Woody Johnson, who only 10 months ago pleaded for "patience" from the fans, unwittingly turned up the heat on his coach Sunday at the NFL meetings in Orlando, saying it's a win-now mentality.
"I'm not going to use the word 'patient' anymore," Johnson told reporters. "We want to do it now."
For older Jets fans, Johnson's candid remarks may stir memories of the late Leon Hess, in 1995, growling, "I'm 80 years old. I want results now." He made those comments at Rich Kotite's introductory news conference. Hess had to wait a few years for those results, and they didn't happen until Bill Parcells came to town.
Ryan doesn't have that much time. If he misses the playoffs for a fourth consecutive year, it would be difficult to see him keeping his job. Yes, he received a contract extension after a better-than-expected season, but all that did was give him an extra year of security, with guaranteed salaries through 2015.
Clearly, Johnson expects better than 8-8 this season, and he has a right to feel that way. Patience was the way to go last season because it was the first year of John Idzik's rebuilding project. He tore the roster apart, handing Ryan a five- or six-win roster. Ryan squeezed out eight wins, a terrific coaching job. But now his boss has become impatient with being patient, revealing a greater sense of urgency than his top football man, Idzik.
Idzik keeps talking about building a team that has sustainable success, avoiding quick fixes and working from a long-term plan. Now there's a mixed message, with Johnson suggesting the league is so parity-driven that championships should always be the goal. It's a departure from last May, when he implored the fans, "Yes, be patient. Be patient and trust that we're doing the right thing for your team."
Demonstrating his win-now approach, Johnson confirmed the team's interest in
Philadelphia Eagles
wide receiver
DeSean Jackson
, who reportedly is on the trading block. It was stunning because of tampering rules -- team officials aren't supposed to comment on opposing players -- and because of the Jets' secretive ways.
[+] Enlarge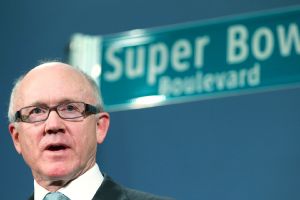 Mario Tama/Getty ImagesWoody Johnson expects the New York Jets to have a winning season in 2014.
I say, "Good for him." Finally, a straight answer from a Jets official.
That Johnson went public tells me the Jets are
very
interested in Jackson. He said they'd rather not surrender a draft pick -- meaning Jackson would be more attractive if he gets released -- but that could mean they're not willing to give up the exact pick the Eagles are demanding. It's called posturing.
Jackson doesn't seem like an Idzik kind of guy, with his enormous contract and his diva behavior. But Jackson would give the Jets a much-improved offense. With Jackson and
Eric Decker
, you're talking about a legit receiving corps. Johnson loves offense. Most owners do. It puts rear ends in the seats.
Meanwhile, Ryan must be thinking, "How 'bout a cornerback?" He has the right to be concerned about the giant hole in his defense. If the owner is making this a win-now season, the least he could do is give his defensive-minded coach a couple of proven corners. Right now, they have
Dee Milliner
and a lot of questions. You could argue that Milliner is a question, too.
The Jets have acquired three new players in free agency, all on offense -- Decker, quarterback
Michael Vick
and right tackle
Breno Giacomini
. The defense is worse than it was at the end of last season. The Jets still have the draft, and still have time to plug holes. But the expectations are higher than 2013. They got even higher Sunday, when Johnson opened his mouth.
"Look at the difference between last year and this year," Johnson said. "The team can turn very fast in the NFL. You saw Seattle. I've seen a lot of teams that came from the bottom ... that weren't doing that well, to winning Super Bowls. So, it's there. I think we're trying to put ourselves in position to accomplish those objectives."
March, 11, 2014
3/11/14
4:00
PM ET
Hottest question of the day: Would the
New York Jets
want to reunite with
Darrelle Revis
if he gets cut by the
Tampa Bay Buccaneers
?
There are mixed signals on this one. The Jets "absolutely" would be interested in the star cornerback, according to a person familiar with the team's thinking -- assuming Revis is willing to take less than his current $16 million a year salary. Rex Ryan has a deep affinity for Revis and, according to a person close to the coach, he likely already has brought up Revis' name is discussions with general manager John Idzik.
While the football side of the organization would love a Revis reunion, the feeling probably isn't the same on the management/ownership level. Years of acrimony between the front office and Revis' camp culminated last April with a bitter divorce, and it's unlikely Woody Johnson would sign off on a Revis 2.0, according to a person familiar with the owner's thinking.
"Woody's not going to allow Revis back in the building," the person said. "He's so anti-Revis. It would happen over his dead body, and I don't think he's ready to leave us."
The biggest question might be, would Revis even consider returning to the Jets? Unless they meet his asking price (not likely), he'd have to be desperate.
This could all be moot, of course, because the Bucs are attempting to trade Revis. The
Cleveland Browns
and
Oakland Raiders
reportedly have interest. Both teams have New York ties to Revis. The Browns' coach is former Jets defensive coordinator Mike Pettine, and the Raiders' assistant GM is Joey Clinkscales, the former Jets director of college scouting. The Bucs want to trade him before Wednesday. If not, they'll cut him before a $1.5 million roster bonus is due.