Dan Graziano's MVP Watch
November, 13, 2013
11/13/13
12:16
PM ET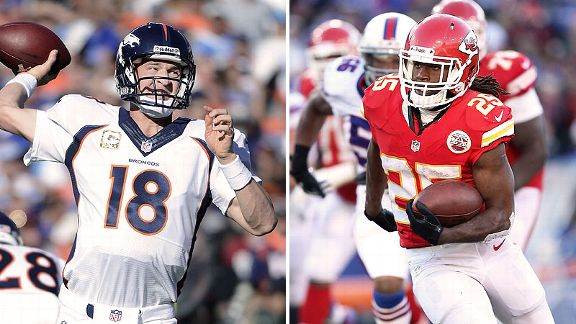 Getty ImagesMVP candidates Peyton Manning, left, and Jamaal Charles will meet in Denver on Sunday night.
There are mileposts along this road to the end of the football season, at which point an MVP will be chosen. And while the award will be based on a 16-game body of work, those who vote are undoubtedly tracking league and MVP developments week to week.
This week, in which the man who's occupied the top spot in the MVP Watch since the preseason plays a critical division game against the last unbeaten team in the league, is one such milepost. It's the kind of week that could create a seismic shift in the race for the MVP award, or reaffirm everything you already thought you knew about it.
Chiefs-Broncos on Sunday night. Panthers-Patriots on Monday night. Saints-49ers on Sunday afternoon. These are the games that make and break MVP candidates, and the Watch can't wait to ... well, watch them all. Meantime, this week's list loses a couple of regulars and adds a couple of defensive players, which is always fun, though not totally realistic. But the Watch is all about the fun, as you know. Or surmised. Or wished were otherwise.
CMP: 262
ATT: 369
PCT: 71.0
YDS: 3,249
TD: 33
INT: 6
ANALYSIS
There was a plan, you'd better believe there was. As Manning hobbled his way through the final few plays Sunday with an ankle injury that would send him for a Monday MRI, the Watch wiped away tears and decided that the top spot on this week's list would be left blank unless Drew Brees and the Saints' offense picked up at least 40 first downs in the Sunday night game against the Cowboys. Which, come on, right? That'd just be ridiculous. Anyway, Manning's ankle checked out fine, so he's good to go against the unbeaten Kansas City Chiefs on Sunday and he keeps the MVP Watch penthouse in which he hung up his lucky autographed Art Donovan jersey in Week 1.
CMP: 247
ATT: 363
PCT: 68.0
YDS: 3,064
TD: 25
INT: 7
ANALYSIS
Munching on the second half of a delectable shrimp po'boy as he walked the halls of the Saints' training facility last Thursday, Brees momentarily looked down to pick at a spot of remoulade that had fallen onto his T-shirt and accidentally stumbled into the wide receivers' meeting room. "Colston!" he exclaimed. "When did we sign you back?" A stunned Marques Colston looked around to see if it was some kind of joke and said, "I've been on the team all year, Drew. Eight years, actually. Never left." Brees took a huge bite of his sandwich and said, "That so? Have I thrown you any touchdown passes?" "Not in two months, Drew." "Jeez, man. Sorry about that. Well, Jimmy Graham's banged up and we've decided to hang 49 on the Cowboys. You want the first one?" Colston just shook his head and said, "Sure, Drew. Whatever." And Brees walked back out like nothing was wrong and Colston couldn't look anybody in the eye for the rest of the meeting.
CMP: 163
ATT: 257
PCT: 63.4
YDS: 2,132
TD: 17
INT: 6
ANALYSIS
This is the guy, honestly. Brees deserves to be ahead of him so far based on the numbers, but if Manning slips up against the Chiefs in these next three weeks and his performance tails off noticeably in the second half, Wilson's in the best position of anyone to sneak in and steal the award. Of his six remaining games, four are at home, where the Seahawks couldn't lose if they played nine against 11. He's already 5-1 on the road following Sunday's demolition of the Falcons in Atlanta. He's got help from an indomitable run game and defense, and he showed Sunday that when he has time to throw he can do pretty much whatever he wants. Wilson had been a statistical disappointment over his first nine games, and people have been asking when he was going to put together a truly great game. Sunday, Wilson and the Seahawks put everything together. And if you're a fan of another team in the NFC, right now you're sorry you asked.
REC: 53
TGTS: 96
YDS: 904
AVG: 17.1
LNG: 87
TD: 9
ANALYSIS
Let's not do "Transformers" stuff this week. The Watch was a fan as a kid, but also of other cartoons, like "G.I. Joe" and even "Star Blazers," which the Watch bets most of you have never heard of. They had this huge spaceship called the Argo which had a "wave motion gun" so powerful that firing it once wiped out an entire continent and wrecked the artificial gravity in the interior of the ship. It was a significant weapon capable of monumental impact, and whatever else happened in the show you had an idea things would ultimately be OK because if it ever got really hairy they could go ahead and fire that huge gun. This is the same plotline of every Detroit Lions offensive possession, subbing in "throw it to Calvin Johnson" for the thing with the huge gun.
ATT: 170
YDS: 725
AVG: 4.3
LNG: 24
TD: 6
ANALYSIS
He's tough enough to take on 20 carries a game. He's fast enough to break a big one. He's coordinated enough to catch passes out of the backfield. He's smart enough not to catch a ride home with Dwayne Bowe. He's the total package, really -- Andy Reid's dream running back. And as the Chiefs work Sunday night to play keep-away by churning out yards and clock and forcing Manning to sit on the sideline, Charles is the key. Alex Smith's not going to win a shootout with Manning. Dexter McCluster isn't going to catch the ball in traffic at the line of scrimmage and run 30 yards for a touchdown like Demaryius Thomas. When the Chiefs have the ball, it's all about Charles, who's fifth in the league in rushing yards even though he's more than 200 behind the dude Reid used to run into the ground. Speaking of which ...
ATT: 193
YDS: 932
AVG: 4.8
LNG: 41
TD: 3
ANALYSIS
Yeah, the Eagles are back up to .500 (and tied for first place), which returns their MVP candidates to Watch eligibility status and allows for the deserved return of brilliant workhorse McCoy to the list. There's a little-known clause in Chip Kelly's contract that says he's allowed to go back to Oregon and play quidditch in Phil Knight's backyard if McCoy isn't on the team anymore. A little bit further down, in the fine print at the bottom of the page, it says that Kelly's actually not required to coach any game prior to which McCoy exhibits cold symptoms. Kelly's got a heck of a contract lawyer. A few people suggested on Twitter that quarterback Nick Foles, who has played only half of the Eagles' games, be considered for this list. Foles saw this and called Kelly in a panic, asking, "Did something happen to McCoy????" Kelly got him calmed down and then managed to reassure him. "It's OK, Nick," he said. "I'm sitting here right now, watching him sleep. He's fine. He looks so peaceful ..."
CMP: 170
ATT: 271
PCT: 62.7
YDS: 1,970
TD: 13
INT: 8
ANALYSIS
Yes, yes, YES everybody within eight cubicles knows he cost you your fantasy game Sunday, but (a) nobody cares and (b) watching that game only deepened the Watch's conviction about Newton's value. Do you know he was 6-for-8 for 63 yards on third downs in the second half? The best one may have been the third-and-19 in the fourth quarter on which he hit Steve Smith for only 6 yards because that was all he had and he knew it would set up Graham Gano for a 53-yard field goal try. Gano made the kick to give the Panthers the 10-9 lead they would not relinquish. Sometimes, instead of catching people jumping out of burning buildings, all Superman does is get a kid's cat out of a tree. But he can still go to bed knowing he had a good day.
CMP: 183
ATT: 311
PCT: 58.8
YDS: 2,198
TD: 14
INT: 6
ANALYSIS
And on other days, you're Aquaman instead. Look, what happened to Luck and the Colts on Sunday doesn't change the way you should feel about him and his supernova-bright future in the league. But it was a reminder that there are bumps in anyone's road. Luck has built his early-career reputation on his ability to come back in the fourth quarter. But when the fourth quarter started Sunday, he was down by 30 points. "Pfft. Good luck, kid," Manning muttered when he watched the Colts' game on his DVR, as he does every Monday morning. Funny thing was, Sunday's game saw Luck put up his highest passing-yardage total of the season and his best completion percentage since Week 3. But it also doubled his season interception total to six. They say the great ones have short memories, so what happens next could come down to how ticked off Luck is that he finally got sick of Tavon Austin and cut him from his fantasy team last Friday for a bye-week kicker.
TACK: 26
AST: 4
SACK: 9
FF: 4
FR: 1
PD: 1
ANALYSIS
So, yeah, this is the defensive-player portion of the list, and it requires some explanation. First, the list lost two regular quarterbacks this week -- Philip Rivers, whose team fell below .500, and Tony Romo, whose team may have set a new standard for embarrassing yourself in New Orleans (which is saying something). So some new names were needed. Second, putting two Chiefs on the list was a nice nod toward the Chiefs being the lone remaining undefeated team in the league, and the Watch kind of thinks this will be the last chance to do that. And finally, the Chiefs have won with defense much more than they've won with offense. So even though defensive players don't win this award, here's a spot toward the back end to acknowledge the value of what the dudes in the Kansas City front seven have done. Hali and Justin Houston have been dream-wreckers for opposing quarterbacks all year, but Houston's been on the MVP Watch more than Hali has, so here you go, Tamba.
TACK: 20
AST: 11
SACK: 8
FF: 1
FR: 0
PD: 1
ANALYSIS
Here's where you miss the old Rex Ryan. If this were 2010 and Wilkerson was having the year he's having, Ryan would be giving news conferences and saying things like, "I really believe Muhammad Wilkerson is the best defensive player in the NFL. I really believe that. Also, he can bench-press a midsized sedan and perform CPR on a dying horse. Last year, he did my taxes and I'd never gotten a refund like that in my life. I mean, this kid is good." This year, Ryan's letting his team and his players do the talking, which is disappointing from an entertainment standpoint but probably better for the actual football. The Jets are in a playoff spot right now and Wilkerson makes a case for best defensive player in the league, even if his coach still misses Darrelle Revis too much to say it.