Broncos don't want Charles in charge
November, 15, 2013
11/15/13
3:35
PM ET
ENGLEWOOD, Colo. -- The
Washington Redskins
made
Champ Bailey
the seventh pick of the 1999 NFL draft, the same season the
Philadelphia Eagles
named an up-and-coming Packers offensive coordinator, Andy Reid, as the team's head coach.
Fifteen seasons later, Bailey has seen plenty of what Reid's offenses have had to offer with the Eagles, and when the 12-time Pro Bowl selection has looked at what Reid has done for the 9-0
Kansas City Chiefs
this season, Reid's first with the team, Bailey sees one big difference.
Big, as in, oh, about 5-foot-11, 199 pounds.
[+] Enlarge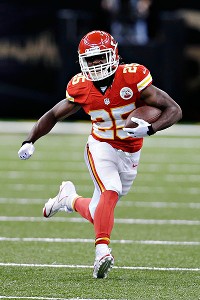 AP Photo/Gerald HerbertThe Broncos know slowing down Jamaal Charles will be the key to beating the Chiefs.
"There are some similarities there, but I think the talent is different, he has different players to deal with," Bailey said. "I think he's doing a lot of similar things that he did in Philly, but I don't think he ever had a running back as good as
Jamaal Charles
."
In many ways Reid must agree. Since looking what he had on the roster, since working through the offseason, pounding through training camp and installing his traditionally hearty playbook, Reid has elected to give Charles the ball early, late, often and anywhere in between.
After nine games, all wins, Charles is the Chiefs' leading rusher with 725 yards and is also the team's leading receiver with 47 catches, or 14 more than wide receiver
Dwayne Bowe
. Charles has accounted for 39 percent of the yardage (1,114) the Chiefs have gained on offense, and had 48 percent of the touches (217).
So it is Charles who is likely Job 1 for the "other" defense in Sunday night's affair. The matchup between the Broncos' offense, which is the league's highest scoring outfit, and the Chiefs' defense, which leads the league in both scoring defense and sacks, has taken up most of the room on the marquee in the days leading up to the game.
But those who work in the Broncos' defense, to the player, believe its time this season is coming, that with
Von Miller
back from his six-game suspension for violating the league's substance abuse policy and
Wesley Woodyard
back in the lineup after missing two games with a neck injury, the past two games are more indicative of the unit's ability than the season's first seven.
"We're getting closer," Woodyard said. "We're not where we want to be yet, but we're getting there. We just have to keep swinging."
The Broncos held Redskins quarterback
Robert Griffin III
and Chargers quarterback
Philip Rivers
to 132 and 218 yards passing, respectively, the past two games. Griffin also rushed for just seven yards against the Broncos.
But Charles presents a different kind of challenge for a defense that has struggled at times with missed tackles, and running backs and tight ends in the pass pattern. Some of the more well-seasoned Broncos will certainly remember Charles' 259-yard rushing day in the 2010 regular-season finale as a painful reminder of what Charles can do in a traditional run-first role.
"He's more dangerous (now) because he gets him the ball in space a lot more and (Reid) is using him a lot," Bailey said. "He's their leading receiver and rusher, so that says a lot right there."
"To me he's one of the top three backs in the league with his speed and his vision for finding holes to rush up through there," Woodyard said. "He's going to be a challenge, but we definitely welcome it. He's one of the guys I look forward to going to twice a year ... They get him the ball whether he's carrying the ball out of the backfield or getting the ball on passing routes, including screens, so he's a big weapon for them."
Reid has lined up Charles all over the formation -- out wide and in the slot, to go with Charles' duties in the backfield. And most defenses have struggled with the variety of linebackers and safeties in coverage in their attempts to keep Charles in check.
And to this point, no player in the league has piled up more first downs than Charles -- 62 in nine games -- 21 of those on receptions.
"He's -- in my eyes -- one of the top two backs in the league," said Broncos defensive tackle
Kevin Vickerson
. "He's explosive, he's a good back. At the same time, we just have to do what we do."