Dan Graziano's MVP Watch
November, 20, 2013
11/20/13
11:21
AM ET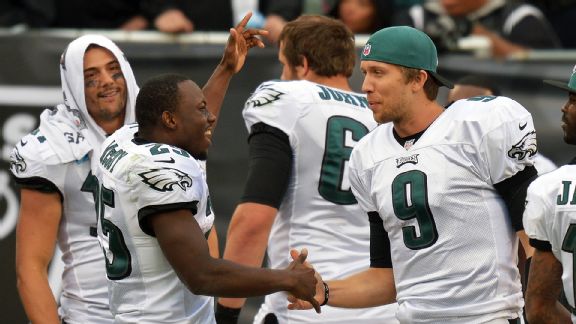 Drew Hallowell/Philadelphia Eagles/Getty ImagesLeSean McCoy and Nick Foles have the Philadelphia Eagles atop the NFC East.
Do the Philadelphia Eagles have large talons? No idea, but somehow they have two players in the top 10 on the latest edition of the MVP Watch. The first is the no-brainer stud running back who's leading the league in rushing. The second is a quarterback who has only started five games and has two drawers full of "
Vote for Pedro
" T-shirts he has received as gag gifts every Christmas since "Napoleon Dynamite" hit theaters in 2004.
"Come on, Watch," you're saying. "Two Seahawks, I understand. They're 10-1. But two Eagles? They're 6-5 and in first place only because nobody wants to win the NFC East."
And, yeah, that's true. But the MVP Watch is a complex organism, constantly changing and growing and regenerating -- especially at the bottom, where the week-to-week whims of the NFL season can elevate new candidates and sweep away last week's like the tides. Or, in this case, like the Eagles. And their large talons.
So chalk one up for the NFL's burgeoning middle class. You can't be on this list if your team is under .500, but if you're 6-5 that means you're in first place in the NFC East. And first place means trophies, especially if you (or your Uncle Rico) can throw a football over them mountains.
CMP: 286
ATT: 409
PCT: 69.9
YDS: 3,572
TD: 34
INT: 6
ANALYSIS
So many great things to love about Manning, but sometimes the thing you admire most is his class. It had to take a lot of self-control not to get caught giggling Sunday night every time Alex Smith checked it down and still missed the throw for a team that supposedly represented the Broncos' biggest threat. "Did you see that?" he texted John Fox after the game. "And that guy has two healthy ankles! Andy Reid was 9-0 with that offense? He's a better coach than you are, Foxie! (j/k)" Fox chuckled softly to himself and recalled the time he had to win the AFC West with Tim Tebow, then closed his eyes tightly and shook his head to try to get rid of that memory. "xoxo," he texted back.
CMP: 277
ATT: 406
PCT: 68.2
YDS: 3,369
TD: 26
INT: 8
ANALYSIS
After the San Francisco 49ers kicked a field goal to take a 20-14 lead early in the fourth quarter, Brees was 10-for-14 for 144 yards on three field goal drives that gave the Saints a victory just as tough as the previous week's 40 first-down strafing of Dallas was easy. Brees is only 203 yards and eight touchdown passes behind Manning, which is fairly incredible considering Manning has spent the season on pace to break all those records. At this point, the only thing stopping Brees and Manning from making plans to take the Sopranos sightseeing tour together in early February may be the next guy on this list.
CMP: 176
ATT: 275
PCT: 64.0
YDS: 2,362
TD: 19
INT: 6
ANALYSIS
You know the kid in school who always has the newest stuff? You finally get a cell phone, and the next day he brings in an iPad mini. You get your driver's license and a used Nissan Sentra, and he pulls up in a new Range Rover, even though his old car was already nicer than yours. Russell Wilson is that kid. After winning nine of his first 10 games, Wilson this week got a 10th win, welcomed his two starting offensive tackles and his best wide receiver back from injury and now gets a week off before playing three of his final five games at home. Somebody's living right. And, oh, by the way, leading the NFL in completion percentage on throws 15 or more yards downfield. Wilson's got it all and is only getting better.
ATT: 213
YDS: 1,009
AVG: 4.7
LNG: 41
TD: 5
ANALYSIS
McCoy injured his hamstring in the second quarter of Sunday's game, terrifying the entire city of Philadelphia. But Chip Kelly managed to repair it at halftime with some sort of formula based on the atomic weight of helium and the average distance between the center and the guard on a second-down pass play from his own 45. McCoy came back and rushed for 40 more yards and a touchdown as the Eagles moved into first place and broke a 10-game home losing streak. There used to be a law on the books in Philadelphia that prohibited any building from being taller than the top of the William Penn statue on City Hall. That law has been replaced with one that prohibits anyone in Philadelphia from being as awesome as LeSean McCoy. To date, no one has challenged it.
CMP: 189
ATT: 299
PCT: 63.2
YDS: 2,179
TD: 16
INT: 8
ANALYSIS
He's big and fast and fired up about life, and he just took down Tom Brady on "Monday Night Football." ESPN Stats & Information tells us that Newton on Monday became the second quarterback ever to throw a touchdown pass that took his team from behind to ahead against a Brady team in the final minute of a game. The other was Eli Manning, whose history against Brady keeps Brady up nights. The call on which the game ended was horrible, obviously, but it shouldn't overshadow an ice-cold 83-yard touchdown drive by a guy whose reputation a year ago was that of an immature kid who pouted when things didn't go his way. Newton is growing up fast, and he's piloting the hottest team in the league.
CMP: 206
ATT: 347
PCT: 59.4
YDS: 2,430
TD: 14
INT: 6
ANALYSIS
Funny how life works. Luck got picked first overall in the same draft in which Wilson went 75th. And not that he has any complaints, but read that blurb up there about Wilson and then think about Luck. He has lost his No. 1 wide receiver for the year. His line is healthy and still can't protect him. His team traded its first-round pick for a running back who's slower than he is. And every time he goes to the supermarket, he checks, but they never have the Fusion ProGlide blades, only the ProGlide Power, and he doesn't want the Power, he just wants the regular ProGlide. So frustrating. But he keeps pulling it off, and he's rolling toward a division title, and guess who the "1" is in Wilson's 10-1 record. That's right.
ATT: 186
YDS: 803
AVG: 4.3
LNG: 35
TD: 6
ANALYSIS
Used to be Andy Reid was unbeatable in games after bye weeks. He was 13-0 in his first 13 years as the Eagles' coach in weeks after the bye. Then he lost last year's, which was the first time you knew for sure he was done in Philly. And then this year he came off the bye with the bright idea of throwing it 48 times and running it 25. The Chiefs play the Broncos again in two weeks, and it might not be a bad idea for Reid to spend some time between now and then figuring out ways to get the ball in the hands of his one truly elite offensive player. First he's got to figure out what Charles meant in that voicemail he left him early Monday morning in which he just said, "Dude!" and hung up.
REC: 59
TGTS: 109
YDS: 1,083
AVG: 18.4
LNG: 87
TD: 11
ANALYSIS
He had six catches for 179 yards and two touchdowns in the first half, and the Lions had a 27-20 lead at halftime. He had no catches in the second half, and the Lions lost 37-27. It's not always that simple, but sometimes it is. When Megatron is being Megatron, flying around the galaxy brazenly challenging all who stand in his way to battle to the death, the Lions are a very good team. When the show goes to commercial, they're not. There likely isn't a more truly "valuable" player in the whole league, but he's this far down the list because the Lions are only 6-4 and wide receivers don't win this award.
ATT: 208
YDS: 925
AVG: 4.4
LNG: 43
TD: 9
ANALYSIS
This is the guy for whom Russell Wilson would vote if he had a vote, which he doesn't, but that's just the kind of dude Wilson is. He's a team player whose own awesomeness doesn't impress him as far as you know, and he's smart enough to realize what he's got in a backfield mate with Lynch. There are going to be days when Wilson needs to plug all of the variables into his own mental computer and figure out the exact parameters of the next four throws he needs to win the game. And there are going to be days when they're up big because of special things Wilson did in the first half and the way to win is to hand it off to a running back who can't be tackled or tired in spite of an over-reliance on Skittles as his primary source of nutrition.
CMP: 103
ATT: 162
PCT: 63.6
YDS: 1,554
TD: 16
INT: 0
ANALYSIS
And here it is. The second Eagle. The second-year quarterback who's not even the MVP on his own team. Who's not even assured of keeping the job all season, let alone into next season. He's here and Tom Brady isn't. He's here and Luke Kuechly isn't. Foles is here because he's got the highest passer rating and yards-per-attempt average in the league, as well as 16 touchdown passes and -- most importantly -- no interceptions. Chip Kelly's offense isn't about quarterback foot speed. It's about the quarterback knowing what to do on every play to maximize the chances for success and minimize the chances for disaster. Nobody -- not even Kelly -- knows what Foles will be next year or even next week. But based on what he's done this year, and the fact that the Eagles are 5-1 in his games, he belongs here. Unlike his movie look-alike, he appears to have a number of good skills.

NFL SCOREBOARD
Thursday, 12/18
Saturday, 12/20
Sunday, 12/21
Monday, 12/22