NFL Nation Says: A tainted Super Bowl?
December, 12, 2013
12/12/13
9:30
AM ET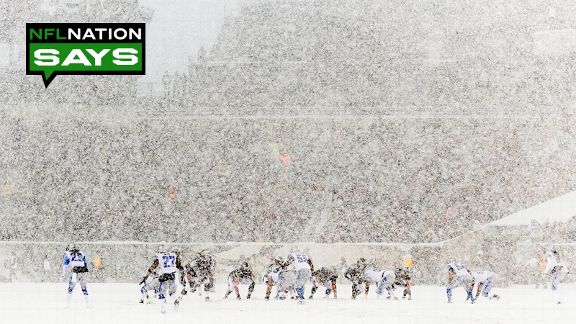 Howard Smith/USA TODAY SportsPhiladelphia and Detroit battled the elements this past weekend. We could see similar weather on Super Bowl Sunday.
So the Northeast got a little snow this past weekend -- and we lost our doggone minds! Grocery store shelves were cleared. Parents panicked over school cancellations. And football literati gathered in small groups, frowning and fretting anew about this enduring threat to the integrity of their championship game.
Yes, Super Bowl XLVIII will be played outdoors in North Jersey. And if the area gets a repeat of this past weekend's weather on Feb. 2, then OH MY GOD THE UNIVERSE COULD BE TURNED UPSIDE DOWN!!!! Think of it. The teams might have to -- gasp! -- adjust! Their flexibility might actually be tested! A well-rounded team, virtuous in any historical analysis, could have the advantage! A one-trick team might be exposed!
Sarcasm aside, it's difficult to understand the distress we're hearing about a potential cold-weather/snowy Super Bowl. It might be a drag for the fans at MetLife Stadium, and surely there are players and coaches who would prefer a more predictable environment. But if this past weekend suggested anything, it was that the weather variable could add a new level of entertainment without corrupting the championship.
Snow hit four Northeast NFL cities Sunday, and two of them -- the
Baltimore Ravens
' 29-26 victory over the
Minnesota Vikings
and the
Miami Dolphins
' 34-28 victory over the
Pittsburgh Steelers
-- produced wild finishes. Overall, the day brought an NFL-record 90 touchdowns as defenses struggled to keep up. That's entertainment, at least for the majority of football fans.
Did the weather reverse any expected outcomes? More specifically: Did the better team lose because of a snow- or cold-induced calamity? The only game that could come close to qualifying for that discussion was the
Philadelphia Eagles
' 34-20 victory over the
Detroit Lions
, who fumbled seven times (losing three) in the snow and whose quick defensive linemen had trouble changing direction because of poor footing. Still, that's a long way from thinking the Lions would have won on a clear Philadelphia day.
What the Eagles did in that game was a preview of what any Super Bowl team should be capable of. They trailed 14-0 in the third quarter before making a number of adjustments, among them to utilize the zone-read running game they had abandoned to start the game. Their first such run came in a fourth quarter in which they would rush for 223 yards and score 28 points.
What do we want from the Super Bowl? (Other than guacamole and cool ads, of course.) We want to see a heavyweight fight between two elite competitors, and we want that brawl to confirm that the best team is crowned champion.
What are we worried that weather could do? Cause mistakes that will change the outcome? De-emphasize the attributes that brought the team to North Jersey in the first place? If so, is there anything different between those outcomes and, say, a dome team benefitting from a Super Bowl site indoors? Or a cold-weather team losing its advantage by playing for a championship in 80-degree weather?
Perhaps a team that breaks down in the elements, or is outsmarted by a better-prepared opponent, isn't the championship contender it appeared to be. Maybe inclement weather will serve as a truth serum of sorts, stripping teams of gimmicks and luster and forcing a battle of fundamentals, strategy and effort.
That's just one take, of course. How do players around the league see it? ESPN's NFL Nation sought their answers:
"This game's played in the elements. That's the beauty of football. There's no other games that have to deal with the elements that we do. Teams should be able to adjust to the elements, whether it's 125 degrees in Arizona, whether it's 100 degrees and 100 percent humidity in Miami or if it's minus-50 in Cincinnati."
--
Pittsburgh Steelers
DB
Troy Polamalu
---
"I don't think anybody's really hoping for a snowy, bad-weather game at the Super Bowl. You don't want that to affect it, in terms of determining who your champion is. It's going to be cold, but I think everybody would be happy if it was just a cold, clear day."
--
New York Giants
QB
Eli Manning
---
"No, I don't think so. This game, late in the year, is meant to be played in the elements. I don't know; maybe all the Super Bowls in the nice-weather stadiums have been tainted because it was perfect weather. I like it. It's proven, even this past weekend, that it doesn't slow the game down. It actually makes for more explosive plays. ... Explosive plays will still happen. Obviously everyone has to adjust and play to the conditions, but I don't think it will taint the game at all. Some of the greatest games have been played in terrible weather. You're not going to complain when you have to go play Green Bay in Green Bay to get to the Super Bowl. It's just the nature of the game."
--
New York Jets
QB
Matt Simms
, who grew up in New Jersey
---
"We watched the Philly game a little bit before our game and their feet disappeared because of the snow, the kickoff goes down and just stops because the ball is buried, that's fun to me. The Super Bowl is where it is -- if it's Miami it might rain -- and certainly you would expect it to be colder than we've seen for it before this year. But to me each Super Bowl is different, has its own set of circumstances for people based on where it is, what teams are in it, and this one will be unique and interesting in its own way. It's the Super Bowl. I think people would like to be in it no matter where it is."
--
Denver Broncos
TE
Jacob Tamme
---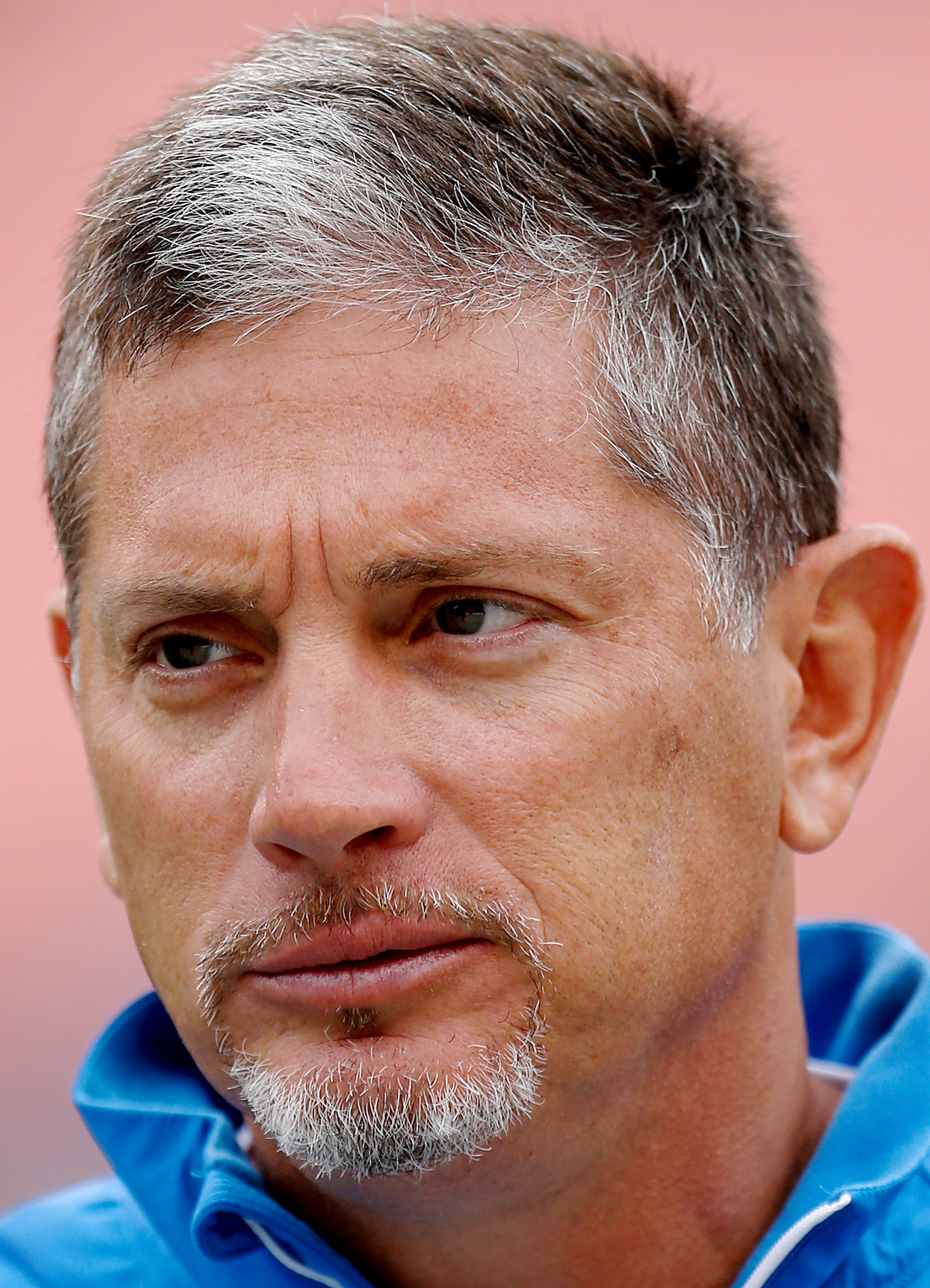 "I would hope that the championship game like that, the weather wouldn't be a factor in it, but it's probably going to be whether it's real cold or maybe rain or slippery conditions or something like that. I mean, you'd like to have a balanced playing field and let the best team go out there and win but that's pretty much always been the case when it comes to Super Bowls. But I'm way out of my lane talking about Super Bowl right now."
--
Detroit Lions
head coach Jim Schwartz
---
"Cold or snowy is one thing, but if it's a blizzard it could be bad. It could change the game. You can kick in snow. You just have to get a good plant foot down and be comfortable with the shoes you're wearing. But a blizzard, something we saw the other day in Philly? That would change things. That would make things crazy. I'm not sure how that would work."
--
San Francisco 49ers
kicker
Phil Dawson
---
"I don't know. It just depends on how cold it is and what's the weather? Is it snowing? I think the weather was pretty awful last year at the time of the Super Bowl in New York. I don't know. I always thought the Super Bowl should be in warm places. That's just my opinion."
--
Houston Texans
WR
Andre Johnson
---
"It doesn't ruin the championship games. I don't know. It's all right. I mean all the festivities of the week and all of that crap, it might ruin that. But if you look at the atmosphere of every other game in late November, December and January, they're all cold. So why shouldn't the Super Bowl be cold? It's football. ... let it snow."
--
San Diego Chargers
LB
Jarret Johnson
---
"Being in New York, it's one of the best cities in the world. So as far as everything that surrounds the Super Bowl, there couldn't be a better place for that to happen. You look at football, historically, some of the greatest games are played in unfavorable conditions. So it might be a plus. It might force whoever is in it to play more old-school football and run the ball a little more. It could be fun."
--
Baltimore Ravens
OL
Eugene Monroe
---

"That's a tough one right there. To me, I think it just depends on your perspective, and I have a little bit of a different perspective from growing up in Cleveland and playing [college] ball at Wisconsin. There's this thing called "football weather." Football is a great game because unless there's lightning, you're playing. That's how I was brought up in the game. When you play baseball, there could be a delay for this or a delay for that. If you play basketball, you're indoors on a court. If you play football, unless there's lightning, you're playing. So it depends on your perspective, but for me, bad weather wouldn't [taint the game]."
--
Chicago Bears
defensive coordinator Mel Tucker
---
"Football is football whether you're playing indoors or outdoors. Granted, I'd love for it to be in a warm climate. I'd love to be playing in a warmer climate, but if you have to play out in the cold, you have to play out in the cold. Snow, wind, freezing rain, it doesn't matter. It just makes the confetti feel that much better."
--
Indianapolis Colts
DL
Cory Redding
---
"I think it's great. It adds some character to that game. ... Snow? It's different. It adds a little bit more character and a little bit more fun. It brings the kid out in each and every guy that's out there on the field. Working against the elements and stuff like that -- it may be cold, it may be a blizzard -- I think it's one of those games that you'll remember forever and people will talk about forever. Whoever's in this next Super Bowl, if it snows or even it's just negative-13, people will talk about it forever."
--
Philadelphia Eagles
DB
Cary Williams
---
"No, just because you've got to figure that they picked New York because they knew it would bring a different dynamic with the weather and add a little something to the game. Usually the Super Bowl is played in pretty fair-weather locations, but I think they're trying to add a little bit more in terms of the appeal of the game for people who enjoy sitting out in freezing weather and snow. ... Offensive linemen, we're going to go out and do the same thing anyway. It's not like we can go out wearing sleeves and masks and stuff. It doesn't really matter to us where the game's played."
--
Jacksonville Jaguars
OL
Uche Nwaneri
---
"You want to make everything as even as possible. You want to allow both teams to have good weather to play in. If it's cold and snowing, you're not going to be able to pass the ball. Some teams, that's their offense. So if you make it to the Super Bowl, you should have the luxury of playing in an environment where you can showcase your abilities. The reward for the Super Bowl should be playing in a dome or some nice weather."
--
Kansas City Chiefs
OL
Geoff Schwartz