Dan Graziano's MVP Watch
December, 18, 2013
12/18/13
11:01
AM ET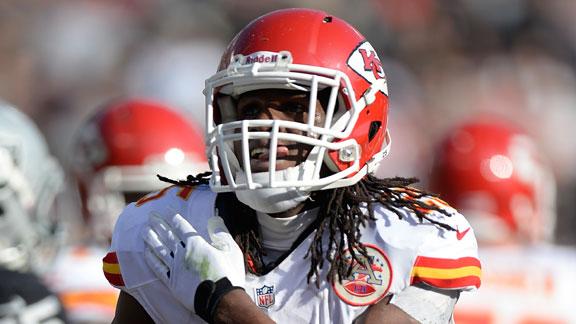 Two games to go, and the race for the 2013 NFL MVP award is as exciting as a brown-shoe convention in suburban Boise. The top spot has literally been locked up for months, and the only remaining questions are about the distance by which
Peyton Manning
will break some of the league's more significant passing records -- and then how far he can go in the playoffs, of course.
But this exercise is a fun and useful one because it identifies some of the performances around the league that could conceivably be MVP worthy in a year in which there actually was a race. The all-around brilliance of Seattle's young quarterback deftly piloting the league's best all-around team. Workhorse running backs in Kansas City and Philadelphia. Perennial stars in New Orleans and New England, and a resurgent one in San Diego. Players like
Andrew Luck
and
Calvin Johnson
have spent time on the list and dropped off for one reason or another, but new names are always lurking.
This week, the list includes a kicker.
(Wait. What did he say?)
Ahem. The list, people. Focus. The list.
CMP: 393
ATT: 580
PCT: 67.8
YDS: 4,811
TD: 47
INT: 10
ANALYSIS
Denver's offense looked weak enough this past Thursday to make you wonder if Wes Welker deserved this spot. Without Welker, who was out with a concussion, Manning couldn't convert a third down and found himself throwing to Andre Caldwell when he got near the end zone. Zzzzzzz. This one's not going on the Broncos' 2013 season highlight video, nor was it a game whose 21:11 worth of Broncos offensive possession did much to bolster Manning's case for MVP. But Manning's case doesn't need bolstering, because he's having far and away the best year of any quarterback in the league, his team is 11-3 and -- come on. He can even find ways to make Caldwell useful. "Hurry back, Wes," Manning is surely thinking, but the mile-high sky in Denver remains firmly affixed.
CMP: 231
ATT: 357
PCT: 64.7
YDS: 3,077
TD: 24
INT: 8
ANALYSIS
Say what you want about Eli Manning and the Giants, but don't call them poor hosts. If last weekend was a dry run for Wilson and the Seahawks for their likely return to Northern New Jersey for Super Bowl XLVIII in a few weeks, the Giants did everything they could to make their guests feel comfortable. There was snow falling when the Seahawks arrived, but by game time it was clear and cold and not even all that windy. So Wilson didn't get the full-on, worst-case MetLife Stadium experience, but Manning & Co. helped him have a good time. They gave the ball back to him five times without him even asking, and they didn't score so much as a single point. Wilson can only hope that Eli's brother is as gracious seven weeks from now in the same spot.
ATT: 246
YDS: 1,181
AVG: 4.8
LNG: 46
TD: 11
ANALYSIS
The possible explanations for Charles' eight-catch, 195-yard, five-touchdown performance Sunday include:
A) He disguised himself as coach Dennis Allen and gave a pregame speech in which he explained to the Raiders a new league rule making it illegal to cover or tackle a running back any time the quarterback drops back to throw.
B) He coated himself with a special margarine that turned him invisible whenever he ran a pass route.
C) Every member of the Raiders' defense had Charles on his fantasy team.
The most plausible answer seems like A until you realize that no one knows what Dennis Allen looks like, so then it must be C. Though B would be awesome.
CMP: 392
ATT: 575
PCT: 68.2
YDS: 4,500
TD: 34
INT: 10
ANALYSIS
Maybe, when you live in New Orleans, the night life there just doesn't impress you. Those who visit get swept up in it all -- Bourbon Street, the live music, the incredible restaurants. The place is a full-spectrum theme park for the soul. But Brees and his teammates live there, and likely aren't as impressed, so you figure maybe when they go on the road to less exciting places they just go out and tear it up? Paint St. Louis red? Close down Foxborough at 12:30 a.m.? Scout the sweet after-parties in East Rutherford? Hey, it's as good an explanation as any for why this looks like the best team in the league when it plays in the Superdome but can't beat teams like the Rams and the Jets on the road. Brees and the boys whipped Carolina two weeks ago at home, and now they have to play them again on the road in a game that could help decide the NFC South. Stay away from the EpiCentre if you're in downtown Charlotte, Drew. They got one of those joints there with a mechanical bull and it just looks like trouble.
CMP: 337
ATT: 482
PCT: 69.9
YDS: 4,048
TD: 28
INT: 9
ANALYSIS
Rivers is having as good a season as any quarterback who's not named Manning (and a far better one than at least one who is!). The only thing that's kept him from being on this list every week is the MVP Watch rule that makes players on teams with losing records ineligible. Beating both Mannings in a five-day stretch got Rivers and the Chargers back to .500, and if they can beat the Raiders on Sunday, that will ensure Rivers' spot through season's end. And since the Watch really wants Rivers, his 28:9 touchdown to interception ratio and his 69.9 completion percentage on the list, here's a hot tip: Psst! Phil! Throw it to the running backs! The Raiders can't see them! The Watch is here to help.

CMP: 352
ATT: 578
PCT: 60.9
YDS: 4,049
TD: 23
INT: 10
ANALYSIS
Fourth-and-5 at the Miami 14-yard line. Patriots down four with six seconds left on the clock. Brady drops back to pass. Looking for Rob Gronkowski in the end zone and he ... Oh. Right. Gronkowski's on IR. He is not the guy in the white jersey with the aqua No. 31 on it. That would be Dolphins defensive back Michael Thomas. Which makes that throw an interception. And a division loss. And the latest reminder that Brady is going to have to play the rest of this season, however long it lasts, without the only guy on the team to whom he really feels comfortable throwing the ball in the most important spots. It's enough to make a guy want to take a 40-minute shower and miss the second half of the game. But even that's no good, because Welker's in that commercial and Brady misses him so much he just wants to throw this gorgeous shearling-lined Australian boot through a wall.
CMP: 264
ATT: 424
PCT: 62.3
YDS: 3,049
TD: 21
INT: 11
ANALYSIS
The Superman act has coach Ron Rivera buying in completely. Why else would he ask Newton to go for it on fourth-and-3 in easy field goal range up 10 points in the fourth quarter against the Jets? You get the sense that, if Rivera needed help with a stubborn tree stump in his backyard or had a really tough math problem, he'd just call up Newton and tell him to take care of it. Sunday's game against the Saints is the big test. If Newton can pull this off, just two weeks after getting humbled in New Orleans, there's nothing Rivera won't ask him to do. Rivera will be enfeebled in a nursing home years from now and he'll be expecting Newton to cut his food for him with just his mind.
ATT: 269
YDS: 1,343
AVG: 5.0
LNG: 57
TD: 7
ANALYSIS
The NFL's leading rusher poked his head into his coach's office Monday morning and said he didn't want to be disrespectful or anything but he was wondering why, after setting a team record for rush yards in a game the week before, he got only eight carries in Sunday's loss to the Vikings. As this was the 94th time he'd been asked this question in about 15 hours, normally upbeat Eagles coach Chip Kelly exploded in rage. "Who's the offensive genius here?" he bellowed. "Is it you? Is it? I didn't THINK so! You don't question me! Besides, why do I need to hand you the ball when I have a quarterback like Nick Foles????" McCoy used some of his stored-up speed and energy to escape from the office while Kelly's finger still hovered over the secret button that operates the trap door. Seconds later, Foles poked his head in and asked if Kelly had called for him. Kelly said, "No, sorry about that," and Foles said, "Hey, by the way, Coach. While I'm here, I was just wondering. Why did LeSean only get eight carries yesterday?"
TACK: 105
AST: 6
SACK: 6.5
FF: 1
FR: 1
PD: 17
ANALYSIS
No touchdown this week, but the Watch still loves him as the weekly defensive representative. Was online trying to figure out why he spells his first name with a K, but couldn't find anything on that. Feel free to write in if you know. The search did uncover the fact that Dansby was an all-state basketball player in high school in Alabama and that Auburn coach Tommy Tuberville actually discovered him at a basketball game and not a football game. Helps explain those 17 passes defensed. Dansby has hops. He also has 105 tackles, which wouldn't be quite as valuable an asset if he'd stuck with the hoops.
FGM: 35
FGA: 37
PCT: 94.6
LNG: 61
PTS: 130
ANALYSIS
Yeah, that's right. If you score all 18 points in a road game your team absolutely has to win in order to keep its Super Bowl title defense alive, and the final three of those points come on a 61-yard field goal in the final minute after your Super Bowl MVP quarterback has clearly told your coach he'd rather see you kick it from 61 than try to pick up the first down himself, then it doesn't matter that there's no chance a kicker could ever win this award. You deserve the No. 10 spot for that week. Tucker's an assassin right now. He's kicked 33 straight field goals without missing one, including the 248 yards' worth he delivered Monday night in Detroit. He's hit six field goals this year of 50 yards or longer. Ray Rice is stuck in neutral and Joe Flacco doesn't wake up until the calendar hits January, but it's OK. Tucker's got this. And the Ravens are still in the hunt.
NFL SCOREBOARD
Sunday, 2/2
WEEKLY LEADERS