NFL Nation Says: Expanded playoffs?
December, 19, 2013
12/19/13
9:30
AM ET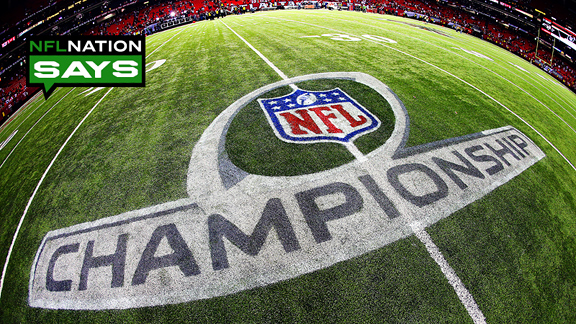 AP Photo/Paul SpinelliIs the current 12-team playoff field large enough, or should the NFL add more playoff spots?
Down the stretch we come, and oh what a stretch -- of disappointment -- it will be.
Only four teams have clinched playoff spots, meaning that 15 teams remain in contention for the final eight. In other words, almost as many teams will be eliminated from the postseason as will clinch during the next two weeks.
Those numbers are not unusual relative to previous seasons, but they bring us to familiar ground: Is a 12-team playoff field large enough? Should the NFL pursue commissioner Roger Goodell's recent musings
on adding two spots for the 2015 season
? Or would playoff expansion minimize the 50-50 drama we're experiencing now and dilute the postseason product later?
At the top, concerns about watering down the postseason might be exaggerated. Looking back
at the past 10 playoff fields
reveals that no losing teams and only five 8-8 teams would have been among the 20 No. 7 seeds. If you subscribe to the theory of NFL parity, there isn't likely to be a material difference in quality between a No. 6 or No. 7 seed.
A 14-team field would also award greater value on the No. 1 seeds, which likely would be the only teams to receive a first-round bye. It could also come in concert with a shorter preseason, according to Goodell, a trade that many fans and players would accept.
The final two weeks of the regular season could lose some level of excitement given the presumed reduction of impact games, a particularly notable byproduct this season, as seven of eight division titles remain unawarded. But that drop could be replaced by the additional thrill of two more fan bases experiencing a week of playoff intensity.
In short, there's a lot to like about playoff expansion if you can get past the traditionalist view of elite playoff fields. What do NFL coaches and players think? NFL Nation asked around this week.
"I like it the way it is. You look at the way the bowl system is, and you've got teams that are 6-5 and nobody has heard of them all year, and all of a sudden they're in a bowl -- like there's supposed to be a reward for being mediocre. I would hate for the playoffs in the NFL to end up like that."
-- Linebacker Jarret Johnson as told to ESPN.com San Diego Chargers reporter Eric D. Williams
---
"I think once you start to expand it, you start to lessen what's going on during the regular season. I think this is a good number. Guys understand what you have to do be a part of that number, and you have to play yourself in."
-- Safety Ryan Clark as told to ESPN.com Pittsburgh Steelers reporter Scott Brown
---
"I know it would make for a longer season. I'm not too sure. I'd have to think about that more in detail, but it would definitely make for a longer season. I'm not sure if that is a good thing, in football, it is already long enough."
-- Running back Reggie Bush as told to ESPN.com Detroit Lions reporter Michael Rothstein
---
"I think we've got enough games already, man. I think it's fair the way it is -- four division winners, two wild cards. I don't think any players are big fans of adding any more games, whether it's regular season, preseason or whatever. By the end of the season, you're so beat up you're not ready to play another game. I wouldn't be a fan of it."
-- Guard T.J. Lang as told to ESPN.com Green Bay Packers reporter Rob Demovsky

---
"You might let other people get in, but I think [the current system is] fine. I feel like they should keep it the way it is. Because now you're giving people more room to just slide in. Just keep it the way that it is. People will play -- not harder -- but it makes it tougher to get in. If you make it bigger, there's a chance anybody could just so happen to get in."
-- Left tackle Bryant McKinnie as told to ESPN.com Miami Dolphins reporter James Walker
---
"It's ridiculous. You talk so much about a league, about player safety. But you expand the number of times guys are taking blows to the head, [it] doesn't make sense to me. So, I think things are fine just the way they are."
-- Safety James Ihedigbo as told to ESPN.com Baltimore Ravens reporter Jamison Hensley