NFL Nation Says: Who wins Super Bowl?
December, 31, 2013
12/31/13
8:00
PM ET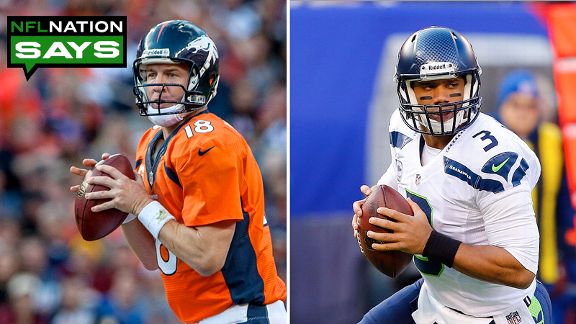 Getty ImagesPeyton Manning and the Broncos and Russell Wilson and the Seahawks are top playoff seeds.
The NFL's 2013 playoff field features the usual smattering of big favorites, low seeds that are hot and teams that almost no one thinks will advance to Super Bowl XLVIII. For most of the season, the
Seattle Seahawks
and
Denver Broncos
were the overwhelming favorites to win their conferences. Both teams took an important first step, clinching their respective top seeds, but the Seahawks finished the season 2-2 after an 11-1 start and the Broncos must overcome the memories of their divisional-round ouster last season.

No one wants to play the
San Francisco 49ers
, who have won six consecutive games. That probably includes their wild-card opponent, the
Green Bay Packers
, who have quarterback
Aaron Rodgers
back in their lineup but have lost to the 49ers three times in the past year and a half. As well, the Packers' once-proud playoff tradition at Lambeau Field has largely dissipated; they are 3-4 in their past seven postseason games there. The
San Diego Chargers
have a four-game winning streak, the
Philadelphia Eagles
won seven of their final eight games, the
Cincinnati Bengals
finished 5-1 and the
Indianapolis Colts
have won four of their past five. Meanwhile, the
Kansas City Chiefs
-- who didn't lose a regular-season game until mid-November -- have dropped five of their past seven games and seem hardly to register in playoff discussions. Who will win Super Bowl XLVIII? In our final NFL Nation Says project of the season, we sought answers -- and explanations -- from players around the NFL:
"I'll say Denver, because that's the team I'll be pulling for the hardest."
-- Eli Manning, New York Giants quarterback, as told to Dan Graziano
---
"I like Seattle. They can run the ball. If
Russell Wilson
can keep it together for a couple games I like their chances, good defense. You've got to like Green Bay and New Orleans because of the quarterbacks but you need the defense and you need to run the ball. During the season you can put up all those numbers but in the playoffs if you don't have that balance it doesn't work."
-- Logan Paulsen, Washington Redskins tight end, as told to John Keim
---
"49ers. I think they're hungry for it. They know the formula. I just think they're going to win it."
-- Ed Reed, New York Jets safety, as told to Rich Cimini
---
"Denver's really good but I was really, really impressed with Seattle when we played them early on, especially we see so much of their defense. Their defense is outstanding and they have guys that can make plays on the offensive side of the ball. How can you be wrong with either of those teams?"
-- Paul Posluszny, Jacksonville Jaguars linebacker, as told to Michael DiRocco
---

"Chargers. You get the teams that are hot in December and you look at the past couple of years -- look at the Ravens, look at the Giants. You get that roll going and they're on a winning streak. They're on a roll and they've got a great quarterback with experience."
-- Jon Condo, Oakland Raiders long-snapper, as told to Paul Gutierrez
---
"I have no idea. I don't even know who will get there. But looking at it, I think the 49ers are getting hot at the right time, so they might be a great team in contention to win."
-- Thad Lewis, Bills quarterback, as told to Mike Rodak
---
"I don't want to get caught up in that. Maybe Oklahoma City Thunder over the Celtics?"
-- Chris Long, Rams defensive end, as told to Nick Wagoner
---
"Denver-San Fran. Denver wins and Peyton [Manning] retires."
-- Cecil Shorts, Jacksonville Jaguars wide receiver, as told to DiRocco
---
"I might take Seattle. Have played well on defense year round. Have explosive players on offense. Good special teams. All around, they might be a better team than any other team."
-- Rashean Mathis, Detroit Lions cornerback, as told to Michael Rothstein
---
"I say you have to pick an underdog team. Somebody who's getting hot and healthy at the right time. I tell you who could make a run, even though I would hate it if they did because I can't stand them, is the Eagles. They're playing good defense, too. But I hope it gets canceled, because we can't be in it. I hope it snows 19 inches every day for a whole month starting Feb. 1 and they can't play the game. That's what I would like to see."
-- Justin Tuck, New York Giants defensive end, as told to Graziano

NFL SCOREBOARD
Sunday, 2/2
WEEKLY LEADERS