Football journey: Logan Ryan
January, 18, 2014
Jan 18
5:00
AM ET
One of the things the
New England Patriots
liked about cornerback
Logan Ryan
as a prospect in the 2013 NFL Draft was his ball disruption, as he was viewed to be among an elite group that included first-round picks
Dee Milliner
and
D.J. Hayden
, and third-rounder
Tyrann Mathieu
in terms of getting his hands on the football.
This has turned out to be a case where college reality has turned into NFL reality.
[+] Enlarge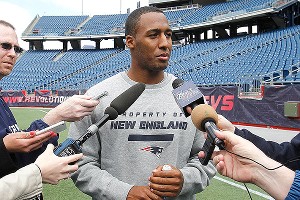 Jim Rogash/Getty ImagesDefensive back Logan Ryan has made an impact in his rookie season with the Patriots.
Ryan, the team's third-round draft choice out of Rutgers (83rd overall), led all NFL rookies with five interceptions this season. He's played just more than 50 percent of the defensive snaps, making contributions that have exceeded most everyone's expectations -- except the Patriots' and his own.
The 5-foot-11, 195-pound Ryan once again figures to be a big part of the defensive plan when the Patriots visit the Broncos on Sunday in the AFC Championship Game.
At 22 years old, he comes across as mature beyond his years as he shares his "football journey":
When he first started playing football:
"When I was 8 years old. My brother [Jordan] is three years older and he started playing. I would come to a couple practices and wanted to play, so my dad signed me up."
First positions:
"Tight end, but growing up, I played all over the field. My dad [Lester] was my coach most years growing up, in Little League, and he made sure every single year that I was playing a different position. He wanted to teach me football from being quarterback, to not having the ball in your hands, to being a receiver, corner, safety, linebacker ..."
More on his father:
"He's a coach at heart. He's a martial arts instructor, so he's a great teacher. He never coached football before, but he wanted to be my coach [as an assistant] growing up, so it helped out."
Role models in his life:
"Definitely my father and older brother. They are the first people in my extended family to graduate college, so they definitely set the standard for me. Growing up, I always wanted to be the best, but I was a poor sport at times. If it wouldn't go my way, I would throw a fit. They always held me responsible, telling me I couldn't be like that. I feel like they knew I had talent at a young age, and my brother and dad both protected me and made sure I developed it and didn't waste the potential I had."
Favorite players and teams growing up:
"I grew up in the Philadelphia area, so I was a Philly sports fan in everything. I would say, in general, I liked watching quarterbacks and how they control the game. Also, Deion Sanders, elite competitors like that. A little bit of everybody."
Top football memories of Eastern High School:
"I was the quarterback and it was fun leading those guys, having the ball in my hands, and being the guy the people looked to when it came to making plays, or in that sense, calling a play. Growing up with my high school friends and carrying out that role [was meaningful]. We were extremely competitive; made the state semifinals two years in a row."
Why Rutgers was the right choice for him:
"It was a no-brainer. It was in-state. I felt like we were going to do something special, and we had a lot of guys in Jersey stay home."
Top football memories at Rutgers:
"We were able to get a share of the Big East title for the first time ever. I would say that last year, the defense we had and the amount of guys we have in the NFL now, we knew that we had something special going on. We felt like we came up a little short, but at the end of it, we did a lot of special things."
How teammate Eric LeGrand made an impression on him:
"He is one of the best people I know. That's how I know everything happens for a reason and to people who can handle that situation.
You see how many people he inspires now
; more than if he played football. He's handling it great."
Thoughts entering the NFL in 2013:
"I had no idea [how it would unfold], but the one thing I knew, I said 'regardless of where I get drafted or what round or how much playing time I get, I'm going to be ready.' I was training to play in the NFL, I wasn't training to get drafted high. I was training to have a good rookie year and training to win a Super Bowl. That's something I never lost sight of."
Picked by the Patriots in the third round (83rd overall):
"It was a blessing. It's where I was supposed to be, a perfect situation for me and my family. I knew it was a great opportunity. It's been a dream come true, doing what I love to do at the highest level, at almost the highest organization. It helps me become a better person off the field and on the field, playing in an organization like this."
What he loves about football:
"I think it's the most physical and competitive sport in the sense that it's man vs. man. Who wants it more? Who worked harder? Who is more prepared? I just think it's America's sport for a reason, and to be able to do it at the highest level is everything a competitor dreams of."
Highest and lowest moments in football
: "Inches. Details. The littlest things can be the difference in the best play I've made all year or the worst play. It's not by much. That's how I approach it. I approach this position like 'If I was a step quicker, I would have made that play.' Or if I have a great play, my teammates put me in position to make it. It's a team sport and I try not to get too high or low with anything."
What he prides himself on as a football player:
"A passionate player who doesn't take off any plays. There are no practices when I don't want to get better, and someone who is consistent and you can trust on and off the field to represent myself and the Patriots in the right light, and who on the field can be trusted to make plays when need be."
Summing up his football journey:
"I've come a long way, but it's everything I've always pictured. I think I still have a long way to go, and I hope to be in even greater places in years to come."

NFL SCOREBOARD
Sunday, 12/28
WEEKLY LEADERS