Quinn's win puts Browns in no-win position
February, 3, 2014
Feb 3
1:24
PM ET
The
Cleveland Browns
might not be able to win on an issue related to their coaching search.
They're criticized for the length of time they took to hire a coach and now they're questioned because they didn't wait longer.
That's because the first guy they interviewed --
Seattle Seahawks
defensive coordinator Dan Quinn -- went on to win the Super Bowl. Which conveniently ignores the fact that the offensive coordinator the Browns asked about before they talked to Quinn lost the Super Bowl.
No matter.
The immediate reaction is that the Browns waited a long time, then didn't wait for a second interview with a Super Bowl winning coordinator and hired one whose team went 6-10.
[+] Enlarge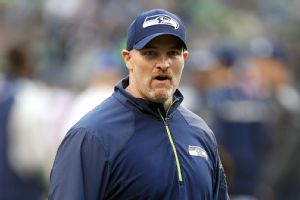 AP Photo/Paul JasienskiWaiting for Seahawks defensive coordinator Dan Quinn might have led to the Browns missing out on their top two choices.
Quinn told the Cleveland Plain Dealer after the Seahawks had kicked sand in Peyton Manning's face Sunday night that he was definitely intrigued by the Browns job.
"I certainly would have been interested,"
Quinn told Mary Kay Cabot
. "I mean, it's a big-time place. It's the Cleveland Browns."
Quinn could have interviewed in the week after the NFC Championship Game, but he declined, preferring to focus on the Super Bowl. He simply wanted to wait until after the game out of respect for his players.
The Browns chose to go ahead and hire former
Buffalo Bills
defensive coordinator Mike Pettine.
CEO Joe Banner called the decision not to interview Quinn for a second time "the toughest decision" in the search. He addressed the issue on Jan. 23, the day Pettine was hired.
"I think we felt that we knew [Quinn] well enough to make the comparison," Banner said.
He had nothing but praise for Quinn, calling him "an outstanding guy, an outstanding coach."
"If we had felt that he would be likely to prevail, we would not have liked to wait, we would not have liked to take 10 more days of pummeling, but we would have," Banner said.
Pettine made the story a little more complicated by saying the day he was hired that if the Browns' search had dragged out a little longer -- Rob Chudzinski was fired Dec. 29 and Pettine was hired Jan. 23 -- he would have withdrawn.
Pettine felt he couldn't keep the Bills waiting any longer.
If the Browns knew that -- and it would be shocking if they didn't -- they were looking at either ...
Hiring Pettine immediately. Which was the right move if they felt he was the guy.

Waiting for Quinn and risk losing Pettine -- who would have withdrawn -- without being certain if Quinn would have taken the job.
That could have left the Browns without both coaches and the Super Bowl over, which would have led to even more criticism.
They went with the sure thing, a guy they liked while knowing they were turning down a guy they liked.
"That was probably the toughest decision because there's no doubt we were very impressed with [Quinn] and there's no doubt he's going to be a head coach, an outstanding head coach," Banner said. "There are a lot of people around the league that think very highly of him. But in the end we decided to move forward."
The Browns simply can't win in this situation, and in many ways questioning this is classic second-guessing.
The first coach the Browns sought permission to interview was Broncos offensive coordinator Adam Gase.
His offense looked bad in the Super Bowl against Quinn's defense. Which led many of the same folks who were clamoring for Gase to be thankful the Browns didn't get him.
One game doesn't define a coach, good or bad. It does create reactions.
Because Quinn won, questions come up about why the Browns didn't wait.
The questions are fair, but the answers don't guarantee Quinn or Pettine will be the better head coach.

NFL SCOREBOARD
Thursday, 9/18
Sunday, 9/21
Monday, 9/22