NFL Nation: 4 Downs -- NFC East
February, 20, 2014
Feb 20
10:00
AM ET
By
ESPN.com staff
| ESPN.com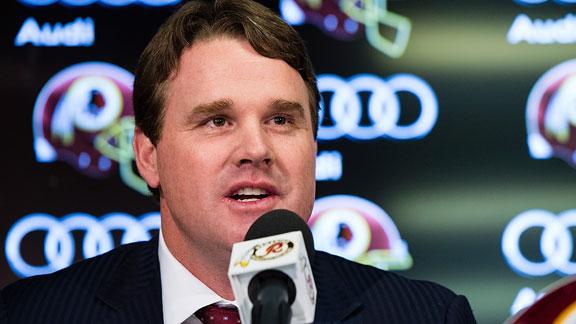 In 2013, first-year
Philadelphia Eagles
head coach Chip Kelly made an immediate mark on the NFC East landscape. Kelly's team beat the
Dallas Cowboys
on the final night of the regular season to win the division title and create, for the moment, a new pecking order.
This year, Washington is the team with a new head coach. Former
Cincinnati Bengals
offensive coordinator Jay Gruden was hired to replace Mike Shanahan and to get Washington heading in the right direction.
Dallas stayed the course with Jason Garrett, but moved Rod Marinelli to defensive coordinator. The
New York Giants
brought Ben McAdoo in as offensive coordinator, replacing Kevin Gilbride, Tom Coughlin's lieutenant for two Super Bowl titles.
So where does the NFC East stand after a lackluster season in which the Eagles (10-6) posted the only winning record? Can Kelly establish dominance? Can Coughlin regroup and make another run with
Eli Manning
as his quarterback? Will Garrett and
Tony Romo
finally get over the hump? Can Gruden get
Robert Griffin
III back on track to stardom and have the kind of instant impact Kelly had in 2013?
The four writers who cover the NFC East teams -- Todd Archer in Dallas, Dan Graziano in New York, John Keim in Washington and Phil Sheridan in Philadelphia -- offered their insights on some key topics. They also polled their Twitter followers to find out if they saw the issues differently.

Will Robert Griffin III return to form next season?
Todd Archer
: Everything was a mess for Griffin in 2013. Did he feel pressure to return quickly? Did the team feel pressure to get him on the field too quickly? His mechanics were bad. His decision-making wasn't good. From the outside looking in, he tried to be perfect and it weighed on him. The decision to bench him at the end of the season might actually help Griffin, especially with a new coach in Jay Gruden. He gets a fresh start with a new system and coach. The talent is evident, but it has to be refined. Gruden did a nice job with
Andy Dalton
in Cincinnati and Griffin is more talented. Sometimes you need to take a step back to go forward. There's no doubt Griffin can return to form in 2014 but he has to rely on others around him to get there.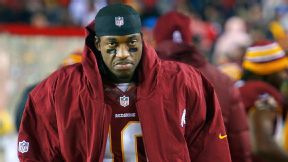 Dan Graziano
: I think Griffin is a great player who is going to have a terrific career, and I see no reason not to believe he'll play much better in 2014 than he did in 2013. One more year removed from his knee surgery, he'll be able to go through an offseason focused on football and not recovery. And I think the coaching staff change will serve to lessen the noise and the drama around the team and the young man himself. Much of his success, short term and long term, will rest on the ability of his team to provide him adequate protection, and to that end they need to work on the offensive line this offseason. But yes, I expect a bounce-back year in 2014 from this extremely talented player.
John Keim
: He will return to being a much more consistent playmaker than he was in 2013 and comparable to 2012. In reality, though, he must be better than in '12 when a lot of passing yards were left on the field because he'd take off and run -- also, defenses won't play him the same as they did that season. Griffin has a ways to go to become the sort of pocket passer the Redskins need him to be, but it's difficult to look at this past season and say that's who he now is as a quarterback. He's already done more work this offseason to improve than he did all of 2013 when he had to rehab his right knee. And he'll be doing a lot more, including working with quarterback-training guru Terry Shea. Plus he'll get a full preseason's worth of games, unlike last season. Griffin likely won't be wearing a brace, perhaps restoring some explosiveness (being a year further removed from surgery will help, too). He's a smart player who works hard and is getting his first legitimate NFL offseason and he'll benefit greatly.
Phil Sheridan
: There is just too much talent there for Griffin not to get back on the right path. Next season? Well, that's another matter. Can't say I went into the offseason thinking, boy, that Jay Gruden is just the guy to get the most out of RG III. Greg Roman or Darrell Bevell, the coordinators who work with mobile quarterbacks in San Francisco and Seattle, respectively? Either of them would have been a much better fit. That said, things seemed incredibly toxic at the end under Mike Shanahan. A fresh start with a new staff may be all Griffin really needs in order to let that talent take over again.
@john_keim Yes, reasons: Full offseason, plays in preseason, no more cap penalty so more talent around him, healthier knee and no brace.

- David Bovey (@DavidBovey) February 12, 2014
---

Can NFC East offensive head coaches improve the defenses?
Archer
: They better. Speaking from the Cowboys' perspective, Jason Garrett must have a better defense in 2014 in order to be the coach in 2015. Will he get his hands dirty with the scheme? No. This will be Rod Marinelli's defense. There will be some tweaks from what Monte Kiffin did but not that many. All of these defenses need better pass rushes. The Redskins might be in the best position to get it done with
Brian Orakpo
and
Ryan Kerrigan
younger than what the Giants, Eagles and Cowboys can offer. I'm not one of those "defense wins championships," kind of guys, even after what Seattle just did. But your defense can't be in the bottom half of the league in points allowed, like they all were in 2013, and be a true contender. The offensive coaches can help their defenses by keeping them in mind as they run plays. The Cowboys, for sure, did not do enough of that in 2013.
Graziano
: I think each of these coaches has a vision for what he wants his defense to be and do, and I think that's a big step in the right direction. The Eagles' defense was never intended to be a finished product in 2013 and it outperformed expectations. The Giants' defense got it together after a rough September and should be fine if the front office makes the right moves to keep the line strong. The Cowboys made the right move elevating Rod Marinelli to defensive coordinator and would be fine with better health from
Sean Lee
and others. And the Redskins have needed to upgrade the personnel in the secondary for years. I don't think defensive neglect by head coaches is an issue.
Keim
: I'm split on this one. In the Redskins' case, any defensive improvement won't stem from having an offensive-minded head coach; after all, they had one the past four years and the defense was never above average. Rather, it'll stem from the simple fact that their defense was bad and the team will devote more resources to it than the past couple offseasons. I suppose one theory would be that they would give more help to the defenses. If you look at the division, three teams have bigger problems on defense than offense with only the Giants being the opposite. That should prompt those organizations to want to fix those issues, regardless of whether the head coach is offensive minded or not. Also, it's not even about their division. The top teams in the NFC are defensive minded, so the copycat theory will be in play. The problem for Dallas will be improving a defense without much salary-cap space.
Sheridan
: They had better. And I think, for the most part, they will. Speaking strictly about the Eagles, I think Chip Kelly has as deeply entrenched beliefs about what he wants his defense to look like as the offense for which he's better known. He delegates to defensive coordinator Bill Davis, but he definitely has had input into the general philosophy and the kind of players he covets. I think Seattle's Super Bowl win has led to a bit of an overreaction regarding the return of defense to prominence in the NFL. A truly superb defense can occasionally carry the day -- the 1999 Ravens, the 1985 Bears -- but offense still drives the NFL train. A great offense and a playmaking defense are the ideal formula, and I think all four NFC East teams strive for that.
@SheridanScribe @john_keim Joe Gibbs was an offensive coach. Hired a great DC in Petitbon and it worked out pretty well. #hiresmart

— Jim Bradshaw (@jimbradshaw4) February 19, 2014
---

At 67, can Tom Coughlin keep up with the younger coaches?
Archer
: I don't see why not. I don't think the Giants' woes last year were due to Coughlin's age. He doesn't have to run sprints with these guys, and his experience, to me, is a bonus. Heck, I think he's the best coach in the division and not because he has two Super Bowl rings. He knows how to put his team in position to win games they shouldn't. That's the mark of a good coach. I don't know if Garrett, Kelly and Gruden have that ability. I look at the Giants' 2013 season as a one-year thing, not the sign of some downturn. Coughlin doesn't sound like a guy lacking energy for the job, which is something Bill Parcells wrestled with just about every year.
Graziano
: Careful! This is where Coughlin challenges anyone who thinks he's too old to meet him at 5 a.m. and go through his workout and his day with him. (Though I offered to take him up on that last year and was told no by the team's media relations staff.) But honestly, Coughlin's age is not an issue here. He just hired a 36-year-old offensive coordinator who's never called plays before and is giving him the keys to the offense. He's no stick in the mud. He'll change things if he thinks he needs to change them in order to win or survive. Coughlin is a high-energy coach who still connects with his players, and the evidence for that is the 7-3 finish that followed the Giants' 0-6 start in 2013. Coughlin hasn't lost his coaching touch. He needs better players.
Keim
: Well, two years ago it was Coughlin raising the Vince Lombardi Trophy so I don't know that in 2014 he should be intimidated or worried that he can't keep up with younger coaches, none of whom have won a playoff game. Besides, the Giants have been run well for a longer time than any of their division foes and ultimately that's what wins. But I also wonder if facing new (and younger) coaches won't energize Coughlin just a little to keep pace and show them he hasn't lost his so-called fastball. Also, Coughlin's ability to keep up probably has more to do with which team
Eli Manning
will throw to next season. Turnovers will make any coach feel older than his birth age.
Sheridan
: I don't see why not. Coughlin was a grumpy old man before he was all that old. It's part of his, let's call it, charm. I do wonder why he still wants to keep grinding after winning a couple of Super Bowl championships. It seems like a good time to take a step back and enjoy a well-earned retirement. But if Coughlin feels driven -- and he obviously does -- then there's no reason he can't continue to hold his own against the rest of the NFC East coaches. Kelly is 50 -- not exactly a wunderkind. Garrett and Gruden are younger, but neither has done anything to belong in the same conversation as Tom Coughlin just yet.
@toddarcher TC has shown an ability to make enough adjustments to his philosophy to remain relevant. Coaching changes show he still can

- Michael H (@bigharb06) February 12, 2014
---

Which NFC East offense will be the most prolific?
Archer
: It's a two-team race. It's the Eagles and the Cowboys. I can't put the Redskins in that mix because we don't know about Griffin, even if I think he can bounce back. I can't put the Giants in that mix because Eli Manning will have a new offensive coordinator for the first time. The Eagles make a lot of sense as they enter their second year with Kelly's offense. They can do so many things and have an electrifying back in
LeSean McCoy
, a deep threat in
DeSean Jackson
and good tight ends. Will
Jeremy Maclin
be back? More importantly, is
Nick Foles
the real deal? I still can't get that performance he had against the Cowboys in October out of my head when he was just terrible. And now the Cowboys. Scott Linehan directed a prolific offense in Detroit with
Matthew Stafford
and
Calvin Johnson
. With the Cowboys he'll have
Tony Romo
and
Dez Bryant
. He'll also have
Jason Witten
and
DeMarco Murray
. Too many times the Cowboys shrugged off Bryant when he was double covered. I think Linehan will have more answers than Bill Callahan for that. But if there will be growing pains with the Giants, there will be growing pains with the Cowboys. I'm going with the Eagles, even if I'm not 100 percent sold on Foles.
Graziano
: The obvious answer here is Philadelphia, which put up 27.6 points per game in Chip Kelly's first year. I think it's clear Kelly knows what he's about, and I expect the Eagles to score points in bunches as long as he's their coach. But I absolutely HATE going with the obvious pick. So I'm going to go out on a limb and say that the
Dallas Cowboys
, with a healthy Tony Romo, a healthy DeMarco Murray, a studly young wide receiver corps led by Dez Bryant and an offensive line that improved drastically in 2013, will score the most points of any team in the NFC East in 2014. Crazy? Not as crazy as you might think. The Cowboys were right behind the Eagles in 2013 at 27.4 points per game.
Keim
: The easy answer would be to say Philadelphia, with another year in Chip Kelly's system (following a rather strong one in his first season). The Eagles led the NFL in yards per play at 6.33 (warning: the Redskins led this category in 2012). They have explosive talent, too. But it's hard to duplicate what they did and I'm not ready to fully believe in Nick Foles. I think any offense in this division is capable of emerging as the best one. If Griffin rebounds (or even if they don't turn it over as much), then the Redskins have the necessary talent with
Pierre Garcon
,
Jordan Reed
and
Alfred Morris
to be the most prolific. The Giants were a consistent top-10 offense when it came to points scored before 2013, but they have some holes to fill. So I'll go with Dallas. Like the Eagles, the Cowboys have a strong line and a dominant playmaker on the outside as well as at running back. Tony Romo will make his share of mistakes, but he is excellent at putting up big numbers, even with sometimes spotty play-calling from the sideline.
Sheridan
: At the risk of being accused of homerism, I'd have to say Eagles here. Their 2013 offense was proof of what Kelly can do with this pool of talent, and I don't see any reason the Eagles should be any less productive in 2014. The offensive line will be back intact unless Kelly chooses to upgrade somewhere (right guard, maybe). Nick Foles will have a full offseason to build on what he did in 2013. LeSean McCoy, DeSean Jackson and
Zach Ertz
aren't going anywhere. Kelly himself will have a season's worth of NFL experience to draw from. The Cowboys could be in the mix here, too. They certainly have the tools to be very powerful on offense. But I'm going Eagles until proven otherwise.
@DanGrazianoESPN Birds easily. Probably getting maclin back, ertz in second year, wr from draft, best rb in league

- Rob Christian (@eaglesrob84) February 12, 2014

NFL SCOREBOARD
Thursday, 8/28
WEEKLY LEADERS