NFL Nation: 4 Downs -- NFC North
February, 27, 2014
2/27/14
10:00
AM ET
By
ESPN.com staff
| ESPN.com
When the 2014 season opens, Green Bay's Mike McCarthy will be the only coach in the division with more than one season under his belt with his current team. Does the Packers' coaching stability give them a leg up on the rest of the division?
Some would say it has more to do with
Aaron Rodgers
than McCarthy, but the coach-quarterback relationship is an important one. Throw in general manager Ted Thompson, and Green Bay has the type of triumvirate that will keep it as a division contender for the foreseeable future.
Will Jim Caldwell be able to harness the impressive amount of talent in Detroit and finally solve the Lions' late-game meltdowns, turning them into a contender?
Detroit's offense is loaded, but so is Chicago's. With
Alshon Jeffery
emerging as a star receiver, do the Bears have the most potent offense in the division?
In Minnesota, the big question is whether
Jared Allen
will be back and what impact his departure would have on the team.
NFL Nation's NFC North reporters -- Rob Demovsky in Green Bay, Ben Goessling in Minnesota, Michael Rothstein in Detroit and Michael C. Wright in Chicago -- tackle all of these topics in 4 Downs.

The Packers' stability in their coaching staff gives them a leg up on the rest of the division.
Rob Demovsky
: True, but that's not the biggest thing that does that. Sure, having consistency on the coaching staff is important. The Packers reload -- they don't rebuild -- every year, in large part because of their stability. But more important is having it at the quarterback position. That was evident last season when
Aaron Rodgers
broke his collarbone. The Packers still won the division, but it wasn't easy.
Ben Goessling
: True, although their stability extends past the coaching staff. The Packers are also the only team in the division where the coach and GM have worked together longer than a year, and they've had Aaron Rodgers in their system as long as they've had Ted Thompson and Mike McCarthy. The Thompson-McCarthy-Rodgers triumvirate probably does more for the Packers' success than anything else, but McCarthy's synergy is a big factor, too.
Michael Rothstein
: False. Stability helps, sure, but it all comes to quarterback play and talent in the NFL, and this is what makes Green Bay such a difficult out for the rest of the division. The Packers have the best passer and decision-maker in the division in Aaron Rodgers and have the most overall talent around him as well.
Randall Cobb
,
James Jones
and
Jordy Nelson
are all reliable receivers, and
Eddie Lacy
turned in a performance as a rookie that hints he'll be a consistent rusher for Green Bay. The defense has some holes entering free agency, but this is an offensive league.
Michael C. Wright
: True. Obviously there are new coaches in Detroit and Minnesota, and a second-year coach in Chicago. Since the start of 1999, there have been 13 new coaches in the NFC North. None made the playoffs in the first year with the team, and only Mike Sherman had a winning record in his first year. Interestingly, not including Bears coach Marc Trestman (and Ray Rhodes lasted only one season), four of those 13 coaches made the playoffs in their second year.
@RobDemovsky true; coaching stability usually means scheme stays the same...less to learn schematically so players grow more in same system.

— Danielle Lewandowski (@hooshouse) February 24, 2014
---

With Jay Cutler locked up and Alshon Jeffery emerging, the Bears will have the most potent offense in the division
Demovsky
: False, but perhaps only because Cutler remains mistake-prone. That's the reason you might say the same thing about the Lions and
Matthew Stafford
. If Randall Cobb remains healthy and the Packers either re-sign
Jermichael Finley
or find another capable tight end, then they should have the most potent offense in the division, especially given the emergence of Eddie Lacy.
Goessling
: False. The Bears are certainly in the conversation -- Jeffery looks like a star in the making -- but I'm not ready to give them that honor until I see what Jim Caldwell can get out of Matthew Stafford,
Calvin Johnson
and
Reggie Bush
and what the Packers can get out of a full season with a healthy Aaron Rodgers and Eddie Lacy. The Vikings could also join that mix quickly, too, if they can put a competent QB with
Adrian Peterson
,
Greg Jennings
and
Cordarrelle Patterson
.
Rothstein
: True (at least for now). This is a pretty interesting question. Every team in the NFC North has a reason to believe it could be the most potent offense in the division, from Minnesota (Adrian Peterson) to Green Bay (Rodgers) to Detroit (Matthew Stafford, Reggie Bush, Calvin Johnson). But the Bears have the most established contingency of stars at each position, be it Cutler at quarterback,
Matt Forte
at running back and Jeffery and
Brandon Marshall
as two tall, dynamic pass-catchers. It'll be interesting to see if this holds after free agency and the draft.
Wright
: False. It's true the Bears will be in Year 2 of the offense under Trestman, so they should be better. But you've also got to take into account the rest of the division now has plenty of game film on the Bears and will go into 2014 with a good idea of their strengths and weaknesses. If Detroit adds another receiver opposite Calvin Johnson, the Lions are just as dangerous. Also, Green Bay is always potent with No. 12 in the mix.
@mikecwright Chose your poison. Forte,Marshall,Jeffery,Bennett..no other team in division has that. #NFCN4Downs

— DR (@DRICH1986) February 24, 2014
---

Jared Allen will leave the Vikings, but the impact will be marginal.
Demovsky
: True. We saw that last season against the Packers, a team that he had been dominant against since he came to the Vikings in 2008. In his first 10 games against the Packers, he recorded 14.5 sacks. In the two games last season, he had none. Both times, he was shut out by rookie left tackle
David Bakhtiari
. That said, the Vikings still have a capable pass-rusher in
Brian Robison
.
Goessling
: True. Allen had a $17 million cap hit last year, and he looked like he'd lost a step. He'll probably sign a short-term deal with a team that's closer to a title. But if the Vikings bring
Everson Griffen
back to go with Brian Robison -- and shore up their defense under Mike Zimmer -- they'll be better off. They could wind up signing Bengals defensive end
Michael Johnson
, who turned into a solid performer under Zimmer in Cincinnati.
Rothstein
: True, but with a contingency. This statement has nothing to do with Allen's production, which was still pretty good in 2013 with double-digit sacks (11.5) and 52 tackles. As long as Minnesota is able to bring back Everson Griffen -- another unrestricted free agent -- he should be able to pick up the production Allen provided during his time in Minnesota. Between Griffen (if he returns) and either a free-agent signee or drafted prospect, they should fill similar roles to what Allen and Griffen filled last season.
Wright
: False. If Allen leaves, the impact definitely won't be marginal from a standpoint of production on the field and leadership in that locker room. Allen accounted for 28 percent of Minnesota's sacks last season. If you thought the Vikings were horrible on defense, just think of what that unit would've been in 2013 without him in the mix.
@GoesslingESPN False. Allen was overpaid, yes, but he took up a double-team every snap and that kind of edge production is hard to replace.

— Jake (@jakeallen47) February 24, 2014
---

Jim Caldwell will fix the Lions' late-game meltdowns and guide Detroit to a division title.
Demovsky
: True. There's too much talent on that team for it to continuously underachieve. Caldwell will instill the discipline necessary for the Lions to finally break through and seriously contend for the NFC North title. With a dominant defensive front and a playmaker like Calvin Johnson, the pieces are in place. Caldwell inherited a good situation.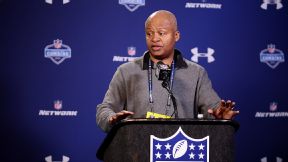 Goessling
: False. If Caldwell can shore things up in Detroit, that's definitely a possibility. There might be more talent here than on any roster in the division. But I'm inclined to stick with the Packers until the Lions can show they're a different team. As many issues as Green Bay needs to solve defensively, when you start with a healthy Rodgers, you'll be the team to beat until somebody knocks you off.
Rothstein
: False. Caldwell will likely fix the late-game meltdowns -- if he doesn't, his time in Detroit might end up being short -- but winning a divisional title will be difficult for Detroit as long as Aaron Rodgers is around. Even when Green Bay has off seasons, like the Packers did in 2013, they still find a way to end up in the playoffs and often with a divisional title. The Lions will have a lot of talent, but until the draft and free agency transpires, they feel like a team one or two pieces short of knocking off Green Bay. But a playoff berth is a definite possibility entering 2014 with the offensive and defensive talent Detroit has.
Wright
: True. Well, sort of true. With Caldwell at the helm, I think the Lions can
eventually
win the division. But I'm not expecting that in 2014. I think Caldwell will work wonders for Matthew Stafford, and overall I think he'll be able to quell some of the disciplinary issues the Lions have been plagued with over the years. Hey, if
Peyton Manning
endorses Caldwell, I believe he's the real deal.
@mikecwright Fiction: Until I see otherwise, I saw the Colts go down hill under his leadership. Prove me wrong, Jim! #NFCN4Downs

— Shelton Reid (@wobblebody) February 24, 2014