NFL Nation: 4 Downs -- NFC South
March, 6, 2014
Mar 6
10:00
AM ET
By
ESPN.com staff
| ESPN.com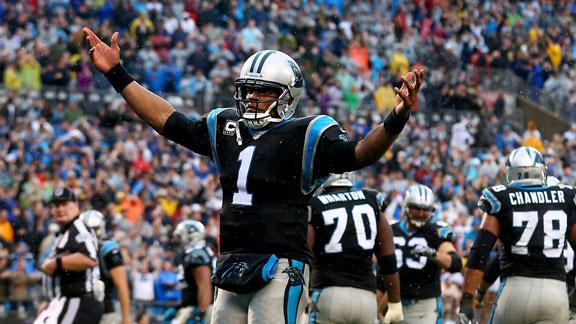 Drew Brees
is 35 years old. To date, he hasn't shown any signs of slowing down. But are his NFC South counterparts about to catch up to the
New Orleans Saints
' elite quarterback?
Atlanta's
Matt Ryan
will be 29 and Carolina's
Cam Newton
25 before the start of next season. Ryan has been trying to close the gap in recent years but played behind a lackluster offensive line and with a depleted receiving corps in 2013. Newton has shown signs of brilliance, helping the Panthers clinch the division title, but he hasn't been able to put it all together consistently for a Panthers team that's powered by an elite defense.
Maybe this is the year Ryan makes his move. Or maybe this is the year Newton takes a huge leap forward. If either of those quarterbacks gains ground on Brees, the NFC South could have a whole new look.
The uncertainty is in Tampa Bay, where the Bucs are looking at
Mike Glennon
, who did some nice things as a rookie but still lags behind Brees, Ryan and Newton. The Bucs have the nucleus of a good defense, but they need some stability at quarterback to make their offense click. If they can get that -- they have made noise about drafting a quarterback or signing a veteran free agent -- they might be able to make the NFC South a four-team race.
The four writers who cover the division -- Vaughn McClure in Atlanta, David Newton in Carolina, Mike Triplett in New Orleans and Pat Yasinskas in Tampa Bay -- offered their insights on the quarterback situations and some other some key offseason topics. They also polled their Twitter followers to find out if they saw the issues differently.

Who would you want as your quarterback for the next three years: Cam Newton, Drew Brees or Matt Ryan?
Vaughn McClure: This is tough because Drew Brees is the only one who's among the elite, but he's the oldest at 35. At some point, he's going to slow down. So, I'm not sure I want to ride with him for the next three years. Matt Ryan has some great qualities and could be right up there with the right protection in front of him and a healthy group of receivers in his arsenal. But I'm all for the younger, multidimensional quarterbacks of today, and that's why I would ride with Cam Newton. Sure, he has to become a better decision-maker and leader. But Newton, who turns 25 in May, has all the tools to be a great quarterback. And with a strong defense and solid running game in Carolina, the pressure's not totally on Newton.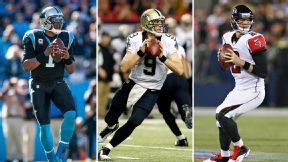 David Newton
: If all were 24 years old like Newton, I'd say Brees without thinking twice. But he's 35. Not that he's over the hill --
Peyton Manning
had the best season of his career at 37. But with the improvement Newton showed in game management, with his versatility as a runner and overall durability, I'd have to go with him. A lot depends on the weapons around whomever we pick. There's no doubt Brees had better receivers and arguably better backs. Same for Matt Ryan when
Julio Jones
was healthy. But going on pure potential for the next three seasons, I'd have to go with the one who likens himself to Superman.
Mike Triplett: Brees -- and I really don't even think it's close. He has been head and shoulders above those guys up to this point. So the only argument against him would be predicting a drop-off in the next year or two. I don't see that coming yet. He just turned 35 in January. And he had another excellent season in 2013 (5,162 yards, 39 TDs, 12 INTs). He had some quiet games down the stretch -- but that was more because the Saints played at Seattle twice and at Carolina once than it was a sign of career regression. That's not to say that Newton and Ryan are slouches. They're both very good quarterbacks -- probably among the top 10 in the NFL. I just think they're both clearly a tier below Brees.

Pat Yasinskas: After a lot of deliberation, I'm going with Brees. Yeah, I know he's 35, but I'm betting we don't see a drop-off from him in the next three years. Brees has always taken good care of himself, and his only serious injury, to his shoulder, came a long time ago. Brees and head coach Sean Payton are a dynamic combination, and I don't see that changing.

@DNewtonespn Cam. Because, you know, he can actually play outside.

- Mr. Baker (@JBwhync) February 26, 2014
---

Are the Panthers and Bucs following the best model for success -- stingy defense and sturdy run game, just like Seattle -- or can the Saints and Falcons contend by heavily investing in the passing attack?
McClure: Seattle's Super Bowl win definitely turned heads around the league and has coaches dreaming about having tough, rugged defensive players such as hard-hitting Seahawks safety Kam Chancellor roaming the field. The Falcons understand the reality and are doing all they can to follow the model by targeting "tougher" players in free agency and the draft. A more balanced offense and stouter defense are what the Falcons believe will equate to a resurgence following a 4-12 season. So balance across the board is key, no matter how high-powered your passing offense might be.

Newton
: There's a reason the Saints hired Rob Ryan last season and the Falcons are talking about shoring up their defense in free agency and the draft. They see what works. If you look at the past three Super Bowl winners, each was built around the aforementioned model. If you look at the history of the Super Bowl, that has been the best model. This isn't a huge secret. And if you want to get more specific with the model, the defense is built around a front seven that can stop the run first. This shouldn't be up for debate.
Triplett: It's hard to argue against the Seahawks' blueprint after the way they completely shut down great passing teams like Denver and New Orleans down the stretch. But it's easier said than done to try to mimic them. Their defense played at an all-time-great level last season. I'm still a believer that great passing teams -- like the Saints and Packers in recent Super Bowls; like Denver for most of last season -- can win big. The best-case scenario would be having a great quarterback and a great defense. I think that's possible this season for both New Orleans (if its defense continues to rise) and Carolina (if Cam Newton continues to rise).

Yasinskas: Everyone talks about how it's now a passing league. But the Seahawks showed defense still wins championships. I think Carolina and Tampa Bay are taking the right approach. They're going to need contributions from their offense. But I think each team has the nucleus of a defense that can carry it a long way.

@MikeTriplett Gotta have a respectable running game to make this passing O more lethal and potent. #Balance

- Beetlejuice (@WhoDat_225) February 25, 2014
---

How will the return of Julio Jones, the NFC South's most talented receiver, change the complexion of the division? Only New Orleans faced him in 2013.
McClure: I spoke to both Bucs coach Lovie Smith and Panthers coach Ron Rivera about this subject during the NFL combine. Both agreed how dynamic a player Jones is and how much more dangerous the Falcons will be with him back in the lineup. Now, Jones can't do it all alone. But his ability to stretch the defense will open up so many other options for the Falcons, provided they upgrade the offensive line. If Ryan has time to get him the ball, Jones should be the most dangerous deep threat in the division, if not the league.

Newton
: I'll refer back to the previous question. If the Falcons don't improve on defense, it won't matter. You don't win consistently ranking 31st in the league against the rush and 27th in points allowed. Jones can't score when he's on the sideline watching the other team control the clock. The bigger issue for Atlanta is finding a way to replace tight end
Tony Gonzalez
. Without him, teams will have an easier time doubling down on Jones.
Cris Carter
and
Randy Moss
were two of the greatest receivers in NFL history. How many Super Bowls did they win for Minnesota? Enough said.
Triplett: I think the Falcons can get back to pushing for a playoff spot if they find their 2012 offensive groove. Obviously, Jones' injury wasn't the only reason they fell from 13-3 to 4-12 last year; they dropped off in a lot of areas, from the run game to the offensive line to the defense. But I think it would be fair to say Jones was the biggest reason. And it had a ripple effect. For example, the Saints used their top cornerback, Keenan Lewis, to silence Roddy White during their second matchup last season since they didn't have to worry about Jones.

Yasinskas: There's no question that getting Jones back will be a big lift for the Falcons. He and Roddy White form one of the best receiving combinations in the league. But Jones isn't going to change the Falcons' fortunes all by himself. This is a team that needs to be a lot better along the offensive and defensive lines if it wants to make a return to the playoffs.

@PatYazESPN it doesnt change much if ATL still cant run the football and address the defense.

- Jim Rathernot (@BlackSaiyan440) February 26, 2014
---

Addition or attrition: What will your team experience more of in free agency?
McClure: The Falcons will lose some familiar faces -- and already have, with the releases of Asante Samuel, Stephen Nicholas and Garrett Reynolds. Safety Thomas DeCoud's imminent release will mean the team has rid itself of three defensive starters from the 2012 NFC Championship Game appearance. Again, the Falcons have the theme of getting tougher this offseason, so losing a handful of players who fail to meet those requirements, while adding a couple of rugged difference-makers -- thanks to some added cap space -- will only make the team better.

Newton
: Addition based simply on the math. With 21 unrestricted free agents, the Panthers have to either re-sign their own or sign players from other teams. You can't replace that many players in the draft and hope to be successful. They've already lost left tackle
Jordan Gross
to retirement, and in all likelihood they'll look to replace him through free agency and the draft. General manager Dave Gettleman was highly successful last year signing midrange free agents to one-year deals. With the salary cap tight, that will be the formula he uses again this year.
Triplett: It will probably be attrition for the Saints -- but only slightly. They've already released several veterans, most of whom had become part-time players. And they will almost certainly let one or two starters -- from the group of right tackle Zach Strief, center Brian De La Puente and safety Malcolm Jenkins -- get away in free agency. But I expect the Saints to keep tight end Jimmy Graham and to stay aggressive by adding one or two mid-level free agents from other teams who can be upgrades elsewhere. That's what they've done the past two years under similar salary-cap restraints.

Yasinskas: The Bucs will come out ahead of where they were. They don't have any high-profile free agents they'll be losing, and they'll be active in bringing in players. The Bucs might not go after the big-ticket free agents like they have in landing Vincent Jackson, Carl Nicks and Dashon Goldson the last couple of years, but they're not going to sit still. They need to add some free agents that fit the new offensive and defensive schemes.

@PatYazESPN Saints will have more attrition but not a bad thing since they're cutting lots of fat.

- Craig Jackson (@craigjackson422) February 26, 2014
NFL SCOREBOARD
Thursday, 10/23
Sunday, 10/26
Monday, 10/27