NFL Nation Says: Expand the playoffs?
March, 27, 2014
3/27/14
11:00
AM ET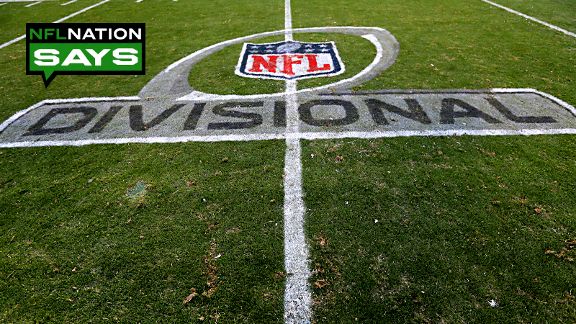 Ronald Martinez/Getty ImagesThe NFL may be expanding the playoff field as early as the 2015 season.
Is bigger really better? That's what the NFL is trying to decide when it comes to expanding the playoffs from 12 to 14 teams.
There wasn't a vote on it this week during the owners meetings in Orlando, Fla., but it was talked about in great detail with the goal to make it reality by 2015.
"I think there's a tremendous amount of interest in this, possibly even to the point of support, but there are also things we want to make sure we do it right," commissioner Roger Goodell said Wednesday, the final day of the meetings. "We've been very incremental when trying to do this. But we believed it could make our races toward the end of the season even more exciting, [with] more teams vying for playoffs positions, which is great for our fans."
The next step comes April 8, when Goodell will discuss an expanded playoffs with the NFL Players Association. The union fought expansion of the regular season from 16 to 18 games, which is why an expanded playoffs has gained momentum.
This should be an easier sell. It will add two more games to the playoffs, thus two more games worth of revenue.
Many owners and coaches believe the positives far outweigh the negatives. It would put more emphasis on being the top seed in each conference, because that would be the only team with a first-round bye instead of the current two.
It also would make it less likely that a hot team would miss the playoffs, as the
Arizona Cardinals
(10-6) did last season, while the
Green Bay Packers
(8-7-1) got in as a division champion.
Here's how it would work: Seeds 2-7 in each conference would play in the wild-card round, with No. 2 facing No. 7 and so forth. One of the scenarios discussed during the meetings was a three-day weekend, with two games on Saturday, three on Sunday and one on Monday night.
The competition committee is in favor of expanded playoffs. The idea appears to have enough support from the owners to get the 24 of 32 votes needed for approval.
Here's what NFL owners/coaches/general managers said to NFL Nation reporters about expanded playoffs during the owners meetings:

"I would have liked it last year. I'm a traditionalist in that I don't think it's wrong just because somebody went 11-5 or 10-6 and didn't make it to change [the playoffs]. But I do like the idea that December, for whatever reason, the way that we scheduled the games the last few years, has been exciting in a lot of cities. Everybody has a chance mathematically. I don't think it's going to hurt us to even make more excitement, to have more teams potentially to get that other spot. So first, I wasn't really for it, because I didn't want to dilute to basketball, to hockey, where everybody is in the playoffs -- you might as well just start the season in the playoffs. But I think it's a really good thing right now."
---- Bruce Arians, Cardinals head coach
---

"I think it gives some opportunities. There were some teams last year, like look at Arizona, the way they were playing at the end, could open up discussion for them. Opportunity to be in a playoff system, so I think you like to hear both sides of it, gather all the information."
-- Gus Bradley, Jacksonville Jaguars head coach
---
"I'm for it in terms of the more teams that can get in the playoffs, the better chance we have. I would be for it."

-- David Caldwell, Jaguars general manager
---

"Well, as a coach, you love it 'cause it gets two more teams into the playoffs. I like the idea as a coach. I don't think it waters down anything. I've heard people say it might water it down. I don't think it does. I really don't."
-- Ron Rivera, Carolina Panthers head coach
---

"Personally, I think it would be a positive for our game. If you look at the history of the later seeds, they've been successful. Parity has been evident in our game for a long time. Giving another team the opportunity, I'm for it. I think it's the right thing to do."
-- Mike McCarthy, Green Bay Packers head coach
---

"It's going to be good for the game. It's good for players, good for fans. It's going to be exciting. I don't know about the Monday night game. It's going to be interesting to see how that plays out."
-- John Harbaugh, Baltimore Ravens head coach
---
"I'm a big college basketball fan. You see a team that gets hot near the end of the season after squeaking in. These bubble teams are dangerous when they get into these things. We've also seen so many teams like ours, the Giants and the Packers, come from the wild-card position and win the whole thing. To me, that's as good an argument as any. If the ones toward the bottom 12 were never making hay, I clearly would be opposed to it. It would seem like [an] 'Every kid gets a trophy' attitude. We're not into that. You expand, and I think in the first few years of expanding to 14, you're going to see one of those teams be in the Super Bowl, if not win it."

-- Steve Bisciotti, Ravens owner
---

"Absolutely, absolutely. When you look at the fact that bonuses are probably tied into it, absolutely [laughs]. I think it's a good thing anyway. It's so special to get into the playoffs. It's a great thing for the fans. I would be for it. I don't think you want to do where it's like hockey and basketball. It just seems like three-quarters of the league's in it, even though my [Maple] Leafs struggle. I just don't understand it. I really think it's a good thing, though. You think about how Arizona didn't go to the playoffs and they were playing as good as anybody at the end of the year. Again, you don't want to water it down to where it's like that team never deserved it. You always want it like, yeah, every one of these teams deserves it."
-- Rex Ryan, New York Jets head coach
---

"I would be [in favor], but it's not that easy. Scheduling is a concern. It could be worked out … You've got a 1-seed that's the only team that's benefiting from a bye. You've got a 2-seed that's playing a No. 7, and I think we have to go back and look what would happen. Would a 7-9 team make the playoffs? I think it's worthy of continued discussion and see in the scheduling format we've been in of late and see what would happen."
-- Jeff Fisher, St. Louis Rams head coach
---

"I think I'll have to see all of the reasons there are for it. Just one team gets the bye, but I think on the surface, I would be in favor of it. As a player, you always wanted to feel like you have a chance [at the postseason]. I think what it does is keep teams interested longer and, to me, would make for better football games because you have so many different teams chasing playoffs spots. It makes it great for now, but even as a player to even have one more slot to give you a shot, that is what you want. And you see teams that get hot battling for those playoff spots that go on to win championships. Once you get in the tournament, everybody's got a chance."
-- John Elway, Denver Broncos executive vice president of football operations/general manager
---
"I'm not always for big changes in the game. Whether it's moving the PAT back, moving the kickoff up … extending the playoffs. I think it eventually will happen. They've got to figure out how they want to do it first because if you have another two games, it's hard to piece out. You've got a lot of things to consider: What days are you going to do it? Are you going to go with a tripleheader? You going to go Saturday, Sunday, Monday? You could squeeze them in as long as you didn't squeeze somebody on the next round. The scheduling … that's not an easy thing. I don't think it will happen this year, but … it's probably going to happen. Just not this coming season."

-- John Fox, Broncos head coach
---

"I guess there's pluses and minuses to it. if they add a couple more teams, then, obviously, I think more teams will have an opportunity to be in the mix. The negative part of it is, in the current system we work under -- which has been working great -- if you expand, there's only going to be one team that gets a bye. If you stay with the current system, you have two teams that can earn a bye. Whatever they come up with, we're going to face challenges along the way."
-- Chuck Pagano, Indianapolis Colts head coach
---

"I would favor it as long as it doesn't lessen the significance of division play, and I mean that. I love the structure of division play and what it means from a playoff seeding standpoint, and if it doesn't lessen that in any way, then, obviously, I'm all ears. … I'm open to it, I'll say that, but at the same time, I'll reiterate that what goes on from a division standpoint in today's NFL is very stressful. It provides clarity in a lot of ways for our fans and significances for some opponents and people that you play against year in and year out."
-- Mike Tomlin, Pittsburgh Steelers head coach
---

"If they expand with a few more teams getting in, the most important thing is to get in the tournament at the end of the year. It gives everyone an opportunity and a few more teams. We'll see how it goes. It's still going to be tough to get in because the parity is so good, you have to play your best. You see how many teams that were competing for that final spot [in 2013]? It's going to add maybe a week or two more to whether there will be more meaningful games at the end of the year. The competition will be there week in and week out. The players play so hard as it is, but if they know at the end of the year they might still get in, it's good for the game."
-- Mike McCoy, San Diego Chargers head coach
---

"I'd love the idea of getting into the playoffs. The one thing that I have tremendous respect for is this league and the ownership in this league and the decisions they made through the course of history and what's important for our fans and what's important for the game. If our ownership feels it's an important piece of it, I'm all on board."
-- Ken Whisenhunt, Tennessee Titans head coach
---

"I'm for it. The reasons are solid. A lot of times, the fifth and [sixth] seeds, those wild-card teams -- in recent years, especially -- have made a run. I've been a part of two lower-seed runs in New York that made it to the AFC Championship Game. The data is out there. If you have teams that are anywhere from that 11-5 New England team a couple of years ago that would have made it to a bunch of 10-6 teams to 9-7. It would be a rare year that you'd have a team either at 8-8 or worse that would make it. There will be so many more teams in it late in the year. I know the league is always looking to keep those games competitive. And then you have the added benefit of two extra televised wild-card games. It makes the 1-seed that much more important, but then the 2-seeds still have something to play for because you're guaranteed a home game. There's a lot of positive to it. They went over the proposal. It made sense on a lot of levels."
-- Mike Pettine, Cleveland Browns head coach