NFL Nation: 4 Downs -- AFC North
May, 15, 2014
May 15
10:00
AM ET
By
ESPN.com staff
| ESPN.com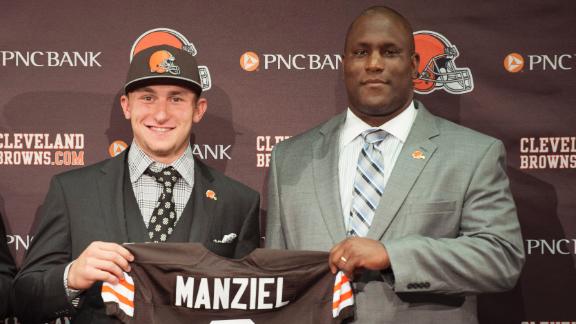 This year's NFL draft brought drama and defense to the AFC North.
Most of the buzz centered on Cleveland, where the Browns selected
Johnny Manziel
with No. 22 overall pick. There is no debate that Johnny Football will bring excitement to the long-struggling Browns. Whether he's their answer at quarterback is another question.
The
Cincinnati Bengals
created a stir at quarterback as well when they drafted
AJ McCarron
in the fifth round. McCarron quarterbacked Alabama to two national titles, and it's widely known that
Andy Dalton
has yet to win a playoff game for the Bengals. Can McCarron be ready to compete for the starting job in 2015?
The
Baltimore Ravens
and
Pittsburgh Steelers
continued their old-school ways by going heavy on defense in this draft. By doing so, did the Ravens give enough help to quarterback
Joe Flacco
? And will speedy first-round pick
Ryan Shazier
end up being the top rookie defensive player in this division?
These issues are addressed by ESPN's quartet of AFC North reporters: Scott Brown in Pittsburgh, Coley Harvey in Cincinnati, Jamison Hensley in Baltimore and Pat McManamon in Cleveland.

Johnny Manziel will end the Browns' quarterback drought and become a franchise quarterback.
Scott Brown: Fact. I think it is all or nothing for Johnny Football, as it is hard to imagine him just having an average to above-average NFL career. You worry about his size, the distractions that follow him to Cleveland and the reality that he will have a Texas-sized bull's-eye on his jersey from the moment he steps onto the field. As many questions that come with Manziel, he dominated in the SEC and twice carved up an Alabama defense that was loaded with future NFL players. Cleveland, your long quarterback nightmare is over.
Coley Harvey:
Fiction. The optimist inside would love to come out and say that Manziel will be the triumphant hero many in Cleveland are seeking. I would love to say that the now infamous No. 2 Browns jersey -- you know, the one with the seemingly endless stream of crossed out ex-Browns quarterback names that goes all the way down its back -- will have its final nameplate thanks to Manziel. I would love to say that in 20 years they'll be retiring Manziel's jersey and erecting a statue in his honor outside FirstEnergy Stadium. Yes, a part of the dude in Cincinnati feels bad for the city of Cleveland and its decades-long misery. But the fact of the matter is, these are the Browns we're talking about, and not even Johnny Freakin' Football will be able to end the team's exhaustive playoff drought.
Jamison Hensley: Fiction. Let's stop with the comparisons to Russell Wilson. Manziel doesn't have the same maturity, which is ultimately going to be his downfall. He is more like Brett Favre -- without the cannon for an arm. Where Manziel is at his best is running around, which has become a recipe for disaster in the NFL. Michael Vick has played only one full season, and Robert Griffin III couldn't make it one season without getting hurt. It's a given that Manziel brings much-needed electricity to Cleveland. He just won't be bringing stability to the quarterback position.
Pat McManamon: Fact. The question, though, is when this happens. Manziel's learning curve is large, and he will do it amidst hoopla worthy of the Palace of Versailles. Manziel seems to be up to the challenge of the hype, but the Browns took a good first step with him by telling him Cleveland isn't Hollywood. A couple of his teammates said they were glad to have him, but it was "time to go to work." How soon Manziel simply concentrates on work and professionalism will tell how soon he turns the corner with the Browns.
@PatMcManamon #AFCN4downs No way, total fiction, too many risks based on lifestyle, type of play and lack of discipline.

- Ray (@Kov65Ray) May 13, 2014
---

AJ McCarron will be the Bengals' starting quarterback in 2015.
Brown: Fiction. He fell to the fifth round of the draft for a reason, and McCarron's drop reinforced the notion that his success at Alabama had a lot to do with the elite talent that surrounded him in Tuscaloosa. That doesn't diminish what he accomplished at Alabama, as McCarron ranks as one of the best quarterbacks in college football history. But plenty of quarterbacks who excelled in college did not translate into successful NFL quarterbacks, and I don't see McCarron as more than a backup at the next level. If Andy Dalton falls out of favor in Cincinnati, the Bengals will look elsewhere for his replacement.
Harvey:
Fiction. He won't be the starting quarterback next season because Andy Dalton will. The Bengals and Dalton's representatives have been working on a contract extension that could give the fourth-year quarterback a long-term deal that could help him earn a salary that would compete with the game's highest earners. He's hoping for an extension that could pay him nearly $20 million per year. The Bengals would like that number to be closer to $15 million. The two sides could soon find some common ground. Still, the fact McCarron is on the roster is telling. It's a sign the Bengals want Dalton to realize that they are serious about backing him up with a quarterback who they feel they could groom in future seasons. It's a fact that some years down the line McCarron could be Cincinnati's starter. But he won't be in 2015.
Hensley: Fiction. This is a tough one. The Bengals need to put more pressure on Andy Dalton, but McCarron isn't the one to do it. The best move would've been for the Bengals to take Teddy Bridgewater in the first round. If that had been the case, the answer would've been fact. Instead, the Bengals are left with the anti-Flacco. Dalton plays well in the regular season and chokes in the postseason. He hasn't just struggled. It's been meltdowns. McCarron has the championship pedigree, but his ceiling is backup quarterback. Dalton is going to be the starter in 2015, by default.
McManamon: Fiction. The Bengals were wise to draft McCarron. Andy Dalton needs competition and needs to be pressed. But the anti-Dalton hysteria is overblown and overdone. Dalton has taken the Bengals to the playoffs every year he's been in the league. He has 80 touchdowns compared to 49 interceptions. In his first three seasons. Only in this day and age of impatience and instant expectations is that not considered a very good start to a career. He needs to win a playoff game, yes, but so do the Bengals as a team. He is one of 53. Guys arrive at different times. Dalton will take care of things in his time, and the Bengals have handled him well. McCarron will push Dalton, which is good, but the job will be Dalton's.
@ColeyHarvey fact. Dalton will want more $$ than mike brown is willing to pay, and McCarron will prove to b adequate replacement

- Brett Stanko (@brettstanko23) May 12, 2014
---

The Ravens didn't do enough to help Joe Flacco after drafting defensive players with their first three picks.
Brown: Fiction: The Ravens did enough before the draft to help their franchise quarterback by re-signing left tackle Eugene Monroe and signing free-agent wide receiver Steve Smith, as well as tight end Owen Daniels. The Ravens essentially add a huge piece to their offense with the return of tight end Dennis Pitta, who missed most of last season with a hip injury, and Daniels will provide a nice complement to him. Smith is no longer an elite wide receiver but he can still play. He should help Torrey Smith and restore some of the swagger to the Ravens' offense. I also expect a bounce-back season from Ray Rice, who will be plenty motivated to prove he is still a featured back.
Harvey:
Fact. But this comes with a caveat. I don't think the Ravens should be admonished because they didn't make any offensive picks in those first three rounds. Why? Because their defense, which ranked 12th last season, still needed help as a result of having so many aging veterans. Good defense is, after all, what the Ravens are known most for having. Before joining the Bengals' beat, I covered two of the Ravens' picks, defensive tackle
Timmy Jernigan
and safety
Terrence Brooks
, while on the Florida State beat. Jernigan had some real questions during the pre-draft process, just like he did early his first season at FSU. Once he gets over the fact he's one of the young guys in Baltimore's locker room and takes on the persona of a leader, he should be just fine. Brooks was one of the best defensive backs in the draft and could be quite the option for the Ravens up top.
C.J. Mosley
also addresses a critical need at linebacker, and brings with him experience playing for championship-caliber teams. So these picks shouldn't be blasted because the Ravens got three good players. That said, by not taking a running back early or an offensive lineman to help address their protection issues, the Ravens put their quarterback in a real bind going into the season. Ray Rice's future both on- and off-field is still rather cloudy. Even if his legal matters clear up, will we see the Rice of old or the Rice of 2013 next season? (Rice of old was much better.) Baltimore ranked 29th in offense last season. The Ravens should have done more to address that early in the draft.
Hensley: Fact. The Ravens finished with the NFL's fourth-worst offense last season, and they came out of the draft with a blocking tight end, a small-school running back, a developmental guard and a seventh-round slot receiver. Ideally, the Ravens would've drafted a starting right tackle, a highly rated running back and a big target from the deepest wide receiver class in years. It's just difficult to bash the Ravens' front office. If they had gone offense with any of their first three picks, they would've been reaching. That's never a formula for success. In one way, you can say the Ravens did help out Flacco. By upgrading a defense that allowed the most fourth-quarter points in history, Flacco won't have to play catch-up as much late in games.
McManamon: Fact. The curious thing is the Ravens are relying on aged veteran Steve Smith and Ray Rice, whose off-field troubles are well documented. Ozzie Newsome is a very wise and sage team-builder, so it's borderline silly to question him. But Flacco is not Tom Brady. He needs talent around him to win. Because while he's paid like he's a superstar, he's not at the level of a Peyton Manning, a Drew Brees and a Brady. In a year or two, he won't even be on the level of an Andrew Luck. He's a very, very good quarterback, but he can't carry a team on his own. He needs a few more weapons around him.
@jamisonhensley Ravens addressed O in free agency period. I'd rather they do that, since Ozzie can draft D players better than O players.

- Bmore (@GoinRaven) May 12, 2014
---

Ryan Shazier will be the top defensive rookie in the AFC North.
Brown: Fact: Shazier has an opportunity to start right away, and he should at least play extensively in the Steelers' sub packages if he is able to learn Dick LeBeau's complex defense. LeBeau himself said the Steelers don't have the luxury of bringing along highly touted rookies such as Shazier slowly, so he should log plenty of snaps and crack the starting lineup sooner rather than later. Shazier has excellent speed, and he was highly productive at Ohio State, where he became just the 10th player in school history to lead the team in tackles in consecutive seasons. He provides the Steelers with a much-needed defensive playmaker and his skill set translates well to an NFL game that is becoming more wide open. This kid has future Pro Bowler written all over him.
Harvey:
Fiction. I only say "fiction" because I believe it's tough to say he'll truly be better than any other rookie in the division. After all, we're talking about a division that just gained the likes of Mosley, Jernigan and Brooks in Baltimore,
Darqueze Dennard
in Cincinnati and
Justin Gilbert
in Cleveland. There was a lot of elite defensive talent in the draft and Shazier was certainly a part of it. Perhaps because he has one of the best chances of playing regularly of all the rookies just drafted, an argument could be made that he will indeed be the top defensive first-year player in the AFC North. But for the sake of this exercise, I'm going fiction.
Hensley: Fiction. It was only a year ago when Jarvis Jones arrived with all of the hype. He ended up getting benched. This isn't unusual. Over the past nine years, only one Steelers rookie has started a full season -- center Maurkice Pouncey. So, this isn't a knock on Shazier. He has a lot of speed and a lot of potential. He should be a Pro Bowl player down the road. It just takes time to learn the nuances of a Dick LeBeau defense. History says Shazier won't make an immediate impact. The pick here for best rookie in the division is Ravens inside linebacker C.J. Mosley.
McManamon: Fiction. Ah, that Steelers optimism. There's nothing not to like about Shazier, or the Steelers, who draft well and play hard. But to automatically assume Shazier is the best defensive rookie in the AFC North ignores the fact that the other division teams took immediate defensive starters: Cleveland with cornerback Justin Gilbert, Cincinnati with cornerback Darqueze Denard and Baltimore with linebacker C.J. Mosely. All are expected to be immediate starters. All are extremely good players. What in the world makes it more likely that Shazier will be the best rookie other than he wears black and gold?
@ScottBrown_ESPN Kid can fly. Best A-B gap blitzer in draft. Also has some edge rush ability in sub. If they use him as a chess piece, YES

- Ed Coutu (@Ed_Coutu) May 12, 2014

NFL SCOREBOARD
Thursday, 8/28
WEEKLY LEADERS