Fan gets Lions Super Bowl tattoo
June, 13, 2014
6/13/14
12:30
PM ET
David Morian saw what happened in Seattle, how a man got a tattoo on his body proclaiming the Seahawks as Super Bowl champions before it happened and then watched as his body art turned prophetic.
So, he figured, why not try it with the
Detroit Lions
.
Yes. The Detroit Lions. The team that has never played in a Super Bowl, has won one playoff game in the Super Bowl era and only has one winning season this century.
So Morian went into radio station WRIF in the Detroit suburb of Ferndale, Michigan, on Friday morning to get a tattoo of the Vince Lombardi trophy,
the Detroit Lions logo and "2015 Champs" scrawled at the bottom of it
on his left leg during the "Dave and Chuck The Freak Morning Show." This, though, was no radio stunt.
[+] Enlarge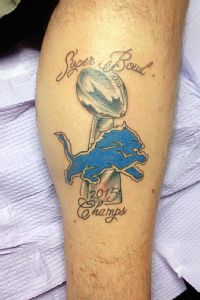 Courtesy of 101 WRIF/Greater Media DetroitEvidenced by his Super Bowl trophy tattoo, Lions fan David Morian has high hopes for Detroit in 2014.
It actually happened. And it was the 23-year-old Morian's idea.
"Every year I go into every game watching on TV thinking they are going to win this game," Morian told ESPN.com Friday afternoon. "They have potential to do it every time. I don't have any second-guesses or thinking this was a bad idea because of the history.
"Everyone knows the history."
Everyone includes the radio hosts. Dave Hunter, one of the hosts, said the show initially tried to talk him out of getting the tattoo and thought he might back out of the idea. But Morian was undeterred. He heard jokes from friends and family, but he said none of them actually told him not to do it.
Not that the Grand Blanc, Michigan, native would have listened anyway. He said he thought the idea through and it actually went a couple of months between initially chatting with the station and inking his body.
"He was confident that he wanted to do it, so he decided he would get it done and we thought, well, we'll try and maybe not make it a curse by lining it up on Friday the 13
th
and the night of the Super Moon," Hunter said. "Maybe the stars align and it won't curse the Lions in any way, shape or form.
"We figured we'd get it done today."
Morian wasn't surprised by the reaction -- mostly negative -- either. He figured that was going to happen, but he is also trying to reverse the Lions' well-documented failures and bad luck throughout the franchise's history.
And if the Lions, who have played in only one conference championship game during the Super Bowl era and have only one playoff appearance since the turn of the century, don't win the Super Bowl? Morian has a plan for that.
He won't eliminate the tattoo. He will just have a tattoo artist cross out the current year -- and put the next year underneath. Hunter said his show will pay for the tattoo adjustment every year they have to. Morian said he's going to do the corrections every season, even if it has to wrap around his leg.
"Correct," Morian said. "But they are going to win."
The familiar mantra remains.
Listener David getting this tattoo on the show today. Bad idea. #Lions pic.twitter.com/Mb2tW59ehy

— Lisa Way (@Lisawaay) June 13, 2014
.