One of the NFL's most prolific running backs over the past two seasons will be unemployed at week's end.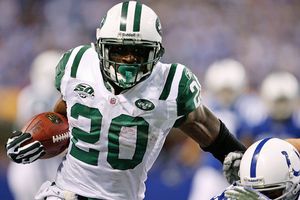 Andy Lyons/Getty Images
Despite a strong season, running back Thomas Jones will be released from the Jets.
As expected, the New York Jets have released Thomas Jones rather than pay him a $3 million roster bonus. He also was scheduled to make a $2.8 million base salary in the final year of his contract.
"We have informed Thomas Jones and his representatives that we will release him on March 5," Jets general manager Mike Tannenbaum said Monday in a statement released by the club. "Thomas joined us three years ago and has been a productive, passionate leader both on and off the field who has served as a positive influence for our younger players. We were fortunate to acquire Thomas and wish him the best."
Jones rushed for 1,402 yards and a club-record 14 touchdowns. But he'll turn 32 at his next training camp, making the money tough to spend.
"When I got here Thomas immediately became one of my guys," Jets head coach Rex Ryan said in the statement. "He had one of his best years last season -- might have been his best. I have a tremendous amount of respect for him as a player and a person. As I said the other day, this is one of the tough decisions we had to make for our organization."
The emergence of running back Shonn Greene in the playoffs and Leon Washington's encouraging recovery from a broken leg allowed the Jets to release Jones with conviction.
Jones looked worn toward the end of the season, but Greene took over the main backfield duties and was phenomenal, rushing 54 times for 304 yards and two touchdowns in three playoff games.
At the NFL scouting combine in Indianapolis on Saturday, Ryan was asked whether Greene could be the Jets' featured back.
"Well, I think we all saw what Shonn can be," Ryan said. "He carried the ball a zillion times, and he is a physical presence. But I love having depth at running back. Ideally, going into the season, we were hoping to have that 1-2-3 punch with Thomas, Shonn Greene and Leon Washington. Hopefully, Leon can come back from his injury. I think he will. I certainly wouldn't bet against Leon."