Roddy White carries Falcons to first place
October, 24, 2010
10/24/10
7:40
PM ET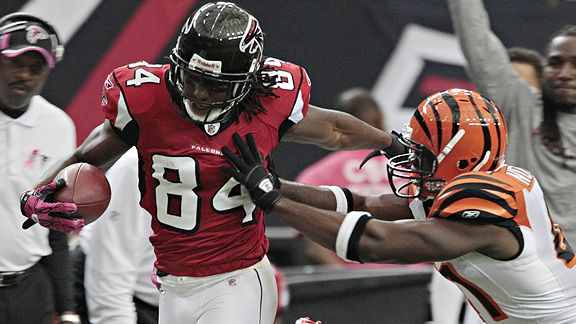 AP Photo/Dave MartinRoddy White caught 11 passes for 201 yards and two touchdowns to lead the Falcons.
ATLANTA -- Mike Smith, like a lot of NFL head coaches, is prone to starting statements with qualifiers. He leaves doors open, except in the rare cases when he's absolutely sure what he's saying can't backfire.
Take the case of how Smith started to talk about wide receiver
Roddy White
after the
Atlanta Falcons
defeated the
Cincinnati Bengals
,
39-32
, at the Georgia Dome on Sunday.
"Roddy, probably, to this point has been the best player on our football team through the first seven games,'' Smith said.
By the very next sentence, Smith was definitively eliminating the "probably."
"I don't think there's any doubt about that,'' Smith said. "He came into the season in the best shape he's ever been in. He's working hard and you're seeing the results of that hard work during the offseason out there on the field.''
Yes, White's performance has been so strong that even his coach will come out and say the wide receiver is the team's best player. I'll take it a couple of steps further. I'll go ahead and say (again) that White has been the best player in the NFC South this season. I'll even say White's been the league's most valuable player -- so far.
Consider this: If you take White's current numbers through the first seven games and project them over the rest of the season, he would have 112 catches for 1,707 yards and 11 or 12 touchdowns.
If you want to stay on the theme of numbers, let's do this. The Falcons are 5-2. No team in the NFC has a better record and they are in sole possession of first in the NFC South. Take White out of the equation and it's doubtful the Falcons even have a winning record.
At least on Sunday, there's no way the Falcons could have won without White. His story was the story of the Falcons in this game. The final numbers show White had 11 catches for 201 yards and two touchdowns. That included an amazing one-handed catch that you'll probably see several times on the highlight shows. And there was that 46-yard touchdown bomb from a team that hasn't thrown many bombs this season.
"We hadn't thrown a pass out of that personnel [grouping] yet,'' White said. "When we came up to the line, everybody was in the box and it was a prime opportunity to throw over their heads.''
White and the Falcons were way over the Bengals' heads for most of Sunday, and with a 24-3 halftime lead, it seemed logical to assume Atlanta would cruise. But it's never logical to assume anything when the Bengals are involved.
In one of the most bizarre quarters of the season, the Bengals outscored the Falcons 22-0 in the third quarter and took a 25-24 lead.
"The third quarter was a little bit Halloweenish,'' Smith said. "It wasn't a treat. It was a trick. But I thought that our guys played extremely hard the entire ballgame. They didn't put their head down. They showed a lot of resiliency in terms of the adversity that took place during that third quarter.''
White, of course, was the central point in all of that. At the end of the third quarter, White made perhaps his first bad play of the season. He caught a pass, but was stripped of the ball by Cincinnati cornerback
Adam Jones
, who picked the ball up and ran for a 59-yard touchdown to give the Bengals the lead.
"How do you shake it off?'' White asked. "You just have your quarterback go out there and keep throwing you the ball.''
I'm guessing the orders actually came from Smith and offensive coordinator Mike Mularkey. But you can't question White these days, because it sure looks like he's the one calling the shots in Atlanta. But it really doesn't matter because what White said was the prescription is exactly what was used.
[+] Enlarge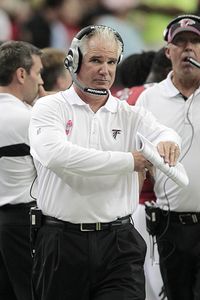 AP Photo/Dave MartinFalcons coach Mike Smith says receiver Roddy White has been the team's best player this season.
When Atlanta's offense came back on the field, the first pass
Matt Ryan
threw was to White. It went for 13 yards. Six plays later, White caught an 11-yard touchdown and, then, a pass from Ryan for the two-point conversion. The Falcons never trailed again.
"I was upset,'' White said after he was asked to temper his initial comment on the fumble to something that could actually be used in family newspapers and websites.
So what do White and the Falcons do when they get upset? We'll let White take you inside the huddle for the drive following his fumble.
"It was calm …calm, cool and collected,'' White said. "It was like, 'We've got to go down there and score, make sure we get a touchdown.' "
Once upon a time, early in his career, there were plenty of people within the Falcons' organization who thought White was going to end up being a huge bust. He really didn't do much in his first couple seasons and there were questions about his work ethic and focus.
A subtle change started in the otherwise disastrous 2007 season in which coach Bobby Petrino ended up quitting. Petrino's brother, Paul, was the receivers coach that year and he got White to trim his weight. That resulted in a 1,000-yard receiving season and the progress has accelerated since Smith and Ryan arrived in 2008.
Nobody talks about White being a bust anymore, and his work ethic and focus have become unquestionable. When Halloween seemed to be coming early for the Falcons on Sunday, White was the one who stepped in and restored world order. With a little help from the
Cleveland Browns
, who upset the
New Orleans Saints
, White put the Falcons in sole possession of first place in the NFC South.
"I think it talks about his resiliency and his ability to overcome an adverse situation,'' Smith said. "It was a very good play by their defensive back to strip the ball. But he was able to put that one behind him. That's one thing, when you're a receiver or a quarterback or a player that's out front all the time, you have to put those good plays and bad plays behind you and move onto the next one. Roddy has been able to do that.''
That's why White clearly is Atlanta's best player, the best player in the NFC South and maybe, just maybe, the best player in the NFL.

NFL SCOREBOARD
Thursday, 9/11
Sunday, 9/14
Monday, 9/15
WEEKLY LEADERS