The Cowboys prompted Eagles' changes
December, 9, 2010
12/09/10
2:30
PM ET
By
Matt Mosley
| ESPN.com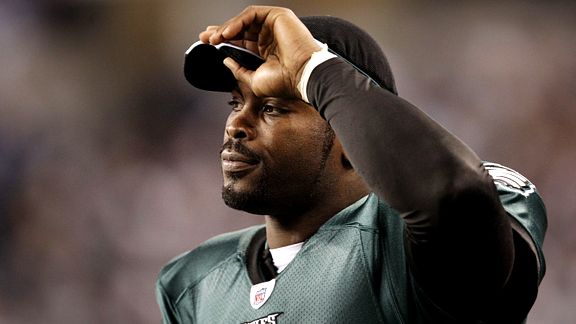 Jamie Squire/Getty ImagesMichael Vick played sparingly in last season's playoff loss to the Cowboys. He figures to have a much greater role when the two teams meet Sunday night.
IRVING, Texas -- The
Philadelphia Eagles
would have made some changes after the 2009 season even had they not been thoroughly embarrassed in back-to-back losses to the
Dallas Cowboys
at the end of the season. But those beatings in Cowboys Stadium -- by a combined score of 58-14 -- prompted the Eagles to turn their roster upside down.
Coach Andy Reid tried to downplay the three losses to the Cowboys last season, but all it takes is one look at this Eagles defense to see the impact the defeats had on the organization. When I made a trip to Philadelphia this past offseason, I stopped by new general manager Howie Roseman's office and saw just how obsessed this team was with closing the gap with the Cowboys. Like most general managers, Roseman had his team's two-deep chart in a prominent spot on the wall. But next to it was the Cowboys' depth chart.
I certainly didn't see the Giants' and Redskins' charts anywhere in the office, so it was obvious what was happening. Reid and Roseman made their biggest move when they traded quarterback
Donovan McNabb
to the Redskins on Easter, but that was only the tip of the iceberg. The Eagles have released or traded 21 players from last year's playoff roster. They addressed a ridiculous situation at safety by spending the second-round pick they acquired for McNabb on the University of South Florida's
Nate Allen
. He has responded by locking down a starting role and placing himself in the conversation for defensive rookie of the year.
Reid won't admit it publicly, but the Eagles were humiliated by the way the Cowboys dominated them at the line of scrimmage in those last two games. Then-Cowboys offensive coordinator Jason Garrett hadn't been known for his balanced game plans, but the Cowboys rushed for 377 yards in those games and
Tony Romo
threw for 523. Even without starting right tackle
Marc Colombo
, the Cowboys' offensive line manhandled the Eagles' defensive line and neutralized the pass rush. When Roseman started moving all over the draft board to acquire more picks, it was with the Cowboys in mind. On Wednesday, Reid was asked whether those back-to-back losses to the Cowboys crystallized his decision to overhaul the roster.
"I wouldn't say that. I would be slamming the guys that were here and I wouldn't do that," Reid said. "I will tell you, though, we were blessed to have that many picks. Whether those guys were here or weren't here. Then we created some trades, but we had this good nucleus of picks that, if we did it right, we felt like we could bring in some young guys to add to the roster. I thought we needed that. Howie thought we needed that, and that's kind of the direction that we went there."
Owner Jeff Lurie joked with me this past offseason that it was basically the same roster that had finished the 2008 season by beating the Cowboys 44-6, but he knew the changes needed to be made. Eagles fans view the Cowboys in much the same way the Red Sox view the Yankees, which is to say there's some hatred involved. The fact that Philadelphia entered the last regular-season game of 2009 with an 11-4 record meant nothing two weeks later.
Now the Eagles will encounter a team in a far different situation. The Cowboys have rallied under Garrett, but they still have a 4-8 record and are in the unfamiliar spoiler role. Cowboys owner Jerry Jones still thinks he has the makings of a playoff contender, but it obviously won't happen this season. But the Cowboys could gain a measure of redemption if they were to beat the Eagles in front of a national television audience Sunday night.
Safety
Gerald Sensabaugh
told me Wednesday that the players are motivated to try to secure the jobs of Garrett and interim defensive coordinator Paul Pasqualoni. And he also tried to put his finger on why the Cowboys were superior to the Eagles at the end of last season.
"I think there's something to be said for knowing your opponent really well," Sensabaugh said. "We had a good idea of when they were going to take shots in certain areas. And it probably helped us that those receivers are a little undersized. But with
Michael Vick
back there, it's a different situation."
And more than any of the moves made on draft day, it is Vick who has given the Eagles their identity. When he's on the field, there's a belief among the players and coaches that no one can stop them. And unfortunately for the Cowboys, Vick has a pretty good memory of what happened at Cowboys Stadium last season.
"If you can't get motivated by that, then I don't know what will motivate you," Vick told reporters
during a conference call Wednesday
. "I wasn't even on the field playing and it hurt me deeply, so I can imagine what the guys who were out there are feeling now. You know it's not a get-back game, it's a game we've just got to come back out and win."
When you spend an entire offseason trying to catch up with one of your rivals, I think it's more than a "get-back" game. The Eagles are looking for validation Sunday night in Dallas. And with Vick at the helm, I like their chances.