Posted by ESPN.com's Mike Sando
INDIANAPOLIS -- The last time a current NFC West general manager watched his team draft a receiver among the top five overall choices, the Arizona Cardinals emerged with Larry Fitzgerald.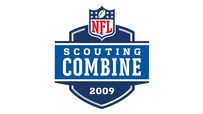 If only it were that easy every time.
The Cardinals' division rivals lack dynamic wideouts now that Torry Holt is winding down in St. Louis.
Unlike Arizona, which rode Fitzgerald to an appearance in Super Bowl XLIII, the rest of the NFC West is drafting early enough to consider the top college receivers.
The Rams, picking second, or Seattle Seahawks, picking fourth, could be in position to select the top receiver in a potentially deep 2009 class.
Even the San Francisco 49ers, with the 10th choice, could get that chance depending upon how perceptions change over the next two months.
No team drafted a receiver in the first round last year. The Rams made Donnie Avery the first receiver drafted when they selected him 33rd overall.
"There are some wide receivers certainly capable of being taken in the first round, much moreso than last year," Tennessee Titans general manager Mike Reinfeldt said.
Capable does not necessarily mean worthy. Teams consistently use first-round choices on receivers without realizing the anticipated payoff.
For every Fitzgerald, whom the Cardinals selected third overall in 2004, there's a David Boston, whom the Cardinals selected eighth overall in 1999. And a Koren Robinson, whom the Seahawks selected ninth in 2001.
Teams have more often found success selecting receivers at the very top of the draft, at least in recent seasons. The first receiver chosen generally justifies the investment:
2008: Avery. Caught 53 passes as a rookie.

2007: Calvin Johnson, Lions. Averaging more than 1,000 yards per season with 17 total touchdowns.

2006: Santonio Holmes, Steelers. Averaging 16.6 yards per catch and coming off a Super Bowl MVP performance.

2005: Braylon Edwards, Browns. Inconsistent, but has been to a Pro Bowl.

2004: Fitzgerald, Cardinals. Arguably the best receiver in the game.
Picking receivers at the top doesn't ensure success. Charles Rogers (2003), Donte Stallworth (2002) and David Terrell (2001) were the first receivers selected in the three draft classes prior to the ones listed above.
In general, the first receivers selected will possess the full package: size, speed, hands and a high level of college production. The second wave tends to feature players who have shown tremendous potential without the consistency. By the third round, teams are selecting receivers seemingly blessed with all the necessary skills, minus the breakaway speed.
"Receivers wise, you look at players who can get downfield and separate," Falcons general manager Thomas Dimitroff said. "That's a big thing. You get a football player out there at the receiver position who can run, stop, start and adjust. Has skills to catch and run. He can run and ad-lib, and I think that will project to whatever system that you have."
Niners general manager Scot McCloughan was with the Seahawks when they selected Robinson from North Carolina State. McCloughan's teams had never selected a receiver in the first round before making that pick. His teams haven't selected one in the first round since. He thinks the evaluation process lends itself to making mistakes at the position.
"You sit back and you'll watch every ball thrown to him or every catch he has, so your first impression is like, 'Damn, look at the speed, look at the quickness, the big-play ability,'" McCloughan said. "Your impression is made up already that this guy is an impact player, this guy is going to look good in a uniform and this guy is going to make big plays for you."
The evaluation process for other positions tends to be different. Teams watching offensive tackles tend to watch every offensive snap when evaluating a game. Teams watching receivers tend to focus on plays involving those receivers.
"You lose sight of the overall package," McCloughan said. "With receivers -- and we do it, everybody does it -- you get into, 'Show me what he can do.'"
Since 1999, NFL teams have drafted 11 receivers between the seventh and 10th overall choices. The list features Ted Ginn Jr., Troy Williamson, Mike Williams, Reggie Williams, Terrell, Robinson, Travis Taylor and Boston. Roy Williams, Plaxico Burress and Torry Holt were exceptions in becoming consistently productive. Ginn still has time.
"The number of busts at receiver is incredible," McCloughan said. "It's not just recently. It's over the history of the draft."
Current NFC West general managers -- Billy Devaney in St. Louis, Tim Ruskell in Seattle, McCloughan in San Francisco and Rod Graves in Arizona -- have generally avoided receivers early in the draft. The chart below shows where in the first round their t
eams have selected receivers since 1994:
McCloughan's teams have generally targeted receivers in the third, fifth and sixth rounds. Devaney's teams have hit the second, fourth and sixth rounds hardest.
Ruskell's teams have drafted four receivers in the top three rounds, but none in the fourth or fifth. Graves' teams have selected receivers in every round, including as many in the first round -- three -- as his counterparts' teams combined (see chart below).
ESPN's Mel Kiper Jr. projected two receivers among the top 16 picks in his most recent mock draft. Todd McShay of Scouts Inc. projected three receivers among the top 18 picks. His recent mock draft sent Michael Crabtree to the Oakland Raiders at No. 8 -- before news of Crabtree's foot injury broke Saturday morning -- and Missouri receiver Jeremy Maclin to the 49ers with the 10th overall choice.
McShay on the 49ers at No. 10: QB Mark Sanchez will be in the discussion, but can the 49ers afford to spend another high first-round pick on a quarterback who has only 16 collegiate starts under his belt? That's just not good business. Assuming they go in a different direction, Maclin would be high on the list because he's one of only a few individuals in this year's draft capable of providing the home-run-hitting ability the Niners lack on the perimeter.
Expect McCloughan to guard against falling for raw ability if the 49ers do decide to draft Maclin or any other receiver in the first round.
"It takes a lot of time to get through [every play]," McCloughan said. "The one thing I don't mind is [watching] every ball thrown to him. Catch, no catch, bad throw, good throw, doesn't matter. You can't lose sight of what he does on the back side, what he does down the field blocking. That all plays into it."