Time for Saints' defense to step up
January, 12, 2012
1/12/12
1:00
PM ET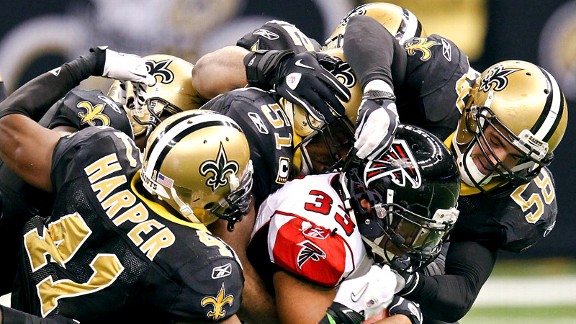 Derick E. Hingle/US PresswireThe Saints' defense has been stingy at times this season. But it needs more consistency to win a title.
For two full seasons now,
Drew Brees
has been showing up for games with a kid brother in tow.
We're talking about the New Orleans Saints' defense. It's just good enough to go out there and stand on the field while Brees is on the sideline. But it's not nearly good enough to win games on its own.
Brees and the offense have done the heavy lifting last season and this season, and the Saints have won a lot of games. But, if the Saints are going to get back to being Super Bowl champions like they were in the 2009 season, the little brother is going to have to grow up in a hurry and carry his weight.
Maybe it comes in Saturday's divisional-round playoff game at San Francisco. Maybe it comes in the NFC Championship Game or maybe it comes in the Super Bowl.
But, at some point this postseason, the New Orleans defense is going to have to stand on its own two feet if this team is going to win a championship. I'm not saying the Saints need to go out and totally shut down an offense. That's not the style of defense they used in their championship season and it's not what's between the lines of their defensive playbook.
I'm simply saying there will come a point in time when the New Orleans defense has a chance to step up and make a play or two. If it happens, the Saints can win a championship. If it doesn't, they'll have another premature exit like they did last year when they went out to Seattle and couldn't tackle
Marshawn Lynch
.
San Francisco's
Frank Gore
can run the ball and quarterback
Alex Smith
suddenly has figured out how to be efficient. The 49ers are quickly becoming famous for their defense, a unit that ranked fourth in the NFL this season.
If that San Francisco defense can just slow Brees a little bit, this may be one game where New Orleans' offense isn't enough. You can go 13-3 in the regular season with no defense, but you're bound to need some stops or some turnovers in the postseason.
If the Saints don't realize that, they're going to get burned. It seems everybody's talking about the matchup between Brees and the San Francisco defense. Brees re-wrote the passing record books and the 49ers' defense gets compared to teams like the 1985
Chicago Bears
. Once in a while, there's even a bit of talk about the San Francisco offense, but there really hasn't been much said about the New Orleans defense.
That's something the New Orleans defense has noticed.
"We're very prideful being professional athletes and we want to make sure that we all give the best possible effort and are getting the best possible results we can get,'' New Orleans cornerback
Jabari Greer
said. "You want to be seen as the better unit. We realize the challenge that we have against these guys this week. They have a good defense. They have a good offense. They really are a different team than what we saw in the preseason. As a defensive unit, we know that we have a challenge on our hands. As our coach says, the best defense will win the game."
Greer was referring to defensive coordinator Gregg Williams, not head coach Sean Payton, whose mind clearly is focused on the offensive side of the ball.
There used to be an adage in the NFL that said defense wins championships. It's been forgotten in recent years as rules have become friendlier for offenses. But I think you still need a little help from a defense to win a championship.
Is the Saints' defense good enough to do that?
Well, the numbers aren't pretty. The Saints were No. 24 in total defense during the regular season. They ranked No. 12 against the run and No. 30 against the pass.
But it's pretty clear what the Saints need to do defensively. They just need to look back to 2009. That's the year Williams joined the staff and practices suddenly became a lot more interesting. Williams preached the importance of getting turnovers and any time a ball hit the ground or was up for grabs in practice, the Saints' defense pounced on it, even if it wasn't loose until long after the whistle.
The Saints rode that attitude almost as much as they rode Brees that season. They produced 39 turnovers and ranked No. 2 in the league.
But the turnovers have disappeared the past two seasons. The Saints tied for 20
th
in the NFL with 25 turnovers in 2010. In 2011, they were No. 31 with just 16 turnovers.
The reasons for the defensive decline are something of a mystery. The Saints have put a lot of currency into their defense in recent years. They drafted defensive end
Cameron Jordan
in the first round this year. Cornerback
Patrick Robinson
came in the first round in 2010, safety
Malcolm Jenkins
in 2009 and defensive tackle
Sedrick Ellis
in 2008.
But the sacks, interceptions and fumble recoveries have all dipped since 2009 and that's puzzling. Besides all the first-round picks, there is other individual talent on this defense. Middle linebacker
Jonathan Vilma
is the unquestioned leader, strong safety
Roman Harper
is a big-time hitter and defensive end
Will Smith
has been to the Pro Bowl in the past.
The current San Francisco offense won't be confused with the high-powered passing attacks teams like the Saints, Packers and Patriots have had such success with. The 49ers rely on Gore and the ground game as the foundation of the offense and Smith and the passing game are asked to make big plays on occasion.
"A team like this is almost a throwback team so to speak,'' Vilma said. "For them to line up like they do, they are going to punch you in the mouth and do it for 60 minutes. That's to their credit and they deserve credit for the way they've played and the style that they play and it will be a big challenge for us."
It's ironic Vilma used the term "throwback.'' The Saints don't have to suddenly become a defense that's going to shut down an offense for an entire game. They just have to get back to something like they were in 2009.
Make a key stop or two. Come up with an interception or recover a fumble.
If the defense can just do a little of that, Brees can take care of the rest.