Where will Tim Tebow land?
March, 20, 2012
3/20/12
11:17
AM ET
By
ESPN.com staff
| ESPN.com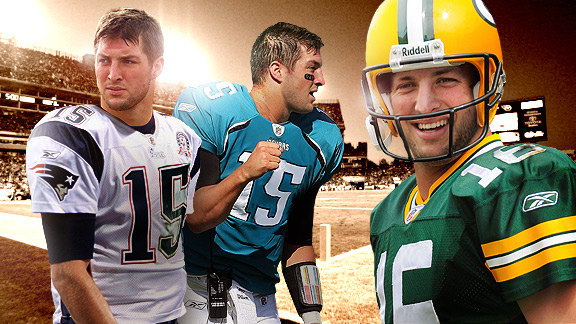 ESPN.com IllustrationMight Tim Tebow end up in one of these uniforms when the dust settles following the Denver Broncos' acquisition of Peyton Manning?
Where Tim Tebow might land
Coming on the heels of Peyton Manning deciding to sign with the Denver Broncos, our NFL bloggers examine potential landing spots for Tim Tebow, if Denver trades or releases the polarizing quarterback.
Team
Analysis
MEDIUM PROBABILITY
David Garrard's signing probably lowers the chance of Tebow landing in Miami. But with an unpredictable front office and ownership, you never know for sure. -- James Walker
There's no room for Tebow on the roster, but you can't count the Patriots out. Offensive coordinator Josh McDaniels drafted Tebow with a first-round pick in Denver. McDaniels believed in Tebow before anyone else. -- JW
I don't see it, but Gary Kubiak likes to develop quarterbacks and he doesn't have a third after the team cut Matt Leinart. -- Paul Kuharsky
Everyone sees the connection. He's a local guy. The Jaguars could use a ticket-sales boost. But owner Shad Khan would have to force Tebow on general manager Gene Smith. -- PK
Longtime Aaron Rodgers backup Matt Flynn has departed via free agency, and there is some question about whether No. 3 quarterback Graham Harrell is ready to make the jump to No. 2. Coach Mike McCarthy praised Tebow prior to the 2010 draft, but this seems an unlikely pairing. -- Kevin Seifert
LOW PROBABILITY
Andy Reid and Marty Mornhinweg can never be ruled out when an intriguing QB project is on the market. And Tebow would be a backup who has started and won NFL games, which is what the Eagles are looking for. If he were a cheap free agent, maybe, but hard to see them trading anything for him. -- Dan Graziano
Kevin Kolb and John Skelton are the top two quarterbacks. The Cardinals need to find out what they have in Kolb, first and foremost. -- Mike Sando
The 49ers traded up in the second round of the 2011 draft for a mobile quarterback, Colin Kaepernick. It's doubtful they would suddenly turn to Tebow. -- MS
The Rams are moving forward with Sam Bradford as their starting quarterback. They would be better off with a more experienced backup. -- MS
Pete Carroll values mobility in a quarterback, but the position appears set for now with Matt Flynn, Tarvaris Jackson and Josh Portis, a third-stringer the team would like to develop. -- MS
New general manager Phil Emery has assembled a quarterback depth chart of Jay Cutler, Jason Campbell and Josh McCown. -- KS
Matthew Stafford and Shaun Hill are entrenched as the top two quarterbacks on the depth chart. Offensive coordinator Scott Linehan is one of the best QB coaches in the league, but it's unlikely he'll get his hands on Tebow. -- KS
Coach Leslie Frazier is committed to Christian Ponder, Joe Webb and Sage Rosenfels as his top three quarterbacks. The Vikings don't have the time necessary to spend developing Tebow. -- KS
It's hard to imagine because the Saints have Drew Brees at quarterback. But coach Sean Payton has such an innovative offensive mind that he could probably come up with a way to get Tebow on the field for a few plays a game. -- Pat Yasinskas
Coach Chan Gailey runs a spread offense, but this one is too pass heavy for Tebow. Buffalo also has a gimmick player in WR/QB Brad Smith. -- JW
The Jets have enough distractions and don't need to add Tebowmania. The team is committed to Mark Sanchez for at least two more years and recently signed Drew Stanton as the No. 2 quarterback. -- JW
Chiefs general manager Scott Pioli is a fan of Tebow as a person, but I doubt the Chiefs would be interested in this pairing. -- Bill Williamson
New Oakland head coach Dennis Allen saw the value of Tebow in 2011 when he was the Broncos' defensive coordinator. But I don't see where this pairing would make sense. -- BW
Can you imagine Tebow playing with one of his biggest critics in the NFL, Terrell Suggs? I can't either. The Ravens are looking to sign Joe Flacco to a long-term deal, and they repeatedly say they are happy with backup Tyrod Taylor's potential and growth. -- Jamison Hensley
Cincinnati is set with Andy Dalton as its starter and Bruce Gradkowski as its backup. Dalton was the AFC's best rookie passer, and Gradkowski has proven he can win games in relief. -- JH
This is the one team in the division that needs an upgrade at quarterback, but the Browns appear ready to go into camp with a quarterback competition between Colt McCoy, Seneca Wallace and a rookie draft pick. Plus, team president Mike Holmgren expressed concern about Tebow's mechanics coming out of Florida. -- JH
The Steelers didn't show Tebow much respect by the defenses they played against him in the playoff game this past season, so I can't imagine they would have him high on their free-agent quarterback list. Pittsburgh hasn't settled on a backup to Ben Roethlisberger, but it'll likely be either Byron Leftwich or Charlie Batch. -- JH
The backup to Andrew Luck needs to have some of Luck's qualities and have experience beyond what Tebow would bring. -- PK
They missed on Peyton Manning, but are perfectly happy with Matt Hasselbeck and Jake Locker as their QBs. Rusty Smith could stick as the third. -- PK
NO CHANCE
They're deep at quarterback with Kyle Orton signed to back up Tony Romo. Orton probably still sees Denver-area pro-Tebow billboards in his nightmares. The Cowboys don't need to invite extra controversy. -- DG
Set at quarterback with a two-time Super Bowl MVP who never misses a game. Kevin Gilbride's offense loves to throw the ball downfield, which isn't a Tebow strength. Up tight against the cap. -- DG
They're going to draft their QB of the future next month with the second pick in the draft. They don't need Tebowmania breathing down his neck. And can you imagine Mike and Kyle Shanahan changing their offense to fit Tebow the way John Fox and Denver did last season? Me neither. -- DG
The Falcons are set with Matt Ryan for the next decade or so. They don't use any gimmicks in their offense and they don't want to take the ball out of Ryan's hands. -- PY
The Panthers have one of the league's top young quarterbacks in Cam Newton. They're hoping they don't have to look for another quarterback for another 12 to 15 years. -- PY
From a business standpoint, it might make some sense for a franchise that struggles to sell tickets to bring Tebow back to Florida. From a football standpoint, it makes absolutely no sense. New coach Greg Schiano and offensive coordinator Mike Sullivan plan to run a conventional offense. They've already got a drop-back passer in Josh Freeman and they don't want to cause any headaches for a player who needs to bounce back from a rough 2011 season if he really is going to be their franchise quarterback. -- PY
The Chargers will have no interest in Tebow at all. -- BW
BLOG ARCHIVE:
CATEGORIES: