Questions linger for Saints
April, 12, 2012
4/12/12
9:46
AM ET
There appears to be a bit of a lull in the saga of the
New Orleans Saints
and their bounty program. Don't get too used to it.
This is just a momentary pause, and new developments could come at any time. Things could start happening again as soon as Thursday, and continue right up until the start of the NFL draft.
There is no timetable, because there are many variables, and the involved parties have to work through a lot of different issues. But Monday's start of the offseason workout program provides a sense of urgency on a couple of fronts, and the start of the NFL draft in two weeks looms as another potential marker.
[+] Enlarge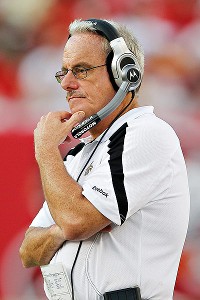 AP Photo/Margaret BowlesThe Saints could turn to Joe Vitt to run the team in Sean Payton's absence this season.
Between now and Monday, the Saints almost certainly will name an interim head coach. Sean Payton's suspension starts Monday, and someone has to be in charge when the players return to the team's facility to begin their workouts. Bill Parcells has said he's not going to be the coach. I know Parcells has a history of changing his mind, but I don't see that's happening this time. He's 71 and says he's going to
stay retired
.
The Saints have to start moving on, and indications are that they're preparing to move assistant head coach Joe Vitt into Payton's role. The problem with that is Vitt will begin his own six-game suspension at the start of the season. But Vitt has been Payton's top assistant since 2006, and he knows the system and the personnel as well as anyone. Putting Vitt in charge of the offseason program and letting him run the team through training camp and the preseason makes a lot of sense, because he'll do things the way Payton did. In that scenario, the Saints would likely elevate another assistant into the top job when Vitt's suspension begins. But Vitt could get the team ready for the season, and take control again after the sixth game.
The other issue that could see some clarity by Monday is the contract situation of quarterback
Drew Brees
. He currently is carrying the franchise tag, and hasn't signed his tender. Brees
was non-committal
when asked if he'll show up at the facility Monday. I'm thinking the Saints continue to talk to Brees and his agent about a long-term deal. It would make lots of sense to get something done by Monday, so this team can start the offseason program on a positive note and start the healing process.
The other issue that's hanging out there is the possible suspension of players for their role in the bounty program. The timetable on that is even less clear. The NFL has given no strong indication of when it plans to announce any potential disciplinary action. News could come this week or next. It almost certainly has to come before the NFL draft begins April 26. We don't know how many current Saints could be suspended or how long those potential suspensions will last. It's only fair that the Saints know what they're up against before the draft. If they're going to be without several players for multiple games, they'll need to find replacements, and the draft is one way to accomplish that.