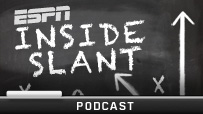 Almost lost in the excitement over the San Francisco 49ers' memorable victory at Detroit last season: two turnovers from quarterback Alex Smith, including a lost fumble on the team's first offensive play.
The third-quarter interception Smith threw resulted from what the quarterback called a miscommunication. It led to a go-ahead touchdown for the Lions early in the fourth quarter.
The 49ers have largely eliminated such miscues. San Francisco has not suffered a turnover in its past 26 quarters. That's a pattern, not solely turnover randomness.
"You've got to have a really smart quarterback to do it, and Alex Smith is a really smart quarterback," Lions coach Jim Schwartz said Wednesday.
You might have noticed Smith's name appearing on the MVP Watch list this week. Kevin Seifert and I discussed what makes an MVP candidate, among other subjects, during our latest Inside Slant podcast.
We also took a harder look at officiating with specific mention of the Seattle-Arizona game, offering a theory as to why the referee reversed himself and incorrectly restored a timeout to the Seahawks.