Camp Confidential: Baltimore Ravens
July, 29, 2013
7/29/13
11:00
AM ET
OWINGS MILLS, Md. --
Baltimore Ravens
coach John Harbaugh didn't waste any time to set the theme for the defending Super Bowl champions' training camp.

"First post-practice press conference of the 2013 season," Harbaugh told reporters last week, "so I guess that means that 2012 is behind us, right?"
No one in the organization is wearing a Super Bowl ring. The two Lombardi trophies won by the Ravens aren't sitting in the lobby of the team's headquarters. Even two of the most prominent players in franchise history --
Ray Lewis
and
Ed Reed
-- are gone.
This is more than distancing themselves from a Super Bowl hangover. The Ravens have undergone a Super Bowl team makeover. This is a new team with new challenges. In many ways, this is a new era.
When you factor in the season-ending injury to tight end
Dennis Pitta
, the Ravens will take the field in 2013 with 10 different starters from the team that beat the
San Francisco 49ers
in the Super Bowl in February; six on defense, four on offense. How drastic is this change? No previous Super Bowl champion has lost more than five starters the following year.
The Ravens can't say this was part of some grand scheme to be revolutionary. A salary-cap crunch forced some tough decisions and even tougher divorces. Many have counted out the possibility of a Ravens repeat because of these losses. The Ravens, though, believe they remain a title contender because of the players who will replace them, such as pass-rusher
Elvis Dumervil
, defensive lineman
Chris Canty
, safety
Michael Huff
and first-round pick
Matt Elam
.
"Every move we've made is what's best for our football team to be the best team we can. Period. ... We'll just see where that takes us," Harbaugh said. "I'm pretty excited about it. I think we can be a very good football team. But we have to prove it."
THREE HOT ISSUES
1. Figuring out the No. 2 wide receiver
. The one move that the Ravens will second-guess is trading wide receiver
Anquan Boldin
to the 49ers for a sixth-round draft pick because he refused to reduce his $6 million salary. This leaves the Ravens with
Torrey Smith
as the No. 1 wide receiver and a bunch of question marks.
The favorite at this point is
Jacoby Jones
, but team officials won't just hand the job over to him. Jones will have to win it. You get a feeling that the team would like one of its young receivers to take over the No. 2 spot, which would allow Jones to focus on his true strengths. Jones was a difference-maker in the playoffs as a field-stretching No. 3 receiver and a returner. But there's no proven experience beyond Smith and Jones, the only two wide receivers on the Ravens' roster who have caught more than seven passes in a season.
"I will play whatever role they want me to play," Jones said. "If they want me to hand out the water, I will be the best water boy there is."
The other receivers are making an impression early in camp.
Tandon Doss
, who is considered more of a possession receiver since being a fourth-round pick in 2011, looks more explosive.
Deonte Thompson
, who went undrafted a year ago, has the talent to develop into a starting receiver in this league, but he has to be more consistent. And
David Reed
, who has been an afterthought in this competition, has bulked up.
[+] Enlarge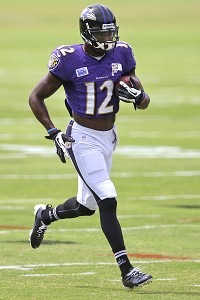 AP Photo/Patrick SemanskyJacoby Jones looks to move up the depth chart following the departure of Anquan Boldin.
All four receivers have rotated into the starting lineup in the first week of camp. "That's exactly the plan," Harbaugh said. "We're rotating those guys by period usually, and we're giving them all a chance to work with the first group and work with Joe [Flacco]."
2. The state of the offensive line
. Most of the players blocking for Flacco right now likely will not do so in the regular-season opener in Denver. Right guard
Marshal Yanda
(offseason shoulder surgery) is on the physically unable to perform list. Left guard
Kelechi Osemele
is sitting out some practices after tweaking his hamstring. And left tackle
Bryant McKinnie
is working himself back into shape.
The only starters in front of Flacco right now are right tackle
Michael Oher
and first-year starting center
Gino Gradkowski
, who has to prove he's strong enough to be a center at this level. As a result, Flacco isn't getting much time in the pocket, not even on his three-step drops. Although none of these injuries is serious, the Ravens need to get this group together as quickly as possible to get their chemistry back.
The reason the Ravens believe this offensive line will be better than last year's group is Juan Castillo. His title is run game coordinator, but make no mistake, he's running this offensive line. Castillo is a respected offensive line coach from his days with the
Philadelphia Eagles
, and he's also one of the more motivated coaches in the league after being fired following two tumultuous seasons as the Eagles' defensive coordinator. Several teams were interested in adding Castillo to their staff, but Harbaugh had an edge. He's known Castillo since he was in fifth grade.
3. Availability of inside linebacker Jameel McClain
. The original prognosis was that McClain would be sidelined for six months after suffering a spinal cord contusion. Nine months later, McClain still hasn't been cleared for football activities. This is a big deal for the Ravens, even though McClain is hardly a big name around the league. While the spotlight has been on Lewis for years, McClain has been an underrated force in the middle for Baltimore.
McClain's slower-than-expected recovery hasn't put the Ravens in a vulnerable position. Already knowing the team had to replace the retired Lewis, Baltimore drafted
Arthur Brown
in the second round, and the team has been impressed with his ability to run sideline to sideline. Then, after the team's first choice at inside linebacker,
Rolando McClain
, abruptly retired, the Ravens signed
Daryl Smith
, a free agent from the
Jacksonville Jaguars
, on June 5.
If McClain is unable to return for the regular season, Smith would start at inside linebacker with Brown. The Ravens had been monitoring Smith throughout the offseason, but they wanted to wait until June to sign him so he wouldn't count against them getting an additional compensatory pick next year.
"Daryl is a very intelligent player," Ravens defensive coordinator Dean Pees said. "You can tell he's a veteran. He plays smooth. He's got heavy hands. He's a tough guy. I really love his personality -- fits right in with our room."
REASON FOR OPTIMISM
[+] Enlarge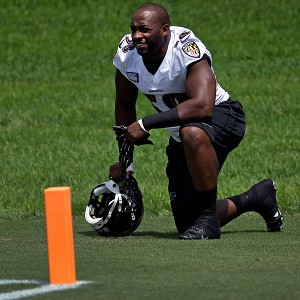 AP Photo/Patrick SemanskyPass-rusher Elvis Dumervil is one of the Ravens' high-profile offseason acquisitions.
On paper, the Ravens have a better defense than a year ago. That's not saying much. A franchise known for stopping the run and picking off quarterbacks, the Ravens finished 17th in the NFL in yards allowed (5,615) last season. Baltimore improved its pass rush by replacing
Paul Kruger
with Dumervil. The Ravens upgraded their defensive line with Canty. They also added two well-rounded safeties in Elam and Huff to fill the void left by Reed, who struggled with tackling, and Pollard, who struggled in pass coverage. Plus, the Ravens get back their best cornerback in
Lardarius Webb
, who suffered a season-ending knee injury in October.
Offensively, the Ravens have the potential to improve if Flacco has truly turned the corner. Last season, after Jim Caldwell took over as offensive coordinator, Flacco averaged 283.8 yards per game with 15 touchdowns and one interception. If Flacco can carry this over in 2013, the Ravens will have a top-10 offense.
REASON FOR PESSIMISM
There are always going to be doubts about Flacco because he hasn't been able to play at a high level for 16 games in the regular season. The pressure will be on Flacco to produce after he signed a $120.6 million contract this offseason. He'll have to validate that contract with not much of a supporting cast this season. He lost his top two targets from a year ago in Boldin and Pitta. They accounted for 36 receptions in the postseason, which was nearly half of Flacco's completions.
Where Flacco will miss Boldin and Pitta the most is in the red zone. The Ravens will be vulnerable if they are scoring field goals instead of touchdowns. There will be little room for error for the Ravens, who have to hold off the upstart Bengals to win the AFC North for a third straight season.
OBSERVATION DECK
One apparent change since Caldwell took over as offensive coordinator was moving Flacco out of the pocket more. It was more of the same in the first couple of practices in camp. Flacco, though, doesn't want to be the next RG III. "You hope that you have some room in there to move around and look for guys," Flacco said. "But I'm not going to make a living doing it. And if I was to do that, I'd probably be out of the game after like four of them and on the sideline for the rest of the season."

Terrell Suggs has never been a workout warrior, but he took his training to another level this offseason. He reported to training camp in the best shape of his 11-year career. Some of the motivation comes from the fact that he wants to reclaim his title as best defender in the league after an Achilles injury slowed him down in 2012. He also wants to prove his worth to the Ravens considering his base salary in 2014 jumps to $7.8 million.

Another veteran who is in much better shape than a year ago is Haloti Ngata, who is working at a new position at nose tackle. The addition of Canty allowed Ngata to move inside, where Ngata is more comfortable and effective. It's clear Ngata is carrying fewer pounds when you see him run down the line and disrupt the stretch running plays.

Let's not write off Ray Rice too quickly. There's been a clamoring in the Ravens' fan base for backup running back Bernard Pierce to get more carries because he had a stronger finish to last season than Rice. Although the Ravens are wise not to overload Rice, he's still the best playmaker at running back. Look at fourth-and-29 in San Diego if you need a reminder. Pierce has shown the ability to get yards on defenses after the Ravens have worn them down. He's not in the same league as Rice yet.

Rookie fullback Kyle Juszczyk has to prove himself as a lead blocker, especially in short-yardage situations. Some have already been calling for the Ravens to re-sign Pro Bowl fullback Vonta Leach. But Juszczyk has been effective as a receiver. One local reporter nicknamed him "Little Pitta."

The natural assumption is that the signing of Dumervil will reduce playing time for outside linebacker Courtney Upshaw. That may not be true. The Ravens like Upshaw's impact on run defense and his ability to set the edge. It wouldn't surprise me if Upshaw played a majority of the early downs, which would keep Dumervil fresh as a pass-rusher.

It was last year at this time when the Ravens were deciding between Justin Tucker and Billy Cundiff at kicker. Harbaugh made the right move in going with Tucker, but it was far from a no-brainer. Tucker was an undrafted rookie and Cundiff was a year removed from being a Pro Bowl kicker. Tucker didn't convincingly win the battle, but it was enough to beat out Cundiff, who had that painful miss in the AFC Championship Game the previous postseason. Tucker converted 30 of 33 field goals (90.9 percent), the second-best success rate for a rookie in NFL history. He made a 58-yard field goal in training camp this year. Cundiff, meanwhile, is with the New York Jets, his third team since getting cut by the Ravens in August 2012.