NFLN Says: Impossible to stop the pass?
September, 18, 2013
9/18/13
11:00
PM ET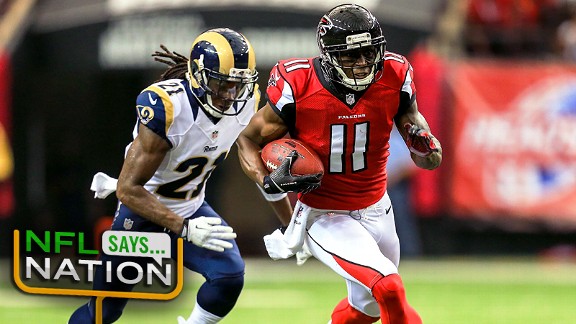 Daniel Shirey/USA TODAY SportsAtlanta's Julio Jones matched the best game of his career with 182 yards receiving, including an 81-yard touchdown catch, against the Rams in Week 2.
The NFL's shift toward the passing game has been an indisputable notion for years. So what is different about the first two weeks of the 2013 season? This, my friends, has been a trend on speed.
We've seen history made and once-in-a-generation performances rendered commonplace. Rushing totals are at a 12-year low, but you won't hear complaints from either the league office or television networks.
The highlights:
The league set single-week records in total passing yards (8,143) and touchdowns (63) in Week 1. Through two weeks, teams have passed for 16,355 yards and 111 touchdowns, the most-ever over that span.

Five quarterbacks have thrown for at least 400 yards in a game without an interception, one off the record for an entire season. (It happened six times in 2012 and 2010.)

There have been more than four times as many 100-yard receivers (38) as 100-yard rushers (nine) through two weeks. (And one of those 100-yard rushing games was by a quarterback, the Oakland Raiders' Terrelle Pryor.) That differential of 29 is by far the highest over the first two weeks of any NFL season, according to the Elias Sports Bureau. The largest differential before this season was 19 in 2011.

Teams have combined for 36 rushing touchdowns and an average of 3.8 yards per carry, the lowest such marks through two weeks since the 2001 season.
Is this the simple result of scheme development over time? Or has the NFL effectively made the pass impossible to defend? ESPN's NFL Nation spent Wednesday asking questions around the league's practice facilities. Here are some of the answers:
"I think it does favor the offense. It does make it extremely difficult. The rule changes all seem to work against the defense. I understand that safety is the main concern, but the rules seem to go against defensive players, and defensive players can get hurt, too."
--
NaVorro Bowman
, 49ers linebacker
---
"It's hard, especially with the rule changes and especially with the kind of athletic receivers coming out [of college]. You've got a lot more basketball-type-bodied receivers who can run, who can jump. They don't have to run precise routes. You can just throw it in an area and understand they're going to come down with it. That's what makes it harder."
--
Ike Taylor
, Steelers cornerback
---
"I don't think so. I think defensive players are more than equipped to stop high-powered offenses and receivers and things like that. I think the rules make it difficult in a sense, in certain ways that you have to hit and things like that. But I don't think it makes it impossible."
--
Victor Cruz
, Giants wide receiver
---
"The way the rules are set up, it definitely caters to a pass-friendly-type offense. I guess they took a survey and fans want to see touchdowns and fans want to see a lot of scores. The defense is kind of out there for show. We're going to continue to compete and play football. Even with all of those things stacked against us, you still got to be successful."
--
Terrell Suggs
, Ravens linebacker
---

"It still comes down to tackling and stuff. If you are able to tackle and cover and all that stuff you can say what you want about rule changes but you're not going to make excuses. Everybody is dealing with it. You have just got to find a way to get stuff done. ... I can't control any of the rules stuff so I try not to worry about it."
--
James Laurinaitis
, Rams linebacker
---
"I'm one of those types of guys I don't even think about them. The rules don't even exist to me. I just play and you have to tell me on the go. If I'm bumping a guy too much or something like that, the ref has to warn me in the games because if not I'm just going to continue to play my game the way it is, and I'm sure everybody else does it the same way. It's all about the officiating crew you have during the game."
--
Johnathan Joseph
, Texans cornerback
---
"Defensive backs have always been at a disadvantage. They main thing now is to focus on your tackling technique and make sure you stay within the rules. But sometimes with these rules you can do everything right and it's unavoidable that you'll get flagged."
--
Chris Maragos
, Seahawks safety
---
"I think if you would have asked me a couple of years ago I would have said, 'Yeah.' But now, I don't think so. We've adjusted to it. We kind of take it for what it is and we don't look at it anymore as them giving an advantage to the offense. So I don't really think so. Like I said, if you had asked me a couple of years ago, it might have been different. But it's a pretty level playing field right now."
--
Leon Hall
, Bengals cornerback
---
"I don't think at any time a passing game can just be unstoppable, because you can throw any coverage to stop a certain passing team if you want to. So as far as being impossible to stop? No, I don't think so."
--
Denarius Moore
, Raiders wide receiver
---
"It's making it tough. Like they said, a lot of times with hitting quarterbacks and defenseless receivers, the strike zone is getting so much smaller because there are going to be a lot more injuries because the strike zone is so much lower now. It's a give and take. That's kind of where it's at right now."
--
Jairus Byrd
, Bills safety
---
"They haven't made it impossible, but they've made it tough. It's exciting to see people score, that's what the fans want to see, that's who pays. It's very tough. There's a lot of defensive pass interferences, you can't touch them after 5 yards, you can't get away with a lot of pushing, you really can't lay people out on the sidelines like a lot of old players used to do, like Ronnie Lott and those guys, they couldn't play [like that] nowadays. It's tough. but you just have to adapt. You have to learn how to adapt."
--
Coty Sensabaugh
, Titans nickelback
---
"It's easy to say that, but then you look at it and see some teams who have played great pass defense and not given up a lot of yards. I watched the Seattle-San Francisco game the other night and Seattle's defense was outstanding. They didn't give up many yards passing the ball. I watched the Pittsburgh-Cincinnati game on Monday night and you have two defenses that did a good job for the most part. When you look at it you can say there are rules in play that helps the offense out because you cant hit a receiver like you used to. But that's been like that for the last couple years and we've been able to adapt to this, and one thing you have to do as a defensive player is find a way to still do your job."
--
London Fletcher
, Redskins linebacker
---
"I wouldn't say it's impossible, but it's tougher, definitely tougher. It's the way the league is now. We play in an offensive league, so they're going to protect offensive players. I don't really care for it. But that's how it is."
--
Ryan Pickett
, Packers defensive tackle
---
"Theyre trying to [make it impossible to stop the pass]. They're trying to do that, and that's simply because [they], as well as the fans, they want to see the scoreboard light up. But us on defense, we don't want to see that happen. Our goal is to prevent them from scoring, prevent them from catching the ball. ... You have to watch where you hit them, you have to do this, you have to do that, all these rules against us and we can still play the game and hold teams to 17 points, or hold teams to 10 points. It just shows what type of ability we have."
--
Tracy Porter
, Raiders cornerback
---
"I don't want to say impossible but they are making it very difficult for guys in the secondary, just defense period to cover these guys and do your job while doing it. ... They're making it definitely hard on the defense and I mean it seems like each year it's becoming more and more of a passing league, which guys are getting a lot faster and stronger and quarterbacks want to throw it more and air it out more. You got to kind of balance the field. You got to do something for the defense where we feel like we can still stop these guys without being in the back of our head thinking the refs are against us. It's the rules. It is what it is now."
--
Jerraud Powers
, Cardinals cornerback