Dan Graziano's MVP Watch
September, 25, 2013
9/25/13
12:10
PM ET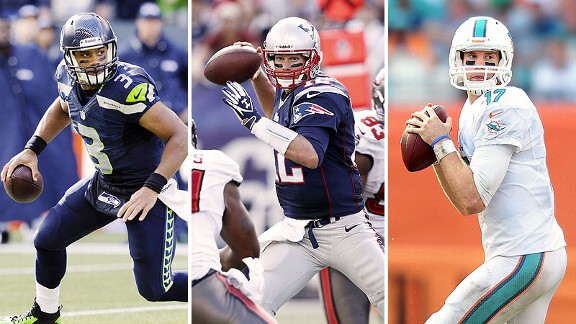 USA TODAY SportsRussell Wilson, Tom Brady and Ryan Tannehill put their 3-0 records on the line in Week 4.
"What's the deal, Watch?" all the old-schoolers are asking. "What's with all the quarterbacks?"
Well, old-schoolers, first of all, thanks for figuring out how to get online so you could read the Watch. And second of all, it's a quarterback award, right? Yeah,
Adrian Peterson
won last season, but he practically had to set the league record to win it, and all the big rushing-yards guys this season either play on losing teams or aren't trustworthy. Example: The Watch can't put
DeMarco Murray
on here for fear he'll injure himself high-fiving a teammate in celebration. It's too risky. The Watch can't have that on its conscience.
The MVP Watch heads into Week 4 of the NFL season as a boat race, because the guy holding on to the top spot is playing like a player
John Elway
couldn't even create in "Madden" if he hacked the game. But there are 10 spots on this list every week, and at this point in the season, the bulk of them go to the quarterbacks of the league's 3-0 teams.
There are still seven unbeaten NFL teams, much to the alarm of Nick Buoniconti and his 1972 Dolphins teammates, and all of their quarterbacks are playing well (although some are being asked to do less than others are). Two of those unbeatens play each other on "Monday Night Football" in New Orleans, so at most there will be six 4-0 teams demanding spots on next week's list. And at least there will be one. But the Watch can't predict games. Heck, the Watch can't even really predict the MVP award. Best the Watch can do is take a look at what's going on and tell you what's most likely. And this week starts once again with the safest bet going.
CMP: 89
ATT: 122
PCT: 73.0
YDS: 1,143
TD: 12
INT: 0
ANALYSIS
Rinse, repeat. This didn't make the final cut for ESPN's "The Book of Manning," but there was a stretch from 1988 to 1990 during which Peyton got the toy from the cereal box before his brothers could get it 56 out of a possible 58 times. The guy is just an absolutely ruthless competitor.
CMP: 81
ATT: 127
PCT: 63.8
YDS: 1,021
TD: 6
INT: 4
ANALYSIS
They say a drastically improved defense is the reason the Saints look so much better this season than they did last season, when their defense gave up more yards than any other in the history of the sport. Brees thinks that's cute, and he really appreciates those guys, many of whom weren't even getting recruiting letters yet the last time he wasn't the Saints' MVP.

CMP: 73
ATT: 127
PCT: 57.5
YDS: 698
TD: 5
INT: 2
ANALYSIS
What is remarkable is the man's preparation and focus, which remain at peak levels even as he spends his days shuttling back and forth from the Patriots' practice facility to deliver chicken noodle soup and back massages to Rob Gronkowski. "Sure you're not ready yet, Rob? No, yeah, of course, take all the time you need. Just saying, you know ... Week 4. Right, right. You're right, of course. Hot towel?"
CMP: 47
ATT: 73
PCT: 64.4
YDS: 664
TD: 6
INT: 2
ANALYSIS
Colin Kaepernick is 1-2. Robert Griffin III is 0-and-III. Andrew Luck is taking a short, happy rest along the early stretch of his road to Canton while his team invests in a running game. Meanwhile, Wilson has the helm of the best team in the NFC and is doing it basically without any receivers. He's a third-round magician who could not care less that all those other guys got picked on Thursday night instead of Friday.
CMP: 68
ATT: 101
PCT: 67.3
YDS: 693
TD: 6
INT: 3
ANALYSIS
This is the same guy who got called all kinds of unflattering names for standing on the sideline during the NFC Championship Game a few years back? This guy who lowers his (throwing!) shoulder at the end of a critical run play instead of sliding, leveling a defender in crunch time against the Steelers? Marc Trestman hasn't just turned Cutler into a more efficient passer, he's turned him into a superhero. It's the Adventures of Surly-Man!
CMP: 71
ATT: 107
PCT: 66.4
YDS: 827
TD: 4
INT: 2
ANALYSIS
The Watch has this dream in which Tannehill and Russell Wilson are in the same fantasy football league, and one of them has Andrew Luck and the other has Robert Griffin III, and they trade them every week but never put either one in the lineup, instead leaving them on their benches while they start themselves. Neither one ever wins his fantasy league in this dream, but they call each other every Sunday night and laugh about their real-life win-loss records and those other guys' 2012 draft positions. The Watch also has that dream where he's falling, and right before he wakes up, he falls past Mercury Morris, who's saying, "Wait. I'm seriously going to have to root against the Dolphins this season?"
CMP: 77
ATT: 121
PCT: 63.6
YDS: 1,020
TD: 6
INT: 2
ANALYSIS
His best receiver is Megatron, and Matt always wanted to be a Transformer, too, but he liked Bumblebee and Reggie Bush already called Bumblebee. Optimus Prime was Megatron's enemy, so that doesn't work, and besides, some people once tried to use that one for Andre Johnson so it would just be weird. So Matt is thinking Soundwave because he had kind of an administrative role with the Decepticons and he's the quarterback so that might be kind of cool. But he's still working it all out.
TACK: 16
AST: 1
SACK: 7.5
FF: 1
FR: 2
PD: 3
ANALYSIS
The only non-quarterback on this list, which makes Alex Smith the only 3-0 quarterback who's not. Smith gets a home game against the Giants this week, so he won't be able to say next week that he didn't get his chance to shine. Meanwhile, Houston had more sacks last week against the Eagles than the Giants have had in the past nine months. He takes Dontari Poe's place as the Kansas City defense's representative on the MVP Watch, although Poe was great last week and so was Eric Berry. Maybe Berry will get on the list next week after his two interceptions against Eli Manning. What? Too soon?
CMP: 83
ATT: 115
PCT: 72.2
YDS: 771
TD: 6
INT: 1
ANALYSIS
The Pro Football Code of Homogeneity requires the Watch to present Romo's history of poor performance in must-win games as freestanding evidence that he'll never win one. Hogwash! His 72.2 completion percentage this season is better than anyone else's but Peyton Manning's. Six touchdowns against one interception. His only loss is by a point on the road to the unbeaten Chiefs. And his team is going to clinch its division by December. (Fun fact: "Hogwash" is what they used to call it when the Redskins' offensive line showered.)
CMP: 81
ATT: 122
PCT: 66.4
YDS: 1,057
TD: 8
INT: 3
ANALYSIS
The Watch still believes Rodgers is the best quarterback in the league, and that the Packers will end up a strong contender to represent the NFC in the Super Bowl before this is all said and done. The Watch also believes we'll all someday live together in peace and harmony in a world in which human decency trumps petty self-interest. The Watch only recently found out about the Easter Bunny, but that doesn't matter. Rodgers on an MVP list is cash money, right? And at least he can't lose in Week 4.
NFL SCOREBOARD
Sunday, 2/2
WEEKLY LEADERS