Dan Graziano's MVP Watch
October, 2, 2013
10/02/13
12:15
PM ET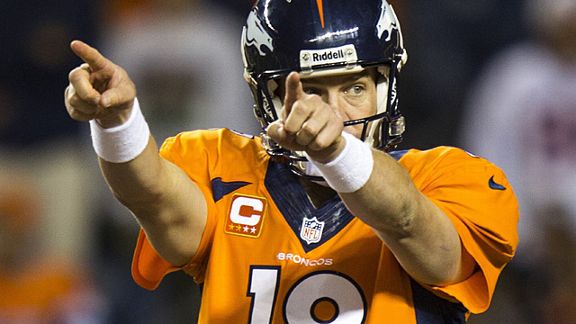 Kent Nishimura/Colorado Springs Gazette/MCT via Getty ImagesThe early signs point to another MVP award for Denver Broncos quarterback Peyton Manning.
By now you know the central tenet of the MVP Watch, which is that MVP candidates play on winning teams. You can argue all you want about the relative value of players such as
LeSean McCoy
and
Matt Ryan
, but they're simply not going to get consideration from MVP voters if their teams lose more games than they win. Unfair? Maybe. But it's like the Watch tells the two little pocket watches when they get upset that someone's got something they don't: Life's not fair. Eat your food.
So one of the first things the Watch does every Tuesday morning is look at the standings, and lo and behold, this Tuesday morning showed exactly 10 NFL teams with winning records. "Wow," the Watch said to itself. "There are 10 spots to fill and 10 teams with winning records? Almost too perfect, right?" (The Watch received no answer, because it was talking to itself.)
Without further ado, here is the Week 5 MVP Watch, which begins the way they all have since before the season even started -- with the guy in Denver who's trashing the playground and making the other kids cry.
CMP: 117
ATT: 156
PCT: 75.0
YDS: 1,470
TD: 16
INT: 0
ANALYSIS
Bill Davis is trying to run a 3-4 defense in Philadelphia with 4-3 players who quite frankly weren't all that great when they played a 4-3. Manning's Sunday performance against Davis' defense, which included three consecutive 80-yard touchdown drives on which the Broncos never faced a single third down, wasn't "maybe we're doing this wrong" discouraging as much as "maybe I should have gone into vacuum cleaner repair" discouraging. Things should get better for Davis in the coming weeks, but the only hope for the rest of the teams on the Broncos' schedule is that they find a way to change the rules of football to make it more difficult for Manning.
CMP: 111
ATT: 166
PCT: 66.9
YDS: 1,434
TD: 10
INT: 4
ANALYSIS
Did you ever get too good at a video game, to the point that it's not fun anymore, so you end up making new rules for yourself just so it's challenging again? Last week, Brees decided to play a game of "Madden," as himself, where he threw the ball only to backs and tight ends and absolutely not Marques Colston. Arbitrary, sure, but it's the kind of thing to which hard-core gamers can relate. Brees just had his televised on "Monday Night Football."

CMP: 93
ATT: 158
PCT: 58.9
YDS: 1,014
TD: 7
INT: 2
ANALYSIS
Inside Gronkowski home. A phone rings. "Hello?" Yeah, Rob? It's Tom. I did just like you said, Rob. A hundred yards each for Thompkins and Edelman. Wasn't easy, but I did it. So, you coming back now? "Hmm. A hundred for Thompkins, huh? What'd you do? Throw him 11 and he caught six?" Yeah, something like that. Like I said, wasn't easy. So whaddaya say? We're 4-0! "Did you steal the Cleveland Browns' letter opener from Belichick's desk yet?" Aw, come on, Rob! No way you were serious about that! You know he's got that three-headed dog guarding the office! "Sorry, Tommy. No letter opener, no Gronk. Good luck in Kansas City." We're in Cincinnati this weekend. "Same difference."
ATT: 48
YDS: 254
AVG: 5.3
LNG: 37
TD: 1
ANALYSIS
Matt Stafford was on this list last week, but the Watch is of the belief that, if Stafford were in charge of the MVP Watch, he'd rank Bush second in the league behind Manning. The Watch can't do that, because of the brilliant and decorated quarterbacks of the 4-0 teams that are in the 2 and 3 spots. But the Watch totally gets the point of Stafford's imaginary internal monologue, which is that Bush is the big, fancy sports car that has to spend more time in the shop than you like but is just so much darn fun when it's running that nothing makes you happier.
CMP: 59
ATT: 96
PCT: 61.5
YDS: 787
TD: 6
INT: 3
ANALYSIS
The numbers are not there. The Watch isn't going to lie to you and tell you Wilson has MVP stats, because he doesn't. If Manning's numbers met Wilson's numbers on the playground, Wilson's numbers would come away with no lunch money and their tightie-whities pulled all the way up over their heads. But every time the Watch watches Wilson it sees a cold-blooded winner who can lead a 98-yard touchdown drive on the road in Houston to cut a two-touchdown lead in half in the fourth quarter and help bring his team back in a game it could easily have lost and no one would have given him a hard time about it. You know, just to pull a random example out of the air.
TACK: 18
AST: 1
SACK: 7.5
FF: 1
FR: 2
PD: 3
ANALYSIS
Of all the Chiefs' front-seven defensive players who spent Sunday afternoon treating the Giants' offensive line like papier-mache bowling pins, only one is leading the league in sacks. Houston didn't add to his total this week, and nose tackle and MVP Watch Week 3 alum Dontari Poe made a case to return to the list. But Houston was awesome and disruptive and so far leads a crowded list of MVP candidates on that Kansas City defense.
CMP: 82
ATT: 128
: 64.1
YDS: 918
TD: 5
INT: 2
ANALYSIS
The Watch likes everything about Luck except his beard. The color is great, but doggone, that thing is scraggly. And just because you're 24 and you feel like letting it fly doesn't mean you don't have to trim and sculpt that thing every now and then. Seriously, Drew. Talking like two minutes every three days with an electric trimmer, is all. The Watch can call him Drew because if you and the Watch were drafting right now, the Watch would take Luck with the first pick and let you have the next four.
ATT: 69
YDS: 320
AVG: 4.6
LNG: 55
TD: 3
ANALYSIS
Jay Cutler will be back. The Watch believes this. Cutler and Marc Trestman are a match made in some sort of weird, bizarro football heaven where no one ever speaks to each other and each of them is convinced the other is the only one who's ever really understood him. But Cutler remains Cutler, which means every now and then he's going to have a game in which he turns the ball over four times and the Bears lose for that reason. On weeks such as those, if the Bears need an MVP candidate, Cutler has to go to timeout while Forte and his 4.6 yards-per-carry average hold the spot.
CMP: 69
ATT: 111
: 62.2
YDS: 721
TD: 6
INT: 0
ANALYSIS
It's weird to put someone on this list and know, for a stone-cold fact, that he won't be back on it for at least a month. But Locker's hip injury can't obscure what he has done to help the Titans get to 3-1, and if you're picking an MVP candidate for the Titans at this point, he's the guy. Theoretically, if they go 0-3 or 0-4 while he's out, that should underline his value and strengthen his candidacy. But you know that's not the way it works. So enjoy this, Jake. Print out a copy and hang it on the fridge, and perhaps the Watch will see you again in November.
CMP: 93
ATT: 142
PCT: 65.5
YDS: 1,076
TD: 5
INT: 5
ANALYSIS
Tough to pick any Dolphin after what they put on film Monday in New Orleans. But they are 3-1, and getting waxed in New Orleans isn't the most shameful thing any team has ever done. Tannehill gets a mulligan because he has developed well this year as a passer and a leader, and he has done it with an offensive line that appears to hate his guts. Seriously. Eli Manning called Tannehill last week with the number for a good rib cartilage guy. Hang in there, Ryan," Eli said. We're all in this togeth… oof! That one hurt!"
.