NFLN Says: Can Luck be Manning?
October, 17, 2013
10/17/13
9:00
AM ET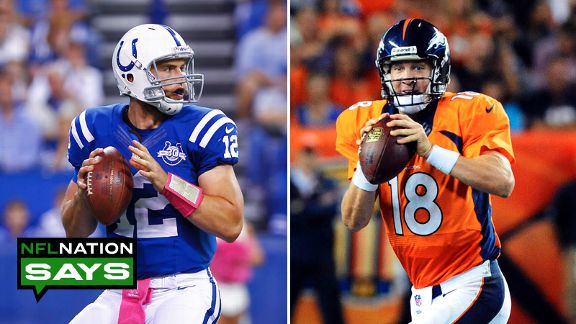 Getty ImagesAndrew Luck has shown some of same skills as Peyton Manning. How do they compare?
The past, present and future quarterbacks of the
Indianapolis Colts
will meet Sunday night at Lucas Oil Stadium, and ESPN's NFL Nation spent part of this week asking players if
Andrew Luck
is the next
Peyton Manning
.
Most of us should agree: There will never be another quarterback with Manning's combination of instincts, football intelligence, pocket presence and quick release. Let's not bother with that discussion. But can Luck provide the same essential service to the franchise? Will he guide the Colts at a high level through parts of two decades, as Manning did from 1998-2010?
Luck is off to a good start, having won 15 of his first 22 NFL games. Nine of those victories have come via game-winning drives in the fourth quarter, a topic we will inspect later this week, and he currently is the league's fourth-ranked quarterback via
Total QBR
. If he continues on that path, history tells us the Colts would have accomplished a rare feat in modern NFL history.
The chart illustrates the immediate transition from each of the nine Hall of Fame quarterbacks whose careers began after 1980. (We took the liberty of adding
Brett Favre
, eligible in 2016, as a 10th entry. Manning would be No. 11.) Usually, these transitions have failed and teams have taken decades to find a true franchise replacement. (Think: Terry Bradshaw to
Ben Roethlisberger
in Pittsburgh, Dan Fouts to
Philip Rivers
in San Diego and -- yes --
John Elway
to Manning in Denver.)
In some cases, they're still looking. (We're looking at you, Miami and Buffalo.)
The
Green Bay Packers
have proved to be the exception. If
Aaron Rodgers
plays out his seven-year contract, the Packers would have achieved 28 consecutive years of elite quarterback play from him and Favre. Can Luck be the Colts' version of Rodgers? Will he add a two-decade career on top of Manning's tenure?
Here's what ESPN's NFL Nation found:
"It's tough to get into comparisons. Peyton is arguably the greatest quarterback of all-time. But I think Andrew has done some really good things so far on a team that's asked a lot of him. So he's done a really good job for them."
--
Miami Dolphins left tackle Jonathan Martin (protected Luck at Stanford)
---
"I think it's too much right now. Peyton is Peyton. You know, what he's done, he's set himself apart from a lot of people. Andrew Luck is in his second year and yeah he's done some great things, but you don't take a second-year guy and compare him to a guy that's done what Peyton's done."
--
Oakland Raiders free safety Charles Woodson
---
"I wouldn't call him the next Peyton Manning. He's the next Andrew Luck, and there's nothing wrong with that."
--
Chicago Bears linebacker Lance Briggs
---
"He does have a chance to have the same type of career as Manning. What I like about him is he is all football. It's all business. He is focused on the game. He has all the tools. He has that strong arm, but he is also very athletic and he runs hard and fast. He is very difficult to sack. He is well put together and he shrugs off tackles well. There's just a lot to like. It's early in his career, but what we we've seen. I really think he has a special career ahead of him."
--
San Francisco 49ers safety Donte Whitner
---
"Well, Luck, he's just a good young quarterback. I wasn't too sold on him when I first watched him, but to play against him and to see the poise that he does possess, it's different than a lot of the other young, quote-unquote good quarterbacks. I see why Indy drafted him. Not saying that I think they should have gotten rid of Peyton, at all, because he's a different specimen, he's on a whole other level. But a good young talent. He's going to be a very good quarterback in this league for a very long time"
--
Detroit Lions corner back Rashean Mathis
---
"That's saying a lot. He could be. He could be, yeah. But Peyton's a pretty special player. Probably the best in history. That's like saying there could be another quarterback like him who's the best in the history of football. It's a possibility, but that's again, saying a lot."
--
Houston Texans outside linebacker Brooks Reed
---
"After [our] game, I walked away saying this kid has the poise to be really good. ... I'm reluctant to compare anybody to Peyton Manning. Andrew Luck is obviously on his way to being special player but even reaching his potential, who's to say he'll be Manning, so I'm real reluctant to even go down that road."
--
Green Bay Packers defensive tackle B.J. Raji
---
"He's played maybe a year and a half of football, obviously he's extremely talented and he's gonna be a very good quarterback but we're talking about one of the best, if not the best quarterback of all time. He's had a great start to his career, there's no question about that. But there's a lot of football to be played until that talk is considered, I guess."
--
Texans inside linebacker Brian Cushing
---
"He's certainly a talented quarterback that's got a ton of upside. He's got all the attributes, but time will tell. I mean you're comparing him to Peyton Manning already? Would you compare him to a young Peyton Manning? Absolutely. But Peyton Manning now? I don't know. Time will tell."
--
San Diego Chargers outside linebacker Jarret Johnson
---
.