Dan Graziano's MVP Watch
October, 23, 2013
10/23/13
12:16
PM ET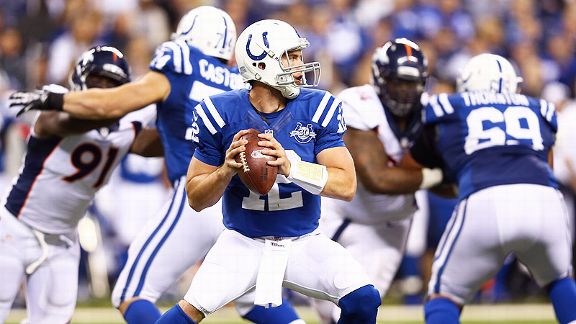 Andy Lyons/Getty ImagesA three-touchdown performance Sunday vaulted Andrew Luck into the MVP conversation.
The Watch was watching, of course, because what else would a Watch do? Sunday night's Incident in Indianapolis was pure, sweet MVP Watch gold, with the previously unchallenged front-runner getting schooled by a scruffy successor in the place he himself put on the map.
Andrew Luck this year has now beaten the Broncos, Seahawks and 49ers -- teams that have combined to lose exactly one other game besides those three. And as the clock ticked down at Lucas Oil Stadium and the realization set in that the man who has occupied the top spot on this list since the preseason would no longer be undefeated, the Watch turned into the Wonder.
Might it be that Luck actually deserves the top spot? He has two losses, sure, where others on the list have only one. But as mentioned, some of those guys' one is to Luck's Colts. He played a better game Sunday than Peyton Manning did, especially if you factor in steadiness and consistency from start to finish. He didn't have the "Star Wars numbers" Jim Irsay disdains in ungrateful retrospect, but he was much more in command of things than his predecessor was, and in the end he did win the game.
So what is a Watch to do? Keep Manning where he was, on the premise that one loss isn't nearly enough to wipe out a lead the size he'd built? Move Luck from off the list in Week 7 to the top of it in Week 8? Very curious. Very mysterious. Very ... aw, who's kidding whom here? You've already looked. Nobody reads this part. The Watch could give you the winning lottery numbers in this paragraph and all of the millions would roll over into next week. On with it, then. Fire up your inexplicable outrage, you impatient, destitute, list-addicted lemmings!
CMP: 207
ATT: 289
PCT: 71.6
YDS: 2,565
TD: 25
INT: 3
ANALYSIS
Yeah, he lost the game. But that can't obscure the fact that he remains first in passing yards per game by 40, touchdown passes by 10, passer rating by 12.2, Total QBR by 9.7 and no worse than second in completion percentage, yards per attempt and oh, yeah ... wins. Too often in NFL analysis, memories fail to stretch back further than six days. But sometimes it remains important to do what Michelangelo did when he got done painting the ceiling of the Sistine Chapel: Step back and look at the big picture.
CMP: 136
ATT: 224
PCT: 60.7
YDS: 1,574
TD: 10
INT: 3
ANALYSIS
That said, there's nothing not to like about this guy but the Etch-a-Sketch neck stubble. He throws for first downs. He runs for first downs. He's sipping an Arnold Palmer with his feet propped on a desk in the middle of Manning's shadow without a care in the world. The last time he lost two games in a row was four years ago to Oregon State and Arizona. He's 24 years old, and when you watch him play you periodically picture him in a gold blazer, telling people fanning themselves on folding chairs in late-summer Ohio heat that he couldn't have done it without his teammates and coaches.
CMP: 157
ATT: 237
PCT: 66.2
YDS: 1,958
TD: 14
INT: 5
ANALYSIS
The Watch pictures Brees and Aaron Rodgers watching Sunday night's game together and complaining the whole time about how inaccurate Manning and Luck were. "You see that, Aaron? That ball's supposed to hit T.Y. Hilton in the left ring finger, and it clearly got him in the pinkie." "Embarrassing, Drew. While you were on the phone, Manning threw one that hit Wes Welker on the upper right side of his '8' instead of the top line. How do these guys look their teammates in the eye in the film room? Your shot, by the way." And then the camera cuts to a far wall where there's a dartboard with about 100 darts all crammed into the triple-20.
CMP: 184
ATT: 249
PCT: 73.9
YDS: 2,132
TD: 15
INT: 5
ANALYSIS
Rivers' numbers just don't make any sense. Isn't Norv Turner supposed to be an offensive genius? Isn't "coach offense," like, the one thing you're sure Turner can do? Yet Rivers declined every year while Turner was there and under Mike McCoy he's completing 73.9 percent of his passes. He has thrown fewer incompletions in the past two games than Eli Manning threw Monday night in a win, and you know he's looking at the league passing leaderboard every week and thinking, "That's right! Who's the big winner from the 2004 draft now?" And even though it's obviously still Manning and the Giants, point is Rivers is having a really good year.
TACK: 21
AST: 2
SACK: 9
FF: 4
FR: 0
PD: 1
ANALYSIS
Justin Houston didn't do anything wrong, but Hali has eight sacks and four forced fumbles in his past four games, and it's just sort of his turn in the spot on this list reserved for a defensive stud on the league's last undefeated team. The Chiefs are the least 2013 team of all the good 2013 teams. They're 26th in passing offense and just 12th in points per game, their coach has been an NFL head coach since the Clinton administration and their quarterback hasn't even sniffed this list and no one has complained about it. They win because their defense plays as though it hates everyone, and Hali looks convinced that some NFL quarterback keyed his car but he just doesn't know which one.
CMP: 143
ATT: 220
PCT: 65.0
YDS: 1,906
TD: 13
INT: 4
ANALYSIS
Let the record show that Rodgers just posted his highest single-game QBR of the year in a game that Randall Cobb and James Jones didn't play and Jermichael Finley left in an ambulance. Against a top-seven defense. The Watch has two sons, ages 10 and 7, and if neither turns out to be a superstar athlete it won't be any kind of genetic anomaly, if you get what the Watch is saying. But if you put a couple of Packers jerseys on them and ran them out there on a Sunday afternoon at Lambeau, it's entirely possible they'd each end the day with seven catches for 110 yards and a touchdown. And somehow the Watch will have failed to start either of them in fantasy. Story of the Watch's life.
CMP: 115
ATT: 187
PCT: 61.5
YDS: 1,489
TD: 11
INT: 4
ANALYSIS
Andrew Luck is sitting at home some Tuesday night and one of those annoying polling firms calls, but Luck's in a good mood so he decides he'll help out. The fourth question is, "If you could be any other person in the world, who would you be?" It stumps Luck, because he's never considered this. "Why would I be anyone else?" he asks, sincerely. "I'm Andrew Luck. Do you have the wrong number or something?" The pollster, appreciating his patience, returns the favor, and after spending 45 minutes explaining the concept to him they have a breakthrough. "Oh," Luck says. "I get it. I'm not one of the choices. In that case, Russell Wilson, totally."
CMP: 181
ATT: 265
PCT: 68.3
YDS: 2,010
TD: 15
INT: 5
ANALYSIS
He's just drafting, is all. Sandbagging. Sitting there in your blind spot, with numbers that rank him something like fourth in the league in every single quarterback category while everybody talks about Manning and Luck and Brees and Wilson and wonders whatever happened to Tom Brady. But Romo's got games left against the Vikings, Giants, Raiders, Bears, Redskins and Eagles. That's a lot of yards and a lot of touchdown passes still on the table. It's still hard to see NFL MVP voters setting aside a mountain of conventional wisdom the size of the one built by years worth of negative Romo publicity and actually voting for him. But if the Cowboys get on a roll and run away with their division, as they should, there remains an outside chance this could happen. And the Watch isn't really a big told-you-so guy, but let's just say the Watch would have some fun with that one.
ATT: 135
YDS: 561
AVG: 4.2
LNG: 24
TD: 6
ANALYSIS
Two Chiefs! Two Chiefs? Two Chiefs. One for each of the players who have more rushing yards this year than Charles has. And one for each win the average Kansas City opponent has so far this year, too, which is something worth watching, but for now the Chiefs are the only team left against which Mercury Morris and the 1972 Dolphins are actively rooting. And Charles is the surprisingly fast and powerful outboard motor on the little boat of an offense that doesn't impress anybody else in the marina but gets the Chiefs exactly as far as they need it to get them every single Sunday afternoon.
REC: 33
TGTS: 63
YDS: 492
AVG: 14.9
LNG: 72
TD: 6
ANALYSIS
This one's not about the overall numbers, because Johnson has been banged up and his numbers aren't where they usually are. This one is about that word, "value," and how sometimes it makes itself evident when a guy isn't on the field as much as it does when he is. For a couple of weeks, while Megatron struggled through injury, Matthew Stafford was sad, because having a healthy Calvin Johnson in the huddle makes Stafford feel as though he's playing a video game. And not one of the current video games, either -- an old Sega Genesis version of "Madden" that seemed awesome at the time but was obviously underdeveloped and didn't get into the kind of detail they get into now. In those games, you could throw a 50-yard bomb into triple coverage in the end zone and the ball would just show up in your receiver's hands even though that made no sense. Stafford did that in real life Sunday, and if he had an MVP ballot it's pretty clear who'd be on the top line.
.

NFL SCOREBOARD
Thursday, 9/18
Sunday, 9/21
Monday, 9/22