Bucs getting worse instead of better
October, 25, 2013
10/25/13
1:51
AM ET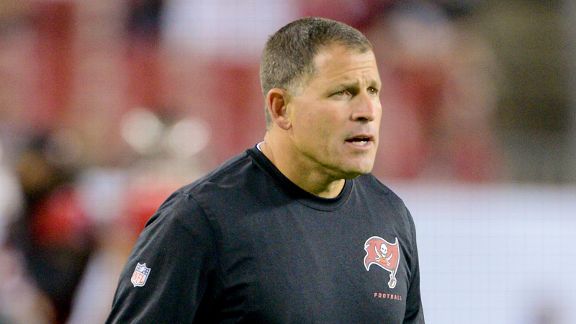 AP Photo/Scott A. Miller"It doesn't affect me," Greg Schiano said of the booing by Bucs fans after their team fell to 0-7.
.
TAMPA, Fla. – "Fire Schiano'' isn't
just for billboards
anymore.
Those two words became a chant Thursday night. In the waning moments of the
Tampa Bay Buccaneers
'
31-13 loss
to the
Carolina Panthers
, a large chunk of the remaining crowd at Raymond James Stadium began yelling for coach Greg Schiano to be fired. That came on the same day a local radio station paid for billboards with the "Fire Schiano" message.
The chant didn't stop until the game was over and the crowd near the tunnel to the Bucs' locker room started booing Schiano.
"It doesn't affect me," Schiano said. "People are certainly entitled to their opinion. Here's the thing, my whole career as a player and a coach, you get up in the morning and you work as hard and as smart as you can. It usually puts you to bed tired, and you get up and do it again. That's the way I do it."
It's probably a good thing Schiano has thick skin. He has been saying for weeks now that he's staying the course with his system and pledging that the Bucs will start winning and won't stop once they do.
But that's ringing hollow with fans because things are getting worse instead of better. In early-season losses to the Jets and Saints, the Bucs were very much in the game.
But against a Carolina team that is now above .500 for the first time since 2008, the Bucs were barely in the game at all. Carolina scored touchdowns on its first two possessions. The Bucs had to settle for two field goals in the first half, and didn't find the end zone until the fourth quarter.
The defense, which had been a bright spot early in the season, made Carolina quarterback
Cam Newton
look like a model of consistency. Newton ran for 50 yards and a touchdown and passed for 221 yards and two touchdowns.
The offense, which has been a problem all season, struggled even more than usual. With
Doug Martin
out injured and the Bucs having to play from behind, rookie
Mike James
gained 39 yards on 10 carries.
Mike Glennon
threw 51 passes. When you have a rookie quarterback throwing the ball 51 times, it's usually not a good sign.
And there aren't many good signs (we're not talking billboards here) for Schiano. His team is 0-7 and has lost 12 of its past 13 games dating to last season.
Does Schiano even make it through Friday? I don't know. The only people who do are the Glazer family that owns the team, and they're not talking. But the Glazers don't like getting embarrassed, and this game was on national television.
[+] Enlarge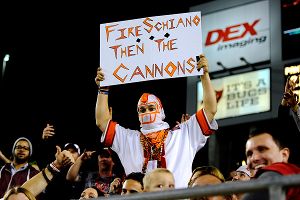 AP Photo/Brian BlancoTampa Bay fans expressed their displeasure with chants, and in case that wasn't clear, with signs, too.
My guess is the Glazers don't want to fire Schiano because he's the guy they brought in to clean up Raheem Morris' mess. Schiano has righted the ship off the field by getting rid of problem players, but the results on the field can't be sitting well with the ownership.
"I visit with our owners all the time," Schiano said when asked if he knew where he stood with the Glazers. "There are open lines of communication. We're all just trying to get better and do the things that make the organization better."
The one thing Schiano has going for him right now is that his team hasn't quit on him.
"Coach Schiano is a great coach," Glennon said. "He stands for the right things, and we're behind him."
We'll see if the Glazers decide to pull the plug and go with an interim coach before the Bucs play at Seattle on Nov. 3. Just a guess here, but I say Schiano gets at least another game. If he goes to Seattle and his team shows signs of quitting on him, then he's done.
Things just keep getting worse for the Bucs. The snowball now is rolling hard and fast, and it might be too late to keep it from running over Schiano.

NFL SCOREBOARD
Thursday, 9/18
Sunday, 9/21
Monday, 9/22