Dan Graziano's MVP Watch
October, 30, 2013
10/30/13
12:15
PM ET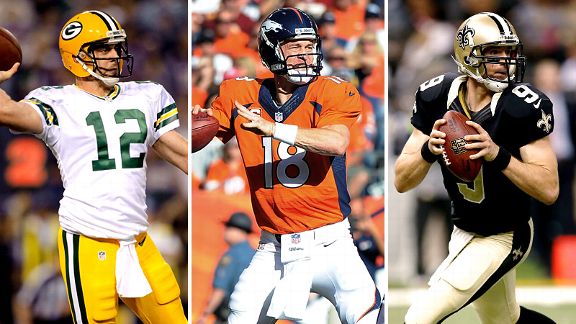 Getty ImagesPeyton Manning remains entrenched atop the MVP Watch list, but fellow quarterbacks Aaron Rodgers and Drew Brees are right on his heels.
The MVP Watch doesn't get a bye week. Doesn't want one. Doesn't need one, either, given that nobody's been hitting it, even though some people out there seem to want to. But a lot of Watch regulars are getting weeks off this time of year, and that makes it tough to know what to do with them.
Peyton Manning
, for example, is not going to throw a touchdown pass in Week 9, let alone four of them. It's enough to bring a Watch to tears.
Two of the guys on this list were off this past weekend. Two more are off in Week 9 and one in Week 10. So it's possible you won't see a lot of movement until late November and December, which is when MVP awards are won anyway. Or at least, in this year's case, when the race for second place gets into high gear.
Because after wobbling a bit in Week 7, the guy who has owned the top spot on this list since preseason showed in Week 8 that he's not interested in giving it up any time soon.
CMP: 237
ATT: 333
PCT: 71.2
YDS: 2,919
TD: 29
INT: 6
ANALYSIS
When Manning was a free agent in 2012, Redskins coach Mike Shanahan made a strong pitch for him only to be told Manning didn't want to play in the NFC East and face his kid brother twice a year. No hard feelings, Shanahan said, and let Manning stay in the coach's huge Colorado home while Manning got adjusted to life in Denver and found a place out there. The thanks Shanahan got for this gesture was that Manning threw DeAngelo Hall an interception and let Shanahan's Skins take a 21-14 lead through three quarters before he dropped 31 on them in the fourth. Cheer up, Mike. You still get to face the aforementioned kid brother twice in December.
CMP: 183
ATT: 271
PCT: 67.5
YDS: 2,290
TD: 19
INT: 5
ANALYSIS
The Watch wants to be in the room this week when Brees and Sean Payton make their side wagers. Thinking last week went down like this: "So we're going to use Jimmy Graham on just 20 plays, Drew, how many touchdowns can you get him?" "Two." "Two?? Pff. No chance. Bet you two grand." "You're on." "OK, what else you got in mind?" "Let's see. Hand me that list of receivers again? Kenny Stills. Hm. Stills rhymes with Bills, and we're playing the Bills this week. ... Let's give Stills 129 yards and two touchdowns." "You're nuts. I'll put five grand more on that one. Candy from a baby. So, four touchdowns this week?" "Nah, five. I want Lance Moore to get one, too." "All right, but Marques Colston's gonna be mad." "Yeah, well, that's what he gets for stealing those Tide to Go pens from my locker and writing 'Boilermakers stink' all over the bathroom mirrors."
CMP: 167
ATT: 249
PCT: 67.1
YDS: 2,191
TD: 15
INT: 4
ANALYSIS
The Packers' receivers meeting room is as desolate as downtown Green Bay in February. Rodgers goes in there every week to meet new people and ends up awkwardly asking Jordy Nelson whether anyone's using these four chairs. Last week, he walked into GM Ted Thompson's office and asked whether Thompson was planning to make any trades before the deadline, and when Thompson got done laughing and picked himself up off the floor, all he said was, "Why are you carrying around four chairs?" This made Rodgers mad, so he decided to take it out on the Vikings by converting 13 of 18 third downs and both fourth downs and throwing only five incomplete passes all night.
CMP: 136
ATT: 224
PCT: 60.7
YDS: 1,574
TD: 10
INT: 3
ANALYSIS
Bye weeks really are unfair. Last week, Luck was in the No. 2 spot, and, after not even playing, he drops down the list because Brees threw five touchdowns and Rodgers gave his punter the night off. Hey, that's life in the big city, Drew. (Cut to Luck scanning the Indianapolis skyline with a confused look on his face and saying, "Big?") Well, compared with Green Bay it is. ("Fair enough. But please stop calling me Drew.") Deal. Anyway, the Colts have beaten the Broncos, Seahawks and 49ers, so Andy's no joke. The Watch is just sort of recalibrating after getting a little over-exuberant last week. No. 4 on this list is still knocking on a pretty fancy door.
CMP: 184
ATT: 249
PCT: 73.9
YDS: 2,132
TD: 15
INT: 5
ANALYSIS
Rivers could tell Rodgers some stories, but right now he's kind of digging his receiving corps as he completes 73.9 percent of his passes for 305 yards a game and saves all the voicemails Vincent Jackson is leaving him about what it's like to play for Greg Schiano. Rivers and Antonio Gates spent the bye week on the beach in San Diego playing back the best ones and just laughing so hard that daiquiri started coming out of their noses. "Chopping wood! Bwahahahahahaha!!!!"
REC: 47
TGTS: 79
YDS: 821
AVG: 17.5
LNG: 87
TD: 7
ANALYSIS
Wide receivers don't win MVP awards, so, because this list is supposed to factor in likelihood of winning, it's tough to move Johnson this high. But then you look and see that his receiving yardage total in Week 8 was higher than the passing yardage total of every quarterback but Manning, Brees and the guy throwing the ball to him, and the meaning of that word "valuable" just slugs you upside the head. When Johnson gets a cold, Matt Stafford shows up at his front door with a humidifier, a bucket of Vitamin C and zinc, and a team of paramedics, just in case.
ATT: 153
YDS: 635
AVG: 4.2
LNG: 24
TD: 6
ANALYSIS
Hey, the Chiefs won again. Did you hear? No, you probably didn't. This is the quietest 8-0 team in NFL history, and a perpetually befuddling one to the MVP Watch. Heck, Andy Reid's going to run away with NFL Coach of the Year mainly because he doesn't have a clear-cut MVP candidate on the roster. But you can't give MVP to a coach, and, as much fun as the Chiefs' defensive stars have had on this list this year, MVP awards do tend to go to guys who touch the ball. Charles has gone over 100 total yards in every game and has scored eight touchdowns. Forget the eight wins; the Chiefs might not have eight points this year without him.
CMP: 183
ATT: 279
PCT: 65.6
YDS: 2,249
TD: 16
INT: 7
ANALYSIS
Right? The Watch is as surprised as you are. True story here: The Watch plays in a fantasy league in which you get bonus points for long touchdowns and you can use a QB as your flex (which means you should), and one of the guys near the top of the standings has Dalton as his QB2 and spent late September and early October trying to trade him with no success. This guy calls himself "The Viper," and there's going to be no living with him if the redhead keeps this up. Dalton is fourth in the league in passing yards, is sixth in passer rating and is tied for fourth in touchdown passes on a 6-2 Bengals team that looks as though it might be the best in the AFC.
TACK: 53
AST: 6
FF: 2
INT: 4
TD: 0
PD: 6
ANALYSIS
The Watch loves Russell Wilson. Loves him. There's a poster of Wilson on the back of the door to the lab in which the Watch crunches the numbers every week, only nobody knows about it because you can only see it when the door is closed and you're inside the lab and nobody's allowed inside the lab but the Watch and the guy who comes in at night to vacuum and dump out the wastebaskets. But Wilson has to go to timeout this week because he couldn't figure out the Rams, and besides, the Watch has been meaning to give Thomas a little love as the leader and the best player on a defense that ranks second in the league in yards allowed per game and third in points allowed per game.
CMP: 195
ATT: 295
PCT: 66.1
YDS: 2,216
TD: 18
INT: 5
ANALYSIS
The Watch is sitting there trying to ignore Dez Bryant as Bryant spreads his arms wide and shouts, "Romo?! Are you kidding me??!?!? What about Colin Kaepernick?" Thought about it, but the numbers aren't there. "Cam Newton?" Yeah, he was actually in this spot on the original list, but Romo's numbers are just that much better. "Russell Wilson!?!?" He's in timeout. "Right, the Rams. Well, what about LeSean McCoy? He's leading the league in rushing!" Team's got a losing record. Ineligible for the list. "Aw, come on, Watch! You can't keep going with Romo!" Dez, there's a time and a place to have this conversation, but this isn't it. Please sit down. "Hey, now! That's not right, Watch. I'm just being passionate. And you wouldn't say that to Tom Brady." Tom who?