Thursday, November 7, 2013
Smith still getting Harbaugh's attention

---
By David Newton

CHARLOTTE, N.C. -- San Francisco 49ers coach Jim Harbaugh wasn't in a talkative mood during his Wednesday conference call. He was short and snarky with most of his answers to the point you felt like you were keeping him from something important.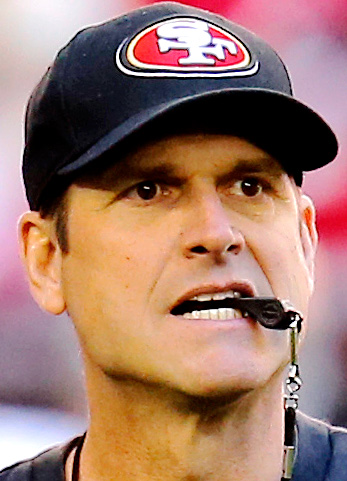 Harbaugh

Then Steve Smith's name was mentioned.

Harbaugh and Smith were teammates for the Carolina Panthers in 2001, a dreadful 1-15 season in which the team lost its final 15 games. They both were on the "look" team, Harbaugh on the last leg of his 15-year career and Smith in the first year of his 13-year career that still is going strong.

"I've got a lot of memories, but that was definitely the vivid one that I talk about most and kind of retell; the story of Steve, his first year at Carolina," said Harbaugh, energy in his voice returning. "I would just go back and throw it to Steve. I had so much fun in those practices throwing to him because he was so good. He would just catch everything.


Smith

"His catch radius was everywhere. I could just hit the seven-step and just let it fly in his direction. It was a great feeling to have the ball come off my finger and see it going in his direction, and then he would make some kind of spectacular catch. It was real enjoyment."

Coach George Seifert and his staff apparently didn't see that potential, which may explain why they were fired after that season. Smith was used primarily as a kick returner and on reverses, catching only 10 passes for 154 yards.

He averaged 70 catches a year over the next 11 seasons, and leads the Panthers in receiving so far this season with 36 receptions for 387 yards. He's a five-time Pro Bowl selection and Carolina's career leader in touchdowns (74), receptions (808) and receiving yards (11,839).

"He was given a chance," Harbaugh said. "He's had a Hall of Fame career."

Smith is a player Harbaugh will have to account for on Sunday when the 49ers (6-2) host the Panthers (5-3) at Candlestick Park (4:05 p.m. ET, Fox).

"I don't think I'm very surprised," Harbaugh said. "He's one of the all-time greats at the position. I could go back and talk about that because that was my last year in football, that was the last time I even played football. Steve Smith has done great things since then. I didn't do anything."

When the conversation turned to another receiver Harbaugh will have to account for, one who only caught two passes for him last season at San Francisco, the answers became short and snarky again.

We're talking about Ted Ginn Jr., who signed with Carolina during the offseason primarily as a kick returner. Ginn has 21 catches for 367 yards, a team-best 17.5 yards per catch.

"Oh, we're talking about last year again?" Harbaugh said. "I don't really feel any need or form to do that right now. We don't talk about last year; good, bad or indifferent.

"If we're still talking about last year, then we haven't done anything good this year. If you have to talk about what you did yesterday, then you haven't done much today."


---