NFL Nation:

032410 McNabb
March, 25, 2010
3/25/10
2:27
PM ET
By
Matt Mosley
| ESPN.com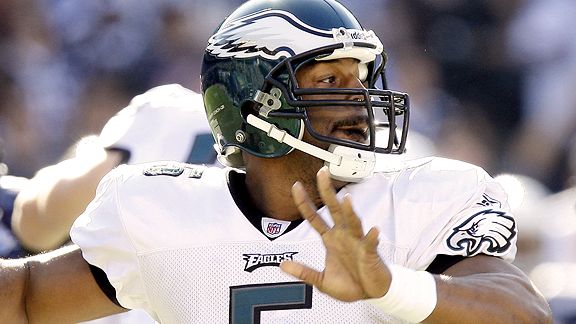 Jody Gomez/US PresswireMight quarterback Donovan McNabb be on the move? The Eagles are said to be entertaining offers.
ORLANDO, Fla. -- If you were hoping the
Donovan McNabb
era would officially end in Philadelphia, Tuesday and Wednesday provided watershed moments. Andy Reid, perhaps McNabb's biggest defender, said he's all ears if someone wants to trade for the veteran quarterback.
Reid's statement after the season that McNabb would be his starting quarterback in 2010 was left dangling in the wind, although we're reviewing tapes to see if his fingers were crossed. I've had the sense for the past two months that club president Joe Banner and new general manager Howie Roseman were leaning toward moving McNabb, but it was hard to imagine Reid getting on board.
On Tuesday in a Ritz-Carlton restaurant, Reid sounded the retreat. He told a Philadelphia Inquirer columnist the Eagles were "entertaining" offers on all three quarterbacks, but McNabb was obviously the headliner. Despite the infamous '08 benching in Baltimore, Reid and McNabb have remained close over the past decade. But apparently someone in the building has convinced Reid that he should at least be open to the idea of moving McNabb while he still holds some trade value.
On Tuesday afternoon, while other head coaches rushed off to tee times, I saw Reid, owner Jeff Lurie, Banner and Roseman huddle for several minutes in a breezeway outside the hotel. About 30 minutes later, Reid was uncharacteristically spilling his guts to a Philadelphia newspaper. At 7 o'clock the next morning, Reid attempted to temper some of his remarks.
"I'm listening," said Reid. "I'm not saying I'm doing anything, but I'm keeping my ears open, which we do on every player. This is no different. ... I mean, Donovan's our No. 1 quarterback, and
Kevin [Kolb
]'s our No. 2 quarterback, and
Michael [Vick
]'s our No. 3 quarterback. That's how I feel."
So this is no different than, say, trading for linebacker
Will Witherspoon
during the regular season? No, this is
way
different than any trade Reid's been involved with. He's openly admitting that the one player his coaching career is most intertwined with is being shopped. And the point that some folks are missing is that Reid's also showing immense trust that the 25-year-old Kolb can hit the ground running as the franchise quarterback. (Try not to think about the fact the Eagles will enter 2010 with major questions at center and right guard, Kevin.)
March, 25, 2010
3/25/10
2:00
PM ET
It appears we'll soon reach a moment of truth in the long-standing speculative connection between
Donovan McNabb
and Minnesota.

Favre

McNabb
First, the facts:
Reporters who attended Philadelphia coach Andy Reid's interview session this week left believing McNabb is available via trade.
The Philadelphia Inquirer reported the Eagles have lowered their asking price to a second-round draft pick.
McNabb's first NFL quarterbacks coach was current Vikings coach Brad Childress, who has never hid his admiration for McNabb's development into a perennial Pro Bowl player.
McNabb's position coach at Syracuse, Kevin Rogers, is the Vikings' quarterbacks coach.
Although many of us expect Brett Favre to return to the Vikings this season, he has made no formal commitment. At age 40, Favre's status is always year-to-year.
There are some members of the Vikings organization who consider McNabb a natural successor to Favre, especially on a veteran team ready to challenge for the Super Bowl. So the Vikings have a decision to make, if they haven't already made it: Do they sit tight and assume Favre will return? Or do they eliminate the risk by trading for McNabb, in the process solidifying the position for more than one year?
To this point, there is no evidence the Vikings have inquired formally about a trade. Childress and Reid are close friends, so it's possible they have kept any conversations about the topic to themselves.
We know from past experience that Favre doesn't react well when pressed for offseason answers on his future. If the Vikings go to him now and say they will trade for McNabb unless he commits to playing, history tells us he will announce his retirement. If (and when) he reconsiders, it will be too late for the Vikings.
There are no obvious answers here. What say you?
March, 24, 2010
3/24/10
8:07
PM ET
ORLANDO, Fla. --
Philadelphia Eagles
head coach Andy Reid reiterated Wednesday that
Donovan McNabb
is his starting quarterback.
Reid, however, declined to engage in a semantics joust with reporters who wanted to know if that's a statement of fact for the here and now for the 2010 season.
The
Buffalo Bills
and
Oakland Raiders
have contacted the Eagles about trading for McNabb, according to
Philadelphia Inquirer columnist Ashley Fox
and
Yahoo! Sports writer Charles Robinson
. Fox reported the Eagles have lowered their asking price to a second-round draft choice.
Reid admitted he was entertaining calls from teams he didn't identify, the coach measured his words while speaking at the NFL owners meetings.
The Eagles are jammed at quarterback with McNabb, apprentice
Kevin Kolb
and veteran
Michael Vick
.
"I can say it again," Reid said, speaking slowly for emphasis. "Donovan is our No. 1 quarterback, and Kevin is our No. 2 quarterback, and Michael is our No. 3 quarterback. That's how I feel."
Would Reid say that McNabb will not be traded?
"I'll tell you Donovan's our starter, our starting quarterback," Reid said. "I can't make it any clearer. We can get into semantics, but Donovan is our starting quarterback."
A reporter followed up that statement by asking what Reid meant precisely. For today? For the season? For how long?
"I guess we're all living for the day here, but, to answer your question, yeah, today he is our quarterback," Reid said.
Bills general manager Buddy Nix and head coach Chan Gailey repeatedly have stated they'd be willing to add another quarterback. They have an open competition as it stands now, with no obvious favorite among
Trent Edwards
,
Ryan Fitzpatrick
and
Brian Brohm
.
Gailey said Tuesday he would like to have his
quarterback situation settled by the draft
.
March, 24, 2010
3/24/10
7:33
PM ET
Rams general manager Billy Devaney isn't afraid to shoot down rumors. He
did that Wednesday
when asked whether the Rams were moving to acquire quarterback
Donovan McNabb
from the Eagles.

McNabb
Coming out of the 2009 season, I felt the Eagles wouldn't trade McNabb because he gave them their best chance to win in 2010. My opinion is changing.
It now appears as though the Eagles are interested in trading McNabb or at least determining what he might command in return. Hence, the rumors. The Seahawks were previously rumored as having shown interest in McNabb. Seattle then went out and acquired
Charlie Whitehurst
without pursuing McNabb.
In both cases, the McNabb rumors benefited the Eagles by creating the impression that a strong market might exist for McNabb.
The timing wouldn't be right for the Rams even if they were interested in McNabb. They'll be attending
Sam Bradford
's pro day before deciding how to proceed at the position. Acquiring McNabb for an early draft choice before fully investigating Bradford would count as a move made out of sequence.
The Rams hold cards here. They've got the top overall choice. They can draft Bradford. If the Rams did not think Bradford was a good value, or if they were having trouble negotiating with him before the draft, then it might make sense to engage the Eagles in discussions about McNabb, who knows the Rams' offense and would provide them with a needed identity.
McNabb is entering the final year of his contract, however, and that could complicate trade efforts. The Rams would not give up an early draft choice for a player in the final year of his deal. Extending McNabb's contract would require McNabb's cooperation. Would he really want to continue his career with a rebuilding team such as the Rams?
The 49ers might make more sense as a potential suitor even though I've heard nothing to suggest San Francisco would make such a move. The 49ers would be more appealing to McNabb because they're closer to contending. I also think McNabb's personality and leadership would give the 49ers something they cannot get from
Alex Smith
or
David Carr
. That's just me, though. I haven't heard anything suggesting the 49ers are thinking along those lines.
Update:
49ers pro personnel director Tom Gamble was with the Eagles from 1988 to 1994, not a decade later, when the team drafted McNabb.
March, 24, 2010
3/24/10
7:05
PM ET
Yahoo! Sports is reporting
that Oakland is inquiring about a trade for Philadelphia quarterback
Donovan McNabb
.
There seems to be many obstacles before a deal would send McNabb to Oakland.
While I don't think McNabb will end up in Oakland, if he does it would be cause for a natural question: Could
Terrell Owens
join him in Oakland? It has been suggested that Owens could end up in Oakland because the Raiders need a veteran receiver.
Of course, McNabb and Owens had a tumultuous relationship in Philadelphia. However, the two have mended their relationship to the point where
they recently filmed a celebrity basketball game together.
Maybe they are ready to play football together again? It's a stretch, but if Oakland is trying to get McNabb, could Owens be far behind?
March, 24, 2010
3/24/10
6:45
PM ET
After a quiet offseason, the Raiders are reportedly looking to make some big noise.
Yahoo! Sports is reporting
that Oakland and Buffalo have inquired about trading for Philadelphia quarterback
Donovan McNabb
. There is another report saying the Rams
have an offer out
for McNabb as well.
Earlier Wednesday, Philadelphia coach Andy Reid acknowledged there
have been inquiries
for the 11-season veteran. There is clearly something going on here.
The Yahoo! Sports report said that McNabb would be reluctant to go to Buffalo or Oakland because neither team is a contender and he would not be interested in signing an extension. This is the final year of McNabb's contract and he is due a huge roster bonus due in May.
So, there are major loopholes for Oakland to get through to acquire McNabb.
Still, the interest alone in McNabb reveals some interesting information about the Raiders. First, it shows they are not satisfied with bringing
Bruce Gradkowski
,
JaMarcus Russell
and
Charlie Frye
to camp. Coach Tom Cable indicated at the owners meetings on Tuesday that the team was at terms with the group.
Oakland shouldn't be happy and McNabb would be an upgrade over any of the three quarterbacks in Oakland. It also shows that Russell hasn't done enough this offseason to make Oakland believe he can revive his career.
The Raiders feel like they have to consider getting better at quarterback. I like that thinking. This current setup is not a great long-term answer, even though Gradkowski could be a decent short-term answer if he continues to get better.
But neither is McNabb. He will turn 34 during the 2010 season. Trading for McNabb would be similar to Oakland trading its 2011 top pick to New England for
Richard Seymour
last September. It is a short-term move intended for a team with serious playoff intentions.
McNabb would make Oakland better right away, but not an instant Super Bowl threat. He's been to the Super Bowl once in his career. Why would he suddenly be the missing link in Oakland with just a few more years remaining in his career? McNabb wouldn't instantly make the Raiders' young receivers and lousy offensive line better.
The Raiders need to get younger and better. It needs to be done through the draft.
Even though they have greater needs, Oakland might be better served using its No. 8 pick on a player like Jimmy Clausen or its second-round pick on a player like Colt McCoy instead of investing a top pick on a short-term answer like McNabb.
I'd even think it would be better for Oakland to pursue Eagles backup quarterback
Michael Vick
than McNabb. He'd be much cheaper.
In short, it's good that Oakland is trying to improve its quarterback situation and it's good that it is not banking on Russell, but perhaps McNabb is not the right avenue to pursue.
March, 24, 2010
3/24/10
1:19
PM ET
By
Matt Mosley
| ESPN.com
ORLANDO, Fla. -- About halfway through the NFC coaches breakfast Wednesday, I noticed a crowd starting to gather at Eagles coach Andy Reid's table. Reid's not known as a particularly interesting quote, so it seemed a bit odd. I abandoned my post at the Mike Shanahan gathering and headed over for a visit.
[+] Enlarge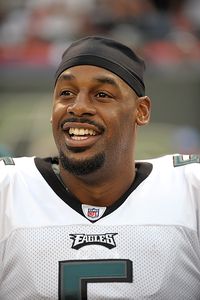 Drew Hallowell/Getty ImagesDonovan McNabb could reportedly be had for a second-round draft pick.
Turns out Reid was making it known for the first time in a public setting that he would entertain offers for quarterback
Donovan McNabb
-- and his two backups. And it's not like Reid was caught off guard or anything. The Eagles came to Orlando to let the NFL community know their quarterbacks were not off limits. In my mind, second-stringer
Kevin Kolb
is the closest thing to an untouchable.
"I've got a great situation at that position right now," said Reid. "That's a good position to have three guys who all can start and win at a championship-caliber level. It doesn't get any better than that. Kolb's one play away from playing and Michael's two plays away. So they'd better be ready to roll. They'll all go out and play and do what they need to do. They're all getting paid good money."
Citing an anonymous source Wednesday,
the Philadelphia Inquirer reported
that the Eagles have lowered their asking price for McNabb to a second-round pick. Reid didn't say anything about that during Wednesday's breakfast, but it's obvious the Eagles have a strong interest in beginning the Kolb era in 2010. The organization knows it would be awkward to have three quarterbacks in the final year of their contracts. Reid keeps bringing up the fact that McNabb received a "bump" in pay after the '08 season, but I don't think that makes the quarterback feel any better about his future.
So where could McNabb end up?
I think the Rams, Bills, 49ers, Seahawks, Cardinals and Vikings could all be in play. Everyone thinks the Rams will take
Sam Bradford
with the No. 1 overall pick, but McNabb would be a cheaper option. And he's much more of a proven commodity. OK, much more to come on this and other topics.
March, 24, 2010
3/24/10
10:08
AM ET
By
Matt Mosley
| ESPN.com
ORLANDO, Fla. -- For the first time in a public setting, coach Andy Reid admitted Wednesday that the Philadelphia Eagles
are listening to offers
on all three of their starting quarterbacks. It's a far cry from what he was saying immediately after a playoff loss to the Cowboys in January, and it confirms what most of us believed anyway.
"I'm listening [to offers] out there,'' Reid said during the NFC coaches breakfast Wednesday morning. "I'm not saying I'm doing anything. But we're keeping our ears open."
The message was pretty clear: The Eagles want teams to know they're open to trading
Donovan McNabb
. Reid was also talking about
Kevin Kolb
and
Michael Vick
, but McNabb's obviously the key player in this scenario. I'd be shocked if the Eagles traded Kolb after investing so much time in him. In fact, I don't think they'd take a first-round pick for Kolb at this point. He's obviously the future of the franchise.
"We're evaluating, taking in the situation right now,'' Reid said. "I don't worry about [what other people are saying]. It's an evaluation process right now."
This is a completely different approach from Reid, a man who only two months ago insisted that McNabb would be his starter in 2010. He began delivering his message Tuesday by
sitting down with Inquirer columnist Ashley Fox
.
"There are coaches who dream to be in this situation," Reid told Fox. "I'm not in any hurry to get rid of any of them. Have people talked? Yeah, people have talked. Have we listened? Yeah, we're in the process of listening. The bottom line is if I have all three of them, that's great."
Fox also cited a league source saying the Eagles wouldn't necessarily hold out for a first-round pick for McNabb. That tells you how serious Philadelphia is about moving him. And back to Reid's point about "dreaming" about this scenario. I don't think he's ever looked forward to the prospect of dealing McNabb and this about face has to make him feel a little queasy.
So what sort of offers have been coming in?
"We'll go back and look through those and think through them a little bit, away from this situation here," said Reid. "There's [no offer] right now that I'd jump up and down about. But there has been some interest."
After spending about 20 minutes with Reid on Wednesday, I'm convinced there's a pretty good chance Kolb is his starting quarterback in 2010.

NFL SCOREBOARD
Sunday, 2/2
WEEKLY LEADERS